Down the Hozu River / Hozugawa Kudari
保津川下り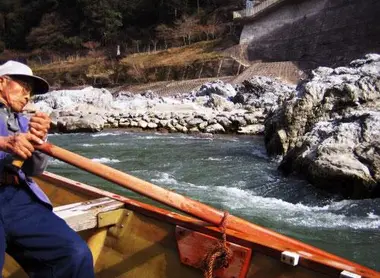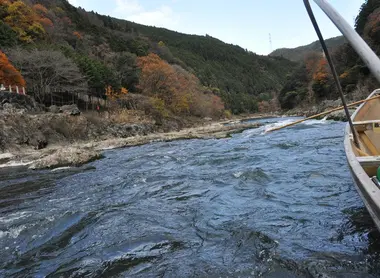 Washed away
Travel down the Hozugawa to discover the landscapes of the Kyoto area, all in an enchanting setting.
Kyoto does not only owe its popularity to its ancient temples but also to its region. Between mountains and valleys, the changes in landscape abound and the most enjoyable way to watch them go by is to be seated quietly in a boat on the Hozu River.
Boats leave from Kameoka and take curious visitors on a journey of about two hours to Arashiyama. Following a route once taken by the rice and timber merchants, the three men, driving each boat with the sheer force of their arms, safely through rapids and stretches of calm water.
Steep mountain slopes, bamboo forests, pine and maple trees and rock reliefs, succeed each other and delight the eyes. Monkeys may also invite themselves along. In spring, when the cherry trees are in blossom or autumn, when the maple trees turn red, the beautiful nature will surely win many hearts.
---
Address, timetable & access
All the themes of the city