Arita Guide
Arita in Saga Prefecture in Kyushu is the historic center of porcelain production in Japan. Arita-ware pottery is now world famous and exported all over the globe.
Arita Guide, Saga Prefecture, Kyushu 有田町
Jake Davies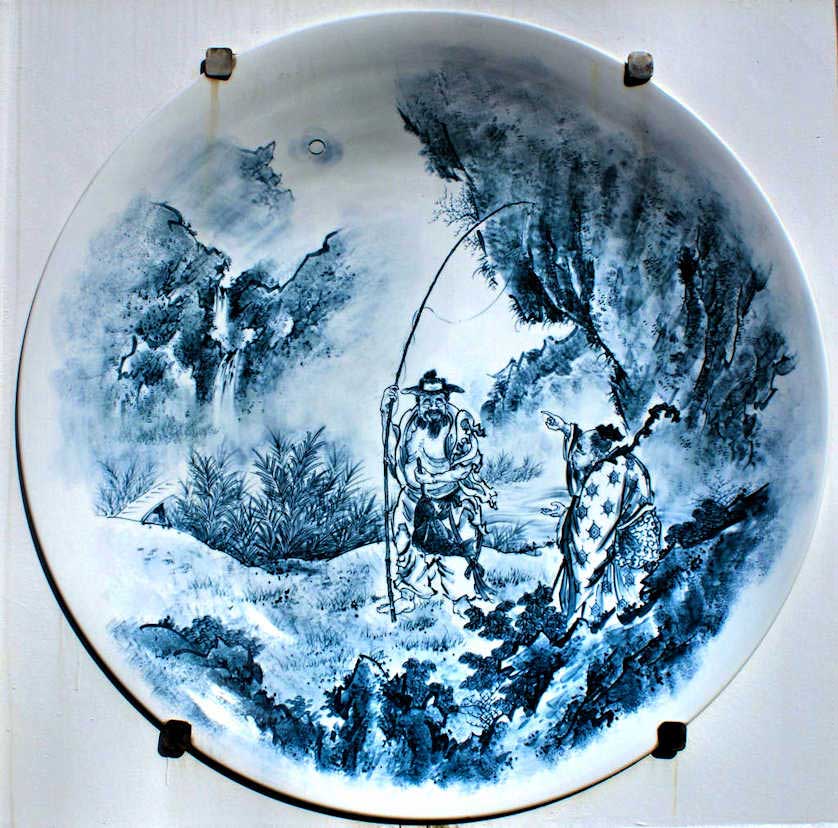 Classic Arita-ware porcelain started with simple blue designs on white, in emulation of Chinese style porcelain
Arita, a small town in the mountains of Saga Prefecture in Kyushu is one of the centers for ceramics in Japan, specifically it is known as the birthplace of Japanese porcelain.
Kaolin, a soft, white clay is a primary ingredient in the production of porcelain and was discovered near Arita in the late 16th century.
Kilns sprang up in the area to produce porcelain and much of it was exported, initially manufactured in the blue and white style of Chinese porcelain, but soon with colorful over-glazes. Almost all the tourist attractions in the area are connected to Arita-ware porcelain.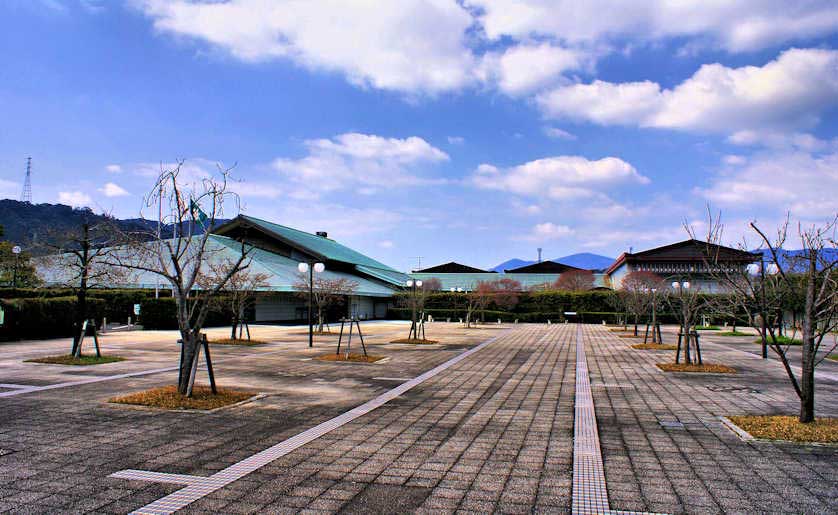 The Kyushu Ceramics Museum is a modern, spacious museum about the ceramic traditions from all over Kyushu
Attractions
Some of the attractions of the area are located outside of the town center, but the bulk can be found in the northern part of the old town close to Kami Arita Station.
There is a Tourist Information Office here, but it might be best to start from the main Arita Station.
Just in front of the station is the Kiln Arita Tourist Information Center where you can pick up help and information to assist with your visit.
972-31 Honmachi-hei, Arita, Saga 844-0018Tel: 0955 42 4052Hours: open 9 am to 5 pm every day.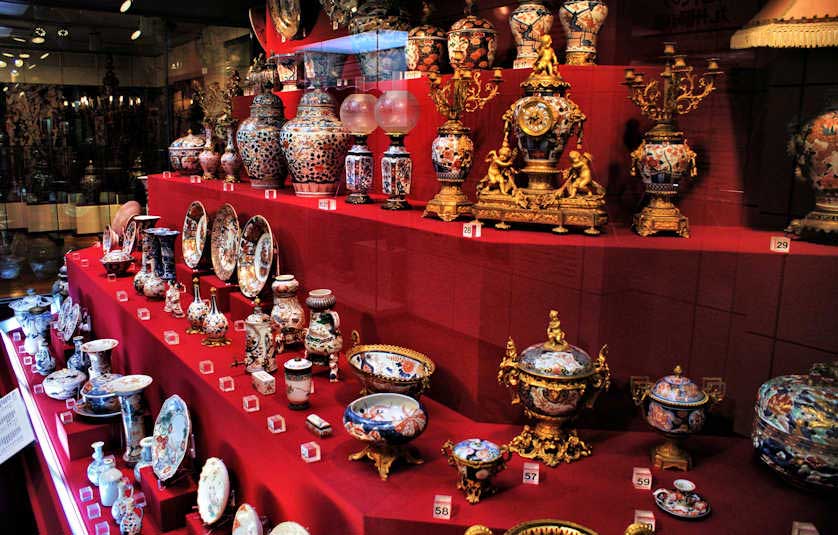 Thousands of pieces of Arita porcelain are on display at the Kyushu Ceramics Museum

Kyushu Ceramic Museum
About a ten minute walk from here is a must-visit site, the Kyushu Ceramic Museum. Located in large grounds on a hilltop, this modern and spacious museum has multiple galleries of ceramic arts.
There is a focus on the locally produced Arita-ware porcelain, with the museum having several major collections of thousands of historical pieces the displays of which are rotated annually.
There are also galleries devoted to the wide variety of ceramics produced historically in all the other regions of Japan, as well as galleries devoted to contemporary works.
Special thematic exhibitions are held, but these may need an entrance fee. The museum has a well-stocked gift shop and a pleasant cafe with views over the gardens.
3100-1 Toshaku, Arita, Saga 844-8585Tel: 0955 43 3681
Hours: open 9 am to 5 pm. Closed Mondays and over the New Year period.Admission is free.
From the museum it is about 2 kilometers to the old town where more tourist sites are located, you can take a frequent bus, or go back to the station and take a train one stop to the top of town and then walk downhill.
In the middle of the old town is another Tourist Information Office.
1-1-1 Kobira, Arita, Saga 844-0005Tel: 0955 43 2121Open 8.30 am to 5.15 pm every day.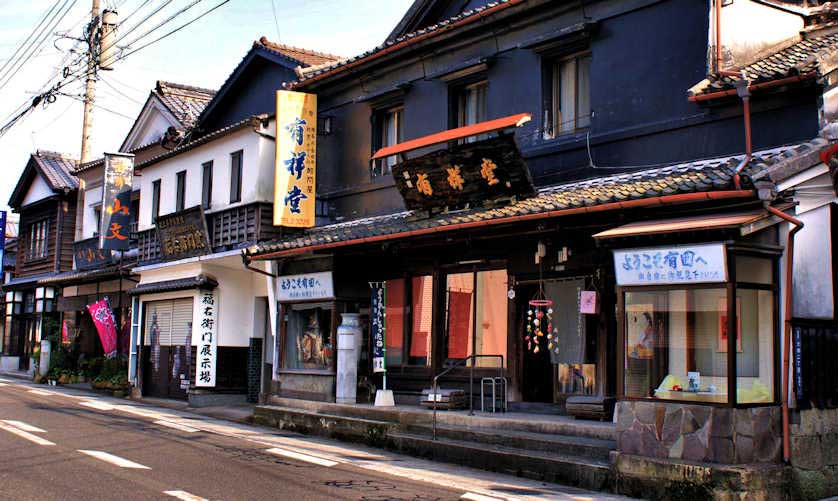 The picturesque main street of Arita is lined with shops built in the Meiji era
This area is quite atmospheric to walk around as there are so many historic and traditional buildings from the Meiji Period, in fact it is registered as a Preservation District for Groups of Traditional Buildings because of this.
Several of the shops along the main street date back to the mid-19th century and display a variety of architectural styles.
Many of the shops are selling pottery, but there are plenty of restaurants and cafes scattered around. Some of the shops lean towards the high-end products, antique pieces etc, but the most intriguing are the ones that are more like warehouses.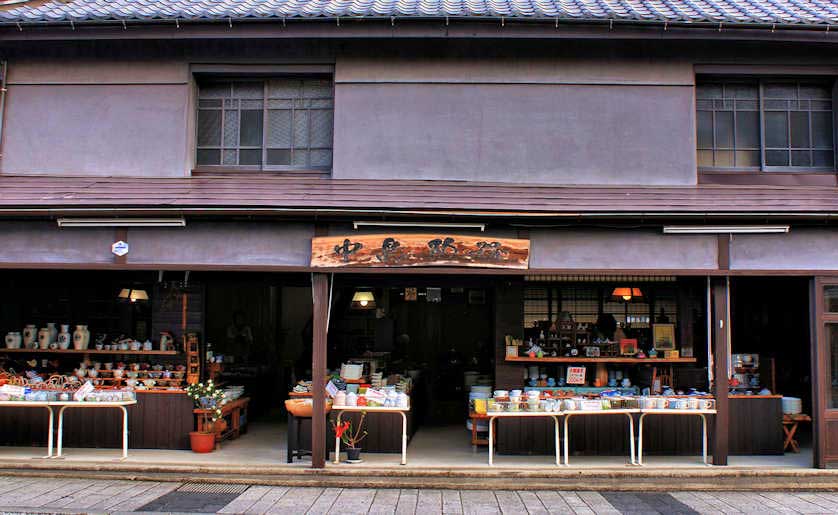 Most shops in Arita sell porcelain and other types of pottery
With no fancy displays, just shelves and tables overloaded with products, these places are like giant bargain bins and time spent rummaging through will usually lead to discovering amazingly cheap gems and bargains.
From the main street signs point down side streets to an area of narrow alleys lined with what are called Tombai walls.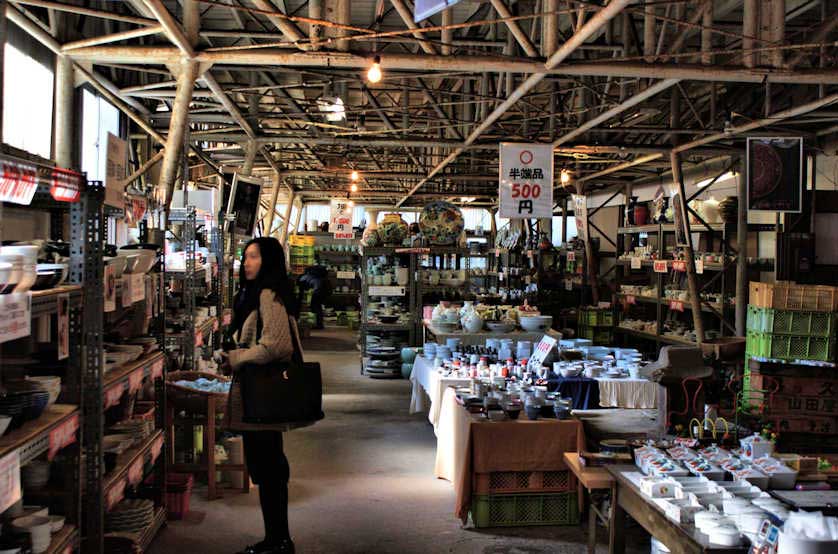 Hunting for porcelain bargains is a very popular activity in Arita, the home of Japanese porcelain
These walls are constructed out of used fire-bricks that old kilns were constructed out of. Combined with the traditional buildings it is quite a picturesque area to walk, and if you head down you will come to the Aritatoji Museum.
Housed inside an old pottery warehouse built in 1874, the museums collection is not large, but the two floors of displays contain many historic pieces that are registered as Important Cultural Properties, and the staff are very knowledgeable.
1-4-2 Odaru, Arita, Saga 844-0004Tel: 0955 42 3372Hours: open 9 am to 4.30 pm; closed Mondays and over the New Year.Entry just 100 yen for adults.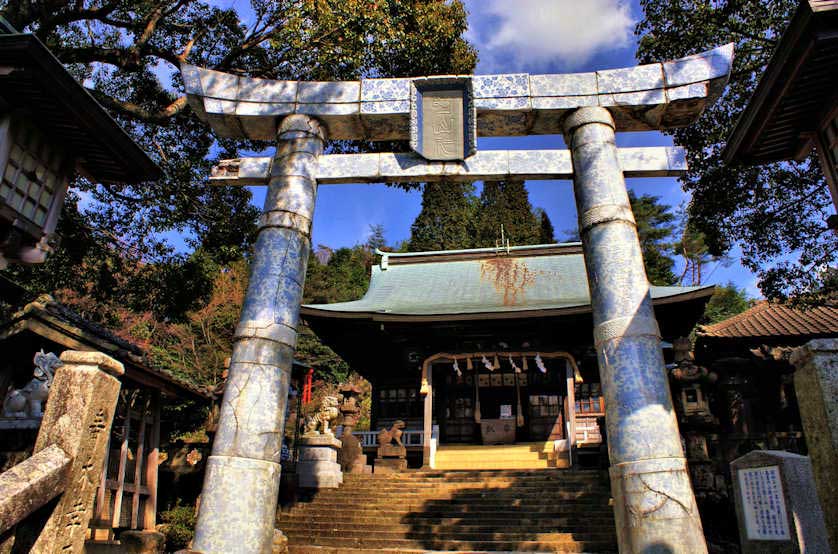 The unique torii, entrance gate, made of porcelain at Tozan Shrine in Arita

Tozan Shrine
Nearby is the most-visited shrine in the area, known as Tozan Shrine. The torii, traditional gate, of the shrine is unique in that it is made out of porcelain, as are the shrine lanterns, komainu guardian statues, and other elements of the shrine.
It certainly looks quite different from any other shrines you may have visited, and this is because enshrined here is Yi Sam-pyeong, sometimes known as Kanagae Sanbee in Japanese.
The story is that he was a Korean potter who discovered the kaolin deposits in the area and so is considered the father of the Japanese porcelain industry.
Though disputed by historians, the story is likely to remain the dominant narrative. On the hilltop behind the shrine is a memorial to Yi Sam-pyeong, and a climb to it is rewarded with great views down over the town.
Twice a year Arita hosts a Ceramics Fair when the streets are lined with up to 500 stalls displaying items for sale. The autumn one is held at the end of November, but the larger one, the biggest ceramics fair in all of western Japan, is held during Golden Week in late April and early May.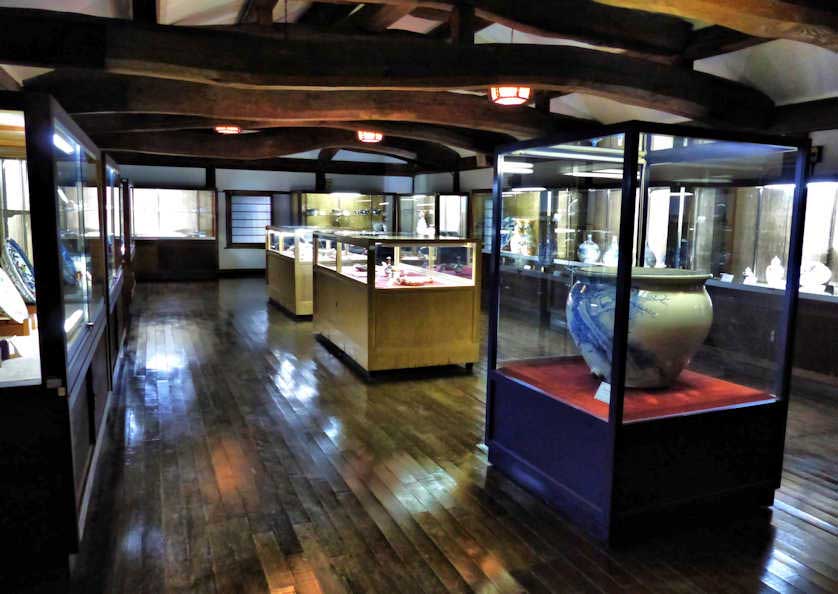 The Aritatoji Museum has a small but high quality display of historical pieces
Arita Porcelain Park
About 5 kilometers from central Arita is the Arita Porcelain Park, a theme-park with porcelain as its main focus. It may not be a place for everybody, but its centerpiece is somewhat bizarre - a reproduction of the Zwinger Palace in Dresden, Germany. Built in the early 18th century for King Augustus, and a fine example of Baroque architecture.
The reason behind its reproduction here in Arita is that Augustus was one of the greatest collectors of Asian porcelain in Europe, some of which was produced in the kilns of Arita.
The Zwinger Palace here at the Porcelain Park contains a museum displaying many fine examples of historical Arita-ware porcelain including a giant, 182 cm tall vase that was displayed at the World's Fair held in Vienna in 1873.
There are many faux-German buildings at the park housing gift shops and such, and the most popular site seems to be a sake brewery, however the park does have a fully-functioning kiln in operation.
The anagama, climbing kiln, is regularly fired up and is a rare sight to catch. The pottery offers a variety of hands-on workshops and classes.
340-28 Toya, Arita, Saga 844-0014Tel: 0955 41 0030Hours: open 9 am to 5 pm every day.Entry is free but there is a charge to visit the museum in the palace.
On public holidays and weekends there is a small bus service from Arita but taxi or car is the best option for visiting.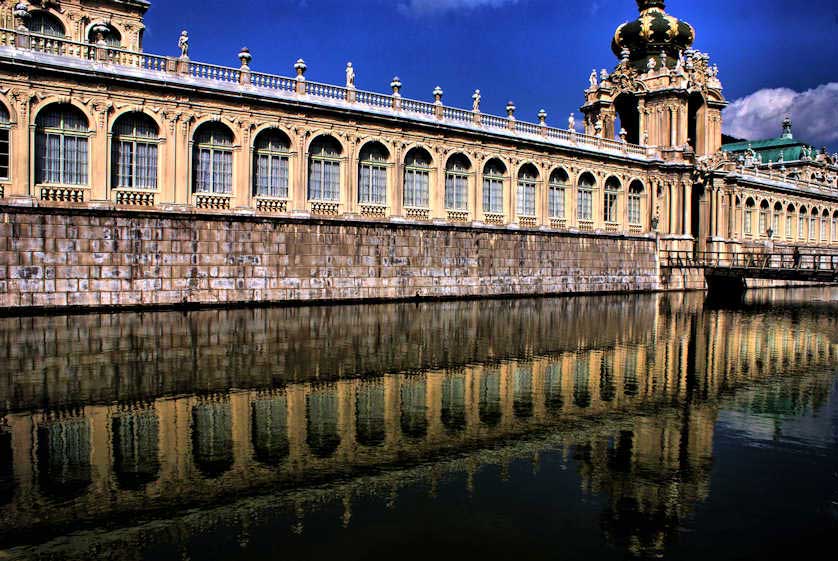 A reproduction of the Baroque Zwinger Palace at the Arita Porcelain Park
Kilns
There are still some kilns in operation in the area around Arita, and visits to these can be arranged. The porcelain from the area has gone by several different names.
Arita-yaki, Arita-ware, but also Hizen-yaki, after the name for the region, Nabeshina-yaki after the daimyo (feudal lord) who brought the potters back from Korea, and most commonly Imari-yaki.
Imari was the port from where the local porcelain was exported, first to Nagasaki and from there to the rest of the world.
Consequently much of it was called Imari-ware. Imari has numerous sites for the visitor that celebrates its porcelain past, but special mention must be made of Okawachiyama, known as Arita Hidden Pottery Village.
Located in the mountains between Arita and Imari, this picturesque village has several small museums and numerous kilns and other sites connected to pottery.
There are some accommodation options in Arita itself, but just a short train ride away is Sasebo, Imari, Takeo Onsen, and Huis Ten Bosch, all locations having a wide variety of hotels of all kinds.
A climbing kiln at Arita Porcelain Park
Access - Getting to Arita
Arita is about 1 hour and 30 minutes from Hakata Station in Fukuoka by express train.
Imari is also located in Saga Prefecture in Kyushu on the JR Chikuhi Line from Fukuoka via Karatsu (2 hours, 20 minutes) and the Nishi-Kyushu Line (Matsuura Railway) from Arita. From Sasebo, changing in Arita, journey time is 1 hour, 50 minutes. By highway bus from Hakata Station to Imari is 1 hour, 40 minutes.
From Imari Station taxis are available to Okawachiyama and there is also a bus service.
All the themes of the city