Kuwana Guide
Kuwana 桑名
Kuwana in Mie Prefecture is located just 16 minutes west of Nagoya by Kintetsu Limited Express from Kintetsu Nagoya Station.
Kuwana was one of the 53 post-stations on the Edo Period Tokaido Highway between Kyoto and Edo (Tokyo) - the route now largely following by the Todaido shinkansen - and it was from here in Kuwana that travelers had to make the dangerous Nagara River crossing to reach Nagoya.
Kuwana makes for a pleasant and interesting day trip from nearby Nagoya, to visit its temple with a tragic tale, a Western-style mansion and garden from the 19th century, an old pier that was part of the Tokaido, a charming park that was the site of the town's castle, and a decent museum or two.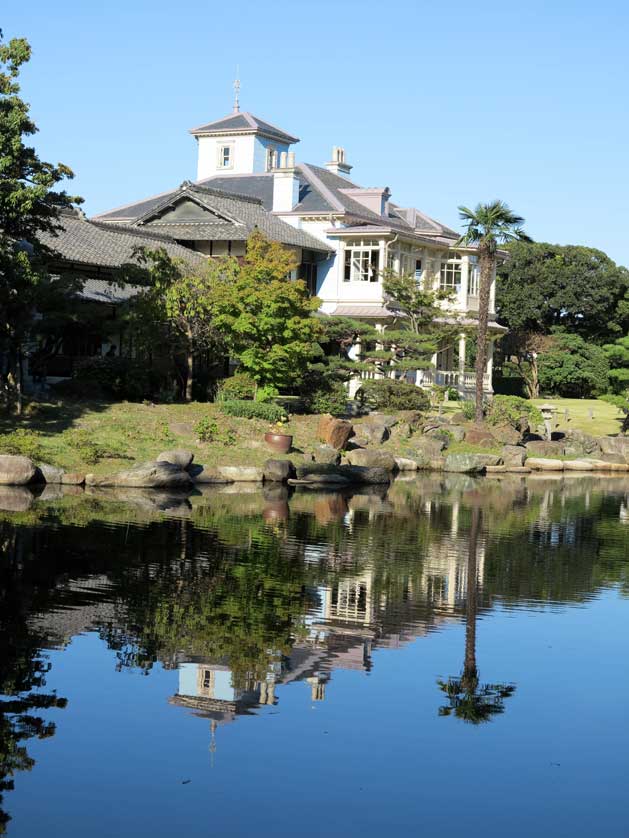 Rokkaen is a Meijo Period mansion and garden designed by English architect Josiah Conder.
Kuwana Attractions
Kaizoji Temple
Walking south from the JR Exit of Kuwana Station, turn left and first right down the main road to see Kaizoji Temple. The temple has the graves of a group of 24 samurai from Satsuma domain (present-day Kagoshima Prefecture) who were part of a team of 85 men brought to Kuwana by the shogunate to work on flood control on the Nagara, Kiso and Ibi rivers. Due to various perceived failings, 24 of the men committed ritual suicide to atone.
Leaving Kaizoji Temple turn left along one of the many canals that run through Kuwana. A short, pleasant walk will bring you to the highlight of Kuwana's attractions - Rokkaen.
Rokkaen
The Rokkaen house and gardens were built in the Meiji Period of Japanese history by one of the era's favorite foreign architects, Englishman Josiah Conder (1852-1920), who was also responsible for the infamous Rokumeikan built in Tokyo in the 1880s that became a symbol to the Japanese of "Western decadence," the Kyu-Furukawa Tei and the Kyu-Iwasaki Tei all in Tokyo.
Completed in 1913, the combined Western and Japanese-style Rokkaen was the former residence of Seiroku Moroto, a local rice and timber magnate, who made his fortune in the area. Besides the two main buildings, which were restored in 1993, the complex includes a strolling garden and Japanese-style kura or storehouses, reflecting the owner's business in the rice trade.
The European building, with some of the original furnishings and fittings still in evidence, includes a blue-painted, four-story tower, sun room and veranda, and connects directly to the long Japanese-style tatami-floored annex from where there are relaxing views of the garden from the engawa (i.e., balcony).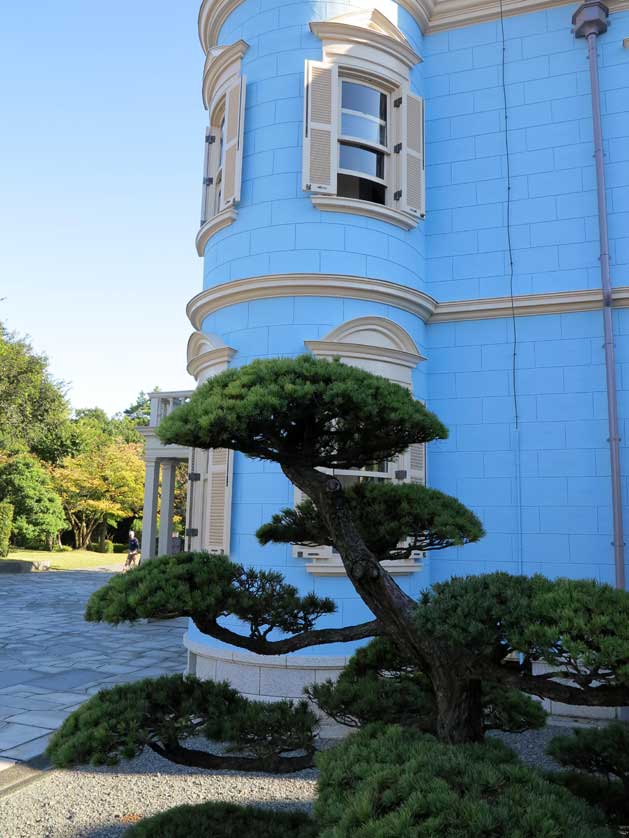 The 4-story western-style tower at Rokkaen, Kuwana.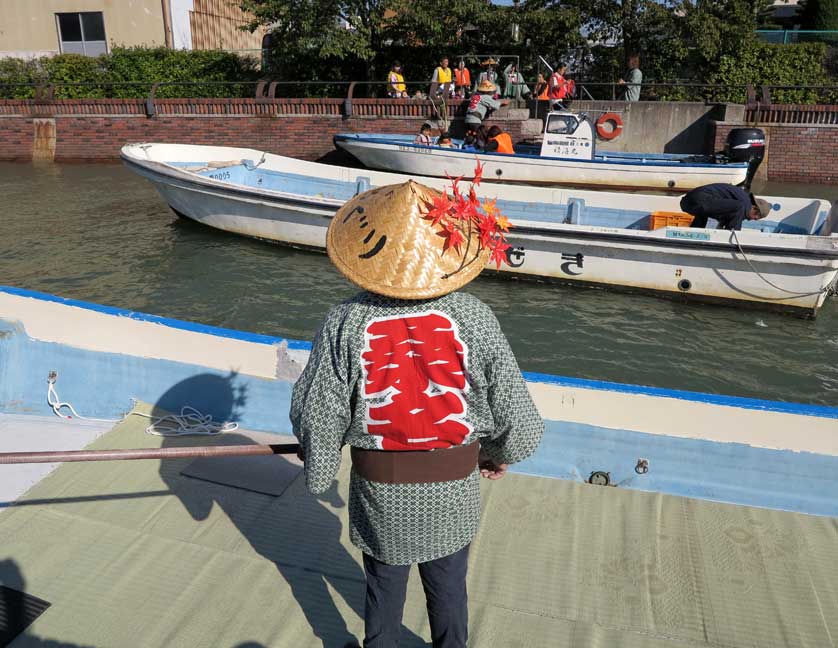 Boat rides on the canals and river, Kuwana, Mie.
Shichiri-no-watashi Ruins 七里の渡跡
A short walk along the raised bank of the Nagara River brings you to the ruins of an old pier: the Shichiri-no-watashi-ato, marked by a torii gate. shichi-ri means "seven ri - a ri being a length of about 3.9 km. watashi means "crossing." It was from this point in Edo times that ferries crossed the seven ri (c. 27 km) over to the Nagoya side, which allowed travelers to visit Atsuta Jingu and continue their journeys to Tokyo. Due to bad weather, the site was a notable choke-point on the Tokaido and a number of inns were established here to house travelers.
Just down the embankment is the restored Banryuyagura (open 9 am-3 pm), once part of Kuwana Castle and a guard turret used to protect the crossing and inspect goods being loaded onto and off the boats going across the Nagara River to and from Nagoya.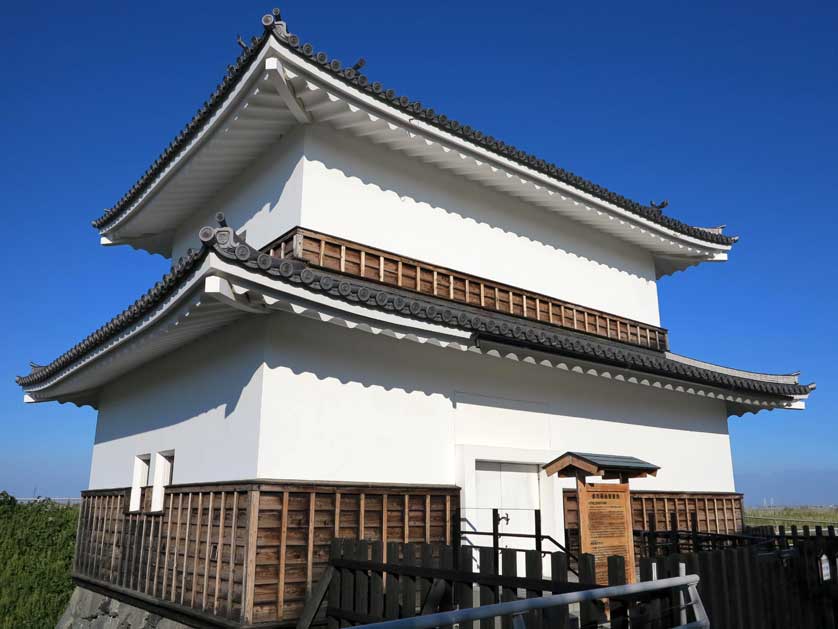 Banryuyagura, Kuwana, Mie Prefecture.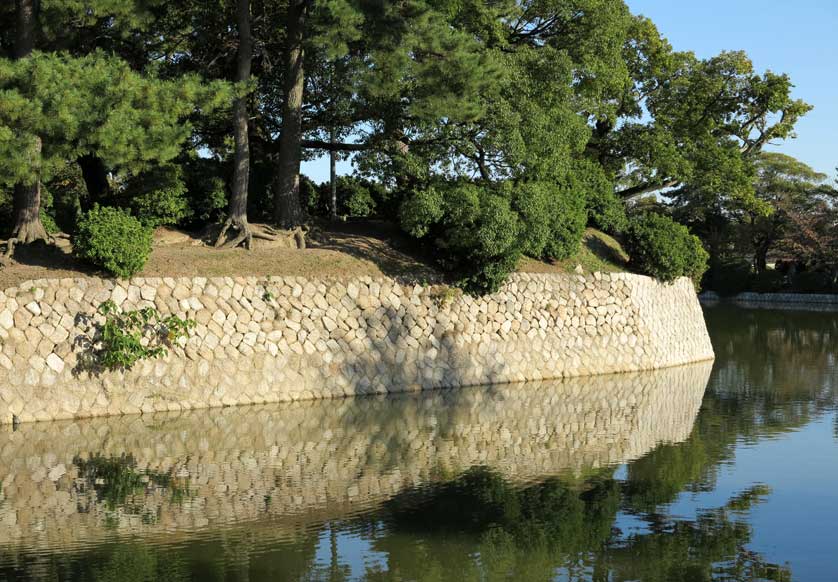 Kuwana Castle ruins walls and moat.
Kyuka Park, the Site of Kuwana Castle
From the Banryuyagura turn right into Kyuka Park, the former site of Kuwana Castle. Here the castle walls and moats are still extant, with various shrines and colorful bridges making up a peaceful park, and with marker stones detailing the history of the castle. Kyuka Park is worth visiting to see cherry blossoms in season, azaleas and irises.
Kuwana Museums
From Kyuka Park it is a short walk back towards Kuwana Station to visit the twin, free museums of Ishidori Kaikan and the Kuwana City Museum. Ishidori Kaikan is a former bank building, constructed in 1925, now dedicated to the Ishidori Festival, where colorful floats decked with Japanese lanterns parade through the city. The Ishidori festival is Kuwana's main festival and takes place on the first Sunday in August and the preceding Saturday. The Ishidori Matsuri is said to be one of the loudest festivals in Japan with taiko drumming and bell-ringing racking up the decibels.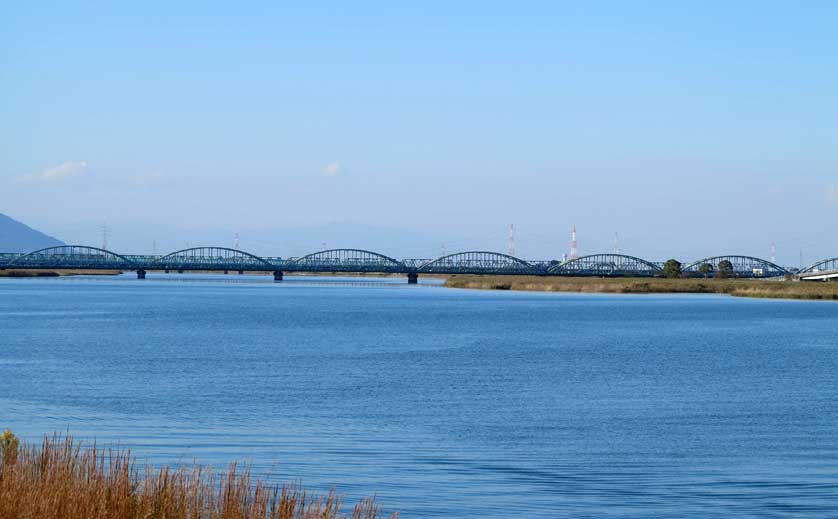 Kuwana and the Nagara River.
The Kuwana City Museum displays arts and crafts related to Kuwana as a post station on the Tokaido and also includes permanent exhibits of scale models of Kuwana Castle and original Edo Period maps of the town.
Other places of interest in Kuwana include Kuwana Higashi Betsuin Temple located on the restored Teramachi-dori Shotengai covered arcade, where there are a number of stores to buy souvenirs from Kuwana and Mie Prefecture. Kasuga Jinja is an important shrine in the town just to the east of the arcade.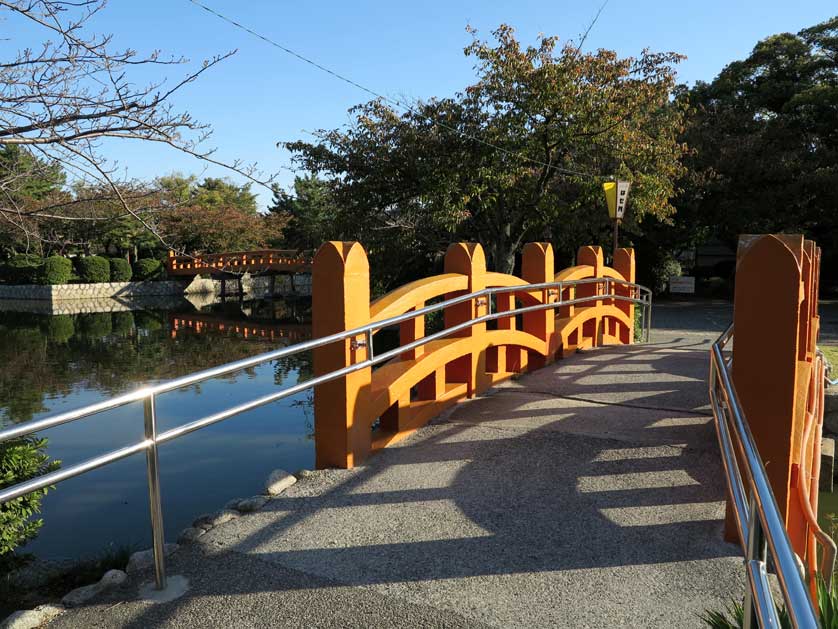 Kuwana Castle, Kyuka Park, Mie Prefecture.
Hotels in Kuwana
Hotel Fine Garden Kuwana is about 6km south of Kuwana Station, and offers spacious, comfortable accommodation for adults, with lots of mod cons, in-room games, satellite TV, and things to have fun with. Great buffets. Free Wi-Fi and parking. Nabano-no-Sato recreation facility nearby. Great value.
Kuwana, as a small town, is not blessed with numerous hotels, but near Kuwana Station is a branch of the Super Hotel chain along with the Kuwana Green Hotel, the Sanco Inn Kuwana Ekimae and the Station Hotel Kuwana.
Shopping & Dining in Kuwana
There are a number of shops and restaurants in the covered walkway heading south from JR Kuwana Station called Soeki Mate (桑栄メイト) including Japanese izakaya pubs, Western food and Asian food. The somewhat dilapidated walkway leads to the Sunfare Mall where the Kuwana Tourist Office is located along with more modern stores and places to eat.
Other malls in and around Kuwana are the MyCall Kuwana, one of the largest malls in Mie Prefecture. MyCall Kuwana is a short bus ride from the bus terminus outside Nishi-Kuwana Station on the Hokusei Line. There is a large Valor supermarket close to the Rokkaen.
Nabana no Sato
East of town and close to Nagashima Spa Land is Nabana no Sato (なばなの里) a Botanical Garden that is illuminated by millions of LED lights during the months from mid-October to early May. The theme park / gardens offers a variety of restaurants, onsen and shops. Take in the views from a 45 meter tall observation platform. Access is by Kintetsu train to Nagashima Station and then bus.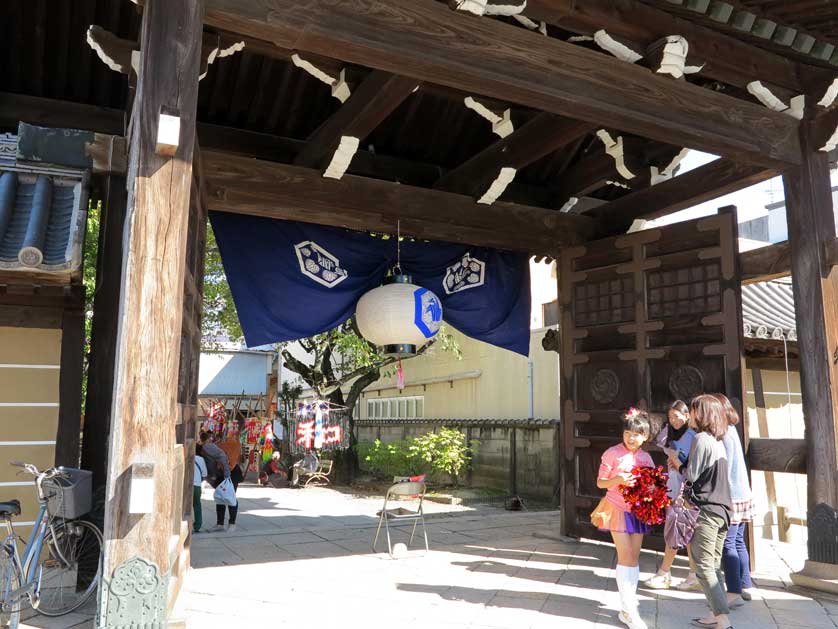 Higashi Betsuin Temple, Kuwana, Mie Prefecture, Japan.
Access To Kuwana - how to get to Kuwana
Kuwana Station is just 16 minutes by Limited Express from Nagoya Kintetsu Station or 35 minutes by local Kintetsu, and 30 minutes by JR on the Kansai Main Line from Nagoya Station. Local Kintetsu services also take about half an hour to reach Nagoya, though the last Kuwana service is a JR train.
Kuwana is 33 minutes from Tsu by Kintetsu Limited Express and 39 minutes by JR Express from Matsusaka.
Kuwana Station is also on the Yoro Railway which has infrequent services from Kuwana to Ogaki in Gifu Prefecture. Take this line to get to Tado Shrine for its annual horse festival in May, Yoro Park with its Site of Reversible Destiny - a modern art experience created by Nagoya-born, New York-based artist Arakawa Shusaku and his wife and artistic partner, poet Madeline Gins.
From Nishi Kuwana Station the Sangi Railway Hokusei Line runs out to the wilds of Mie Prefecture to Ageki.
There are buses from Kuwana Station to Chubu International Airport (Centrair) leaving Kuwana Station at 6.05 am, 8.45 am, 2.45 pm and 6.15 pm.
Ishidori Kaikan, Kuwana.
Kuwana Map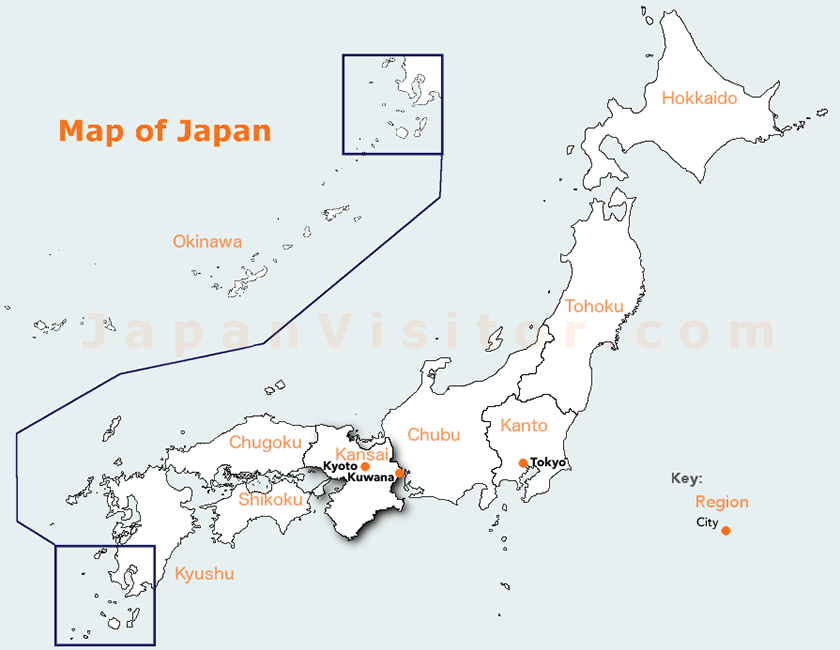 Kuwana Map
Kuwana: read a guide to Kuwana in Mie Prefecture, a former post town on the Tokaido and a worthwhile day trip west from Nagoya.
All the themes of the city