Kyu Furukawa Gardens
Kyu Furukawa Gardens: read a guide to Kyu Furukawa Gardens a mix of an English stately home and Japanese-style gardens in Tokyo.
Kyu Furukawa Gardens 旧古川庭園
Kyu-Furukawa Garden is a park in the north of Tokyo built on sloping grounds that features an old Western-style residence and garden as well as a Japanese garden.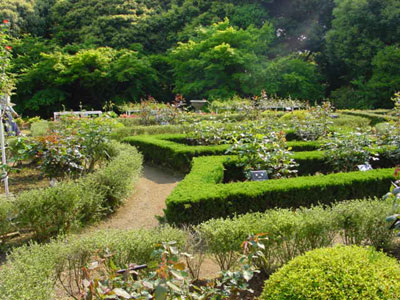 Formal Western-style garden at Kyu-Furukawa Gardens
History
Kyu Furukawa Gardens were originally the residence of Mutsu Munemitsu (1844-1897), a colorful Meiji-era politician from Wakayama.
Mutsu Munemitsu allied himself with Saigo Takamori during the ill-fated Satsuma Rebellion of 1877, and was subsequently imprisoned from 1878 until 1883, but was later rehabilitated and became Japan's foreign minister.
After Mutsu Munemitsu's second son was adopted into the Furukawa family, the property passed to Furukawa Ichibei, a Japanese businessman and industrialist and the owner of the Ashio copper mine.
The Western-style house on the slope in the gardens was designed by the prolific English architect, Josiah Conder (1852-1920), who also built the famous, though short-lived, Rokumeikan dance hall, the original Nikolai Cathedral and Kyu Iwasaki-tei in Tokyo and the Rokkaen in Kuwana, Mie Prefecture.
After World War II the house was briefly used by the British Embassy.
The gardens opened to the public in 1956.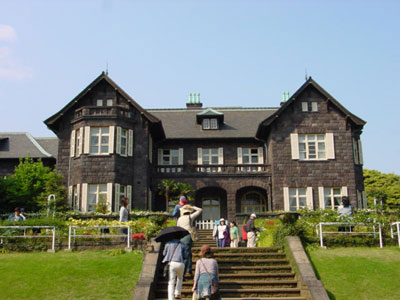 Kyu-Furukawa Gardens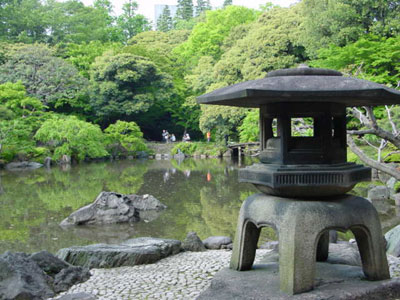 Kyu-Furukawa Gardens

Layout
The brick and slate country house now serves as the Otani Art Museum and is set in terraced, British-style rose gardens with a large, adjacent equally British lawn. There are over 90 varieties of roses in the rose garden.
The Japanese gardens at Kyu Furukawa were laid out by Kyoto-based landscape designer Ogawa Jihei, aka Niwashi Ueji (1860-1933) and include a pond created in the shape of the Japanese character for heart (心), a waterfall and a dry waterfall (karetaki) using rocks to create the impression of moving water.
The Kyu Furukawa Gardens are noted for their English-style roses, cherry blossom, azaleas, peonies and maple leaves in season.
Hours
Hours: 9am-5pm
Open every day - except from December 29 to January 1.
Admission
Adults 150 yen; over 65's 70 yen. Free for elementary school age and younger.
Access - Getting to Kyu Furukawa Gardens
Kyu Furukawa Gardens are less than 10 minutes walk from Kami-Nakazato Station on the JR Keihin-Tohoku Line or Nishigahara Station on the Tokyo Namboku Subway Line.
Alternatively Kyu Furukawa Gardens are about 12 minutes walk from Komagome Station on the the JR Yamanote Line.
Kyu Furukawa Gardens1-27-39 Nishigahara, Kita-ku, Tokyo 114-0024Tel: 03 3910 0349
Google Map of Kyu-Furukawa Gardens
View Tokyo Map Japan in a larger map
Nearby Attractions
Rikugien Garden is about a 15-20 minute walk up Hongo Dori.
Book Hotel Accommodation in Tokyo Near Kyu Furukawa Gardens
All the themes of the city