Teshima Island
豊島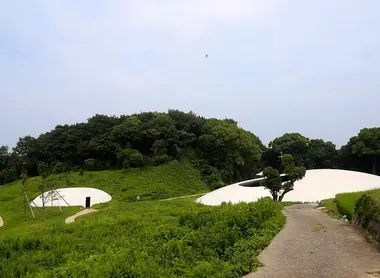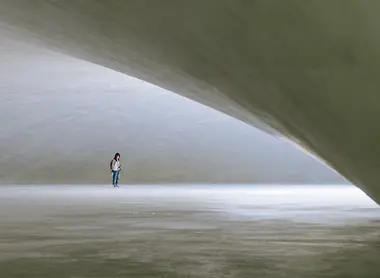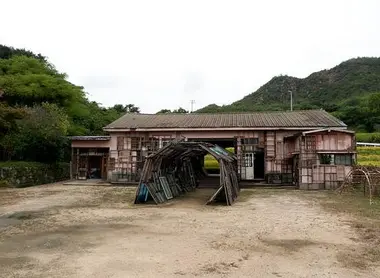 where art thrives
If Naoshima means "the pleasant island", Teshima is called "the prosperous island" because its inhabitants lived there for a long time in opulence thanks to the production of ornamental stones. Today peaceful and bucolic, it is part of the project to integrate art into nature. Contemporary art is gradually invading all the islands of the Seto Sea: the island of Teshima, east of Naoshima, is the latest addition to the great artistic project of La Benesse.
Safely
The majority of visitors arrive through the port of Ieura, from which you can rent bicycles or board a bus to one of the three exhibition venues on the island. In Ieura, there is the Teshima Yokoo House which houses the very colorful and sometimes unexpected works of the painter Tadanori Yokô. Another house houses the work Il Vento where the artist Tobias Rehberger played with the geometric lines that make up Japanese interiors.
The Teshima Art Museum , created by Ryue Nishizawa, is a concrete drop of water nestled at the top of a hill covered with terraced rice fields. unique work: Matrix by artist Rei Naito . The atmosphere there is constantly changing due to the play of water and light, but also under the influence of the natural external environment. Silence and barefoot are required.
Museums in the heart of the island
To the east is Karatô, where one of those popular festivals ( matsuri ) that usually take place in the summer takes place every year at the end of October.
In a small black wooden house, Christian Boltanski's small museum contains the work Les archives du cœur. Since 2008, the artist has recorded the heartbeats of strangers around the world. The most popular French artist in Japan, Boltanski has touched the souls of its residents through this installation. It's even possible to record your own heart inside the gallery!
Nearby is the work-of-art restaurant Shima Kitchen, made entirely of used doors and windows. Further north, there is the Big Bambù installation, an intermingling of boat-shaped bamboo trunks rising above the Teshima forest. As on Naoshima, the works are arranged everywhere in nature. It is therefore rather interesting to walk on the side roads of the island. The island also participates in the Setouchi Triennial , which has taken place every three years since 2010.
For your travels, Japan Experience recommends renting bicycles. Rental shops are available at the port of Ieura at 500 yen (5€) a day for regular bikes, and 1,000 yen (8€) for four hours for electric bikes. (+100 yen per additional hour) These means of transport are also very practical for exploring the island in its smallest corners, as well as its beaches.
---
Address, timetable & access
Address

Timetable

From Takamatsu: Ferries run three to four times a day for 1,330 yen. It is also possible to come from Naoshima (620 yen), Shodoshima (480 yen for Karatô and 770 yen for Ieura) or Takamatsu (from Uno station the ferries leave for Shodoshima and stop at Teshima for 770 yen)

Price

Teshima Art Museum: 1,540 yen, free for children under 15 Heart Archives: 510 yen Il Vento: 300 yen Shima Kitchen: free (excluding drinks)

Access

Teshima Art Museum: 10am-5pm March-September, 10.30am-4pm October-February, closed Tuesdays March-November and Tuesday-Thursday December-FebruaryShima Kitchen: 10am-4.30pm weekends and Monday, 11am-2.30pm Thursday and Friday
All the themes of the city