The ancient island of Shamijima
沙弥島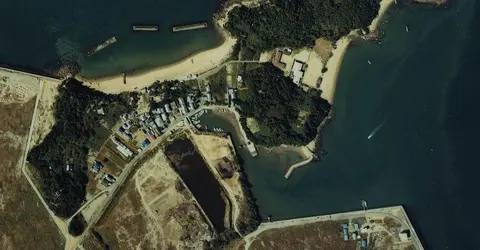 The ancient island in the Seto Sea
Shamijima was once an island in the Seto Sea, now attached to the land. It has hosted the Setouchi Triennale since 2013 and participated in it in 2019 for the spring session.
An ancient small island
Make no mistake about it, Shamijima has not been an island for several decades: precisely since 1967, when it was attached to the mainland. This colossal undertaking corresponds to the construction of the Great Seto Bridge, which connects Honshu to Shikoku. Shamijima was previously a very small island of 2 km in circumference, which was therefore connected to the coast of Sakaide a year before another island, that of Seijima.
If the surroundings of Shamijima are quite industrialized, even concrete, the "island" in itself is calm and pleasant to explore on foot. You will find a small fishing village, beaches (including Saya and Nakanda beaches), parks, temples, sanctuaries... Note that in addition to the Setouchi Triennial, it hosts the Higashiyama art museum Kaii Setouchi. You can admire the paintings of the Japanese landscape painter Kai Higashiyama (1908 - 1999).
Shamijima is a great place to admire the blue of the Seto Inland Sea as well as a great view of the particularly impressive Seto Grand Bridge. An observation tower perched 108 meters have also been installed to allow visitors to admire the 360° view.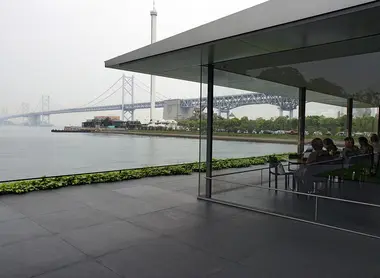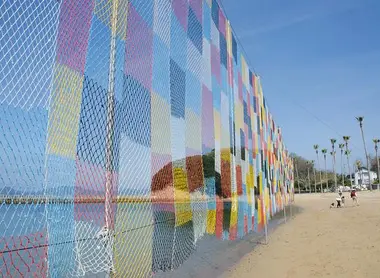 Works on Shamijima during the Setouchi Triennale
Shamijima participates in the Setouchi Triennale from April 26 to May 26, 2019. Some works are installed outdoors and therefore permanently visible, others require an entrance fee and are only visible during the day.
Here are some of the works not to be missed on site:
"Stratums", by Tanya Preminger, takes the form of a small hill to climb and refers to ancient tumuli.

"Sora-Ami: Knitting the Sky", by Yasuaki Igarashi. Fishing nets were handcrafted by the people of the five Yoshima islands, and put together in a large work installed by the sea, for a beautiful image of cooperation.

"Oiwa Island 2", by Oscar Oiwa, is an impressive black and white work depicting a typical Setouchi landscape, done entirely in black marker under a large dome. It is open from 9:30 am to 5 pm for an entrance of 300 yen ($2.50/2€).

"Stories of 12 Islands: Animation of Sea Wanderings", by Masahiro Hasunuma, is indoor work. Twelve small flipbooks, each illustrating one of the 12 islands taking part in the Triennale, are available to visitors who will have to turn a joystick to see the drawings come to life. Open from 9:30 am to 5 pm for 300 yen ($2.50/2€).

 

 
---
Address, timetable & access
Address

Timetable

Accessible from JR Sakaide station, then from the station, take the municipal buses from Sakaide to Shamijima (20 min, 370 yen ($3.50/3€)). Increased bus frequency during the Setouchi Triennale.
All the themes of the city