Tokyo Fall Colors Viewing Spots
See a listing of the best places to see the fall colors in Tokyo and the Kanto area including Showa Kinen Koen and Icho Namiki (Ginkgo Avenue).
Fall Leaves in Tokyo 東京 紅葉
Japan and the Japanese are in love with the changing of the seasons. Just as the blooming of cherry blossoms is celebrated during the hanami season (cherry blossom viewing) in March and April, so are the autumn colors in Japan enjoyed in the fall, usually in mid to late November, before the onset of winter in December and the coming of the plum blossoms in February, which signals the arrival of spring.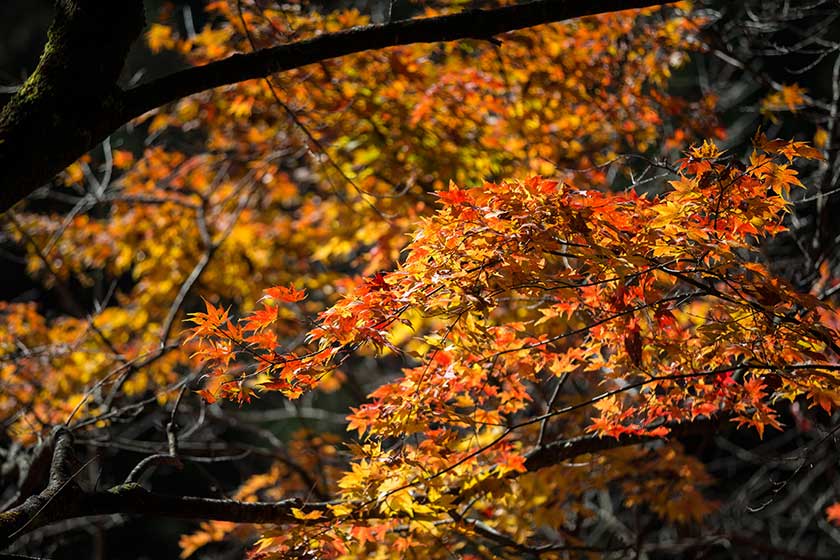 Autumn leaves on Mount Mitake - under two hours from central Tokyo
Tokyo is not as famous as the ancient capital of Kyoto for its kouyou (紅葉) or momiji (when referring to maples) and does not attract hundreds of bus tours to its temples and shrines, as does Kyoto, but there are still plenty of places to enjoy the fall colors in Tokyo and the nearby regions.
Below is a list of some of the places to see the best autumn colors in Tokyo and the surrounding area of Kanto.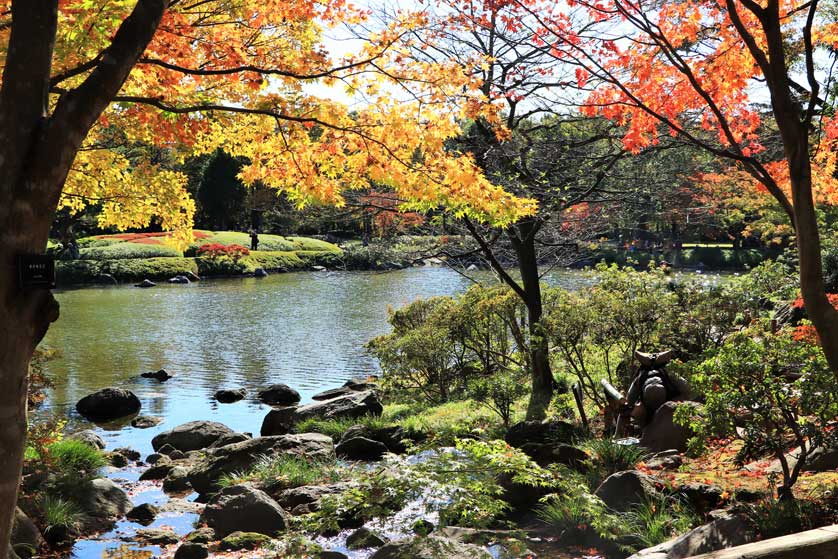 Reflections and autumn leaves in a pond, Showa Kinen Koen, Tokyo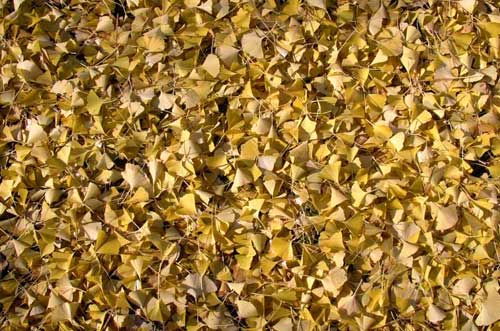 Carpet of ginkgo leaves, Tokyo
Tokyo
Hama-Rikyu Garden
Hama-rikyu Garden is an Edo Period strolling garden which is beautiful year round but is especially popular in early spring for the cherry blossom and autumn for its maple leaves.
Icho Namiki (Ginkgo Avenue)
Icho Namiki is an avenue of gingko trees (the municipal flower of Tokyo) that are pruned to look almost like pines. The line of trees is in Meiji Jingu Gaien Park in Aoyama.
Imperial Palace
The East Gardens of Tokyo's Imperial Palace in the Ninomaru area of the former Edo Castle grounds has both maples and ginkgo trees, which are at their best in mid-November.
Kiyosumi Gardens
Kiyosumi Gardens are worth visiting at any time of year but particularly in the autumn. an example of an ancient daimyo's (feudal lord's) pleasure ground. Kiyosumi Gardens are superbly laid out and an impeccably kept jewel of Japanese landscaping.
Koishikawa Korakuen
Koishikawa Korakuen, near Tokyo Dome, is an Edo Period strolling garden that once belonged to the feudal lord of Mito and along with Rikugien (see below) one of Tokyo's best places to enjoy the shades of autumn.
Kyu Furukawa Gardens
Kyu Furukawa Gardens were originally the property and grounds belonging to Mutsu Munemitsu (1844-1897), a colorful Meiji-era politician from Wakayama and today are an oasis of green in summer and a kaleidoscope of colors in the fall.
Mt Takao
Mt. Takao (Takaosan) is a popular hiking area west of Tokyo and is known for cherry blossoms in spring and its richly hued leaves in the fall.
Mt Mitake
Mt. Mitake is another popular hiking spot within two hours of downtown Tokyo. Its misty, forested slopes are a well-known spot for glorious autumn shades.
Rikugien Garden
Rikugien Garden is an Edo Period landscaped garden designed for strolling and has some of the capitals best fall colors. The gardens are open at night and illuminated during the peak season.
Shinjuku Gyoen
Shinjuku Gyoen is a large urban garden and a good place to enjoy the fall vistas especially Momijiyama and the Shinjuku Gyoen's formal Japanese garden.
Showa Kinen Koen
Showa Kinen Koen in western Tokyo has some of the capital's best fall views with a mix of maple reds and ginkgo yellows.
Yoyogi Park
Yoyogi Park has numerous Japanese maples and ginkgo trees, most notably in the south of the park.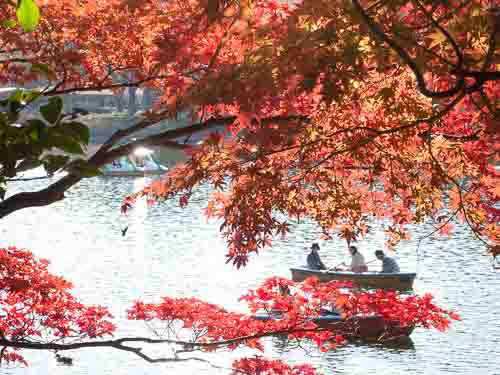 Enjoy the fall colors by boat at Showa Kinen Koen, Tokyo

Ginkgo trees, National Diet Building, Japan
Kanto
Kanto, the area of northern Japan surrounding and including Tokyo has many places to enjoy the fall colors, many of which make for an interesting day trip from the capital or a longer stay.
Chichibu-Tama-Kai National Park
The area around the Mitsumine Shrine in Saitama Prefecture has hiking paths from the Mitsumine all the way to Mount Kumotori and is beautiful in autumn. The area is all part of the impressive Chichibu-Tama-Kai National Park.
Hakone
Hakone, west of Tokyo, is an easily-reached natural area from Tokyo and the leaves can be seen throughout the month of November. Hakone is not especially famous for fall colors but there is plenty of autumn splendor to admire.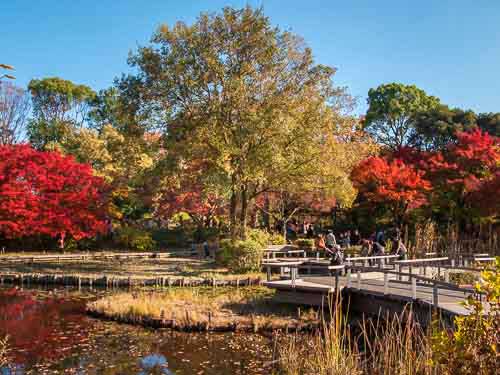 Enjoy the fall colors in Tokyo's many green spaces and parks
Kamakura
Kamakura, an easy day trip from Tokyo, offers refined autumn colors in its many historic Kamakura Period and Muromachi Period temples and shrines. Kamakura's coastal location means the season usually starts later than other areas.
Nikko
The highland areas close to Nikko are justly famous for their autumn leaves including Lake Chuzenji and the Kegon Falls area and the Kirifuri Highland and Kawaji and Yumoto Onsens.
Oze
Oze National Park is a popular hiking spot about 100km north of Tokyo. In autumn the marshland grasses turn a lovely red and yellow color. In early autumn the nikko-kisuge (yellow alpine lily) can also be seen.
Shosenkyo Gorge
Shosenkyo Gorge, near the city of Kofu in Yamanashi Prefecture, can be enjoyed in the fall by walking along the paths following the scenic Arakawa River.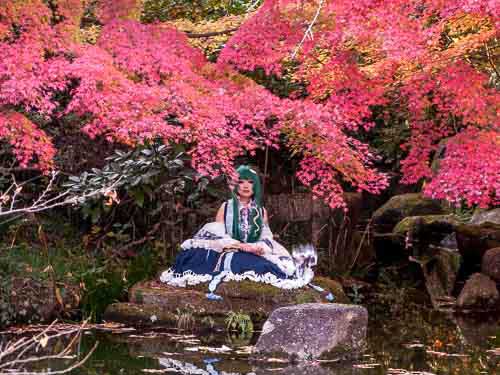 Cosplay and Koyo (fall colors), Tokyo, Japan
Related Japan Seasonal Links
List of Parks and Gardens in Japan
Tokyo Cherry Blossom Spots
Kyoto Cherry Blossom SpotsKyoto Fall Colors
Tokyo Accommodation
All the themes of the city