Tokyo Cherry Blossom Viewing Spots
See a listing of Tokyo's best cherry blossom viewing spots including Ueno Park, Shinjuku Gyoen and the moats of Edo Castle.
Cherry Blossoms in Tokyo 東京の花見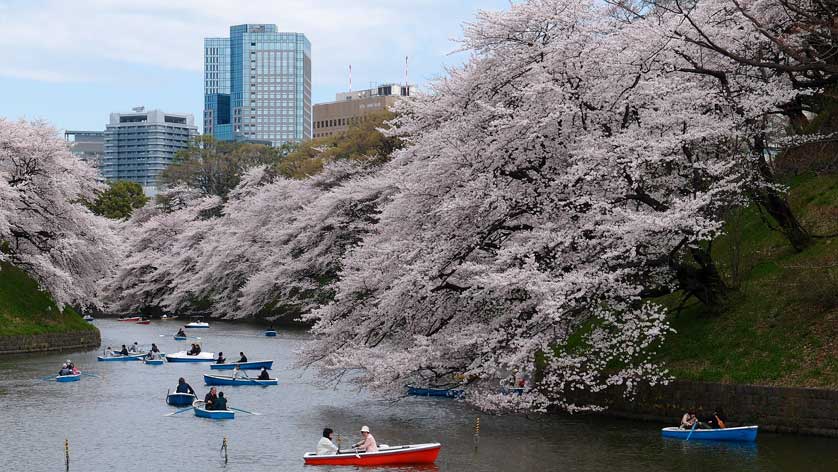 Cherry blossom in Tokyo
Tokyo, as befits a city of its size, has many places to enjoy cherry blossom viewing (hanami) in the capital city's parks and gardens, along its rivers and canals and in its temples and shrines.
Hanami season is from late March to the middle of April and is for many Japanese the best time of year. This is when the cherry blossom trees all over Japan come to bloom and people hold outdoor parties to view them. The blossom remains at its peak for between seven and 10 days. The name says it all - hana means "flower" and mi is "to look".
Cherry blossom viewing was an aristocratic pastime up until the Edo era of Japanese history, and became a universal obsession in Japan about three centuries ago.
The most common kind of blossom is that of the Yoshino cherry, or somei yoshino in Japanese. The Yoshino cherry is a variety developed in Tokyo towards the end of the Edo era, in Tokyo. Those Tokyo roots are reflected in the tree's botanical name, Prunus yedoensis, the "yedo" referring to Tokyo's old name: Edo.
Tokyo Top Cherry Blossom Viewing Spots
This map shows the location of each cherry blossom spot in Tokyo mentioned in this article.
Below is a list of some of the places to see the cherry blossoms in the Japanese capital, Tokyo.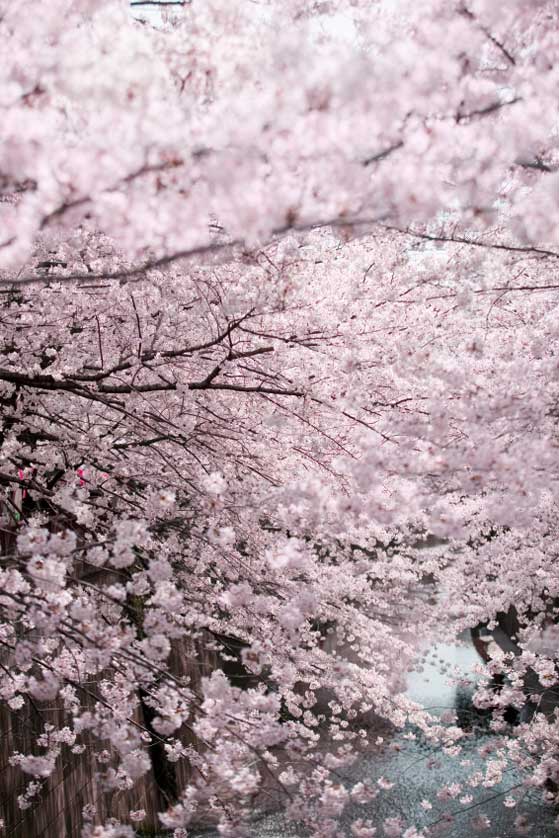 Cherry blossoms on the Meguro River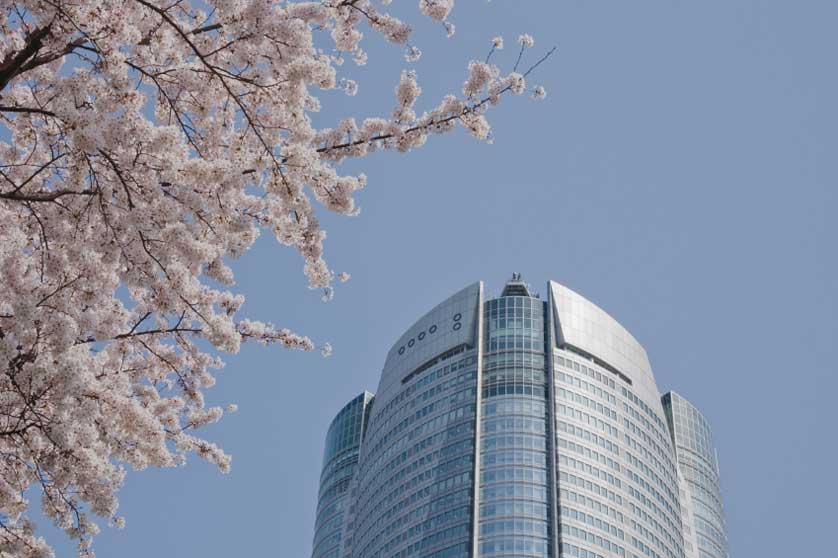 Cherry blossom and Roppongi Hills, Tokyo

Ueno Park
There are more than one thousand cherry trees in Ueno Park along the street that leads from the Saigo Takamori statue towards the National Museum and around Shinobazu Pond. Ueno Park is located a few steps from Ueno Station (Shinobazu Exit (不忍口) - better for cherry blossom viewing purposes than the Ueno Park Exit). See Tokyo hanami map for Ueno Park.
Chidorigafuchi
This area of Tokyo which includes Chidorigafuchi National Cemetery, Chidorigafuchi Green Way, Chidorigafuchi Park, the Hanzo Moat of the Imperial Palace (Edo Castle), Kitanomaru Koen and Yasukuni Shrine has many, many cherry trees spectacular in full bloom. Boats can be hired to admire the blossom while floating in the Hanzo moat. Just a little south of the Chidorigafuchi district is the Supreme Court of Japan with its own spectacular row of sakura trees. Start here, then past the National Theater of Japan next door with its gorgeous spring garden, and then a 20 - 25 minute stroll through Chidorigafuchi Park (across from the British Embassy) and up to Yasukuni Shrine for one of Tokyo's most magnificent cherry blossom spectacles. See Tokyo hanami map for the Chidorigafuchi area.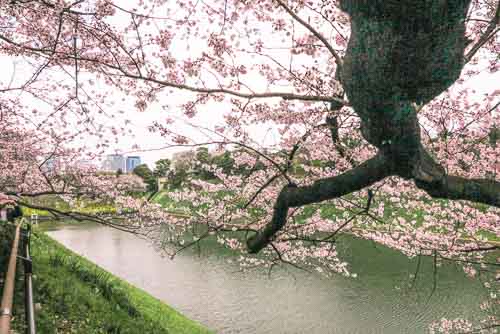 Cherry blossoms in Chidorigafuchi Park over the Hanzo moat of the Imperial Palace
Sumida Park
Sumida Park, on the east bank of the Sumida River, has almost 650 cherry trees, and is well known throughout Japan as a prime hanami spot. Also, parkland lines both sides of the Sumida River, on the western Taito-ward bank and the eastern Sumida-ward bank, extending over a kilometer from Azuma-bashi Bridge near Asakusa up to Sakura-bashi Bridge, with scores of cherry trees along the way.
Two festivals take here at this time. The Bokutei Cherry Blossom Festival takes place around Sakurabashi Bridge, from the last Saturday in March to the first Sunday in April, and the Sumida Park Sakura Festival also takes place, from about March 20 to April 10. Nighttime affords the beautiful spectacle of lit-up blossom trees.
Boats serving meals ferry cherry blossom aficianados up and down the river. The whole scene is enhanced by the sight of the Tokyo Skytree towering in the background, less than 1 km away.
A Sumida River pleasure boat cruise is highly recommended for this time of the year - but book early!
Access to Sumida Park
Exit 4 of Asakusa Subway Station on the Ginza Line is right next to Azumabashi Bridge.
Asakusa Station on the Tobu Skytree Line is about 3 minutes walk from Azumabashi Bridge.
Exit A3 of Asakusa Subway Station on the Asakusa Line is about 5 minutes from Azumabashi Bridge (right turn out of the exit.)
See Tokyo hanami map for Sumida Park
Asukayama Park
Asukayama Park is in Tokyo's Kita ward, right next to Oji Station. Asukayama Park was opened in the early eighteenth century by the Shogun of the time for the specific purpose of providing a place for the common people to enjoy the sight of spring cherry blossom, and three centuries later, it retains this role. As well as the sight of blossoming cherry trees, visitors can also enjoy the three museums in the park: the Kita City Asukayama Museum, the Paper Museum, and the Shibusawa Memorial Museum. During the cherry blossom season, the trees are lit up at night.
Asukayama Park Access
Take the South Exit of Oji Station on the Keihin Tohoku Line.Get off at Oji Station on the Namboku Subway LineGet of at Oji-eki-mae Station or Asukayama Station on the Toden Arakawa Streetcar Line See Tokyo hanami map for Asukayama Park.
Aoyama Cemetery
The huge, 26 hectare (65 acre) grounds of Aoyama Cemetery in Aoyama have many hundreds of cherry trees. Aoyama Cemetery is a peaceful place to stroll all year round, and with historical interest thanks to the many famous people, both Japanese and foreign, who are buried here. However, Aoyama Cemetery is at its most poignant and beautiful during the cherry blossom season.
Access to Aoyama Cemetery
From Exit 1B of Gaien-mae Station on the Ginza Line and Hanzomon Line, turn immediately right down the road that goes off Aoyama-dori Avenue and walk about 3 minutes.From Exit 5 of Nogizaka Station on the Chiyoda Line, turn right and you will see the trees of the cemetery diagonally across the road from you.See Tokyo hanami map for Aoyama Cemetery
Mt Takao
Mt. Takao (Takaosan) is a popular hiking area west of Tokyo. Being at an elevation, and therefore somewhat cooler than Tokyo, the cherry blossom here peaks about 10 - 14 days later than in Tokyo. The Itchodaira (一丁平) area, about half an hour's walk on from the summit of Mt. Takao in the direction of neighboring Mt. Shiro and, further on, Mt. Jinba and Lake Sagami, is where the trail is lined with what is called "The Thousand Cherry Trees of Mt. Takao" (Takaosan Senbon Zakura comprising several different varieties. See Tokyo hanami map for Mt. Takao.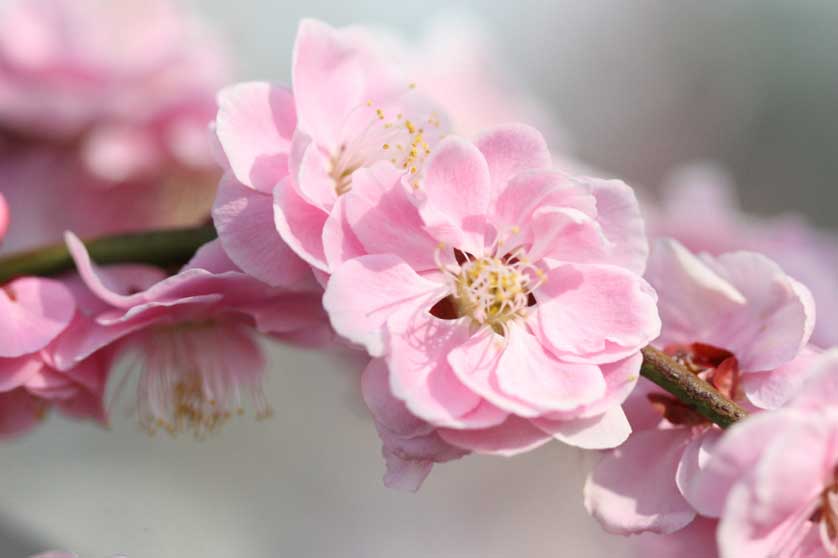 Cherry blossom, Tokyo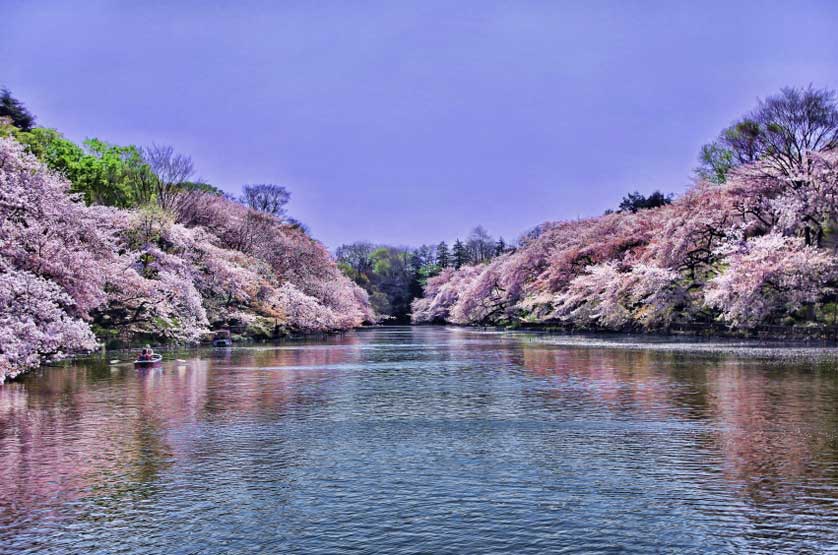 Cherry blossom in full bloom, Tokyo

Inokashira Park
Inokashira Park in Kichijoji draws large crowds in hanami season. It's fun to hire a pleasure boat to view the blossoms that grow around the pond. Inokashira Park is a gathering place for casual musicians, artists, and street performers, sharing their creativity with other visitors. See Tokyo hanami map for Inokashira Park
Yoyogi Park
Yoyogi Park has over 600 cherry trees and is particularly popular with weekend picnickers. The wide margin surrounding Central Plaza has a variety of features such as a rose garden (with over 30 varieties), groves of various featured trees, including a sakura (cherry blossom) grove, and a food and drink store. The cherry grove, while small, is beautiful in spring. See Tokyo hanami map for Yoyogi Park
Shinjuku Gyoen
Shinjuku Gyoen has over 1,000 cherry trees of various types and is one of Tokyo's most popular cherry blossom viewing spots. Shinjuku Gyoen includes a French formal garden, an English landscape garden, a Japanese traditional garden, a "Mother and Child Forest", a maple hill, an azalea hill, several ponds, and a Taiwan Pavilion. See Tokyo hanami map for Shinjuku Gyoen Park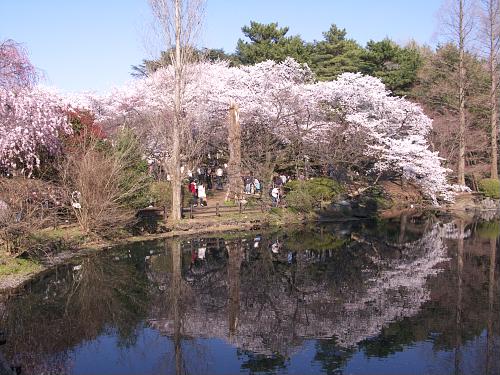 Cherry blossom on Nakanoike Pond, Shinjuku Gyoen, Tokyo
Meguro River
The Meguro River stretches over 8 km from Setagaya ward, through Meguro ward then Shingawa ward into Tokyo Bay. Almost 4 km of that stretch, from Ikejiri-ohashi Bridge to Kamenokoh-bashi Bridge in Shinagawa is lined with over 800 cherry trees. Walking the banks of the river makes for exquisite peak springtime enjoyment by both day and at night when the trees are lit up.
Access to the cherry blossom section of the Meguro River
Access this section of the Meguro River from Naka-meguro Station on the Tokyu Toyoko Line.
See Tokyo hanami map for the Meguro River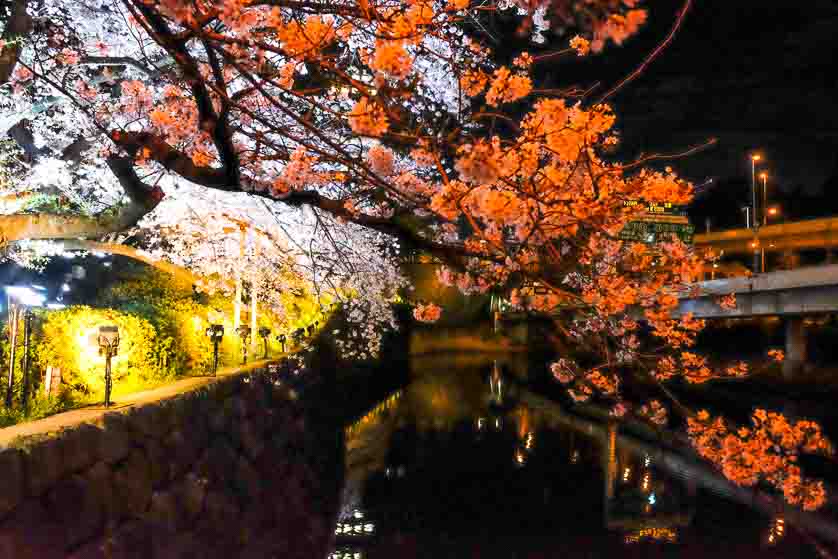 Yozakura ("night blossom") in Kioicho, Chiyoda ward, Tokyo

Koishikawa Korakuen
The grounds of Koishikawa Korakuen are beautiful in all seasons and the spring hanami season is no exception. The Koishikawa Korakuen Gardens were begun in 1629 by Yorifusa Mito, the first feudal lord of the Mito Tokugawa family and eleventh son of patriarch Ieyasu Tokugawa. See Tokyo hanami map for Koishikawa Korakuen
Harimazaka Slope
Harima-zaka Slope in Tokyo's Bunkyo ward, with lots of universities, is a relative newcomer as a Tokyo cherry blossom spot. The spectacular vista of cherry blossom that happens here every spring dates from 1960, when over 150 sakura trees were planted here, and have been carefully tended by locals ever since. Harimazaka is a real "cherry blossom comes to the big city" scene. The sight of these twin rows of big, dark, muscular trees shrouded in and forming almost a tunnel of ephemeral pink and white delicacy is one to remember. Just a little on from Harimazaka is Koishikawa Botanical Garden, another famous hanami spot.
Access to Harima-zaka Slope
Take Exit 1 from Myogadani Station on the Marunouchi Subway Line and immediately take the pedestrian crossing to the other side Route 254. Go right and walk as far as Koishikawa 5-chome intersection, then turn left. A 5-minute walk. See Tokyo hanami map for Harima-zaka Slope
Koishikawa Botanical Garden
Koishikawa Botanical Garden, just a little further on from Harimazaka Slope, are the oldest botanical gardens in Japan, dating from 1684, when the Shogun, Tsunayoshi Tokugawa (1646-1709) ordered the planting of the Medicinal Herb Garden - still part of today's gardens. Koishikawa Botanical Garden has a number of different varieties of cherry trees. See Tokyo hanami map for Koishikawa Botanical Garden
Yanaka Cemetery
Like Aoyama Cemetery, Yanaka Cemetery in the Yanaka district is another large Tokyo cemetery with many cherry trees within the spacious grounds. As with Aoyama Cemetery, being a place of repose, Yanaka Cemetery is an atmospheric and historical place to stroll around rather than picnic in. See Tokyo hanami map for Yanaka Cemetery
Ojima Komatsugawa Park
Spacious Ojima Komatsugawa Park, near the west bank of the Arakawa River, in Tokyo's Edogawa ward, is a spacious, verdant park with over 1,000 cherry trees of different varieties. Ojima Komatsugawa Park, surrounded by public housing, is not worth going to just for the hanami, but is a nice place to stroll under cherry blossoms if you happen to be in the area anyway.
Access to Ojima Komatsugawa Park
Take the Ojima Exit of Higashi-Ojima Station on the Toei Shinjuku Line and the park is right across the road.
See Tokyo hanami map for Ojima Komatsugawa Park
Shinjuku Gyoen, Shinjuku, Tokyo
Kasai Rinkai Park
Kasai Rinkai Park in the very south of Edogawa ward faces Tokyo Bay, and is the biggest park in Tokyo's 23 wards. As well as being very popular in spring for its more than 600 sakura trees of numerous varieties, the park also has a large seabird sanctuary, as well as an aquarium. Kasai Rinkai Park is close to Tokyo Disneyland.
Access to Kasai Rinkai Park
Kasai Rinkai Park is accessible from Kasai Rinkai Koen Station on the JR Keisei Line.See Tokyo hanami map for Kasai Rinkai Park
Sotobori Park
Sotobori Park is alongside the Sotobori River, which for about the 2 km from Iidabashi Station to Yotsuya Station is a riot of cherry blossom in spring, lined by more than 700 cherry trees in an enchanting atmosphere.
Access to Sotobori Park
Take the West Exit of Iidabashi Station on the JR Chuo-Sobu Line and go right.See Tokyo hanami map for Sotobori Park
Shiba Park
Shiba Koen close to Tokyo Tower is a big, regal park in a sedate part of Tokyo, and is one of the more relaxed places to enjoy the transient delights of hanami. See Tokyo hanami map for Shiba Park
Hama-rikyu Garden
Hama-rikyu Garden is another Edo Period strolling garden which is beautiful year round but is especially popular in early spring for the cherry blossom. Nearby is the arguably even more beautiful Kyu-Shiba-rikyu Garden See Tokyo hanami map for Hama-rikyu Garden
Kyu-Shiba-rikyu Garden
Kyu-Shiba-rikyu Garden is one of Tokyo's oldest gardens created by a feudal daimyo lord, and is also one of the capital's most exquisite. This intricately designed garden with a magically natural feel about it is as pretty as an ukiyoe picture when the cherry blossoms bloom. Go here for a quintessentially elegant Japanese hanami experience. Nearby is the almost equally beautiful Hama-rikyu Garden. See Tokyo hanami map for Kyu-Shiba-rikyu Garden.
Tokyo Metropolitan Jindai Botanical Gardens
Tokyo Metropolitan Jindai Botanical Gardens is an almost 43 hectare (106 acre) park in Chofu City, quite a way west of Tokyo. This spacious park has an area planted with cherry trees of different types. Nearby is Jindaiji Temple and its Pet Cemetery and the many soba (buckwheat noodle) restaurants of the Chofu/Mitaka region of western Tokyo.500 yen for adults. Hours: 9:30 am - 5 pm, last entry 4 pm. Closed Monday, except when Monday is a national holiday when it is open on Monday but closed the following day.
Access to Jindai Botanical Gardens
The park is accessible only by bus from Chōfu Station on the Keiō Line. Take an Odakyū bus no. 14 bound for Mitaka or Kichijōji from bus stop 14 at the station's North Exit, and alight at Jindaiji Shokubutsu Kōen Mae. (about a 10 minute ride).
See Tokyo hanami map for Jindai Botanical Garden
Omiya Park
Omiya Park is a large, almost 70 hectare (172 acre), park in Omiya, Saitama, just over 30 minutes by train from Ueno Station in Tokyo. Omiya Park is the most visited park in Saitama prefecture, especially at the peak of the cherry blossom season when it is a profusion of pretty pink flowers. Also, Omiya Second Park, nearby, also has a large grove of apricot trees which blossom mid-February to March. The Saitama Prefectural Museum of History and Folklore (9 am - 4:30 pm, last entry 4 pm, but open until 5 pm, with last entry at 4:30 pm in July and August; 300 yen for adults) is also on the grounds of the park.
Access to Omiya Park
Exit Omiya-Koen Station on the Tobu Noda Line and walk about three minutes.See Tokyo hanami map for Omiya Park
Any Public Park in Tokyo!
No matter where you are in Tokyo, you would be hard pressed to find a park that wasn't planted with at least one row of cherry trees for the hanami season.
List of parks and gardens in JapanTokyo Best Fall Colors SpotsKyoto Cherry Blossom Spots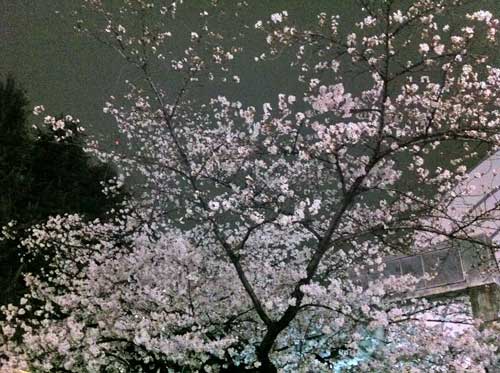 Yozakura means "night blossom" in Japanese and means to view cherry blossom under moonlight or lamplight

Tokyo Accommodation
All the themes of the city