Fukagawa Tokyo
Read about the Fukagawa and Morishita areas in Tokyo's historic merchant quarters in Koto-ku.
Fukagawa 深川
Fukagawa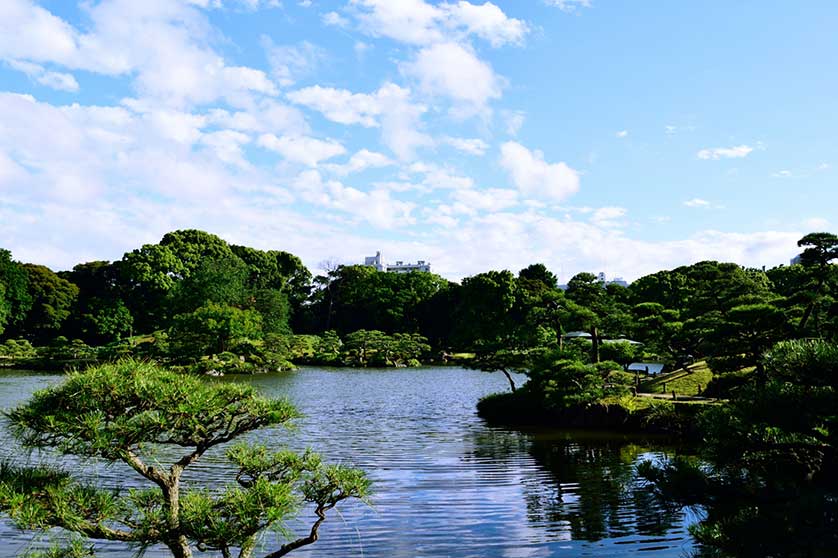 Kiyosumi Teien Garden in the rainy season
Fukagawa is a neighborhood in Tokyo's merchant and working class Koto ward, just 3 km east of the Imperial Palace and Tokyo Station, and across the Sumida River.
Fukugawa has a large collection of famous shrines and temples and is home to the exquisite Kiyosumi Teien Gardens. Fukagawa is also the historical home of sumo in Japan (a role taken over by Ryogoku a little further west).
Fukagawa began life as a merchant district in the old city of Edo, and much of what is worth visiting today harks back to those merchant beginnings. The present mood of the area is reflected in its surroundings: spacious, clean, subdued in color and somewhat old, but with very few rough edges. For the visitor its main draw is its parks and temples.
The Fukagawa area
From Kiyosumi-shirakawa stations (Hanzomon Line and Oedo Line) down to Monzen-nakacho stations (Tozai Subway Line and Oedo subway lines) and out west of the north-south line they make, are several temples, a major park and garden, and one or two other cultural attractions worth half your morning and a good part of your afternoon.
Fukagawa Edo Museum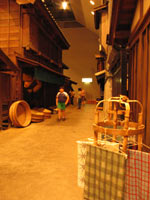 The Fukagawa Edo Museum is an indoor reconstruction of the surrounding Fukagawa area as it was in 19th century Edo (i.e. Tokyo). For 400 yen for adults, and only 50 yen for children, you can wander through what lamplit and motorless Tokyo must have been like. The scene is dominated by an old wooden fire tower by the 'canal,' and comprises warehouses, stores, stalls, a tenement house - and even garbage and lavatories (no - not the real thing!)
Besides the old settlement are some rooms with pictures of life from those times, but without any English commentary.
A tour of the museum takes very little time at all - no more than 15 or 20 minutes, but for a brief immersion in an accurate and well-conceived historical replica, the entry fee is worth paying. However, there are periodic special exhibitions, too, which will require a little more time. See what's on now at the Fukagawa Edo Museum. But, for a full grasp of what old Tokyo was like, a visit to the Edo-Tokyo Museum a little further north in Ryogoku is recommended.
To get there, look for the posts on either side of the street the museum is on (see photo). It is a minute-and-a-half walk down the street, on the left-hand side.
1-3-28 Shirakawa, Koto-ku, Tokyo 135-0021Tel. 03 3630 8625Open: 9.30am-5pm (last entry 4:30pm) daily. Closed Dec 28-Jan 5, and the 2nd and 4th Monday of each month.
Fukagawa Edo Museum Access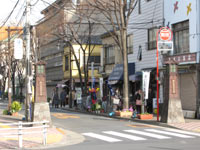 3-minute walk south from Kiyosumi Shirakawa station (Oedo Subway Line and Hanzomon Subway Line), exit A3.
15-min walk north from Monzen-nakacho stations (Tozai Subway Line and Oedo Subway Line), exit 6.
15-min walk from south from Morishita stations (Shinjuku Subway Line and Oedo Subway Line), exit A6.
3-min walk from the Kiyosumi Teien-mae bus stop on bus no. 'Mon 33' ('Mon' being Japanese for 'Gate')
Kiyosumi Teien Gardens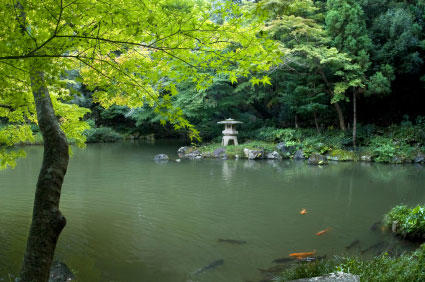 Kiyosumi Teien Gardens, Tokyo
Back out on the main street of Kiyosumi-dori Avenue, and right across the avenue is the exquisite Kiyosumi Teien Gardens: the landscape gem of Koto ward.
Turn right up Kiyosumi-dori, cross the street and take the first left. Walk alongside the wall of the park about 100 meters and the entrance is on your left.
Kiyosumi Teien Gardens is an example of an ancient daimyo's (feudal lord's) pleasure ground. Kiyosumi Teien is a superbly laid out and impeccably kept jewel of Japanese landscaping.
Kiyosumi Teien is set out in what is called the sukiya style: i.e. a pond inhabited by birds and with three small islands. Pass through the finely manicured lawns via stepping stone paths and admire the big artificial pond with its resthouse in the middle.
Kiyosumi Teien Gardens, Tokyo
Pass over the great slabs of stone that form the bridges for a closer view of the multitude of various species of birdlife, huge multicolored carp, and turtles.
Because they are fed so liberally by visitors, the wildlife here is exceptionally tame, giving it all the more the feel of a tiny oriental Eden.
The flora of Kiyosumi Teien garden is at least as diverse as the fauna, and includes cherry trees, plum trees, black pines, hydrangeas, irises, azaleas, daphnes, camellias, and more.
Umibe-bashi Bridge and the Poet Basho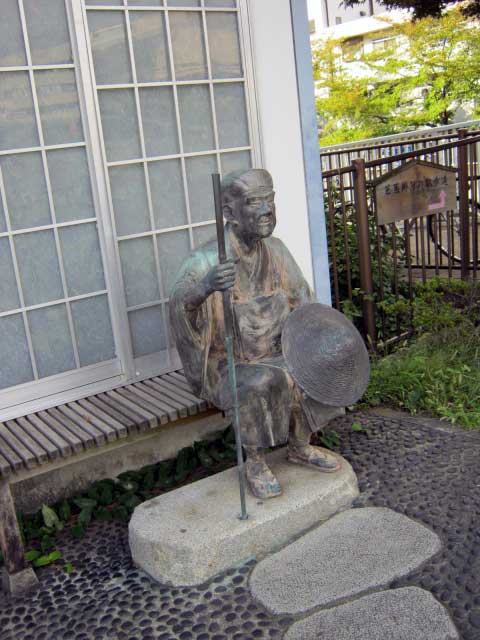 Statue of the poet Basho at Umibe Bridge, Fukagawa, Tokyo
There is only one entrance/exit in Kiyosumi Teien Gardens, so when you come out turn right back the way you came and then right again onto Kiyosumi-dori Avenue. Before long you will cross a short bridge (Umibe-bashi) over the Sendai-bori canal. Umibe-bashi is from where the poet Basho set off in 1689 on the travels during which he wrote his 'Oku no Hosomichi' anthology. You can see a bronze statue of the seated bard, staff in hand, at the southern end of the bridge. (More about Basho in Fukagawa)
Umibe-bashi was also the place where drinking water was unloaded. The wells in the area being undrinkable, potable water had to be brought in by barge.
The banks of the Sendai-bori canal that the bridge crosses are a treat in spring when the trees that line it are in full bloom.
Fukagawa Enma-Do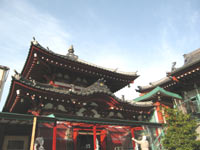 Walking south down Kiyosumi-dori Avenue just after crossing Umibe-bashi Bridge, you will see on your left (i.e. the eastern side of the street) a temple with a red archway for an entrance. Just beside it is the main actual entrance to Fukagawa Enma-do.
Established in 1629, it is formally named Kentai-san Hojo-in. However, it soon became familiarly known as Fukagawa Enma-do, or "Fukagawa Enma Hall." And it is this Enma Hall inside the temple that gives the temple its special flavor, as much now as ever.
Enma is the Japanese Buddhist version of what to begin with was the Hindu god Yama: god of the dead. The Hall of Enma that so impressed the locals in the 17th century has been updated in such a way as to equally impress those of the 21st.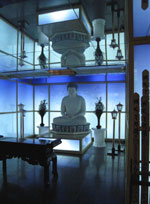 Far removed from the fussy filigree and blaring reds and greens of the old temple's exterior, step inside the Enma-do, directly in front of you as you walk into the temple, and be transported.
Enma has been refashioned in almost psychedelic minimal, mirrored retro-sci-fi chic. This is true blue-tinted otherworldliness for the Nintendo- and PlayStation-trained believer.
In the alcove just to the right of the 3.5m tall image of Enma are, appropriately, rows of urns with ashes of the deceased.
This is a space where your feet will only tread softly and where your voice just won't rise above a murmur.2-16-3 Fukagawa, Koto-ku, Tokyo
Narita-san Fukagawa Fudo-Do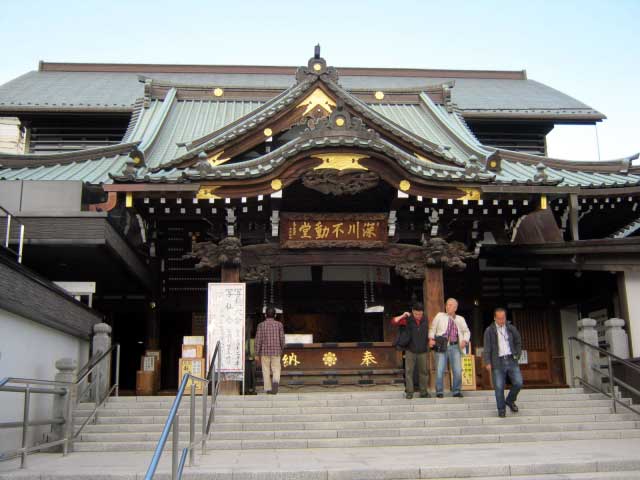 Fukagawa Fudo-Do
Back on Kiyosumi-dori Avenue, walk just a little further to where it is crossed by a massive overhead highway (Route 9). Just before you get to the bicycle parking turn left under the overhead highway and follow it for about 300 meters to where it is crossed by a small street. Turn right here, and just on the right is the entrance to Fukagawa Fudoson (properly known as Narita-san Fukagawa Fudo-do).
Fukagawa Fudoson is famous as a Buddhist traffic temple, i.e. where one prays for road safety. The forecourt will be full of cars waiting to be blessed, and the many stalls that the temple building incorporates are doing a roaring trade in tawdry charms and trinkets sold for untawdry sums.
History of Fukagawa Fudoson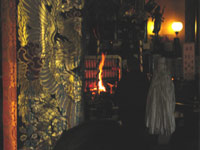 The temple began at the beginning of the 18th century with the wave of prosperity that came as the city of Edo gained in power. This association with prosperity is still clear today in the lavishness of the temple's interior and the various accoutrements around the premises.
Today, the Old Main Hall of Fukagawa Fudoson is said to be the oldest wooden structure in Koto ward. This area of Tokyo in particular was bombed severely towards the end of the Second World War, and in 1945 Fukagawa Fudoson temple was destroyed.
Because of the shortage of building materials immediately after the war, a temple already existing since 1862 in the Inbanuma district of nearby Chiba prefecture was brought in as a replacement.
The temple's New Main Hall provides a striking contrast: recently built and cubist in inspiration—rare not in terms of age but for its radical modernity.
Goma-kiso Fire Purification Ritual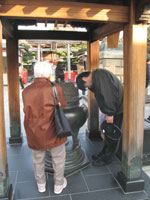 Fukagawa Fudoson belongs to an esoteric branch of Shingon Buddhism, and is distinguished by its goma purification ritual where supplicants' personal belongings are wafted over a fire of cedar sticks, for a fee. The ritual is usually held five times a day, at 9 a.m., 11 a.m., 1 p.m., 3 p.m. and 5 p.m. However, an extra 7 p.m. session takes place on the temple's festival days on the 1st, 15th, and 28th of the month. Anyone can participate upon application and payment of the fee, but photography is prohibited.
If you visit when a ritual is taking place, you will be overwhelmed by the raw power of the drumming that accompanies it. Also, a dramatic ritual featuring drumming teams performing in the temple forecourt takes place every May 1.
Like all temples, its grounds are full of old artistic marvels. Check out, in particular, the triple dragon head water spout. In the middle of the far courtyard is a brazier constantly issuing smoke that passers-by stop and rub themselves with on afflicted parts of their body. (See the video of Buddhist supplicants rubbing smoke.)
Just beyond the brazier is a bustling shopping street almost festive. This is the thoroughfare between the shrine and exit 1 of Monzen-nakacho station on the Tozai subway line.1-17-3 Fukagawa, Koto-ku, Tokyo. Tel 03 3641 8288
Tomioka Hachiman-gu Shrine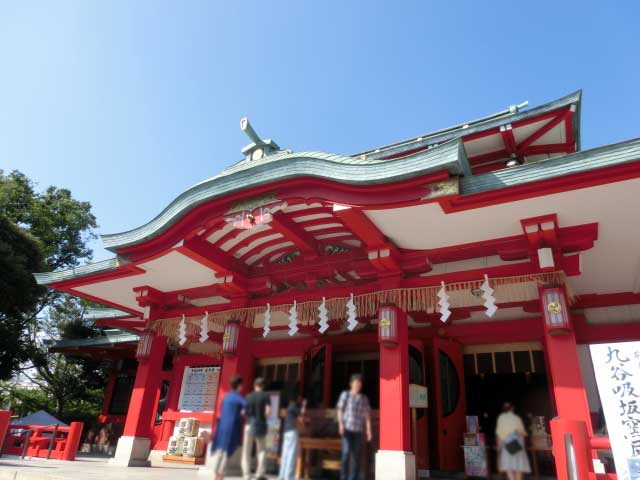 Tomioka Hachiman-gu Shrine
However, instead of going back out to the street, check out the decidedly more tranquil Tomioka Hachiman-gu Shrine.
Tomioka Hachimangu Shrine is remarkable similar in general appearance to the Buddhist Fukagawa Enma-do, but is set in much more spacious grounds.
The grounds of Tomioka Hachiman-gu are wooded, and are teeming with birdlife and bird song.
Behind the main shrine building, to your left if you are coming from Fukagawa Fudoson temple, are a line of three small shrines that look like little log cabins.
Called Otori Jinja (Otori Shrine) you are likely to see supplicants bowing and praying before each shrine in turn.
Tomioka Hachiman-gu Shrine is the biggest Hachiman Shrine in Tokyo, dedicated to the god of martial arts and war, and has an intimate connection with the birth of sumo wrestling in Japan. Read more about Tomioka Hachimangu Shrine.
Ino Chukei: Japan's first surveyor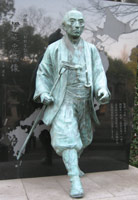 Just beyond it, just inside the main torii gate of the shrine that opens onto Eitai-dori Avenue, is a statue of Ino Chukei, (AKA Ino Tadayoshi, 1745-1818), who, after retiring at age 50 from life as a merchant, began at age 56 on an extensive survey tour of Japan, setting off from Hokkaido.
Chukei thus became Japan's first surveyor and produced the first accurate map of the country, to be completed shortly after his death by those he had trained, 21 years later.
Sumo - the Yokozuna Memorial Stone
Tomioka Hachiman Jingu is also famous as a sumo shrine. In 1900, at the time Jinmaku Kyuugorou reigned as 12th sumo grand champion, a 3.5m high, 3m wide, 20 tonne monument was created to honor successive generations of sumo champions. On it are inscribed the ring names of sumo wrestlers from the 1st grand champion Shiganosuke up to the 68th, Asashoryu.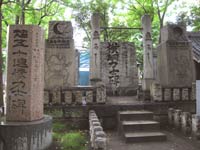 The inscribing of a new yokozuna's name commemorates his first entry into the ring as a yokozuna. On either side of the stone are the names of the prominent Meiji era politicians of the early 20th century, Hirobumi Ito, Aritomo Yamagata, and Okuma Shigenobu, demonstrating just how widely revered the yokozuna are.
While sumo is an ancient sport dating from around the 8th century at the latest, it was only in the Edo period that it came together as an integrated national sport. This process began with kanjin-zumo, or tournaments held at Shinto shrines and Buddhist temples to raise money for new buildings or building maintenance.
Annual 10-day kanjin-zumo tournaments began to be held at Tomioka Hachimangu shrine in 1684 on the site of the elementary school beside the present shrine. It was at these tournaments that features of modern sumo such as yokozuna dohyo-iri (the ring-entry ceremony), the banzuke (wrestler ranking sheet), and sumo stables became established, thus earning the shrine an important place in the annals of the game.
Tomioka Hachimangu Shrine1-20-3 Tomioka, Koto-ku, Tokyo.
Sumo and the Fukagawa area
The kanjin-zumo fund-raising tournaments transferred to Eko-In Temple in nearby Ryogoku in the late 18th century, which is still the seat of professional sumo to this day. Tomioka Hachimangu nevertheless retains close links with sumo, and Koto ward is home to no less than seven sumo stables.
Many temples in Koto ward form the final resting place for sumo wrestlers and referees, in particular Mantoku-In in Eitai 2-chome, about half a kilmometer WNW from Tomioka Hachimangu.
Mantoku-in Temple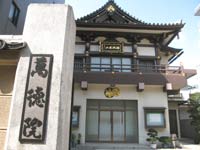 Mantoku-in Temple is renowned for the number of famous sumo wrestlers interred there. The temple itself is very missable, being of little architectural merit and crammed between adjacent commercial and residential properties, with no grounds just a small concrete forecourt - and no greenery whatsoever. Of sumo interest is the cemetery behind it. Access is down the left hand side of the temple building.
However, unless you live and breathe sumo, or are feverishly excited by graveyards, there is little here to charm or fascinate. The gravestones are, of course, all inscribed in Japanese and even Japanese visitors come equipped with guidebooks to navigate their way around the confined, walled space to the surprisingly compact resting places of their huge and long-gone heroes.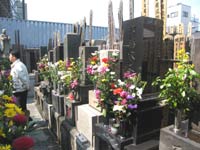 To get to Mantoku-in Temple, walk west along Eitai-dori Avenue, about 350m past the intersection where you exit Monzen-nakacho subway stations.
Take the road on the right just after the Mizuho Bank, just before the Fukushima-bashi Bridge that crosses the Nishi-shisen Canal. Mantoku-in Temple is just a few moments walk up the street and on your left.
Mantoku-in Temple2-37-22 EitaiKoto-ku, Tokyo.
Eitai-dori Avenue - shopping and restaurant street
Passing under the main torii entrance, you are now on Eitai-dori Avenue, that runs east-west off the north-south Kiyosumi-dori that you left when you walked under the overhead highway. This is the areas CBD with a large number of places to eat.
Kiba Koen Park

The next recommended sight is Kiba Park and the Museum of Contemporary Art Tokyo.
You can walk a little way back (left out of the shrine gate) to Monzen-nakacho station and take the Tozai line subway one stop to Kiba station, or you can go right out the shrine gate and walk 10 minutes to the Kiba 5 intersection in front of Kiba station.
If you take the subway, go out exit 3 and turn left at Kiba-5 intersection into Mitsume-dori Avenue, as you should do if you walk. From there it is 200m to the entrance of Kiba Park on the other side of the street.
'Kiba' literally means 'wood place', and it was here, beginning in the Edo era, that timber was brought into Tokyo. The area was designated as parkland in 1977 to commemorate fifty years of the reign of Emperor Hirohito. However, it was not until 1992 that the park in its present form was developed.
Kiba Park is 24 hectares (almost 60 acres) in size. It is mostly wide open space occupied by families strolling and boys throwing baseballs; however, the side nearest Mitsume-dori Avenue (i.e. the western side of the park) has a network of paths through gardens that offer the kind of privacy ideal for picnics, or just lying there relaxing.
It has six tennis courts, and a barbeque area.
From inside Kiba Park, towards the north-east is the prominent concrete frame of a suspension bridge. Across this bridge and to the right (i.e. north-east) is a small playground (or Adventure Park) for kids. Hidden amongst the trees it is easy to miss.
Kiba Park Service Center4-6-1 Hirano, Koto-ku, Tokyo 135-0023Tel. 03 5245 1770
Museum of Contemporary Art Tokyo 東京都現代美術館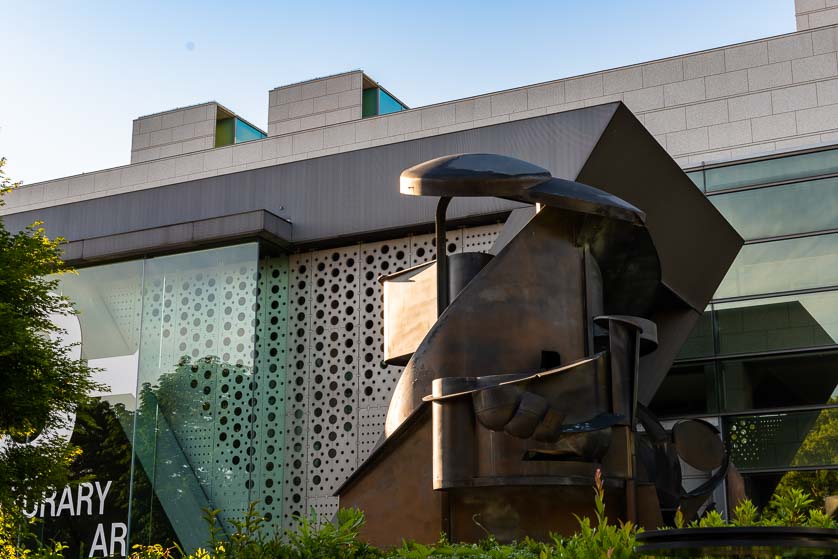 The Museum of Contemporary Art Tokyo, Koto ward, Tokyo
Also across the suspension bridge is the Museum of Contemporary Art Tokyo. From the entrance of the park to the Museum takes a little over 10 minutes.
The Museum of Contemporary Art Tokyo features international and Japanese contemporary art created since 1945. Opened in 1995, it is Tokyo's first public art gallery devoted to modern art. As well as its permanent collection (entrance fee 500 yen) it has regular special exhibitions (usually about 800-1,000 yen).
The permanent collection is of around 4,000 works, about 100 of which are on display at any one time. It includes works by Andy Warhol (including his Marilyn Monroe (1967)), Roy Lichtenstein (including his Girl with Hair Ribbon (1965)), David Hockney, Gerhard Richter, Julian Schnabel, Frank Stella, and Sandro Chia.
The Museum has free internet access (directly across from the entrance that you use when approaching from Kiba Park), a restaurant on the B2 floor (open11am-6pm), a museum shop, an art library, an art information gallery, an observation deck, and indoor parking but for only 50 cars (access by other than car recommended).
Open: 10am-6pm (tickets on sale until 5.30pm). Closed Monday, except if Monday is a national or substitute holiday, in which case it closes Tuesday.)
The Museum of Contemporary Art Tokyo4-1-1 Miyoshi, Koto-ku, Tokyo 135-0022Tel. 03 5245 4111URL: http://www.mot-art-museum.jp/english/61/
More Tokyo museums and galleries
Basho in Morishita
The Fukagawa area is historically and intimately associated with Japan's immortal haiku poet, Matsuo Basho who lived here 1680-89. There is a monument to him in Kiyosumi Teien Gardens, a statue of him at the southern end of Umibe-bashi Bridge, and, further north in the area known as Morishita there are other shrines to him too.
Matsuo Basho, born Matsuo Kinsaku, and also known by his samurai name of Matsuo Munefusa, made his home in Morishita, just a few minutes walk north of Fukagawa, in the Basho Iori Hermitage. 'Basho' literally means 'Japanese banana plant', and it was from this that he adopted his pen-name. The hermitage itself is said to have been absorbed into a samurai's residence, which disappeared with the fall of the Bakufu and the beginning of Japan's modernization.
Basho Inari Jinja Shrine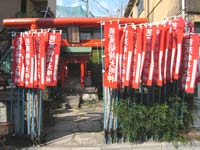 At the northern end of Kiyosumi Shirakawa subway stations on the Oedo Subway Line and the Hanzomon Subway Line (exit A1 - shared by both stations) is Takabashi Bridge over the Onagi-gawa River, beyond which lies the Morishita area. Cross the bridge from the south and enter the second street on your left. Walk right to the end, take a left and then an immediate right, and just a few meters down on your right you will see the tiny, vermilion Basho Inari Shrine.
Basho wrote his famous frog haiku while in Morishita, so his name has become associated equally, if not more, with the frog as the Japanese banana plant. Here at this traditional fox shrine to the poet you can see stone representations of frogs.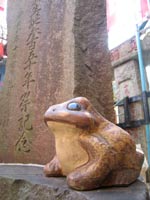 After having written his famous frog haiku, Basho is said to have been given a stone frog ornament, that he treasured. It had pride of place at Basho Hermitage until the hermitage disappeared, and it was lost. It reappeared in 1917 after a typhoon on September 30 of that year, occasioning the establishment of the present shrine. However, it disappeared again in an air raid in March 1945, to be replaced 30 years later in 1975 with a replica.
The story doesn't end there. In 1980, with the inauguration of the Matsuo Basho Museum, a member of the Basho Preservation Society found the frog hidden away in the family safe! It is now securely ensconced in the Basho Museum.
Anyway, here at the Basho Inari Jinja shrine, on the site of the old hermitage, you can see replicas of the frog as well as several monuments to the enshrined bard.
Matsu Basho Memorial Park

Just a few meters on from the Basho Inari Jinja shrine, overlooking the confluence of the Sumida and Onagi rivers, is the elevated Basho Memorial Park, officially an annex of the Basho Museum. At the top of a short flight of stairs, it is dominated by a bronze of the seated poet, and flanked by Japanese banana plants with a pond full of tadpoles or frogs (depending on the timing of your visit) in one corner.
The park is worth visiting as much for the grand view it offers of the surrounding riverside area as for its commemorative significance.
Basho Museum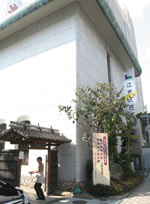 Further north, on the banks of the Sumida River, is the Basho Museum. It is accessible either from a small door in the wall running alongside the walkway along the riverbank (and which takes you through the small charming garden, complete with miniature waterfall) or from Mannen-bashi-dori Street running parallel to the Sumida River.
Entry to the Basho Museum is only 100 yen, and there is a pamphlet in English. But unless you are a die-hard fan of the man there is little to offer the English-speaker. It is a very small museum that, even if you linger, will take less than 25-30 minutes to fully appreciate.
The first floor has a video about Basho in Japanese, and the exhibits on the two upper floors consist mainly of calligraphy scrolls with a little realia from Basho's life and times thrown in.
Basho Museum
Open 9.30am to 5.00pm (last entry 4.30pm). Closed Mondays.1-6-3 Tokiwa, Koto-ku, TokyoTel. 03 3631 1448, Fax 03 3634 0986
Restaurants and Cafes in Fukagawa
As well as the restaurant in the Museum of Contemporary Art Tokyo, the whole area is liberally dotted with restaurants. As mentioned above, Eitai-dori Avenue has scores of places to eat, most of them Japanese-style and covering a wide range of styles.
In particular Eitai-dori Avenue has a lot of sushi restaurants, but izakaya, noodle restaurants, and Japanese-style take-out shops also abound.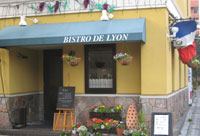 Good French-style cuisine is available from Bistro de Lyon, just a few paces north from Kiba-5 intersection (round the corner from Kiba station exit 3)Bistro de Lyon1F Hara Bldg., 2-18-7 Kiba, Koto-ku, Tokyo.Tel. 03 5245 0077
Allpress Espresso Tokyo Roastery & Cafe is a large, popular, two-story stand-alone roastery and cafe about five minutes' walk from the Museum of Contemporary Art Tokyo.3-7-2 Hirano Koto-ku, Tokyo, 135-0023, JapanMonday to Friday 8 a.m. - 5 p.m., Saturday, Sunday and public holidays 9 a.m. - 6 p.m.
Fukagawa Access
Kiyosumi Shirakawa station (Oedo Subway Line and Hanzomon lines)
Monzen-nakacho stations (Tozai Subway Line and Oedo Subway Line)Morishita stations (Shinjuku Subway Line and Oedo Subway Line)Kiyosumi Teien-mae bus stop on bus no. 'Mon 33' ('Mon' being Japanese for 'Gate')
Book Hotel Accommodation in Tokyo Here
All the themes of the city