Tokyo Midtown
Tokyo Midtown 東京ミッドタウン
Tokyo Midtown Overview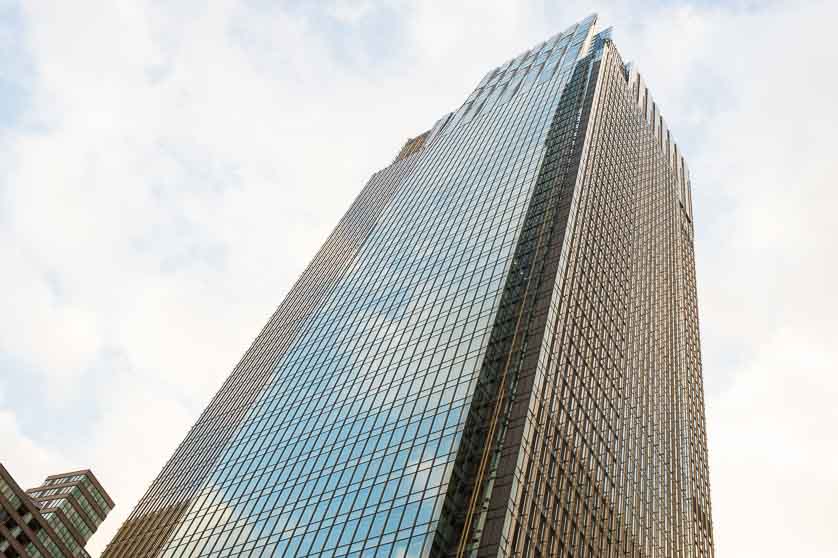 Tokyo Midtown Tower, Akasaka, Tokyo
The 10-hectare Tokyo Midtown complex is a classy melange of business and pleasure in Tokyo's Akasaka district, dominated by Tokyo Midtown Tower, Tokyo's highest building. Tokyo Midtown is on Gaien-higashi-dori Boulevard not far from the main Roppongi intersection and just a few minutes' walk from the equally famous Roppongi Hills.
Tokyo Midtown comprises six buildings, most interesting and fun for visitors being the distinctively contoured, five-story Galleria building, overlooking the lawn area.
Tokyo Midtown is very user friendly for the non-Japanese visitor, with a reservable, bilingual concierge service available 11am to 7pm daily (tel. 03-3475-3100). Foreign currency exchange is available at Travelex on the 3rd floor of Midtown Tower. Visitors also enjoy Tokyo Midtown's relaxing inner-city greenery, as the complex incorporates Midtown Garden: a sprawling lawn area with over 140 trees, as well as the historical Hinokicho Park.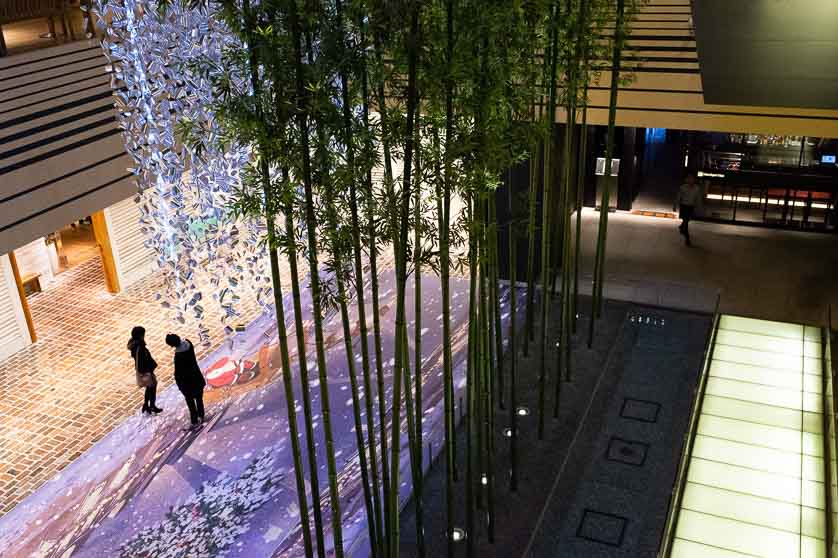 Tokyo Midtown Tower, Akasaka, Tokyo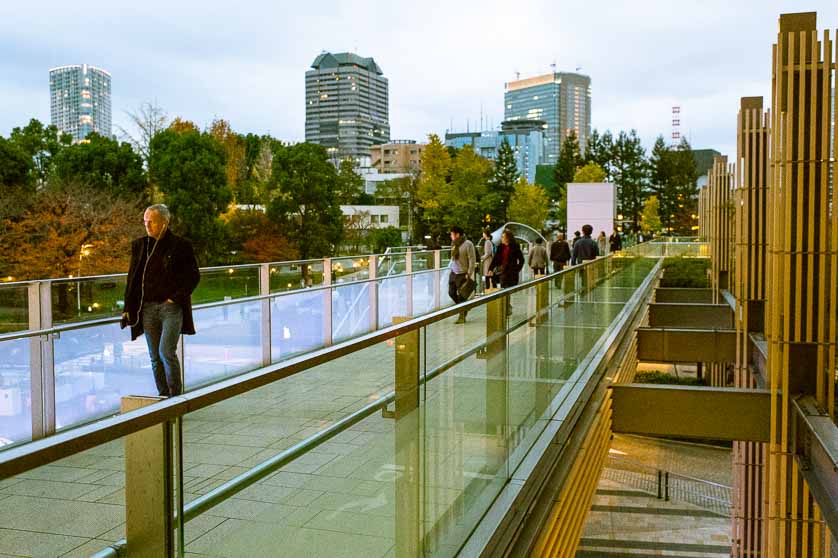 Walkway to Midtown Garden and Hinokicho Park, Tokyo Midtown
Tokyo Midtown Ritz-Carlton Hotel
The 5-star Ritz-Carlton Tokyo hotel occupies floors 47 to 53 of the Midtown Tower, offering superb views of the whole of the Tokyo Metropolis. Several high-grade restaurants, mainly Japanese cuisine, are located on the 45th floor. There is a huge fitness and spa facility on the 46th floor.
Tokyo Midtown Shopping
Shopping and dining at Tokyo Midtown is to be enjoyed mainly in the the Galleria building, as well as the Tokyo Midtown Plaza with its massive, organically styled, cathedral-like covering. There are scores of stores offering cutting edge fashion and interior design, various services such as floral, pets, books and CDs, beauty and healthcare, and a huge range of restaurants, cafes and bars. The Tokyo Midtown Galleria wing in particular makes Tokyo Midtown an irresistible leisure magnet
Restaurants in Tokyo Midtown
Noted eateries in the Tokyo Midtown complex - mainly in the Galleria wing - include the Japanese-fusion Hal Yamashita, the Italian Canoviano Cafe and the Korean Tenamu. A short walk from Tokyo Midtown is the recommended French restaurant Le Bourguignon.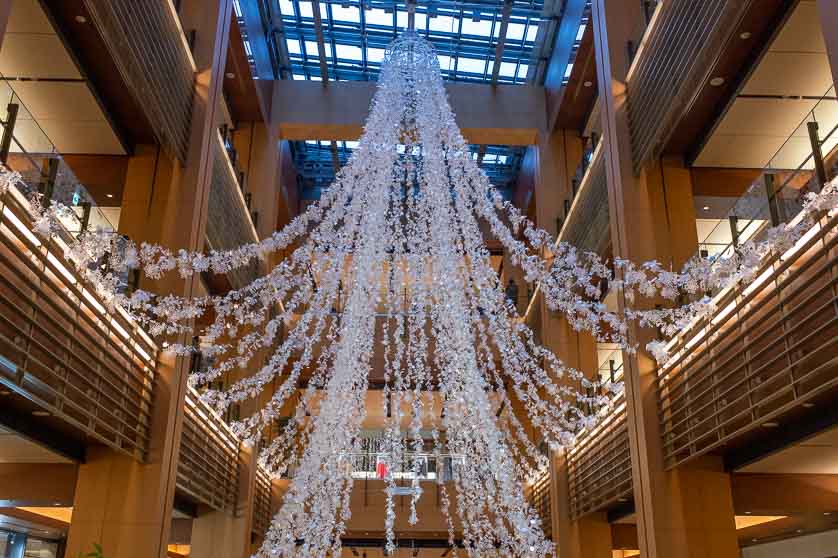 Christmas at Tokyo Midtown
Art and Design at Tokyo Midtown
The Suntory Museum of Art, with a history of over 50 years, is on the 3F of the Midtown Galleria building (the furthest building from the main Roppongi Crossing intersection). There is also a design museum, 21_21 Design Sight, housed in a striking low triangular building designed by the famous Japanese architect, Takao Ando - a joint venture between Ando and fashion designer Issey Miyake. Fujifilm Square on the first floor has the Photo History Museum photograph gallery with constantly changing thematic exhibitions that visitors can freely stroll through. See what's on now at Fujifilm Square.
Nightlife and Entertainment at Tokyo Midtown
Nightlife at Tokyo Midtown features Billboard Live Tokyo, a music space featuring such genres as R&B, jazz, fusion, bossa nova, and salsa, from renowned artists both international and local.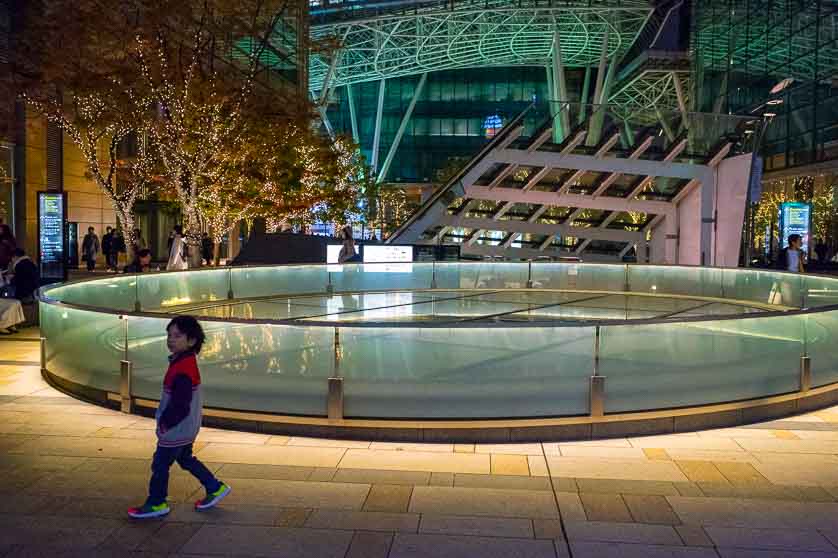 Midtown Garden at night, Tokyo Midtown
Tokyo Midtown Garden
Tokyo Midtown has a sprawling, beautifully landscaped garden space: the tree-filled Midtown Gardens, with the stylish 21_21 Design Sight building occupying one corner, as well as the municipal park Hinokicho-koen Park, famous for its cypress trees. Hinokicho Park was also once the grounds of the mansion of a ruling family, the Mori clan, in the Edo era of Japanese history.
Access to Tokyo Midtown
Tokyo Midtown is a short walk south and slightly east of Roppongi Hills - less than a kilometer away. Directly east of Tokyo Midtown is the glass, modernist National Art Center.
Tokyo Midtown is directly adjoins the Roppongi district and is directly linked underground to two subway stations.
-Roppongi Station on the Toei-Oedo Line (directly connected to exit 8)
-Roppongi Station on the Tokyo Metro Hibiya Line, linked directly to Tokyo Midtown through an underground passageway
-Nogizaka Station on the Tokyo Metro Chiyoda Line (three-minute walk from exit 3 of the station)
-Roppongi Itchome Station on the Tokyo Metro Namboku Line (ten-minute walk from Exit 1 of the station)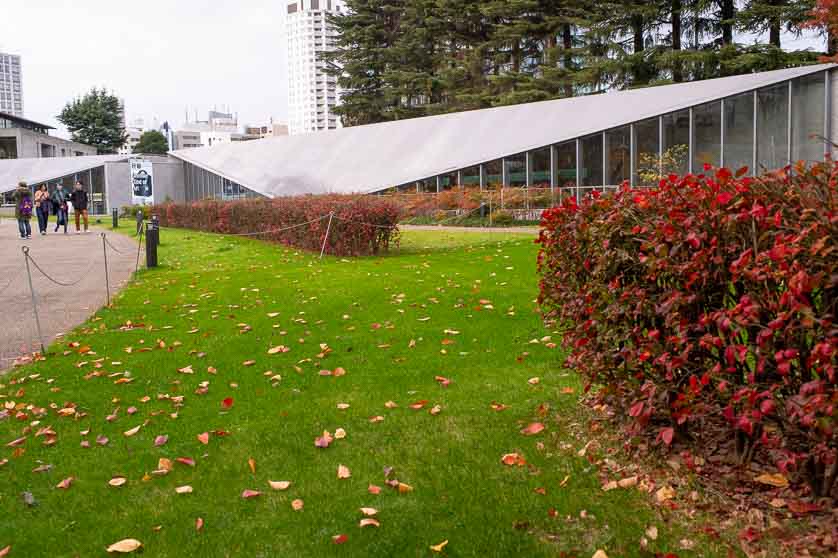 21_21 Design Sight, in Tokyo Midtown Garden
Book Hotel Accommodation near Tokyo Midtown
Tokyo Midtown: Read a guide to Tokyo's tallest building, and a hub of commercial cultural, artistic, dining and leisure activity near the Roppongi district.
All the themes of the city