Tokyo Tower & Environs
Tokyo Tower & Environs 東京タワー
Tokyo Tower is one of Tokyo's most popular landmarks: a red and white web of sky-high steel by day, and a breathtaking beacon of lights by night.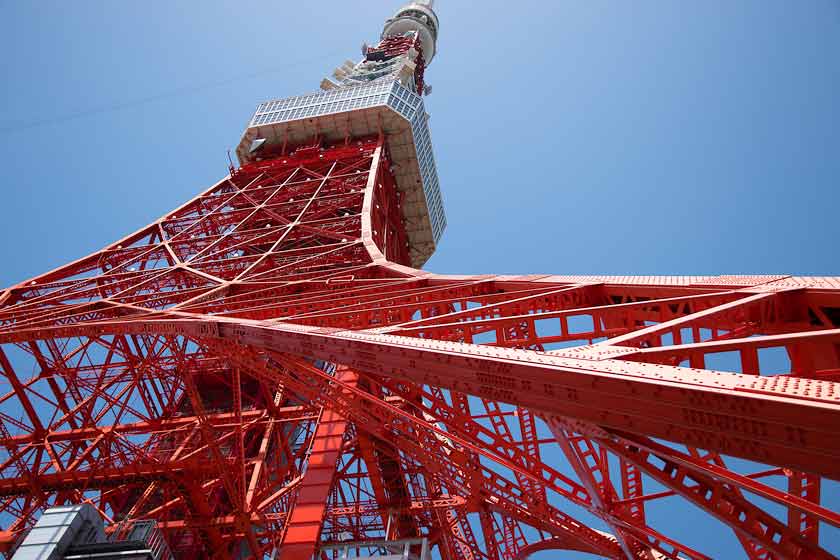 Tokyo Tower with its white, double-decked Main Observatory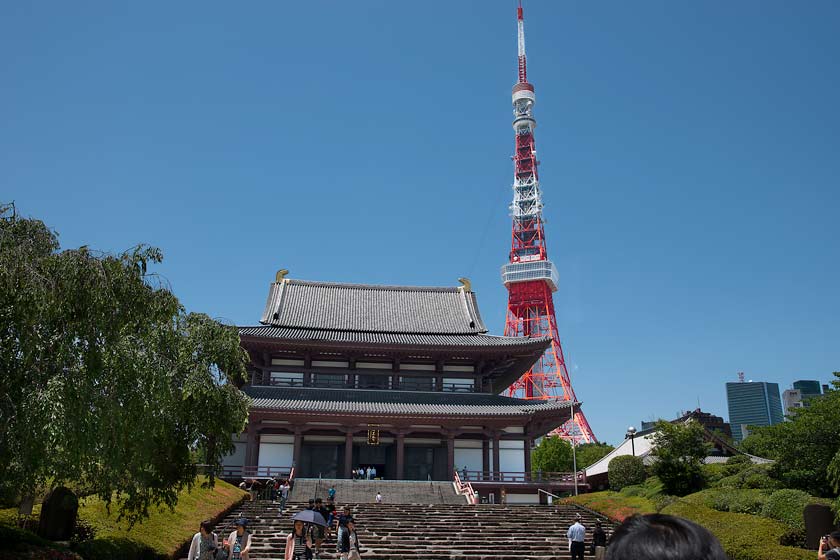 Zozoji Temple and Tokyo Tower, Shiba Park, Tokyo
Tower Tower is located in Tokyo's elegant Minato ward, next to Shiba Park, in an area with ancient temples and numerous relaxed high-class eateries.
At 333 meters (1093 feet) Tokyo Tower is 13 meters (43 feet) higher than the Eiffel Tower, after which it was modeled, but thanks to its more modern engineering technology is 43% lighter in weight. Being one of Tokyo's tallest structures (second only to the Tokyo SkyTree), Tokyo Tower is a prime spot from which to view the Tokyo metropolis, with its Main Observatory 150 meters (492 feet) above ground level.
Tokyo Tower History
Tokyo Tower was built in 1958 as a TV and FM radio broadcasting tower and at that time was the world's tallest self-supporting steel tower, at 333 meters (1093 feet).
Tokyo Tower broadcasts signals to the whole of the Kanto region (i.e. Tokyo and surrounding prefectures) in that role and in 2003 began digital transmission as well.
Tokyo Tower Observatories
Tokyo Tower has two high-rise observatories, accessible by elevator (or stairs for the extra fit). The Main Observatory admission fee is 1,200 yen for adults, 700 yen for elementary and junior high school students, 500 yen for children over 4 years old. Hours 9am-11pm (last admission 10.30pm)
The double-decker Main Observatory provides explanations to help make sense of the urban jungle below. Mount Fuji can sometimes be seen, on exceptionally clear days.
There are also coin-operated binoculars, and free interactive touch-screen displays to match up parts of the city with a map on the screen.
Downstairs on the Main Observatory's lower floor are glassed-over holes in the floor 150 meters (492 feet) above ground, as well as a cafe, souvenir shop, and small Shinto shrine.
The Special Observatory is another 100 meters above the Main Observatory, at 250 meters (820 feet), costs 3,000 yen for adults, 2,000 yen for elementary and junior high school students, 1,400 yen for children over 4 years old - all 200 yen cheaper if purchased in advance.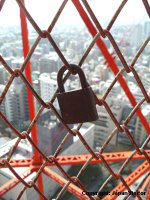 You can take the elevator to and from the Main Observatory or, on most days, the outside stairs: about 600 steps that take about 10 minutes to ascend, a little less to descend. Check out the occasional landings on the way down. Padlocks in the wire mesh with lovers' names on them (some so old that the names have worn off) are mementos of old trysts.
Note: Tokyo Tocho (Metropolitan Government Building) in west Shinjuku gives you equally good elevation, and for no entry fee, but without the unbroken 360-degree panorama afforded by Tokyo Tower.)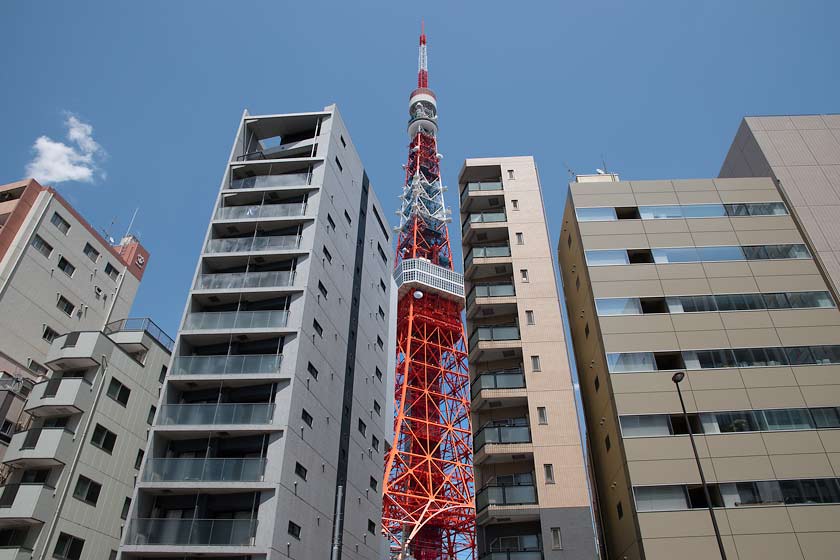 Tokyo Tower between buildings in Higashi-Azabu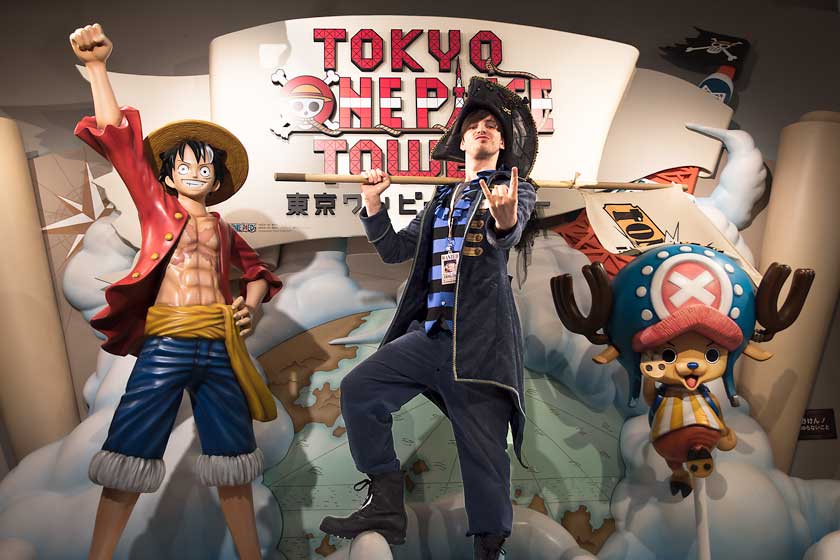 Tokyo One Piece Tower
Tokyo Tower Foot Town
Tokyo Tower Foot Town is an entertainment facility nestled underneath Tokyo Tower, and more noteworthy than the actually trip up and down Tokyo Tower itself. The following are the main attractions in Tokyo Tower Foot Town.
One Piece Tower
One Piece Tower is a collection of attractions based on the "One Piece" manga series that has appeared in the Weekly Shonen Jump magazine since 1997. There is the World of One Piece Theater, the walk-through Luffy's Endless Adventure attraction where visitors can be part of the adventures of One Piece's hero, Straw Hat Luffy, a kids' "casino," a horror house, and many other fun ways to become a part in the One Piece world. Shops and restaurants, and a constantly changing line-up of special events make One Piece Tower a reason in itself to visit Tokyo Tower.
One Piece Tower hours: 10am-10pm (last entry 9pm). 3,200 yen for adults for a day ticket purchased on the day.
Tokyo Tower Aquarium
Tokyo Tower Aquarium is located on the first floor, i.e. on the same level as where you first enter the Tower. For 1,080 yen for adults, the visitor gets to peruse row upon row of plain old biology classroom fish tanks. Features coral reef fishes, South American fishes, Asian fishes, African fishes, and goldfish. For die-hard fans of small fish only.
Around Tokyo Tower
To make the most of your visit to Tokyo Tower, JapanVisitor recommends a wander around the neighborhood.
Shiba Park
If you came from Daimon station, you had to walk through Shiba Park to get to Tokyo Tower. Shiba Park is Japan's oldest, being the first to be officially designated as a park in 1873, only five years after the beginning of Japan's modernization.
It originally encompassed the adjacent Zojoji Temple, but with the separation of church and state after the Second World War, the temple was detached from it. The park is home to the ancient Maruyama burial mound (kofun), one of the biggest in Tokyo at 110 meters (361 feet) long. It is actually very indistinct: a simple mound covered with trees, indistinguishable from the natural terrain. Nothing is known of its history.
Shiba Park also has an artificial ravine, Momiji-dani ('autumn leaf valley') restored in 1984. As the name suggests, it is a sight to see in autumn. It features a massive Japanese zelkova tree, 20 meters (66 feet) tall with a trunk circumference of 2.5 meters (8 1/4 feet).
Zojoji Temple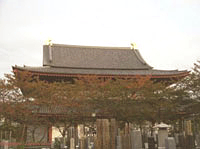 Zojoji is the main temple of the Jodo (Pure Land) sect of Buddhism. Zojoji was founded as the sect's eastern Japan seminary in 1393 and was relocated to its present site in 1598.
In those days it was a massive complex containing 48 subsidiary temples, over 3000 priests and over 150 grammar schools. Times have changed and it now occupies a fraction of its former area.
However, the atmosphere of its magnificence remains unfaded. Zojoji is still very much a Buddhist cathedral, exuding a splendor - albeit it one restrained to the point of dourness - that is enhanced and reflected by the wide open spaces surrounding the massive bulk and imposing outline of its recently rebuilt main hall.
Step inside and taste the incense-imbued atmosphere in front of the imposing central statue of the Buddha.
Zojoji Temple was closely associated with the Tokugawa family that ruled Japan in the Edo era, from 1603-1867, and is home to the mausoleums of six Tokugawa Shoguns and their family members.
Coming from Daimon or Hamamatsucho stations, the first you will see of Zojoji Temple is its huge 21 meter (69 foot) high gate, the Sangedatsumon, built in 1622, the only remaining part of the original temple.
Also of particular interest are: The Daibonsho, a giant 15 ton bell cast in 1673 and tolled six times a day. The Daibonsho bell is just inside the temple grounds on the right after you enter the Sangedatsumon Gate.
The Himalayan cedar, between the Daibonsho bell and the Sangedatsumon Gate, planted by General Ulysses S. Grant (1822 - 1885), the eighteenth president of the United States, when he visited Zojoji Temple as a guest of the Japanese nation in 1879.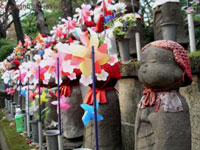 The rows of colorfully clothed and decorated stone jizo, (photo at right) the bodhisattva of children, lined up at the back of the temple on your right as you walk towards Tokyo Tower.
The air of the temple wracked by the coarse cries of crows, and soothed with the sound of sweeping, chanting and the occasional dull solitary bell.
Zojoji Temple 4-7-35 Shibakoen, Minato-ku, Tokyo 105-0011 Japan Tel: (81)3-3432-1431
Read more about Zozoji Temple.
The Prince Park Tower Tokyo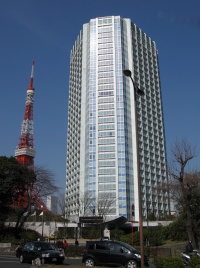 The Prince Park Tower Tokyo is at the southern end of Shiba Park. While equally plush as the Tokyo Prince Hotel, it is more modern. Its 33 floors offer panoramic views of Tokyo. It has 14 restaurants and lounges, a fitness club, natural hot spring spa, full service beauty salon, and its grounds consist mostly of beautiful Shiba Park.
The Prince Park Tower Tokyo, 4-8-1 Shiba Koen, Minato-ku, Tokyo, 105-8563, Japan Phone 81-3-5400-1111 Book the Prince Park Tower Tokyo hotel
Tokyo Prince Hotel
Just north of, and next door to, Zojoji Temple is the Tokyo Prince Hotel, one of Tokyo's finest hotels. For those who want better and more expensive fare than what is on offer in the Tokyo Tower Foot Town restaurants, Tokyo Prince Hotel has 15 excellent bars and restaurants, variously priced.
The Seibu Pisa shopping department on the 1st floor (reception is on the second floor) boasts an often literally dazzling treasure trove of fine art and crafts.
Tokyo Prince Hotel 3-1, Shibakoen 3-chome, Minato-ku, Tokyo 105-8560 Japan Phone: 81-3-3432-1111 Book the Tokyo Prince Hotel
Tokyo Tower Access
Akabanebashi station on the Oedo Subway Line. Turn left out of ticket gate to the Akabanebashi Crossing exit.
5 minute walk.
Daimon station on the Oedo Subway Line, exit A6.
10 minute walk.
Daimon station on the Asakusa Subway Line, exit A6
10 minute walk.
Onarimon station on the Mita Line, exit A1.
10 minute walk.
Hamamatsucho station on the Yamanote Line, Tokai-hondo Line, and Keihin Tohoku Line. Exit B2.
12 minute walk.
Hours: Main Observatory 9am - 10pm (last admission 9.45pm)
Special Observatory 9am - 10pm (last admission 9.30pm)
Tokyo Tower: Nippon Television City Corporation 4-2-8 Shibakoen, Minato-ku, Tokyo, Japan 105-0011
Tokyo Tower is a tourist and entertainment landmark dominating neighboring Shiba Park, home to the grand Zozoji Temple.
All the themes of the city