Yanaka, old Tokyo
谷中

A timeless neighborhood
Do you want to get out of the crowded Tokyo streets without leaving the city? Why not take the direction of the Yanaka district? With its tranquility and authenticity, it transports visitors to a retro version of the capital.
In the back alleys of Tokyo
The Yanaka district is located in the northeast of Tokyo , not far from the famous Ueno Park .
To get there, head to Nippori station accessible with the JR Yamanote train line. Bordered by the Nezu and Sendagi districts, all three form the ensemble commonly called Yanesen , considered the Shitamachi of Tokyo, in the old town.
In Yanaka, no illuminated buildings or crowded pedestrian crossings exist. No, here you will find narrow alleys, largely vegetated and a slower pace of life, which enhances the change of scenery. For the moment of a day (or even half a day, for those in a hurry), old Tokyo and its typical charms will be available to you.
Yanaka, the survivor
To understand its special atmosphere, you have to look back on its history. Yanaka is a survivor of the various disasters that hit Tokyo. Neither the successive fires of the Edo period (1603-1868), nor the Kanto earthquake in 1923, or the bombardments of the Second World War, the town remained untouched. Hence, a view from yesteryear. However, some machiya (wooden house) stand alongside more recent constructions.
A certain serenity and intimacy emerge from these narrow streets with wooden houses, where the locals go about their business according to a rhythm very different from the hyper-center. To fully enjoy this atmosphere, take a walk or bike ride connecting the main points of interest!
The other Ginza
Starting point, Yanaka Ginza Street, located just a five-minute walk from Nippori station. Make no mistake, unlike the main avenue in the Ginza district , here you won't find any luxury boutiques! This 150 meter long street has more than fifty stalls of endearing character. From the tea shop, to the kimono shop, through the unmissable tofu or Japanese confectionery shops, here you will find a good number of souvenirs at very reasonable prices. This alley allows you to soak up the peaceful atmosphere for which the neighborhood is famous. Thus, you will have the impression of taking part in a scene of Tokyo life far from the usual tourist spots.
For the rest of the visit, take the neighboring alleys to the south to retrace your steps. You will be given the opportunity to discover the many temples that dot the neighborhood. Indeed, Yanaka is also famous for these many temples. The oldest, the Tennoji, built in the 13th century, is famous for its statue of a seated bronze Buddha and its tree-lined park.
Flowery cemetery
Another point of interest in the district, the Yanaka cemetery (or the Reien Yanaka), which adjoins the Tennoji. Visiting a cemetery may seem surprising at first. Nevertheless, that of Yanaka offers a real haven of peace. More than 10 hectares of greenery are available to you . During your stroll, you will certainly come across some benevolent cats basking quietly in the sun.
Here, more than 7,000 people were buried, including some famous people like Yoshinobu Tokugawa (1837-1913), the last shogun of the Edo period (1604-1868). But this place is especially frequented in spring , for the contemplation of cherry blossoms in Tokyo! Indeed, its main alley, the Sakura dori , is flanked by many trees proudly displaying their pink pompoms when the season comes.
An artistic touch
As a bonus, for culture lovers, you can also make a detour to the Scai The Bathouse gallery (Kashiwayu-Ato, 6-1-23 Yanaka, Taito-ku, Tokyo 110-0001). This contemporary art gallery is unique in that it was built in a former public bathhouse , 200 hundred years old! It offers visitors the opportunity to discover avant-garde Japanese artists , but is also a showcase for foreign artists wishing to make themselves known on Japanese soil. It is open from Tuesday to Saturday, from noon to 6 pm.
Nearby, if you want to rest your sore feet, push the doors of Yanaka Beer Hall (2 Chome-15-6 Uenosakuragi, Taito, Tokyo 110-0002), an old-school cafe offering an appetizing menu after a very busy day.
The Yanaka district deserves its nickname of "old Tokyo". You have to walk through its alleys, cross pass with locals and even dare to get lost to fully enjoy the charms of this typical district in the northeast of the capital.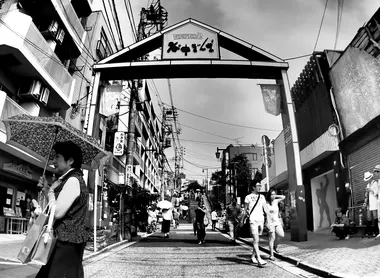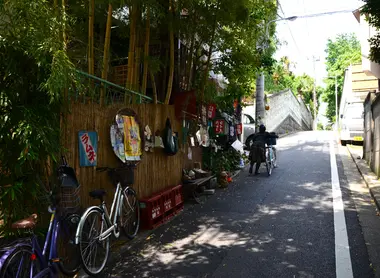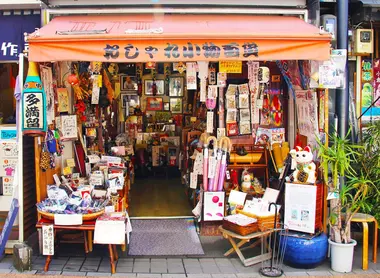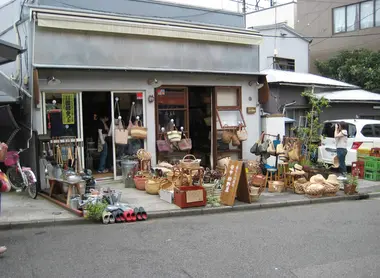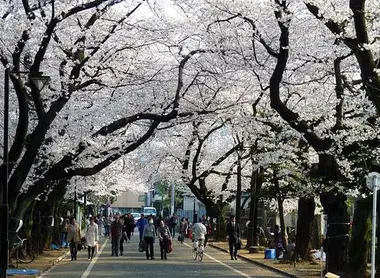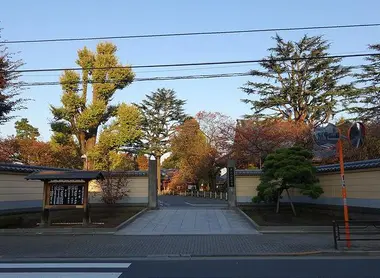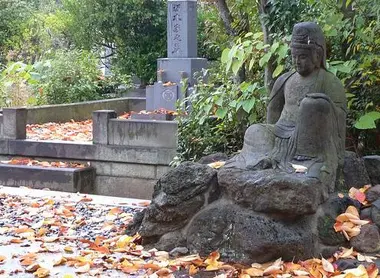 L'autre Ginza
Point de départ, la rue Yanaka Ginza, située à seulement cinq minutes à pied de la station Nippori. Ne vous méprenez pas, contrairement à la grande avenue du quartier de Ginza, ici vous ne trouverez aucune boutique de luxe ! Cette rue longue de 150 mètres comporte plus d'une cinquantaine d'échoppes de caractère. De la boutique à thé, à celle de kimono, en passant par les incontournables magasins de tofu ou de confiseries japonaises, ici, vous trouverez bon nombre de souvenirs à des prix très raisonnables. Cette ruelle permet de s'imprégner en douceur de l'atmosphère paisible qui fait la renommée du quartier. Ainsi, vous aurez l'impression de prendre part à une scène de vie tokyoïte loin des lieux touristiques habituels. 
Pour la suite de la visite, empruntez les ruelles voisines au sud pour revenir sur vos pas. L'occasion vous sera donnée de découvrir les nombreux temples qui jalonnent le quartier. En effet, Yanaka est également réputé pour ces nombreux temples. Le plus ancien, le Tennoji, construit au XIIIe siècle, est célèbre pour sa statue d'un bouddha en bronze assis et son parc arboré.   
Cimetière fleuri
Autre point d'intérêt du quartier, le cimetière de Yanaka (ou le Reien Yanaka), qui jouxte le Tennoji. Visiter un cimetière peut paraitre surprenant de premier abord. Néanmoins, celui de Yanaka offre un véritable havre de paix. Plus de 10 hectares de verdure s'offrent à vous. Au cours de votre déambulation, vous croiserez très certainement quelques chats bienveillants se prélassant tranquillement au soleil. 
Ici, plus de 7 000 personnes ont été inhumées, dont quelques célébrités comme Yoshinobu Tokugawa (1837-1913), le dernier shogun de la période Edo (1604-1868). Mais ce lieu est surtout fréquenté au printemps, pour la contemplation des cerisiers en fleurs à Tokyo !  En effet, son allée principale, la Sakura dori, est flanquée de nombreux arbres arborant fièrement leur pompons roses la saison venue. 
Une touche artistique
En bonus, pour les amateurs de culture, vous pourrez également faire un détour à la galerie Scai The Bathouse (Kashiwayu-Ato, 6-1-23 Yanaka, Taito-ku, Tokyo 110-0001). Cette galerie d'art contemporain a ceci d'originale qu'elle fut érigée dans d'anciens bains publics, vieux de 200 cents ans ! Elle propose au visiteur de découvrir les artistes japonais d'avant-garde, mais est également une vitrine pour les artistes étrangers souhaitant se faire connaître sur le sol japonais. Elle est ouverte du mardi au samedi, de midi à 18 heures. 
Non loin de là, si vous souhaitez reposer vos pieds endoloris, poussez les portes du Yanaka Beer Hall (2 Chome-15-6 Uenosakuragi, Taito, Tokyo 110-0002), un café au charme authentique offrant de quoi se restaurer après une journée bien remplie. 
Le quartier de Yanaka mérite son surnom de "vieux Tokyo". Il faut arpenter ses ruelles, croiser ses habitants et même oser se perdre pour profiter pleinement des charmes de ce quartier typique du nord-est de la capitale. 
---
Address, timetable & access
All the themes of the city