Mitsubishi Ichigokan Museum
Mitsubishi Ichigokan Museum, Tokyo - 三菱一号館美術館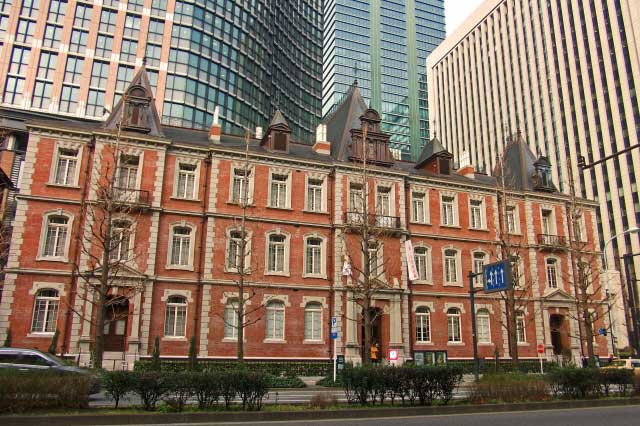 The brick facade of the Mitsubishi Ichigokan Museum surrounded by high rise buildings, Marunouchi, Tokyo, Japan
The Mitsubishi Ichigokan Museum opened in April 2010 in the Marunouchi district of Tokyo near Tokyo Station.
The Mitsubishi Ichigokan Museum building is an almost complete recreation of the original Mitsubishi Ichigokan structure that stood on the same spot and was designed by British architect Josiah Conder in 1894.
The original Mitsubishi Ichigokan was a concrete-reinforced brick structure built to survive earthquakes but met the wreckers' ball in 1968.
Exhibits
The new red brick and concrete building of the Mitsubishi Ichigokan has three floors above ground and two basement floors.
The museum is surrounded by other buildings of the Mitsubishi empire in Tokyo and is dedicated to Western art of the late 19th century.
The opening exhibition was Manet et le Paris moderne with over 80 oil paintings from the French master as well as etchings and lithographs and grew huge, enthusiastic crowds.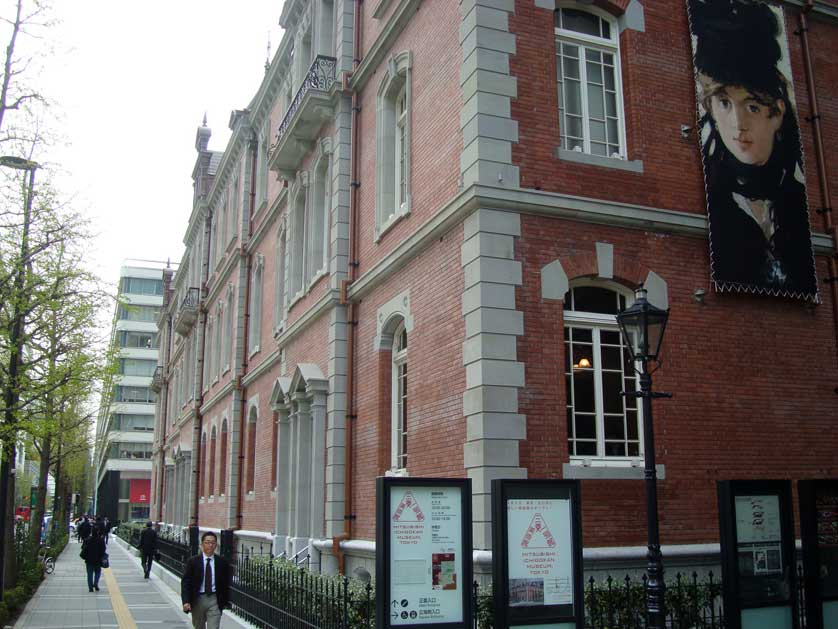 Mitsubishi Ichigokan Museum, Marunouchi, Tokyo, Japan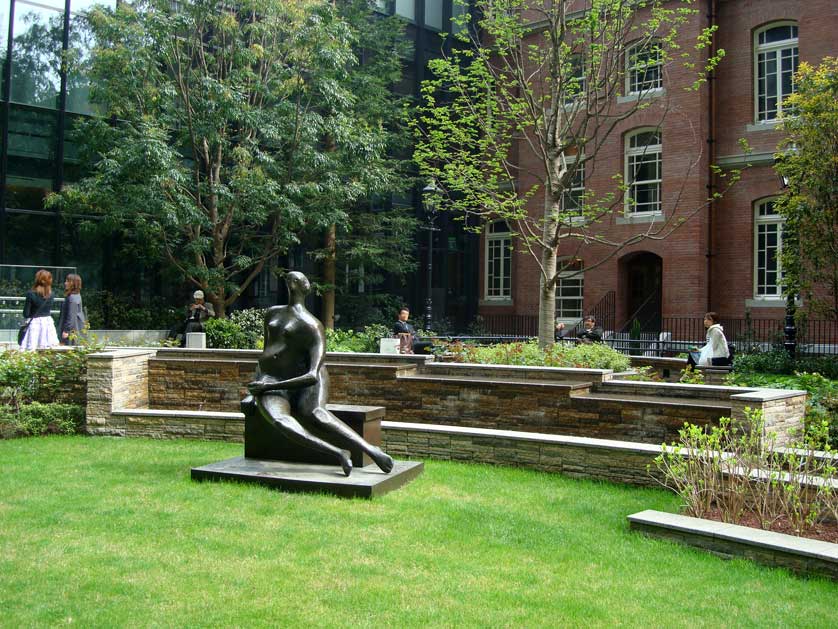 Mitsubishi Ichigokan Museum Garden & Sculpture, Marunouchi, Tokyo, Japan
Garden
The Mitsubishi Ichigokan Museum's space also includes a pleasant English-style garden with water features, outdoor seating and statues including a Henry Moore, and is popular with Tokyoites who work in the area.
The outdoor square also includes new restaurants, cafes and designer shops.
Inside the museum is the popular Cafe 1894 with fin de siecle architecture and fittings, and a museum shop called Store 1894.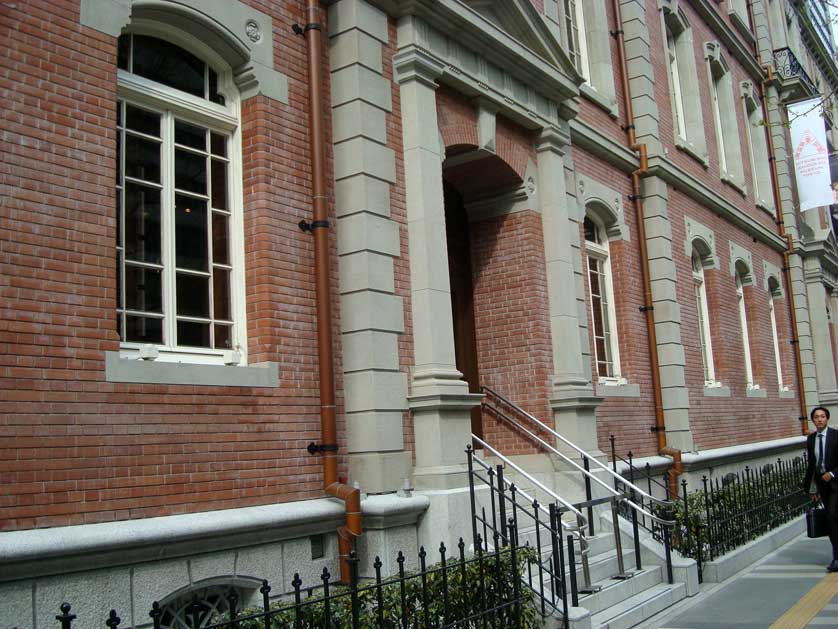 The brick facade of the Mitsubishi Ichigokan Museum in ritzy Marunouchi, Tokyo, Japan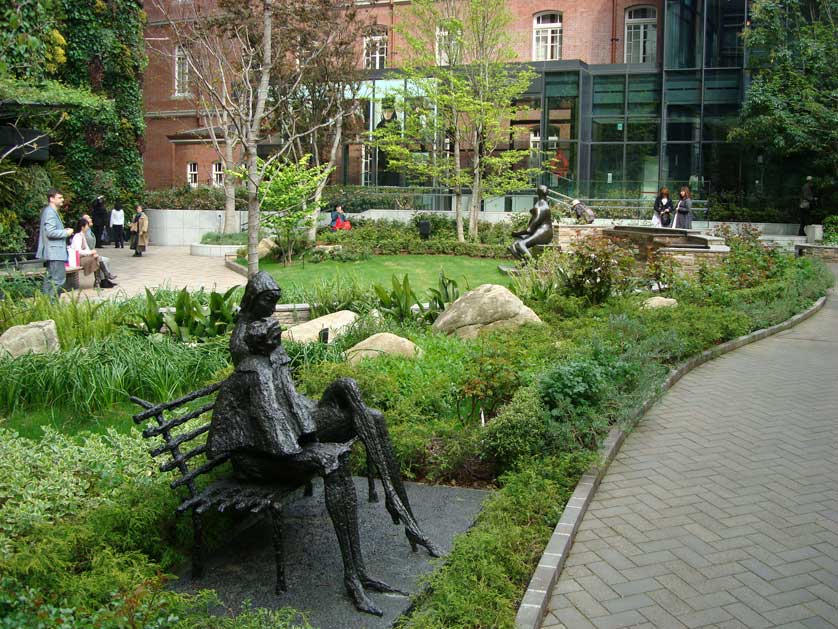 The Mitsubishi Ichigokan Museum Garden is popular as a lunch time retreat in the Marunouchi business district of Tokyo
Access - Getting There
Mitsubishi Ichigokan Museum
Chiyoda-ku, 6-2 Marunouchi 2-chome
Tel: 03 5777 8600
mimt.jp
Admission: Adults 500 yen
Hours: Tuesday, Saturday, Sunday 10 am-6 pm; Wednesday, Thursday Friday 10 am-8 pm; (closed Monday)
5 minutes from the Marunouchi South Exit of Tokyo Station
6 minutes from International Forum Exit, Yurakucho Station
3 minutes from Exit B7, Hibiya Station, Mita Subway Line
3 minutes from Exit 1, Nijubashimae Station, Chiyoda Subway Line
6 minutes from Exit D3 or D5, Yurakucho Station, Yurakucho Subway Line
6 minutes by direct underground passage from Tokyo Station, Marunouchi Line
Nearby
The museum is close to Tokyo International Forum and  Yurakucho Station.
Hotels near Yurakucho
The Yurakucho area is a good place to base yourself on any stay in Tokyo being only one stop south from Tokyo Station on the Yamanote Line.
Choose from a number of good value accommodations in Yurakucho including the 5-star Peninsula Tokyo, the 3-star Tokyo Yaesu Hotel, the Hotel Unizo Ginza Itchome and the Remm Hibiya.
See here for a full listing of hotel accommodation in the Yurakucho Station area including five-star hotels to budget lodgings.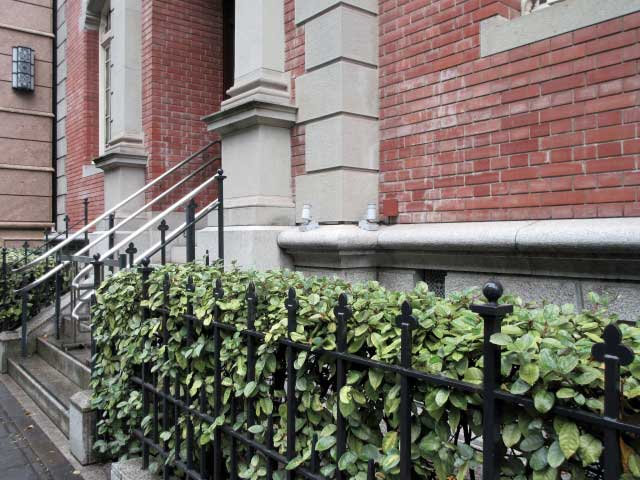 The Mitsubishi Ichigokan Museum is in the high end Marunouchi entertainment and shopping district of Tokyo, Japan
Mitsubishi Ichigokan Museum: read a guide to the new Mitsubishi Ichigokan Museum Tokyo in Marunouchi near Tokyo Station.
All the themes of the city