Asakusa Samba Carnival
浅草サンバカーニバル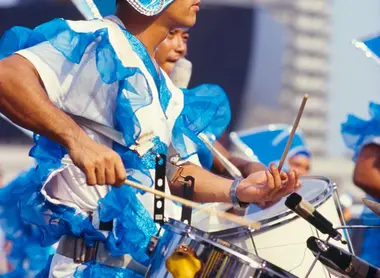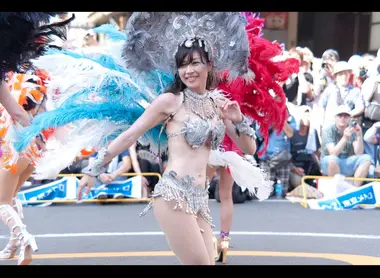 When Tokyo crunches Rio
In the Asakusa area, the summer leaves to a samba tune. Every last Saturday of August, the streets are invaded by an army of feathers and rhinestones that electifies the Tokyo air, with swinging hips and syncopated melodies.
It was in 1981 that the retail traders in the area launched this event. They hoped to revitalize this part of the city by bringing a breath of exotic fresh air. They were not disappointed when bubbly Brazilian dancers responded to their invitation and put their pedicured feet on Japanese soil for the first time.
If the "hadaka matsuri", literally the "naked festival" in the beginning looked like a crepe paper fair, made with whatever was at hand, it is now worthy of its illustrious model. Twenty teams of fervent samba musicians and dancers compete in two leagues rivaling in musical dexterity and choreography.
The festival is a popular success that each year attracts more than four hundred thousand visitors! Huge floats and wonderful papier mache, punctuate this joyous pandemonium where festival goers drown in a flood fuchsia and turquoise, and the sound of brass trills and whistles. A memorable festive experience, whose enthusiasm and energy delight even the most grumpy.
---
Address, timetable & access
All the themes of the city