Ueno Park
上野公園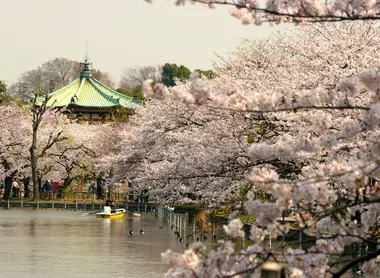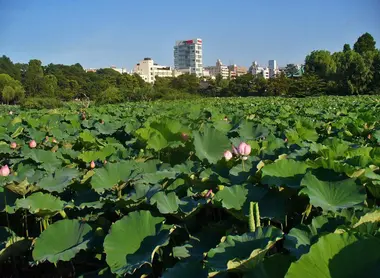 Strolling to the sound of cicadas
The huge Ueno Park, the lung of Tokyo, is a pleasant refuge from the stifling Japanese summer heat.
For the more adventurous, the Japanese summer allows you to capture the special atmosphere that fills Ueno Park with life. Once you have become accustomed to the unbearable humidity, let yourself be transported by the heady atmosphere. You will soon agree that the sound of the semi, Japanese cicada, that appears as soon as the good weather arrives, lends its charm to the park.
The Japanese who flock here come in search of a fleeting bucolic feeling, wandering along the wide paths lined with cherry trees. Some even reconnect with their "Japanese-ness" and wear traditional dress including the yukata, summer kimono.
Ueno Park may seem crowded, but the large spaces allow you to daydream in the shade of large trees without being disturbed. It's only in this season that Shinobazu Pond, located south-west, puts on the the impressive spectacle of flowering lotus, with giant petals covering the entire surface of the water.
The only downside is that Ueno Park is also one of the few places in Tokyo where you will see the homeless, who are, however, very reserved and will not bother you. If the heat is too unbearable, the Japanese have once again thought of everything, and vending machines dispensing cold drinks are easily accessible near the rest areas.
All the themes of the city