Ueno Okachimachi Shopping
Ueno and its Okachimachi district are full of shopping opportunities from luxury to bargain basement, all within walking distance of Japan's biggest museum and art gallery area.
Tokyo Area Guide: Ueno & Okachimachi Shopping 上野 御徒町 買い物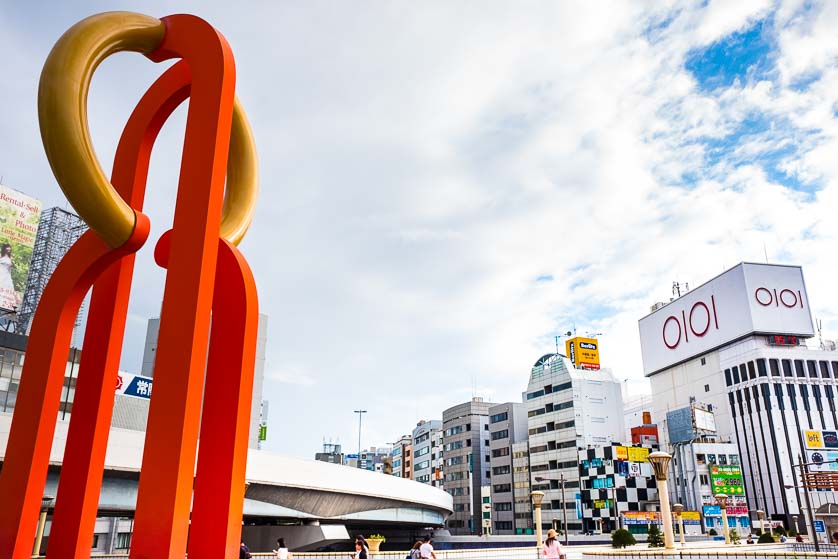 Ueno & Okachimachi shopping - plaza in front of Ueno Station, Tokyo.
Ueno, in Taito ward in north-eastern Tokyo, is where the whole of life in Japan's metropolis seems to be rolled into one: from the cultural heights represented by the six major museums that dot the green expanse of Ueno Park, to the down-at-heel who make the area home, to the rowdy hubbub of the Ameyayokocho market street - all within a few minutes' walk of each other.
Ueno is visited by millions every year for its main attraction: Ueno Park (including Ueno Zoo). But if you're in the area, a foray into the compact Ueno commercial area, which includes the Okachimachi district, is recommended. This area of Ueno is the unabashed, slightly grittier, face of Tokyo, and still offers the visitor a glimpse of the Tokyo of decades past.
As well as general merchandise, shopping in the Okachimachi district of Ueno - just a little south of Ueno Station - includes a lot of jewelry stores, second hand stores, and numerous pawn shops selling used luxury watches.
Ueno Shopping & Dining
Ueno has a cluster of commercial premises between Ueno Station and Okachimachi Station, the next station south on the Yamanote Line. Ueno/Okachimachi shopping - while as safe as anywhere else - has a rough-and-ready feel not encountered in many other parts of Tokyo, and typified by its famous Ameyayokocho ("Ameyoko") shopping alley in the Okachimachi district, where crowds mill and hawkers yell.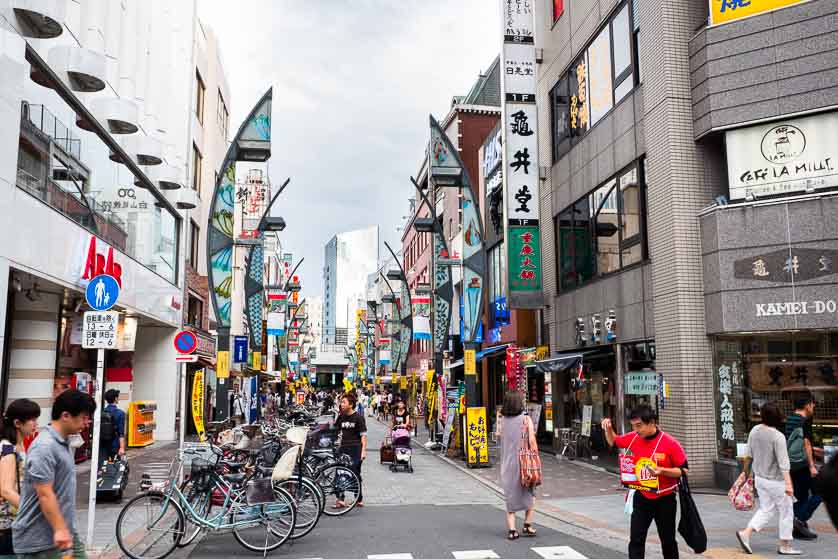 Shopping street off Chuo-dori Avenue, Ueno.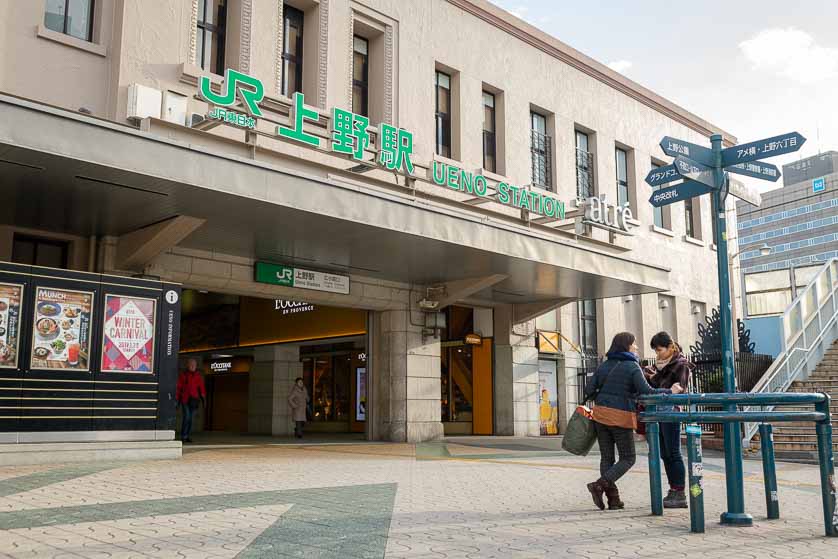 Ueno Station Central Exit - and entrance to Atre Ueno
Ueno Station
Ueno Station is one of Tokyo's biggest stations. Its huge, airy sky lit central concourse provides access to numerous shopping and dining opportunities.
Atre Ueno アトレ上野
Ueno Atre is a two-floor shopping mall spanning both sides, east and west, of the Ueno Station grand concourse. The East Wing, around the Main Exit of Ueno Station, is mainly dining, most notably the Hard Rock Café (7am-11pm) on the 1F, next to which is the L'Occitane natural cosmetics store, as well as a handful of restaurants and a currency exchange shop on the 2F. The larger West Wing, on the Ueno Park side of the station, accesses the Shinobazu Exit and the Yamashita Exit. The West Wing of Atre Ueno has several restaurants and cafes: a Starbucks and several Japanese-style eateries such as sushi, as well as fashion, cosmetics, glasses, groceries and delicatessen - many of which offer a tax-free service for overseas customers. Read more about tax free shopping in Japan
Atre Ueno hours: most goods shopping: 10 am-9 pm, most restaurants and cafes: 11 am-11 pm
7-1-1, Ueno, Taito-ku, Tokyo
03 5826 5811
Ecute Ueno エキュート上野
Ecute is a mall on the 3F of the Ueno Station building, and can be accessed only from inside the station. If you exit the ticket wicket, you can no longer access Ecute. Ecute is therefore mainly for people stopping over at Ueno Station before boarding another train and is overwhelmingly food-related, with restaurants, confectionery stores (Western and Japanese), bakeries, bento lunch boxes, a mini-market (Kinokuniya), and cafes, but with a handful of fashion and accessory stores, too. Accessing Ecute from the street requires buying a 140-yen nyujoken ("entry ticket") of the kind used for seeing people off on the platform but which does not let you board a train. In other words, there is little reason to visit Ecute unless you find yourself already inside the ticket wickets of Ueno Station.
Ueno Ecute hours: 8am-10pm (most stores, with cafes and restaurants open from about 7am-11pm)
3F, 7-1-1, Ueno, Taito-ku, Tokyo
03 5826 5600
Ueno no Mori Sakura Terrace 上野の森さくらテラス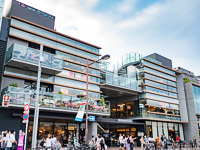 Sakura Terrace, Ueno
Ueno no Mori Sakura Terrace is a very modern, three-story dining building just across the road from the Yamashita Exit of Ueno Station. This uniquely designed building provides free access up escalators from Ueno street level up to Ueno Park (to the Ueno Royal Museum) with elegant restaurants on either side as you ascend. There are over fifteen establishments in Ueno no Mori Sakura Terrace including cafes, an oyster bar, an American diner, an okonomiyaki/teppanyaki restaurant, a seafood restaurant, shabu-shabu, and an Ebisu Beer bar.
Ueno no Mori Sakura Terrace restaurant hours: 11 or 11:30 am-11 pm (last order 10:30 pm)
1-54 Ueno, Taito-ku, Tokyo 110-0007
Bamboo Garden バンブーガーデン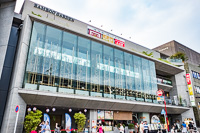 Bamboo Garden, Ueno
Bamboo Garden is a restaurant building right next to Sakura Terrace. Bamboo Garden has the Kamonka Chinese restaurant on its 1F, with striking décor and good food, on its 1F, and the Ueno branch of the chic, modern Oto-Oto Japanese-style restaurant on its 2F, serving authentic izakaya food at reasonable prices. Right next door to the Bamboo Garden is the Ueno Royal Museum, one of the many museums in Ueno Park, and in front of the building are stairs up to Ueno Park.
Bamboo Garden Ueno
1-52 Uenokoen, Taito-ku, Tokyo 110-0007
Ueno 3153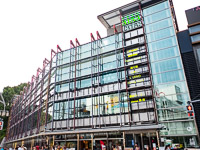 3153, Ueno
Ueno 3153 is a striking-looking glass building across from the Shinobazu Exit of Ueno Station, with five floors (three above ground, two underground) of budget dining, most of it Japanese-style. The 1F is the L'Ueno mall with fast food, a bakery, a dessert cafe, and pasta/pizza.
6-15-1 Ueno, Taito-ku, Tokyo 110-8502
03 3833 0101
Hours: by store, but generally from 11 am to about 11 pm or midnight (last order 30 mins or an hour before closing time)
Ueno Park
Ueno Park is immediately west of Ueno Station, and is accessible from the station's Yamashita Exit and Ueno Park Exit. Even if you are on the far side of the station from the park, you can get there using the station's rooftop Panda Bridge. The area just outside the park nearest the station offers numerous shopping and dining options.
Cafes in Ueno Park
Starbucks Coffee has a large dedicated store inside - and right in the middle of - Ueno Park. The very popular Starbucks Ueno Onshi Park branch has a lot of outdoor seating - pleasant on fine days for watching life go by in the park.
Hours: 8 am-9 pm
8-22 Uenokoen, Taito-ku, Tokyo 110-0007
Parkside Café is another large café in Ueno Park, about the same size as the Ueno Park Starbucks, and located just across from it.
Hours: 10 am-9 pm weekdays, 9am-9 pm weekends/public holidays (last food order 8pm, last drink order 8.30pm)
8-4 Uenokoen, Taito-ku, Tokyo 110-0007
Chuo-dori Avenue & Okachimachi 中央通り 御徒町
Chuo-dori is the major avenue going past Ueno Station. From the Central Exit of Ueno Station you will see OIOI City across Chuo-dori. From the Shinobazu Entrance of Ueno Station you will see the thin-profile, 8-story Yodobashi Camera building across Chuo-dori.
Shopping on the eastern side of Chuo-dori is usually considered to be Okachimachi shopping, as it is more easily accessed from Okachimachi Station than from Ueno Station. And going 1.5 km south on Chuo-dori brings you to the electronics/pop-culture district of Akihabara.
The stretch of Chuo-dori going through Ueno is lined mainly with pachinko parlors and karaoke bars, but also has the following stores.
OIOI City Ueno 上野マルイ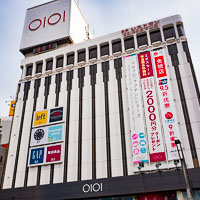 OIOI City, Ueno
OIOI City Ueno ("OIOI" is pronounced "Marui") is the Ueno
branch of the nationwide Marui department store chain. OIOI City Ueno is home to over 100 different retailers, mostly of clothing (in roughly equal numbers for men on the 3F, 6F, 7F, and women on the 2F, 3F, 4F) and fashion accessories. The Gap and Muji clothing stores are on the B2 floor. There is also a Loft hobby, gift, and handyman store on the 5F. There are several restaurants on the 9F and some cafes on the B1F.
Hours: 11 am-9 pm weekdays, 11 am-8.30 pm weekends/public holidays
6-15-1 Ueno, Taito-ku, Tokyo 110-8502
Tel. 03 3833 0101
Access to OIOI City Ueno is via the pedestrian bridge just outside the Central Exit of JR Ueno Station, across Chuo-dori Avenue.
Yodobashi Camera Multimedia Ueno ヨドバシカメラ マルチメディア上野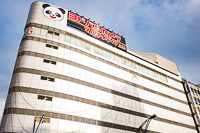 Yodobashi Camera, Ueno
Yodobashi Camera Multimedia Ueno has 8 floors of goods ranging from travel goods and camera accessories on the B1 floor to cameras and watches on the 1F, computers and PC peripherals on the 2F and 3F, TVs and audio on the 4F, personal care-related devices on the 5F, and home appliances on the 6F and 7F.
The Yodobashi Camera Multimedia Ueno No.2 Store on the next block offer three floors of mobile and smartphone-related on the 1F, toys and hobby-related on the 2F, and TV games on the 3F.
Both Yodobashi Camera stores provide a tax-free service for non-residents of Japan.
Hours: 9.30 am-10pm
4-10-10, Ueno, Taito-ku, Tokyo, 110-0005 (main store). Access to Yodobashi Camera Multimedia Ueno is from the Shinobazu Exit of Ueno Station. An underground walkway from Keisei Ueno Station, across the road, also comes out right in front of Yodobashi Camera.
Tel. 03 3837 1010
Takeya Select 多慶屋セレクト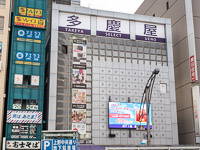 Takeya Select, Ueno
Takeya Select is a small department store on the other side of Chuo-dori with multiple floors selling everything from wines and liquors to foodstuffs, cosmetics, handbags, wallets, watches, kitchenware, rice cookers, hair dryers, and more. Takeya Select offers a tax-free service to overseas customers.
Takeya Select hours: 11 am-9 pm
2-13-11 Ueno, Taito-ku, Tokyo
Tel. 03 3834 7345
ABAB Ueno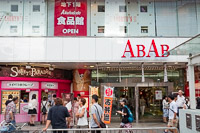 ABAB, Ueno
ABAB Ueno is a women's clothing mall with eight floors containing dozens of boutiques specialized in particular kinds of clothing and accessories for women. The B1 floor is a food floor and the 8F has a branch of the Daiso 100 yen shop. Has a tax refund service for oversea
customers.
Hours: 10 am-9 pm
4-8-4 Ueno, Taito-ku, Tokyo 110-8541
Tel. 03 3833 3111
Matsuzakaya Ueno Department Store 松坂屋上野店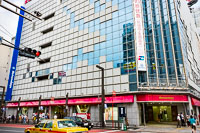 Matsuzakaya, Ueno
Matsuzakaya department store is Ueno's only department store. It is about 5 minutes walk from Ueno Station and marks the end of Ueno shopping along Chuo-dori Avenue. Matsuzakaya Ueno has a Main Building (the first one you come to from Ueno Station) and a South Wing (adjoined, on the next block along). The eight-floor Main Building is a typical Japanese department store, mainly men's and women's clothing (main overseas brand: Burberry), with a B1 food and restaurant floor (including some good bakeries) and mainly cosmetics on the 1F.
Matsuzakaya Ueno is now in a modern building, but retains classic aspects of its old stone interior done in art deco style dating from its original incarnation.
Hours: 10 am-7.30 pm every day
3-29-5 Ueno, Taito-ku, Tokyo 110-8503.
Matsuzakaya is located right above two subway stations: Ueno-okachimachi Station on the Oedo Subway Line and Ueno-hirokoji Station on the Ginza Subway Line (Exits A1 & A2 from both stations) - and is also directly accessible by underground walkway from Okachimachi Station on the Hibiya Subway Line and, above ground, from Okachimachi Station (North or South exit) on the Yamanote Line. The South Wing of Matsuzakaya is more readily accessed from the South Exit of JR Okachimachi Station.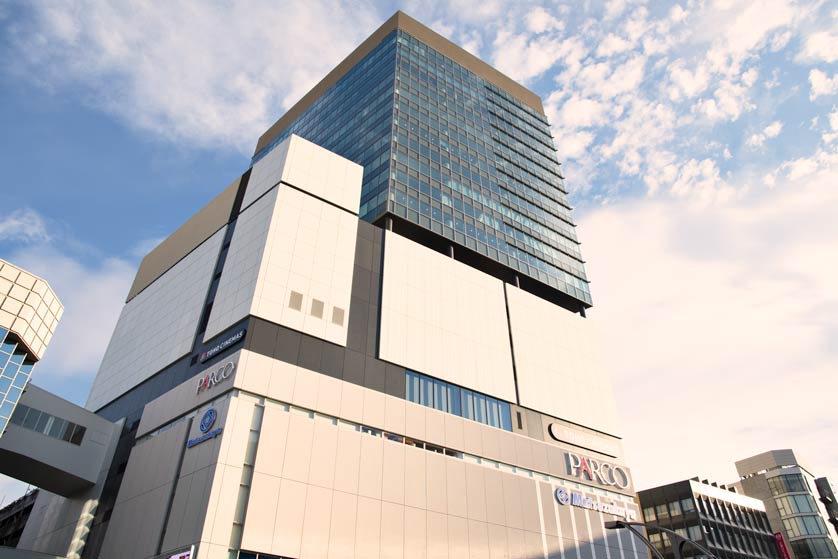 Ueno Frontier Tower, Ueno - housing Parco_ya Ueno and the Toho Cinemas Ueno
Parco_ya Ueno
Parco_ya Ueno is a 6-floor shopping center next to the main building of Matsuzakaya. Parco_ya Ueno is the Ueno presence of the nationwide Parco chain, and its almost 70 stores include everything from fashion and cosmetics stores to boutiques, salons, cafes, bars, and a restaurant floor. Parco_ya Ueno is in the Ueno Frontier Tower, opened in November 2017. Hours: 10 am-8 pm; 6F (restaurants).
Toho Cinemas Ueno
Toho Cinemas Ueno is on floors 7 to 10 of Ueno Frontier Tower, above Parco_ya Ueno. The three floors have a total of eight screens, and 1,440 seats in all.
Toho Cinemas Ueno opens from between 8 am and 9 am, depending on the day, and the last screening finishes as late as half past midnight. Read more about Uneo Frontier Tower.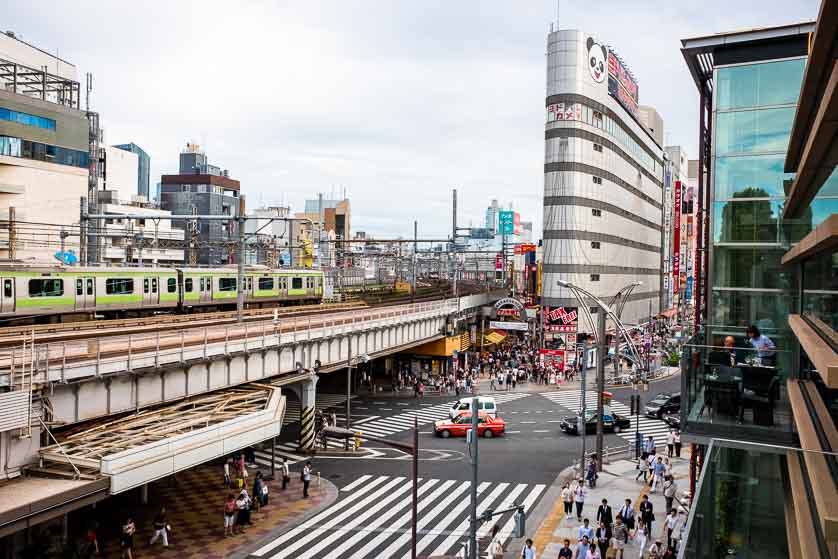 Shinobazu Exit of Ueno Station from Sakura Terrace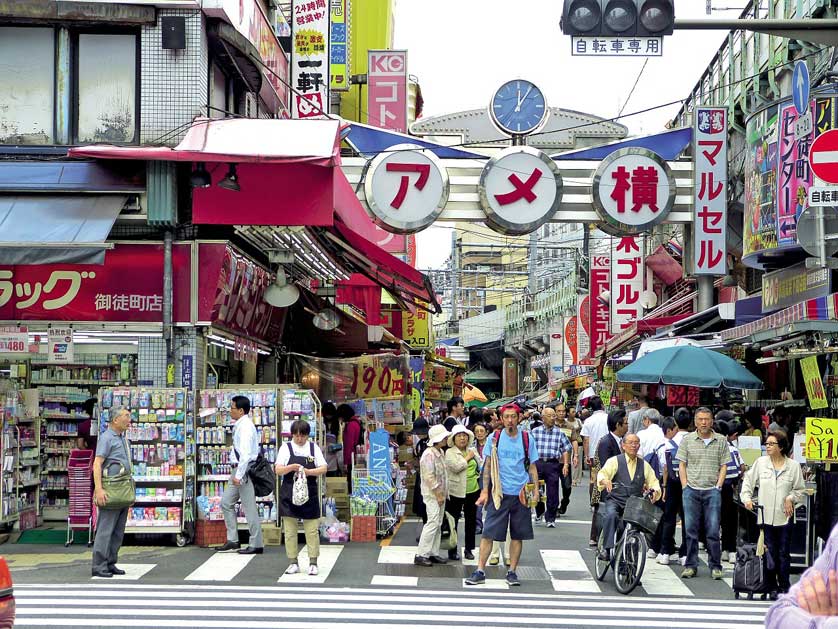 Ameyayokocho, Tokyo
Ameyayokocho ("Ameyoko") アメ横
Ameya-yokocho - or Ameyoko for short - is the real star of Okachimachi shopping, as this alley preserves much that has been lost in other parts of modernized commercial Tokyo. Ameyoko is both laid-back and full-on, with crowds drifting through its narrow alleys while hawkers holler and cajole at full volume. Fresh fruit and vegetables, meat, fish, imported delicacies, shoes, used golf clubs, clothes, kebabs, street snacks, sweets - Ameyoko is multitudinous, raucous colorful, photogenic, invigorating, tiring, smelly, great-tasting - all at once. You'll even find Tokudaiji, a brightly colored Buddhist temple, in the midst of it all, perched on top of part of the huge Miki confectionery shop! The basement floor of the Ameyoko Center Building is the place in Tokyo to go for Asian mainland foodstuffs and ingredients. Read more about Ameyoko.
Ameyoko runs alongside the Yamanote Line elevated railway line. The northern endo the street is accessed from Ueno Station's Shinobazu Exit by crossing the road and taking the alley just behind Yodobashi Camera. The southern end is accessed from JR Okachimachi Station (one stop south of Ueno Station) or Okachimachi Subway Station on the Hibiya Subway Line.
Uechun 上中
Uechun is a shopping alley running parallel to Ameyoko, and that branches off from Ameyoko about halfway along it. Uechun offers some pleasant respite from the full-on hubbub of Ameyoko, with a somewhat more relaxed vibe - yet with enough of a hustle to keep things interesting. Uechun offers plenty in the way of shoe stores, second-hand clothing, restaurants, cafes, and more. Uechun connects to Ameyoko by way of a few short alleys running between them along the way.
Okachimachi Station 御徒町駅
Okachimachi Station is at the southern end of Ameyoko, and carries on the Ueno/Okachimachi shopping experience further south, following the overhead railway line. The station is at the center of the bustling, market district of Okachimachi.
Uniqlo Okachimachi ユニクロ 御徒町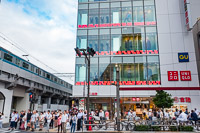 Uniqlo, Ueno
Uniqlo is a nationwide Japanese low-cost clothing fashion chain for men and women, and Uniqlo Okachimachi is by far the biggest of the three Uniqlo branches in Ueno (and one of the biggest Uniqlo stores in Japan), the other two being Uniqlo Ueno Hirokoji (a very small branch under the Yamanote railway line just across from Ueno Station) and Uniqlo Ecute Ueno, in the Ecute shopping mall, accessible only from inside the ticket wickets of Ueno Station.
Uniqlo is in front of the North Exit of Okachimachi Station, on the west side of the Yamanote railway line (i.e., the same side as Ameyoko).
Uniqlo Okachimachi hours: 10 am-9 pm
3-27-12 Ueno, Taito-ku, Tokyo 110-0005
Okachimachi Jewelry District 珊瑚ストリート ルビーストリート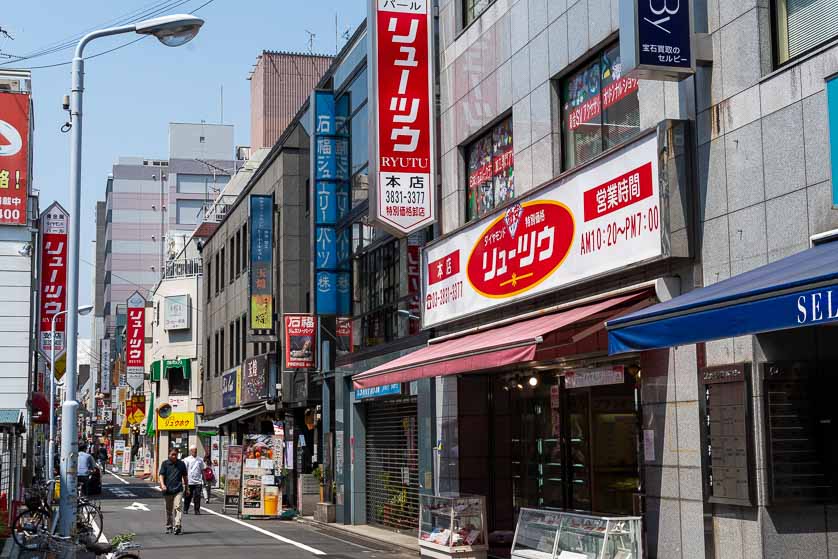 Ruby Street, on east flank of Okachimachi Station, full of jewelry and gem stores
The Okachimachi jewelry district is just to the east of JR Okachimachi Station (i.e., on the other side of the overhead railway line from Uniqlo) on the roads running parallel to the railway line. Sango Street ("Coral Street") runs alongside the railway line and has a lot of jewelry and watch stores. The big red Ryutsu ("Bridal Jewelry") jewelers is recommended if you are looking for quality jewelry and dependable service. Ruby Street is next east, parallel to Sango Street, and also has several jewelry and watch stores.
Takeya 多慶屋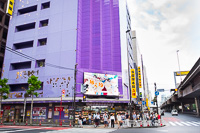 Takeya, Okachimachi
Takeya is an old-time general store-cum-department store that occupies a cluster of premises on a corner about three minutes' walk east down Kasuga-dori Avenue from Okachimachi Station, past the jewelry district, just past the overhead highway. Takeya is worth going to if you want to take gift boxes of Japanese snacks home as souvenirs, as they tend to be cheaper here and - more importantly - Takeya offers a tax-free service to overseas customers on purchases of 5,000 yen or over. Takeya also has an adjoining furniture/furnishings store, home appliance store, women's clothing, and even a Buddhist altar store. Takeya is the big purple store on the corner of Kasuga-dori and Showa-dori (Showa-dori being the road with the overhead highway.)
If coming down Ameyoko from Ueno Station, turn left onto Kasuga-dori Road (without crossing over to Okachimachi Station and Uniqlo). You'll see the overhead highway 100 meters down the road.
Takeya Hours: 10 am-8.30 pm
4-33-2 Taito, Taito-ku, Tokyo
Read more about Okachimachi.
Book Hotel Accommodation in Tokyo Here
All the themes of the city