Kawasaki Daishi Temple
Kawasaki Daishi Temple: read a guide to Kawasaki Daishi Temple, Kawasaki City's most famous tourist site, commemorating the founder of Shingon Buddhism in Japan, the priest Kukai.
Kawasaki Daishi 川崎大師
Kawasaki Daishi (more properly known as Heiken-ji or Heigen-ji) is a large temple complex in Kawasaki city with numerous imposing buildings, venerating the Buddhist priest Kukai (774-835), posthumous name Kobo-Daishi, the father of Japanese Shingon Buddhism. The temple is Kawasaki's best-known tourist attraction.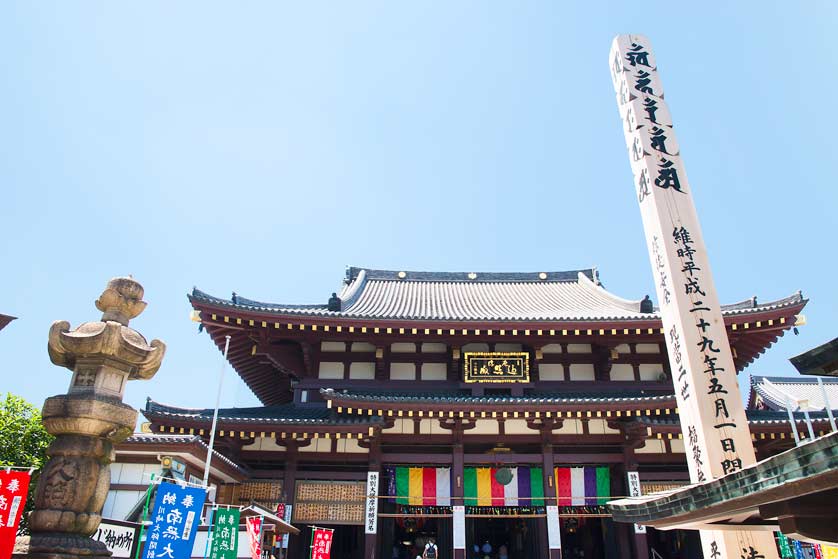 The Main Hall of Kawasakidaishi Temple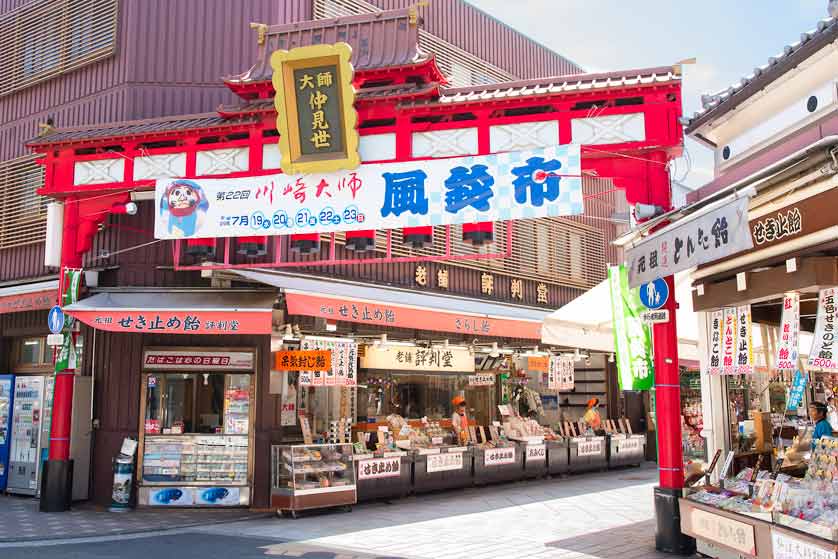 Nakamise shopping street, leading up to Kawasakidaishi Temple
History of Kawasaki Daishi
Kawasaki Daishi was founded in 1128 by the samurai Hirama Kanenori and the priest Sonken.
The temple is the head temple of the Chizan sect of Shingon Buddhism.
Kawasaki Daishi is a very popular temple for New Year worship, attracting well over a million supplicants.
The principal image for worshipers at Kawasaki Daishi is a statue of Kobo Daishi, supposedly pulled from the sea by Hirama Kanenori, and only displayed in a festival once every ten years.
Kawasaki Daishi was destroyed in World War II - all except its tiny Shinto shrine - and the present buildings are modern re-constructions of Heian era architecture.
The temple buildings include the Dai-Hondo (which contains the sacred image) and was rebuilt in 1958. The Dai-Sanmon (Main Gate) and the Prayer Hall for Safe Driving both constucted in 1977, the Hakkaku Gojunoto, a five-storied pagoda that is unique in being octagonal, dating from 1984, and the Statue of Prayer and Peace commissioned by the Head Priest in the same year to commemorate the 1,150th anniversary of Kobo Daishi's death.
The small Sutra Hall is of special interest, containing over 1,700 volumes of hand-printed Buddhist sutras, and with beautiful Chinese-style Buddhist paintings on the ceiling.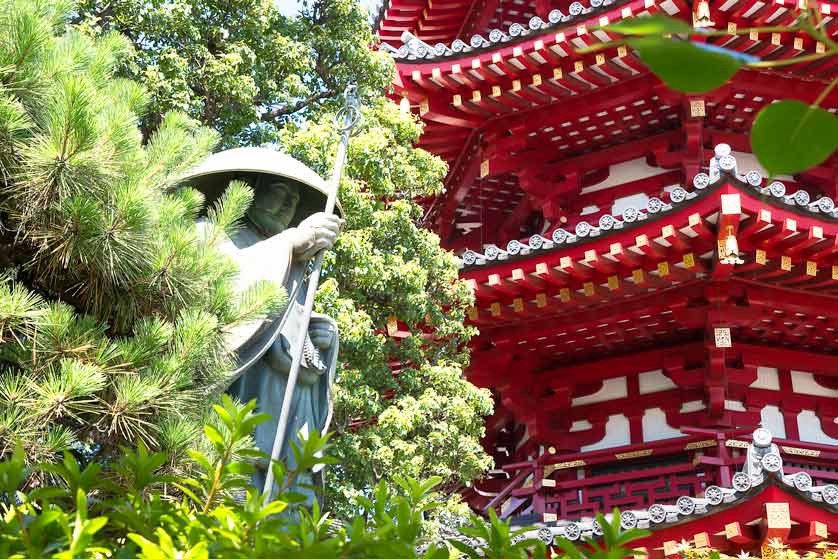 Statue of Kobo Daishi, with octagonal pagoda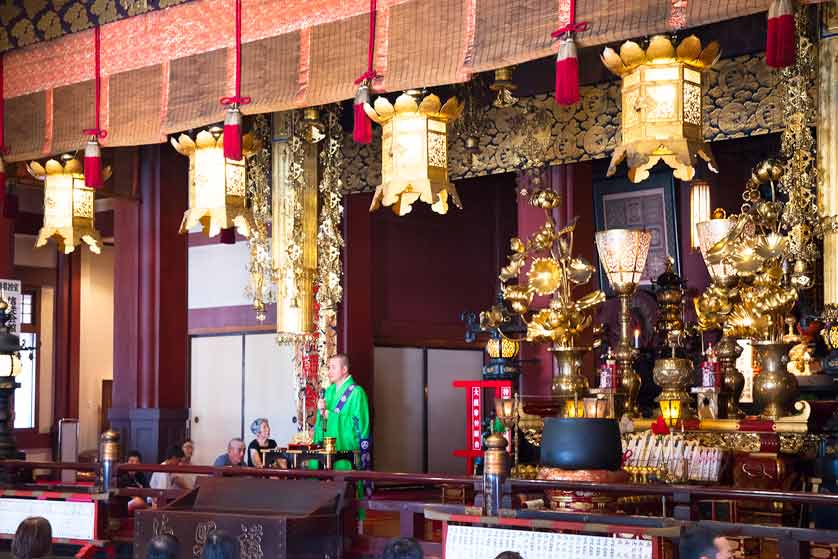 Inside the Main Hall of Kawasakidaishi Temple
The road from Kawasaki Daishi Station is lined with restaurants and souvenir shops selling daruma dolls, which are good luck charms in Japan and are believed to help wishes come true.
YouTube Guide to Kawasaki Daishi
Kawasaki Daishi Access
Bus
Bus from JR Kawasaki Station for Kawasaki Daishi.
Train
Or Keihin Kyuko train from Keikyu Kawasaki Station to Kawasaki Daishi Station.
From Shinagawa Station or Yokohama Station, take the Keihin Kyuko train and change at Keikyu Kawasaki Station to a train bound for Kawasaki Daishi Station.
Kawasaki Daishi Heikenji Temple (in Japanese and English)
4-48 Daishi-machi, Kawasaki-ku Kawasaki, Kanagawa, Japan 210-8521Tel 044 266 3420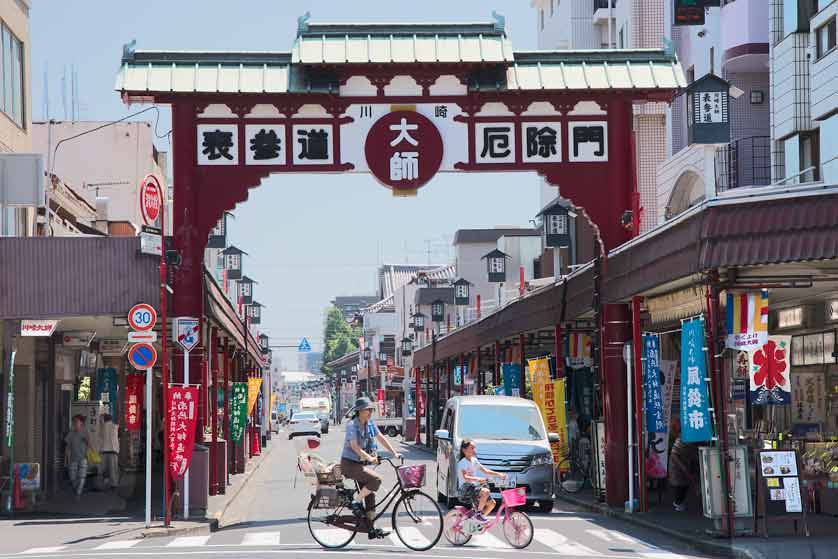 Gate across from the railway station over road leading to Kawasakidaishi Temple

Kawasaki Related
All the themes of the city