Naritasan Shinshoji Temple - Introduction
Naritasan Shinshoji Temple 成田山新勝寺
Narita-san Shinsho-ji Temple (usually just called "Narita-san") is a large, picturesque Buddhist temple complex in Narita City, Chiba Prefecture, just a few kilometers from Narita International Airport. Japanese religion, nature, art and community come together here, making for a memorable visit.
Narita-san is a very popular temple visited by millions of people every year, and is the second most visited shrine or temple in Japan after the Meiji Shrine in Tokyo.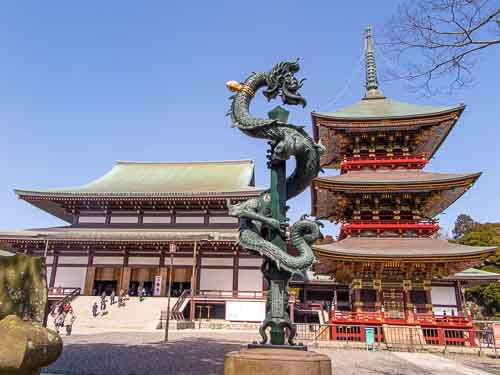 Daihondo Main Hall & Sanju-no-to Pagoda, Naritasan Temple
History
Narita-san dates from over a millenium ago, and its founding is associated with one of Japan's legendary religious figures, the priest Kukai (774-835 AD) responsible for bringing esoteric Shingon Buddhism to Japan from China. Narita-san's most famous artifact is an image of Fudomyo, i.e. the guardian deity Acala-vidyaraja, said to be carved by Kukai himself.
However, Kukai's carving of the statue was long before the temple's founding, which happened in 940. The Imperial Court in Kyoto had mobilized the statue to bring victory against rebel samurai, but, once ensconced in Narita, the statue "refused to move," so a temple was built around it.
In 1703, the statue--apparently cured of its immovability--was brought briefly to Edo (now Tokyo) in a bid to attract adherents, and succeeded in inspiring the popular kabuki actor Danjuro ichikawa to play the god, Fudomyo, on stage. This further boosted his popularity, and Narita-san's, and led to an association between Narita-san and kabuki lasting to this day.
Stall selling sembei crackers, Omotesando Street, Naritasan Temple
Omotesando 表参道
Narita-san is approached via its own, lively Omotesando shopping street, full of shops and stalls selling snacks and trinkets to those on their way to the temple. The street is notable for its eel restaurants, eel having been promoted over the past few decades as a stamina food - in this case for weary pilgrims. Sweet-potato paste (imo-yohkan) is a typical Narita-san Omotesando confectionery.
A little over halfway along, you will get to an intersection with a traffic island and a sign pointing the way right to Narita-san temple. On the left side of the road here is a small, ancient pagoda called Yakushido, built in 1655, and now relegated here, but that was once the main temple building of Narita-san.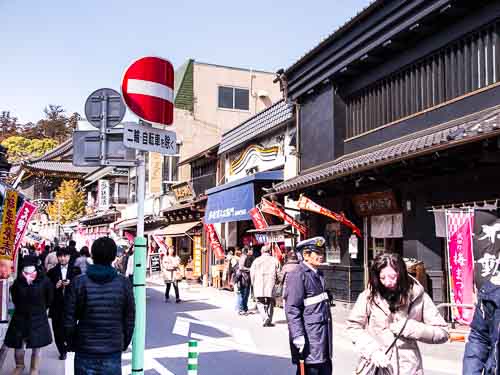 Omotesando Street, leading from Narita Station to Naritasan Temple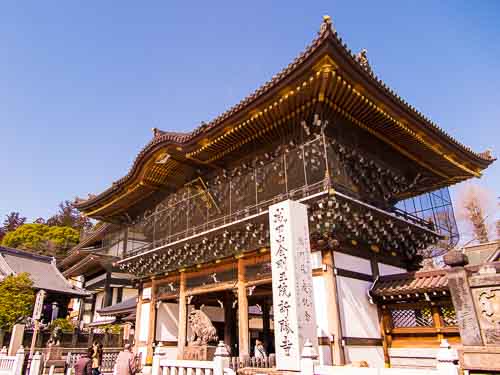 Somon Gate, the entrance to Naritasan Temple.
Somon Gate 成田山総門
The first gate, the 15 m (almost 50 ft) high Somon gate was built in 2008 for the temple's 1070th anniversary. You pass through a dramatic rock garden, then up through the smaller Niohmon (Nioumon 仁王門) Gate, built in 1831 and an officially designated historical site. Its huge lantern with "Riverside Fish Market" written on it in kanji is a gift from, you guessed it, a local riverside fish market.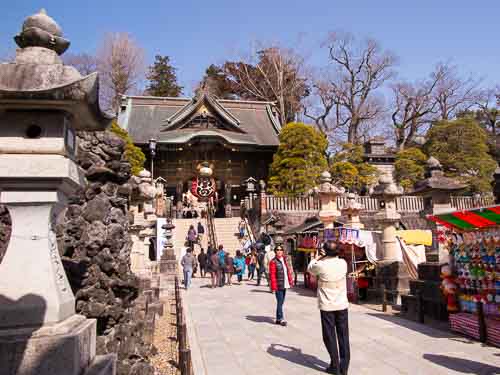 Nioumon Gate, the second gate to Naritasan Temple, Narita
Daihondo Main Hall
The imposing Great Main Hall (Daihondo) straight ahead is the principal building at Narita-san Temple, and houses Kukai's image of Fudomyo.
Keep reading about the Daihondo Main Hall.
Narita-san temple is a Shingon sect Buddhist temple situated in Narita, Chiba Prefecture and was founded in 940 by Kancho Daisojo, a disciple of Kukai.
All the themes of the city