Shoji Ueda Museum of Photography
The Shoji Ueda Museum of Photography is a futuristic museum in the middle of the Tottori Prefecture countryside displaying the works of the local, internationally celebrated, photographer, Shoji Ueda.
Shoji Ueda Museum of Photography 植田正治写真美術館
The Shoji Ueda Museum of Photography sits dramatically all alone amid lush agricultural land in Tottori Prefecture, a stark, literally cubist, presence looking out onto the prefecture's biggest mountain, Daisen. The musuem is avante garde in both its architecture and the photography it houses.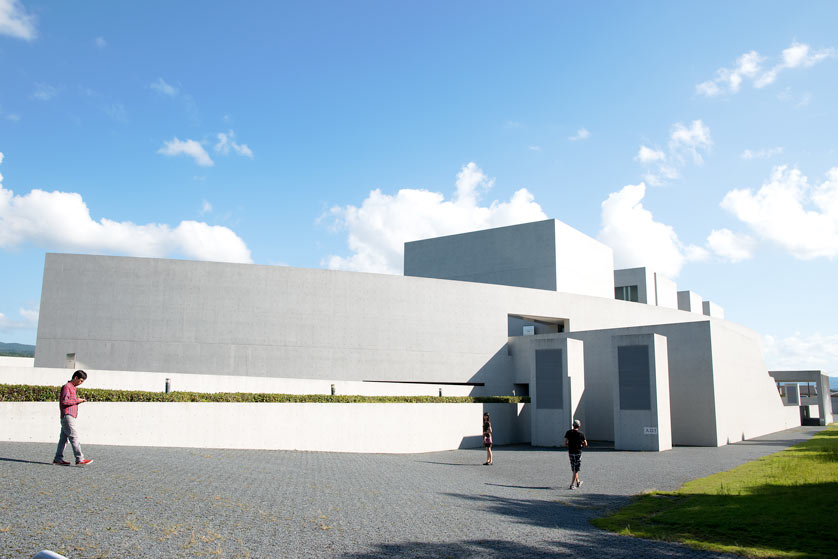 The avant garde Shoji Ueda Museum of Photography, Tottori Prefecture
Shoji Ueda, Photographer
Shoji Ueda (1913–2000) is a major figure in the history of Japanese photography. Although a professional, formally trained, photographer, he styled himself an "amateur," and the works he is known for are his so-called amateur photographs that he spent seventy years shooting in the relatively small area around Yonago, where he had his studio and gallery, and nearby Tottori City, with its iconic sand dunes.
Shoji Ueda's work is known for a certain drollness that is typically interpreted as surrealist, yet incorporates a sense of deep familiarity, with his models often being immediate family members - mainly taken in the dunes, and his subject matter being life as lived around him. All Ueda's works are imbued with a sense of story, which is at the heart of their appeal. Ueda's intense artistic activity in the 1970s began with a year spent traveling in Europe, was often in collaboration with other artists, and finally brought him widespread recognition. The uniqueness of his vision has been enshrined in the Japanese phrase "Ueda-cho," or "the Ueda style."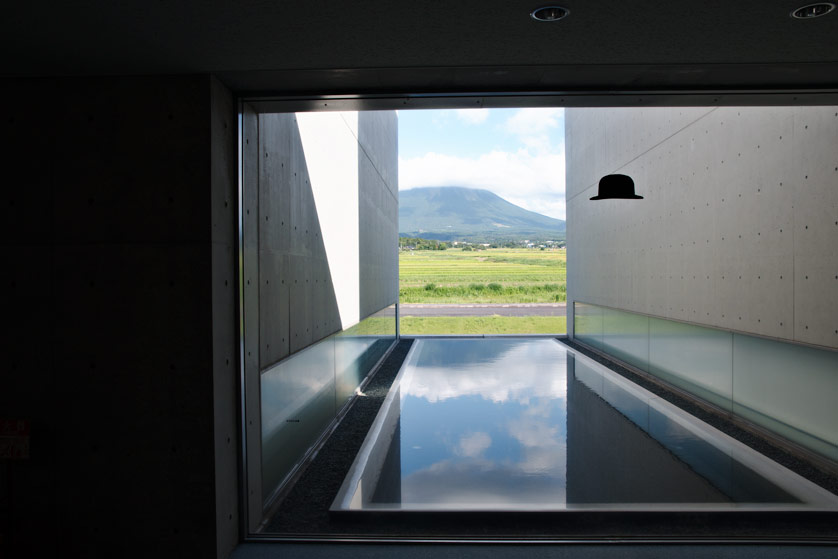 View of Mt. Daisen from Shoji Ueda Museum of Photography, Tottori Prefecture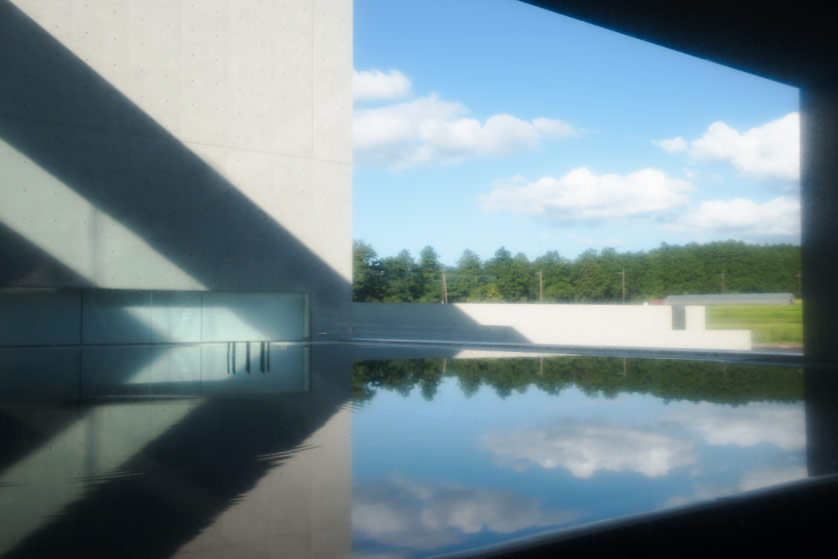 Framed outdoor scenery, Shoji Ueda Museum of Photography, Tottori Prefecture
The Museum
The Shoji Ueda Museum of Photography opened in 1995, five years before the photographer's demise, in Houki-cho, Tottori Prefecture, about 10km east-south-east of Yonago City. The Museum is as remarkable for its design as for the more than 12,000 photos it archives. The award-winning architect, Shin Takamatsu (b.1948), is a native of adjacent Shimane prefecture. The museum comprises four cubes, joined by a curving hull-like wall. The most remarkable architectural feature draws on the area's most remarkable scenic feature, Mt. Daisen, by presenting a view of the mountain between each cube sharply and stylishly framed by concrete over a reflective pool of water.
The museum further celebrates Mt. Daisen with a space - effectively the inside of a huge camera - called "Mt. Daisen in Reverse," dedicated to permanent live footage of the mountain, which is projected in through a 600mm, 625kg lens - the biggest camera lens in the world.
Hours and Admission
9am-5pm with last entry at 4:40pm. Closed Tuesday (but open if Tuesday falls on a public holiday, in which case closed Wednesday).
Admission: 900 yen for adults, 500 yen for senior high school and university students, 300 yen for junior high school age and below.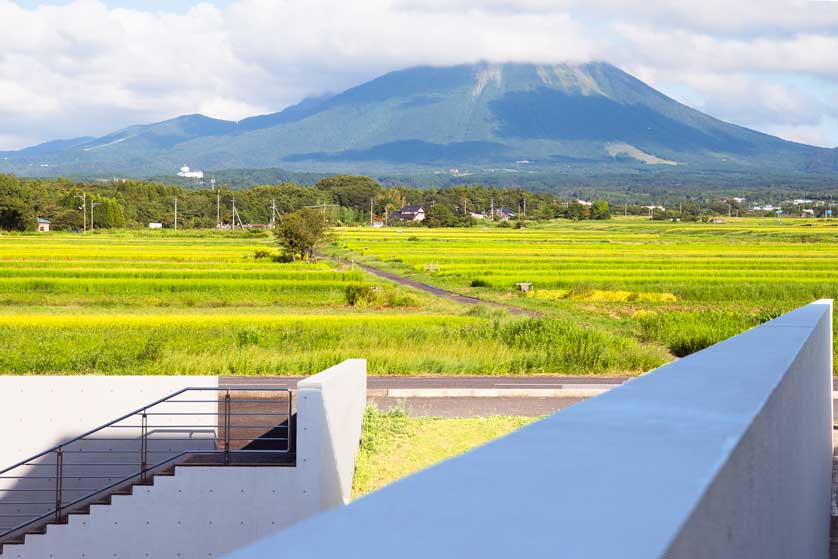 Mt. Daisen from the Shoji Ueda Museum of Photography, Tottori Prefecture
Access
The Shoji Ueda Museum of Photography is about a 5-minute drive (or a 35-minute walk) from Kishimoto Station on the JR Hakubi Line, or a 20-minute drive from Yonago Station.
The Shoji Ueda Museum of Photography is stop no.17 on the route of the seasonal Daisen Loop Bus, which runs between late April and early November, mostly on weekends and public holidays only, but every day for part of August and October.
If you are coming by car, there is free on-site parking.
353-3 Sumura, Houki-cho, Saihaku-gun, Tottori-ken 689-4107
Tel. 0859 39 8000
Nearby
See the Daisen Loop Bus page for a list of numerous other attractions available in the Mt. Daisen area.
All the themes of the city