Plum blossoms in Dazaifu
太宰府の梅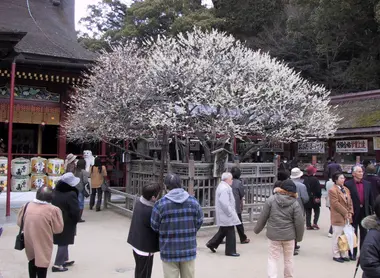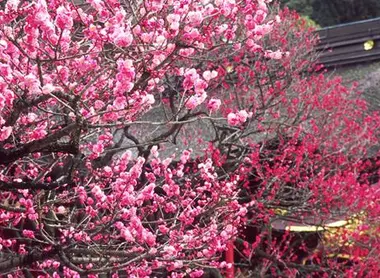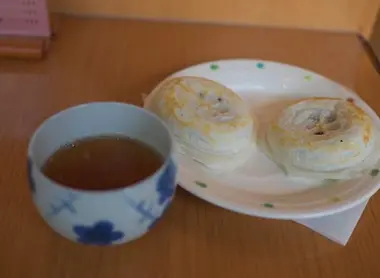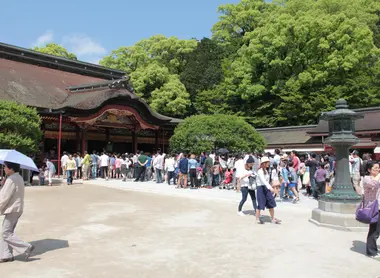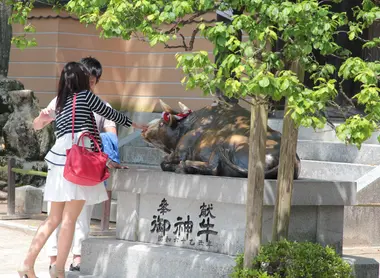 Stories of famous plum trees
Dazaifu Tenmangu has a plum tree famous for the legend that says it flew from Kyoto to join teacher Sugawara no Michizane. Much later, an Empress planted another at its side.
The city of Dazaifu, as the center of the regional government of the Kyushu region was the gateway for foreigners (mostly Chinese and Korean) 8th to the 12th century. It was then an important city as much for the diplomacy with the neighboring countries, as for the defense of territory.
At that time, the plum tree was rare, as it came from China, and was therefore considered "noble". The literati admired them and composed waka verses, Japanese poetry.
The return of Sugawara no Michizane
Dazaifu Tenmangu is the great Shinto Shrine and is the head of the 12,000 Tenjin Temple. It shares this role with Kitano Tenmangu in Kyoto, dedicated to Sugawara no Michizane, the god of studies.
Every February 25, the baikasai, Michizane's death, is commemorated at a religious ceremony during which a branch of plum tree is offered. The " mon " of Sugawara no Michizane is also made of a plum blossom.
Tobiume, the plum star
At Dazaifu Tenmangu 6,000 plum trees of 200 different varieties bloom to the eyes between January and March, with the famous "tobiume", the flying plum tree the star of the show!
The tobiume is a sacred plum tree which, for more than 1000 years, has sat in front of the honden, the main building of this temple. The story goes that Michizane was sent into exile by the Fujiwara clan from Kyoto to Dazaifu. At that moment, Michizane created a waka (in Shui Wakashu):
First wind of spring, send me your perfume

Even if your master is far from it, do not forget to bloom.
The legend says that his prayers were heard. In the garden of the former residence of Michizane in Kyoto, a plum tree uprooted itself and arrived flying to Dazaifu where it then took root.
Next to Tobiume, you can also admire Kisai no ume, another plum tree that was planted by Empress Teimei, the wife of Emperor Taisho in 1924.
If there is only one...
First of all, let's discover umegae-mochi, which is the perfect specialty in the form of a mochi stuffed with red bean paste that you can enjoy grilled, so you can eat it hot. You won't miss it because about thirty shops offer this recipe in the area.
As for the festivity, on Sunday March 1st, come and celebrate "Kyokusui no En" as in the Heian period (794-1192). It is a custom of an ancient era, which consists of creating a waka poem while waiting for a sake cup to float on the stream crossing the garden of Dazaifu temple.
All the themes of the city