Kinosaki Onsen Hot Spring Hyogo
Kinosaki Onsen, Hyogo Prefecture 城崎温泉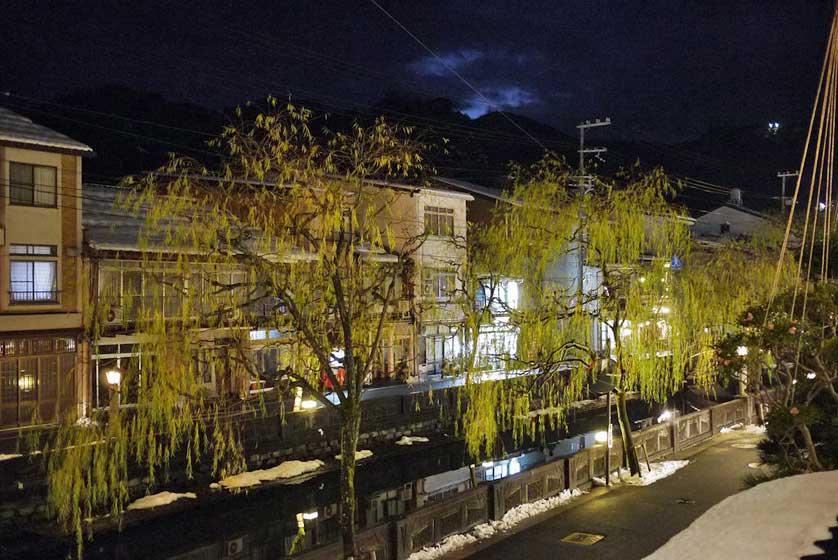 Kinosaki Onsen in Hyogo Prefecture by night
Kinosaki Onsen, a small town on the Tango Peninsula, about 150 kilometers north of Kyoto in northern Hyogo Prefecture on the Japan Sea Coast, is one of Japan's favorite hot spring resorts. 
Unlike some onsen towns which have been slightly spoilt by the introduction of big white hotels, Kinosaki is tiny, and is bisected by a willow- and cherry tree-lined stream.
Kinosaki has seven main onsen baths with different healing properties. Locals and visitors, often staying at the local ryokan (Japanese-style inns), put on yukata and geta (traditional sandals) and do onsen meguri, which means walking from onsen to onsen during the evening.
The streets of Kinosaki are lined with small local vendors selling beer and food, such as onsen tamago (hot spring boiled eggs) and crab, cooked in the natural hot water, for those that get hungry en route.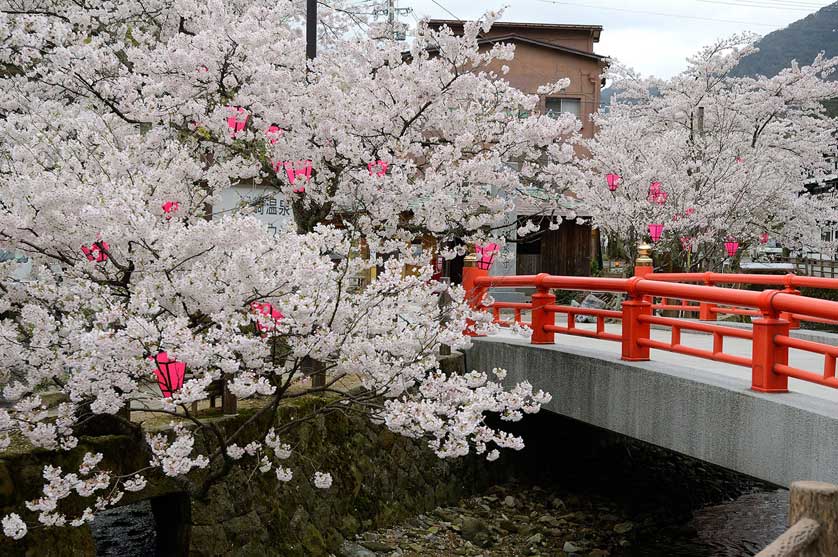 Cherry Blossom at Kinosaki Onsen, Japan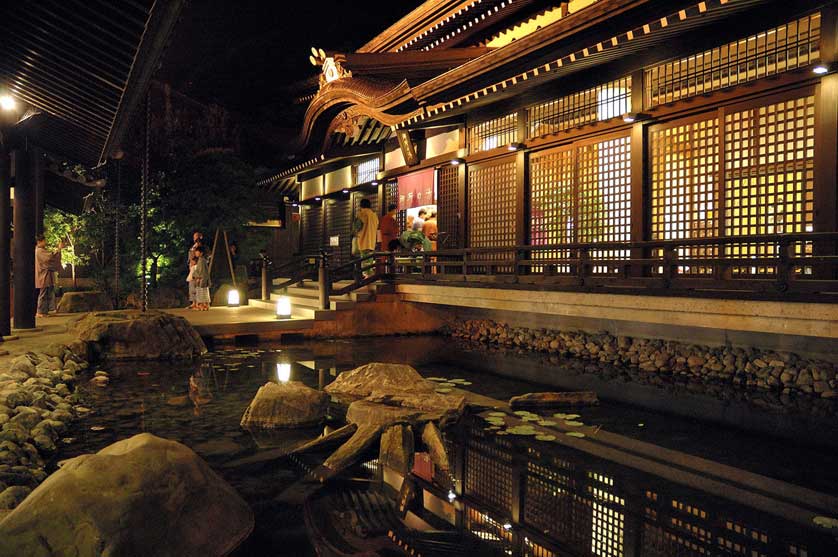 Kinosaki Onsen by night
Things to Do
Taking the waters in Kinosaki dates back 1400 years, making it one of Japan's oldest onsen resorts.
The economy of the town is devoted almost entirely to hot spring tourism and crab caught in the Japan Sea, which is a local delicacy.
The resort town of Kinosaki has many ryokan (Japanese inns) and seven public baths. These draw in crowds primarily from Osaka and Kyoto, from which express trains arrive frequently.
Exiting Kinosaki train station, the main street is a jumble of restaurants, antique shops, and fish stalls that sell freshly caught crab and squid and various types of fish. Crab can range in price from 1500 yen (about $15) per all the way up to 15,000 yen (about $150) depending upon the size and type.
At the end of this street is the Otani River. Willows lean over this small, tree-lined canal that feeds into the Sea of Japan. In front of you is Ichi no Yu, a massive public bath that features a "Cave Bath." Turning left here will take you into the main area for promenading, shopping, and bathing.
If you stay in a ryokan, you will be given complimentary tickets to as many of the bath houses as you like.
You can also purchase a yumepa electronic ticket which pays for entrance to the baths and can be used in member stores and restaurants.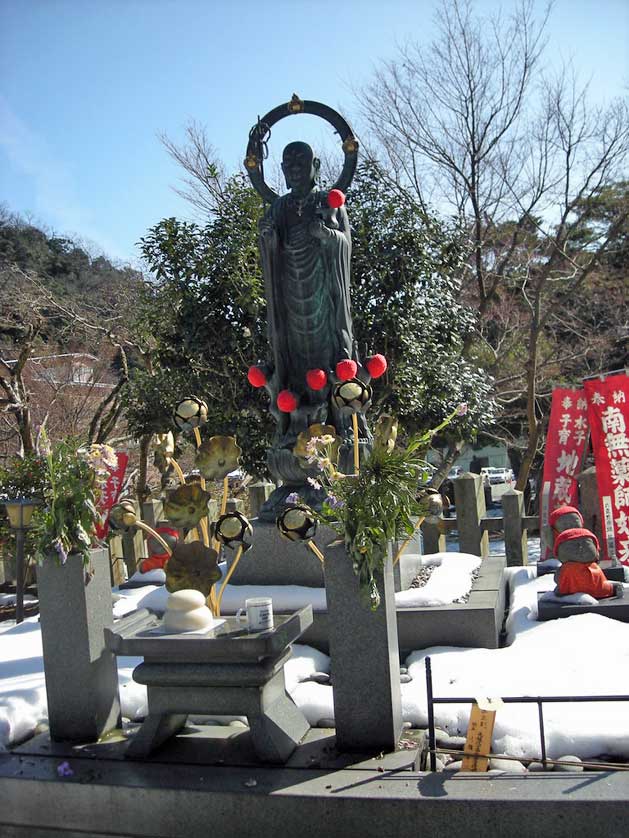 Onsenji Temple in the snow
Temples
Kinosaki has a couple of temples to visit: Onsenji (Onsen Temple) located on a mountain reached by a ropeway or a set of steep stairs and Gokuraku Temple, which has a miniature rock garden. Onsenji has great views down on to the town.
Many visitors combine a trip to Kinosaki with a visit to Amanohashidate, in neighboring Kyoto Prefecture, a picturesque pine-tree lined sand bar, considered one of the "Top Three Views" in Japan.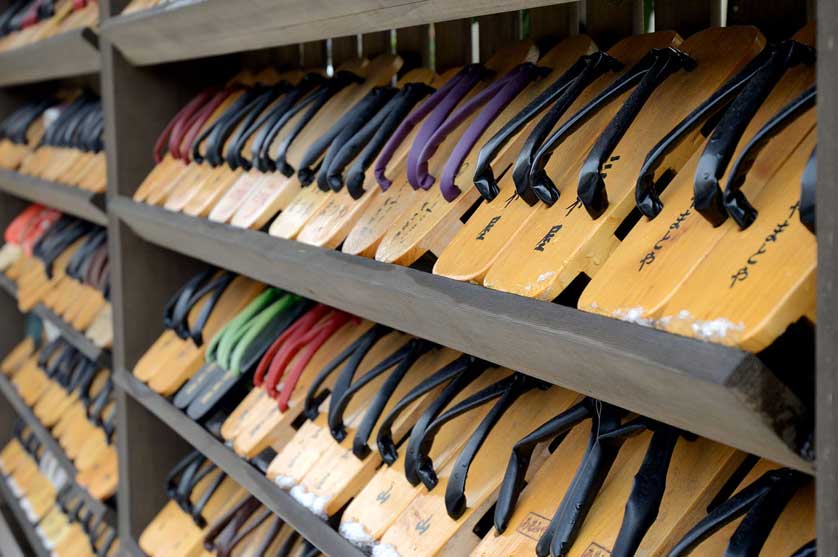 Geta (wooden sandals) for clip-clopping your way around Kinosaki Onsen, Hyogo Prefecture, Japan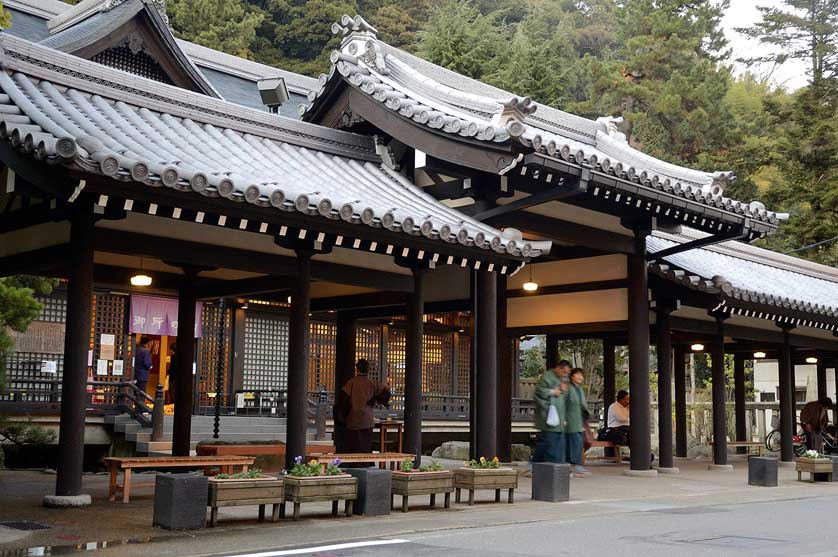 Kinosaki Onsen, Hyogo, Japan
Accommodation in Kinosaki
Staying in a ryokan usually entails having breakfast and dinner in your accommodation. You will also probably sleep in a futon on a tatami floor.
Some recommended places to stay in Kinosaki include the Ryokan Tenbo-en, with both indoor and outdoor hot-spring baths and a Japanese-style bedrock bath and Oyado Asagoya, just a short walk from JR Kinosaki Station.
Other places to stay include Sensui with three hot baths, the four star Morizuya with mountain views, and the three-star Yamamotoya with its own brewery, hot-spring baths and free Wi-Fi.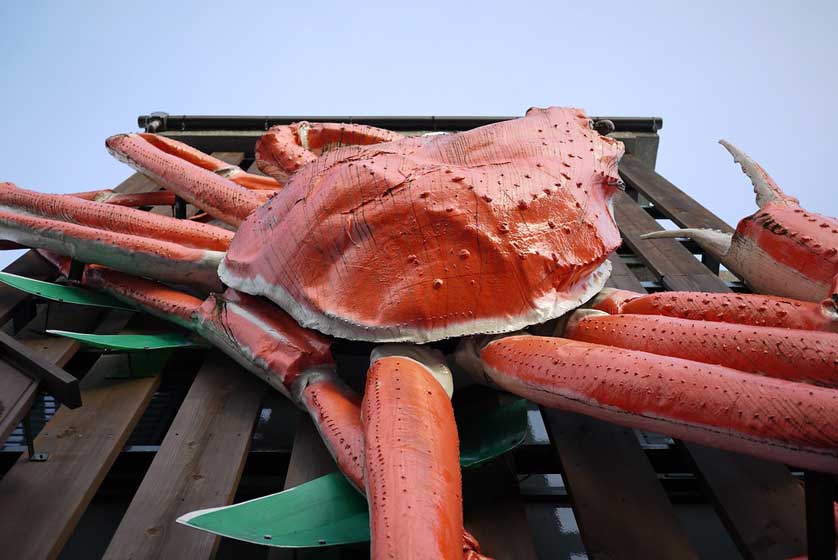 Kinosaki Onsen in Hyogo Prefecture is famous for its crab cuisine
Kono-no-yu, Kinosaki Onsen, Hyogo Prefecture
Access - Getting to Kinosaki
From Kyoto Station, express trains take two and a half hours on the Limited Express Kinosaki and cost 4,510 yen; from Osaka, trains take 2 hours and forty-five minutes. On some trains from Kyoto you need to change at Toyooka (two stops from Kinosaki) and transfer to to a train on the Kinosaki Onsen - Tottori Line.
From Himeji, the Limited Express Hamakaze goes directly to Kinosaki Onsen and takes about 2 hours from Sannomiya Station in Kobe, the same train takes 2 hours and 30 minutes. There are also trains from Tottori and Fukuchiyama on the San'in Main Line. The JR Rail Pass is valid on all these routes.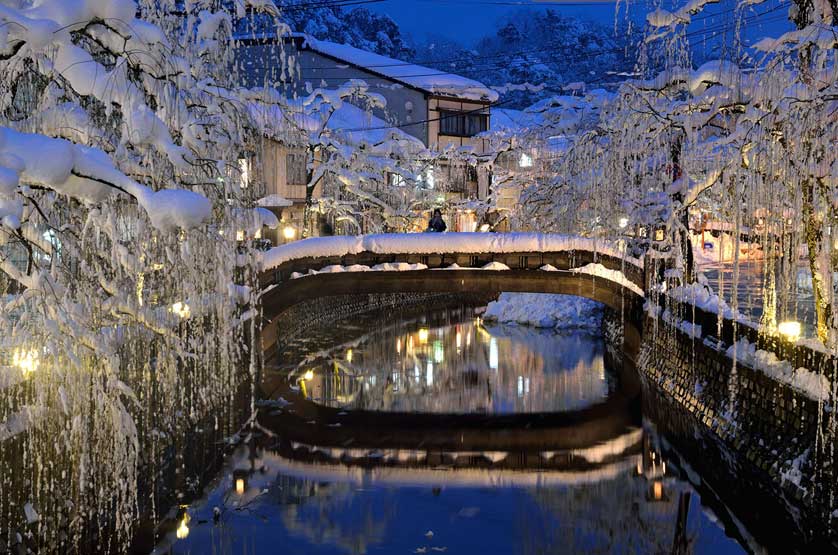 Kinosaki Onsen in the snow, Hyogo Prefecture, Japan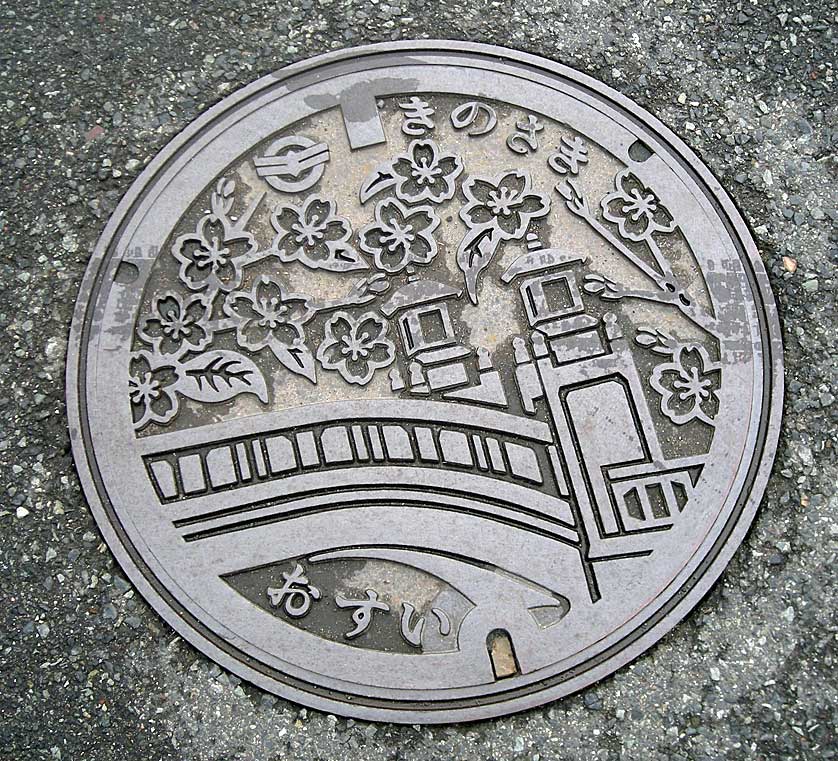 Kinosaki manhole cover, Hyogo Prefecture, Japan
Related
Read more on Kinosaki Onsen attractions
Kinosaki Onsen: read a guide to Kinosaki Onsen on the Japan Sea Coast in Hyogo Prefecture known for its seven main hot baths and crab cuisine.
All the themes of the city