Kobe Ijinkan Kitano-cho
Kobe Ijinkan: read a guide to Kitano-cho at the foot of Mt Rokko, an area of Meiji Period Western-style residences which are now fashionable museums and cafes.
Western-style Houses in Kitano-cho, Kobe 北野町
The area of Kitano-cho in Kobe, contains a number of western-style residences or ijinkan (異人館) at the foot of Mt. Rokko, north of Sannomiya Station.
Kobe's ijinkan date from the early Meiji Period and Taisho Period of Japanese history and were built after Kobe was opened as a Treaty Port in 1869.
The Kitano-cho area has the best preserved ijinkan in Japan though there are smaller areas of such foreigners' houses in other former Treaty Ports such as Yokohama, Nagasaki and Hakodate.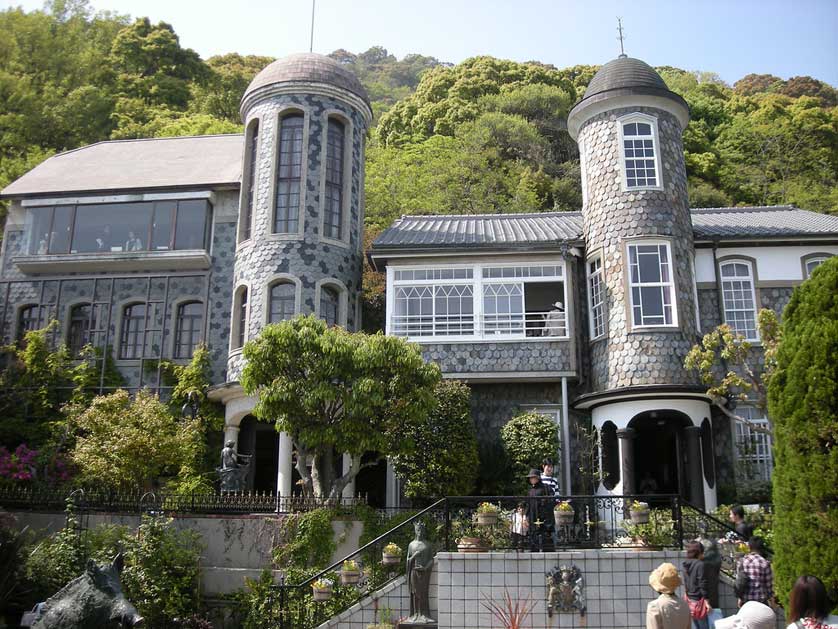 Uroko House and Uroko Museum, Ijinkan district, Kitano-cho, Kobe
History of Kobe Ijinkan
As Kobe opened up to foreign trade in the 1860's and thereafter, first a China Town was established by Chinese immigrants and traders, just south of Motomachi and by provisions of a treaty signed between Japan and a number of western governments a settlement was set up for Westerners on the slopes of Mt. Rokko.
Around 20 of these former merchants' mansions are now open to the public as museums from about 30 buildings still standing. Originally there were over 1,000 such houses.
The Kitano-cho area is also home to a number of souvenir shops and trendy bars, restaurants and cafes catering to predominately young couples and organized tours.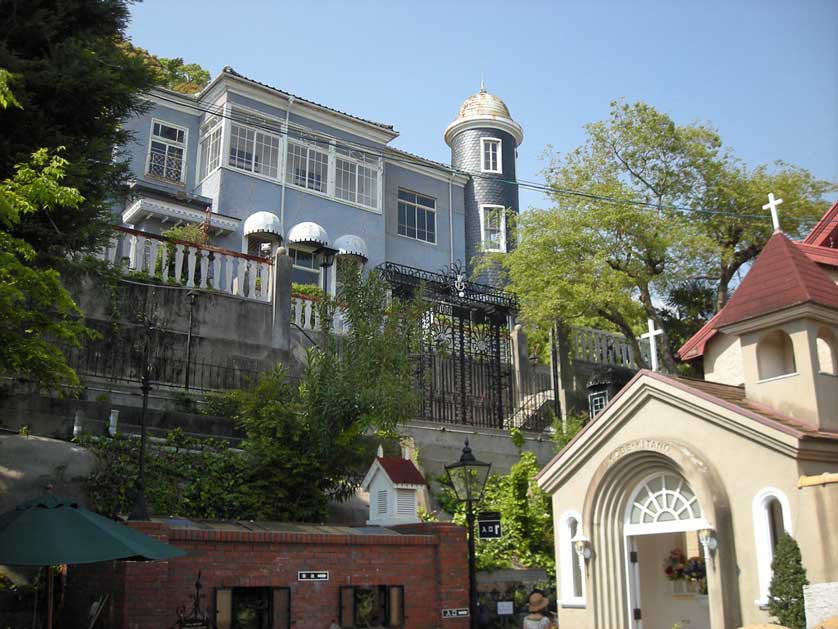 Uroko-kan overlooking Kobe Baptist Church, Kitano-cho, Kobe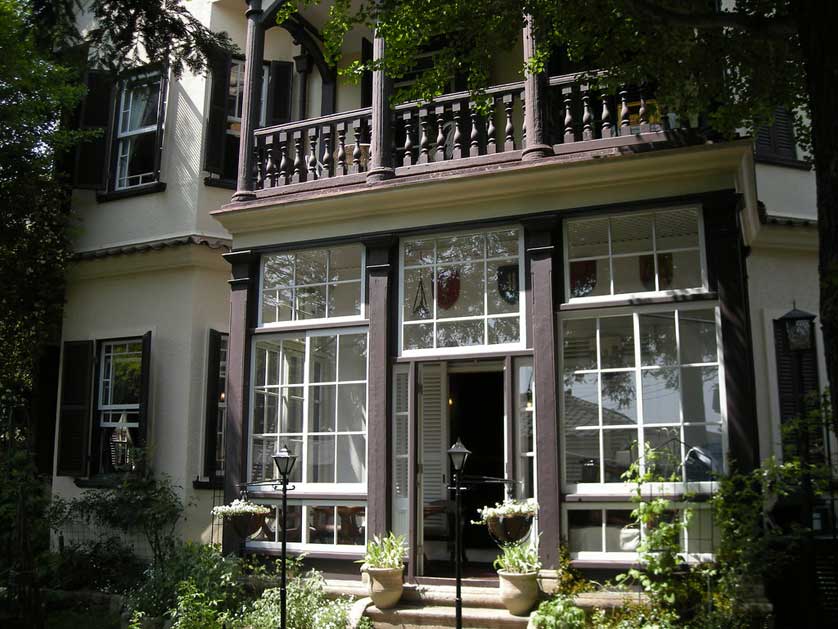 Moegi House, Kitano-cho, Kobe
Kobe Ijinkan
Weathercock House 風見鶏の館
The so-called Weathercock House (Tel: 078 242 3223; 9am-6pm) or Kazamidori no Yakata in Japanese, is a symbol of Kobe's Kitano-cho and was built in 1909 in brick and timber for a German merchant, Gottfried Thomas. Features include an ornate fireplace, a drawing room with chandelier and a number of wood-paneled rooms. Various exhibitions and musical events are held here.
Moegi House 萌黄の館
The Moegi House (Moegi no Yakata, Tel: 078 222 3310) is an elegant two-story mansion in the Kitanocho district of Kobe that was built in 1903 by the American vice-consul then consul, Hunter Sharpe (1861-1923), and where he and his family lived for six years. In 1944 it became the house of Hideo Kobayashi, the former president of Kobe Electric Railway Co. Ltd. This tastefully designed building with attractive bay windows has been beautifully restored, and preserves the artifacts of daily life from the turn of the 20th century. There are great views of Kobe from the second floor balcony, it has a lovely garden, and is surrounded by camphor trees. Moegi is Japanese for "light yellowish green," referring to the house's color.
Uroko House and Uroko Museum
The Uroko House (Tel: 078 242 6530) was originally a rental house for rich foreigners and its name, which means "fish scales" comes from the overlapping slate and stone of the exterior. The grand interior has antique furniture and ceramics. There is a small museum with paintings by European masters. There are also good views over Kobe and the sea from the top floor.

Yamate Hachibankan, Kitano-cho, Kobe
Yamate Hachibankan
Yamate Hachibankan (Tel: 078 222 0490) is a Tudor-style mansion with stained-glass windows and inside is an eclectic museum with art works and sculptures from European masters Bourdelle, Durer, Hogarth, Renoir and Rodin, in addition to Buddhist statues and African art.
Kitano Foreigners Association
The Kitano Foreigners Association (Tel: 078 242 6458) was originally a watering hole for the foreign community, where visitors can now see the original wooden bar, the Victorian kitchen with copper pans and a wood burning stove plus the luxurious members' lounge.
Former Chinese Consulate
The Former Chinese Consulate (Tel: 078 271 9278) has a mix of Chinese and Western architectural features. The interior has exhibits of Chinese furniture, paintings and ceramics.
England House
The England House (Eikokukan) dates from 1907 and includes two Victorian-style mahogany bars which are open at the weekends and national holidays. (Tel: 078 241 2338).
Ben's House
Ben's House (Tel: 078 222 0430) dates from 1902 and is the former residence of Ben Allison, an English traveler, collector and hunter. The house exhibits the hunting trophies of the man including a polar bear, moose and a tiger.
Former Panama Consulate
The Former Panama Consulate (Tel: 078 271 5537) now houses exhibits of Andean pottery, clothing, South American musical instruments and arts. The building became the Panama Consulate after World War II.
Dutch Museum and Fragrance House
The Dutch Museum and Fragrance House (Tel: 078 261 3330) was formally the residence of the Dutch Consul in Kobe. There are displays of Dutch clogs and Delft pottery. Part of the house is dedicated to scents and fragrances with a small shop selling soaps and perfumes.
Wien-Austria House
The Wien-Austria House (Tel: 078 261 3466) is a modern reproduction of Mozart's house in Salzburg with a cafe serving Austrian coffee and cakes.
Denmark House
Denmark House (Tel: 078 261 3591) in cooperation with the Hans Christian Andersen Museum and Viking museum located in Denmark, introduces the history and culture of Denmark.
Platon Decorative Arts Museum (Italian House)
The Platon Decorative Arts Museum (Tel: 078 271 3346) dates from the early Taisho Period and is choc-a-bloc with arts and crafts, household items, and ornaments. Outside is an al fresco cafe serving Italian cuisine.
Yokan Nagaya (France House)
The Yokan Nagaya dates from 1904 as an apartment house for foreign visitors. Visitors can enjoy antique furniture and French antique brand goods from Tiffany and Louis Vuitton.
Getting to Kobe Ijinkan
JR Shinkansen bullet train stops at Shin-Kobe Station. About 1km south of Shin-Kobe Station, Sannomiya Station is the main rail hub for intercity Hankyu, Hanshin and JR trains to Osaka and Kyoto.
The Kitano-cho district is 15-minute walk north of Sannomiya Station. Alternatively walk 10 minutes west from the shinkansen at Shin-Kobe Station.
The Kobe City Loop bus also goes to the Kitano Ijinkan stop.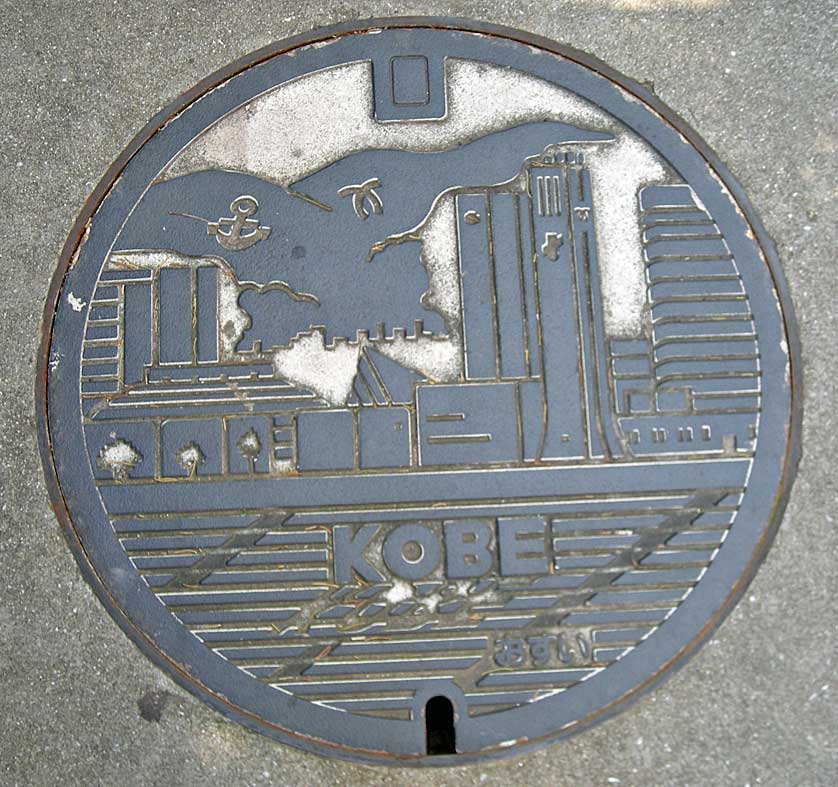 Manhole Cover, Kitano-cho, Kobe
Book Hotel Accommodation in Kobe
All the themes of the city