Toji flea market
東寺の杜弘法市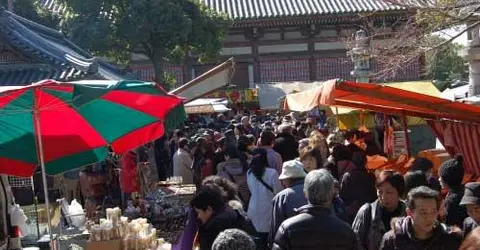 Tintamarre in Tôji
Nine o'clock in autumn, winter, spring, and summer… Every twenty-first day of the month, the surroundings of the Toji temple come alive.
The more daring came to the flea market to find a good deal. Invested by one thousand three hundred sellers and thousands of bargain hunters eager to negotiate for their finds, the place is full of food stalls and small stalls set up unexpectedly. The Kyotoites mainly sell handmade items, antiques, toys and clothes.
A neighborhood ritual, the market nicknamed "Kobo-san", in tribute to the monk KUKAI (774-835), founder of the esoteric Shingon Buddhist school and who became KOBO Daishi, "the great master of the law", participates in life one a month. Getting there before eleven o'clock will beat the crowds, and the stands remain set up until five o'clock.
---
Address, timetable & access
Address

Phone

+81(0)75 691 3325.

Timetable

Kintetsu train line, Toji stop; or about a 15 min walk southwest from Kyoto station.

Access

Approximately 8:30 am to 5:00 pm.
All the themes of the city