Daichi-ji garden
大池寺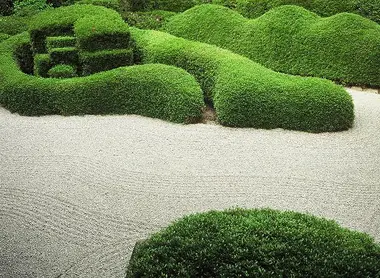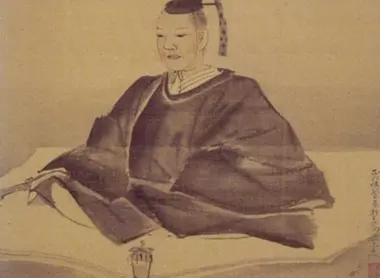 Azaleas by the thousands
Amidst lush vegetation stands the Daichi-ji zen temple. Like Ryoan-ji and it's zen garden, the garden of Daichi-ji is made up of delicately cut Azakea beds that encourage relaxation and contemplation. 
Located in Minakuchi, in Shiga prefecture, it will take you approximately 2 hours from Kyoto to access the Daichi-ji garden.
Meaning behind the garden 
Daichi-ji temple is quite isolated, which guarantees its charm. On the mountainside, it is a call to meditation. The observation platform opens onto the landscaped garden, and the immaculately cut azalea are immediately obvious.
Little by little, by dint of contemplation, your gaze settles on the white gravel delicately raked daily. Then a picture is drawn. The whole forms a boat tossed by the waves of the ocean. Not just any boat. It would be the Takarabune on which the seven gods of good fortune, called Shichifukujin, would have sailed. You then understand the prominence in the form of a staircase in the center of the composition. It would be the treasure that these gods distribute to deserving people during New Year.
A few stones decorate this garden, the most significant being that symbolizing a kameshima, an island in the shape of a turtle. The view extends over the cypress forest from the hill opposite the temple. The visual experience is enriched by the amplified sound coming from suikinkutsu: an inverted jar buried next to the basin used for washing hands before the tea ceremony. After each passage, the sound of the drip sounds and participates in the meditative pause.
Who designed the gardens at Daichi-ji?
The topiary, the art of pruning hedges for decorative purposes, of Daichi-ji is called o-karikomi because it stages large and bushy bushes carefully cut to bring reveal a landscape.
Daichi-ji was built during the reign of the Tokugawa, in the early seventeenth century. The gardens designer was Kobori Enshu. This daimyo was very famous during the Edo period and was an educated man who knew calligraphy, the codes of the tea ceremony and of course architecture and garden design.
An emblematic landscaper in Japanese history, his name still arouses enthusiasm today and his various creations attract many visitors. His other work include the Ni no Maru garden at Nijo Castle, the park of Sento Palace and even that of the Imperial Palace in Kyoto. Some also attribute to him a part of the garden of the very famous Villa Katsura, although this is disputed. If Kobori Enshu is not directly the creator of the Daichi-ji garden, it is more certainly the work of one of his descendants.
Less famous than the Ryoan-ji or the Tenryu-ji near the old Japanese capital, the Daichi-ji garden is nevertheless a great example of Japanese garden design and the practice of zen, a philosophy introduced in Japan in middle of the sixth century.
---
Address, timetable & access
All the themes of the city