Honen-in Temple Kyoto
Honen-in Temple: read a guide to Honen-in Temple in Kyoto built in the 17th century to honor the monk Honen.
Honen-in Temple, Kyoto 法然院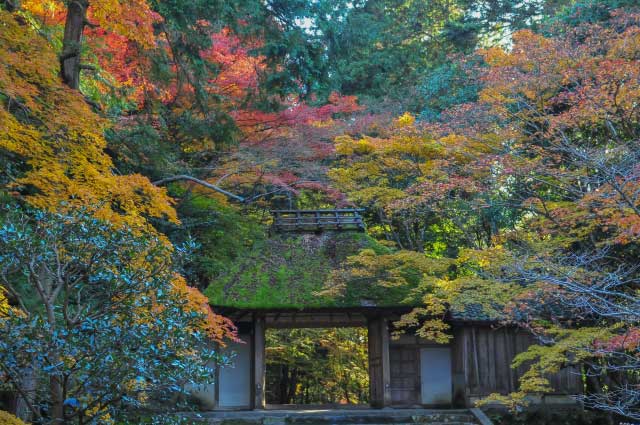 Honen-in, Higashiyama, Kyoto
On the Philosopher's Walk.
Located in northeast Kyoto.
Beautiful cherry tree viewing area.
Amazing fall foliage.
Close to Ginkakuji Temple (Silver Pavilion) and Nanzenji.
Walking north from Nanzen-ji on the cherry-tree lined 'Philosopher's Walk' you will pass Eikan-do, a small temple famed for its statue of Amida and then the small, peaceful Honen-in Temple at the foot of Mount Nyoigadake, with its tranquil carp pond and freshly raked sand garden called Byakusadan.
Honen-in is visible as you enter through the main, thatched gate of the temple and is, usually, an uncrowded treasure of this delightful area of Kyoto.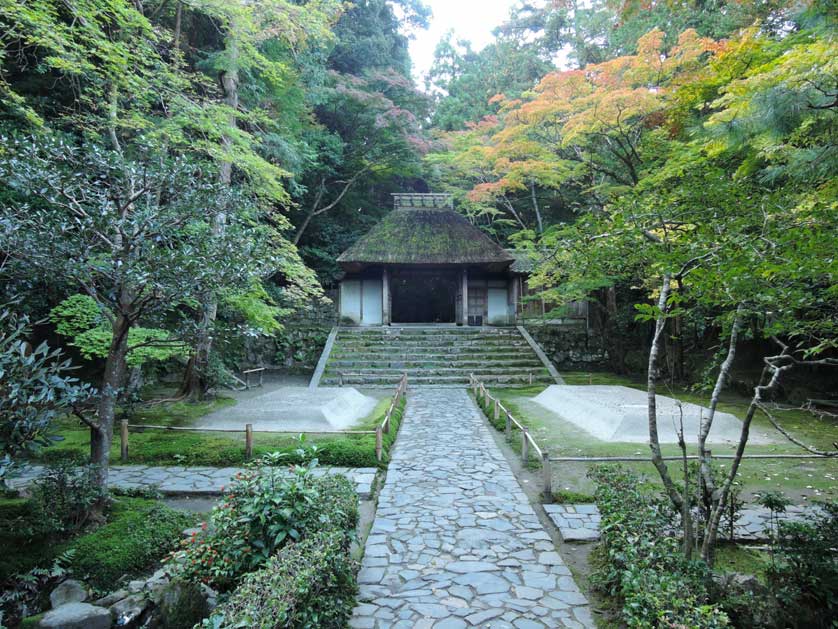 Looking back towards the main Sanmon gate and sand sculptures, Honen-in, Higashiyama, Kyoto

History
Established in 1680 to honor Honen (1133-1212), the founder of the Jodo sect, the temple is especially worth visiting in April for its cherry blossoms and again in the fall for its magnificent maples. Honen-in also has a small camellia garden visible from Hojo Hall.
The Hojo Hall, which houses paintings by Kano Mitsunobu, is opened to the public only in the first two weeks of April (1-17) and the first week of November (1-7), when the temple becomes very popular with Kyoto visitors.
Honen-in often stages small exhibitions by local artists and musicians in a small hall to the right of the main Sanmon gate. In fact, in recent years there has been over 100 events a year held at the temple including symposiums, Western and Japanese music recitals and tea gatherings.
Reaching out to the wider community has been a policy of the abbot Shinsho Kajita, who became the head monk after the death of his father in 1984. Honen-in also sponsors nature walks in the area through the Honen-in Mori no Kyoshitsu.
Free Admission to the grounds with a small fee for the main hall; 6 am-4 pm.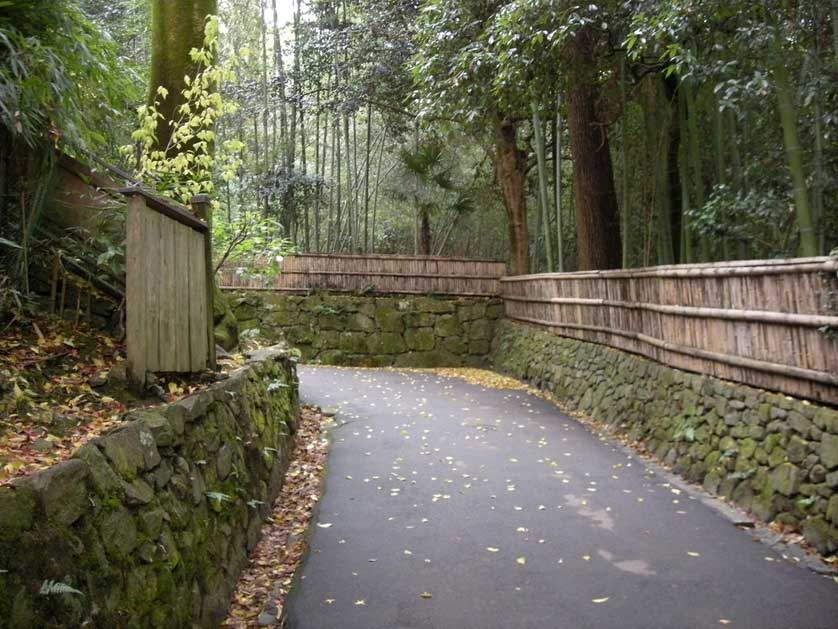 Entrance path to Honen-in Temple in Higashiyama, Kyoto, Japan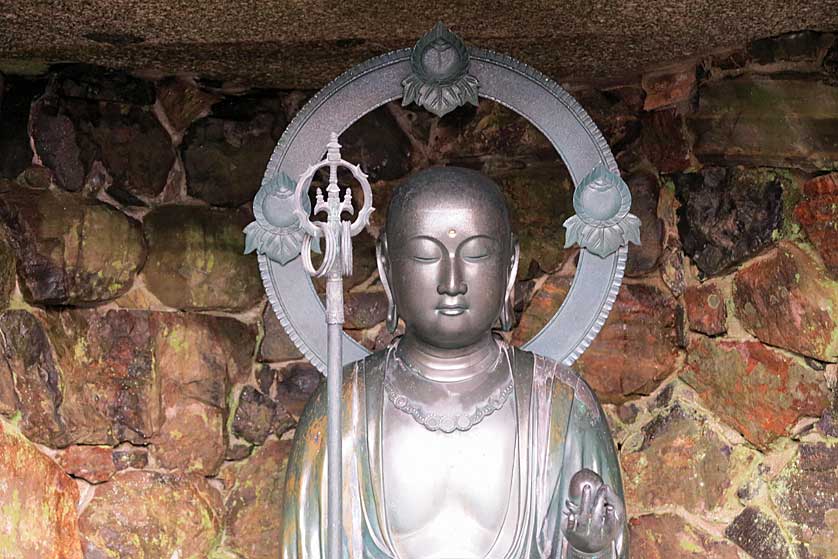 Honen-in Buddhist Statue, Kyoto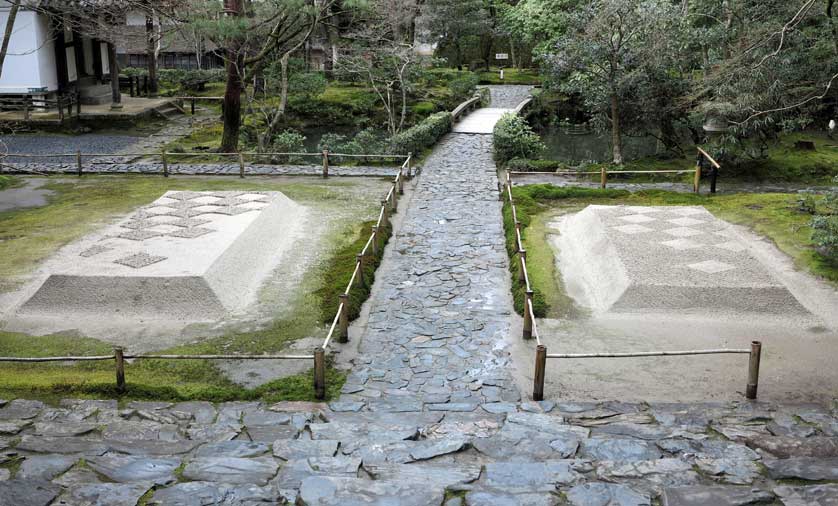 Sand sculpture freshly raked, Honen-in, Kyoto
The shallow carp pond is crossed by low bridges and at the back of the temple to your right is a fine statue of Jizo. A stone pillar outside the temple states that alcohol, garlic and meat are not to be brought inside the temple. Honen-in's small cemetery holds some of the ashes of novelist Junichiro Tanizaki (1886 - 1965), who spent part of his life in Kyoto.
Access - how to get to Honen-in Temple in Kyoto
From Shijo Kawaramachi, bus #32. From Kyoto Station, bus #5. Get off at Ginkakuji-mae. A five-minute walk. Alternatively ride the Raku Bus #102 or #100 also from Kyoto Station.
Honen-in (honen-in.jp)
30 Shishigatani Goshonodan-choSakyo-ku
Kyoto 606-8422Tel: 075 771 2420
By bicycle along Philosopher's Walk is a good way to get to Honen-in, Anrakuji, Reikanji, Kumano Nyakuoji Shrine and Ginkakuji Temple.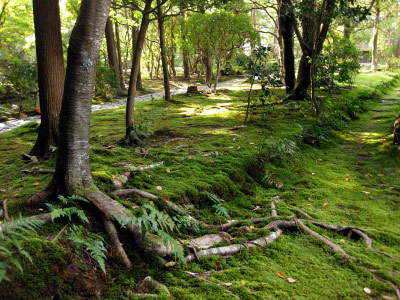 A view of moss and tree roots at Honen-in Temple in Kyoto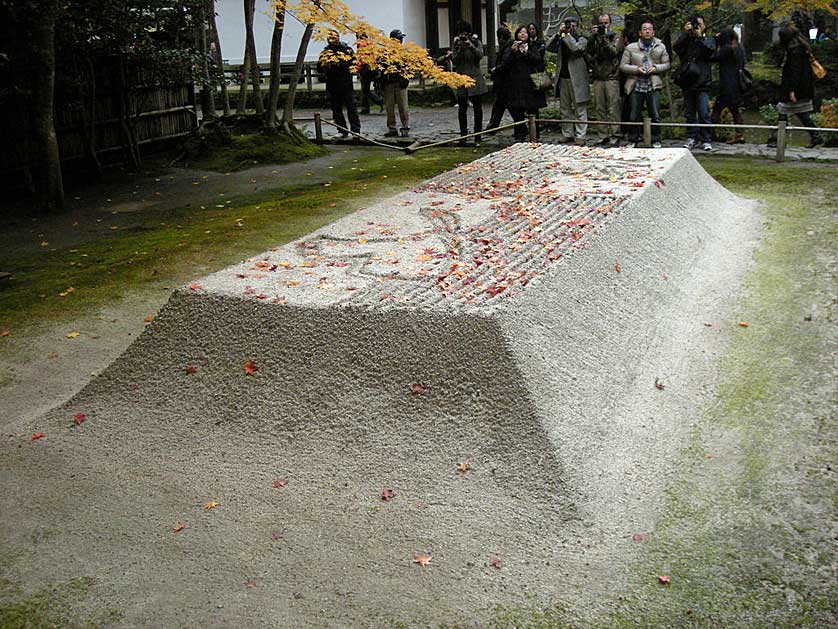 Honen-in Temple sand sculpture, Higashiyama, Kyoto
Honen-in Map
View Kyoto Map in a larger map
Book Hotel Accommodation in Kyoto Near Honen-in
All the themes of the city