Okazaki Shrine
Okazaki Shrine, Kyoto 岡崎神社
Okazaki Shrine, north east of the Okazaki museum district and the much more famous Heian Jingu, is a Shinto shrine with a long history.
Okazaki Shrine is dedicated to the mythical kami Susano-no-mikoto and Kushinadahime-no-mikoto and their considerable brood of three daughters and five sons.
This fecundity in child birth is the main focus of the shrine today.
History of Okazaki Shrine
Okazaki Shrine is believed to be one of the four shrines that was built at the compass points of the new capital of Heian-kyo (Kyoto), when the capital was transferred here from Nagaoka in 794 by the Emperor Kanmu heralding the beginning of the Heian Period.
Originally the shrine located here was known as Higashi-tenno (Eastern King), protecting the emperor, his court and citizens from any malevolent forces originating from the eastern direction.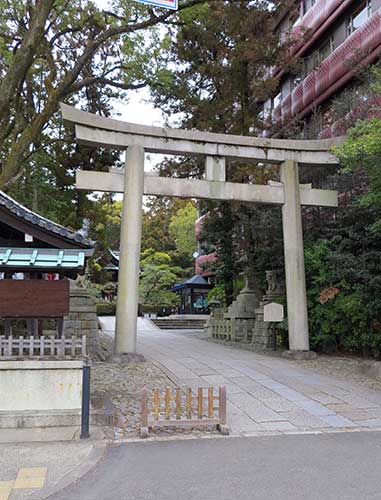 Okazaki Shrine entrance torii gate, Kyoto
Following the successful birth of an empress in 1178, the shrine received more imperial favor and became associated with childbirth as well as its original purpose of dispelling evil influence emanating from the east.
Rabbits, known for their productivity in producing offspring, are the servants of the enshrined kami and statues of rabbits are seen throughout the grounds and are depicted on the shrine's ema votive plaques, where supplicants write messages expressing their hopes to conceive or give birth safely to healthy children.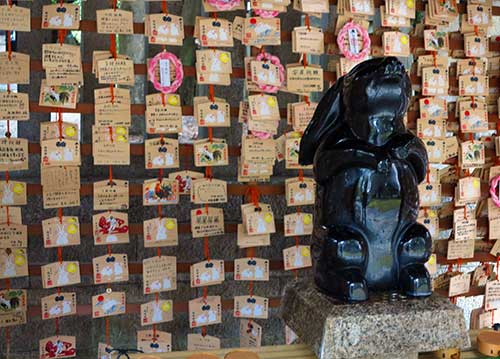 Black rabbit figure, Okazaki Shrine, Kyoto
Especially popular is the black rabbit statue that stands at the chozuya water purification font to the right of the main hall.
Not surprisingly, nowadays, Okazaki Shrine is a popular place to celebrate a traditional Shinto marriage ceremony. The hope being that a marriage consecrated here will lead to a full and healthy family.
The large Heian-no-Mori Hotel adjacent to Okazaki Shrine is a favorite for wedding parties and also a good base for visitors to Kyoto being close to downtown and near the sights and gourmet eateries of Okazaki.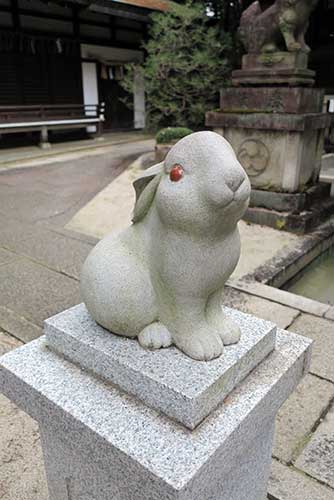 Stone rabbit statue, Okazaki Shrine, Kyoto
Okazaki Shrine is next door to Okazaki Betsuin Temple, a temple associated with the priest Shinran (1173-1262) and Higashi Honganji Temple.
The large temple grounds here include a number of plum trees.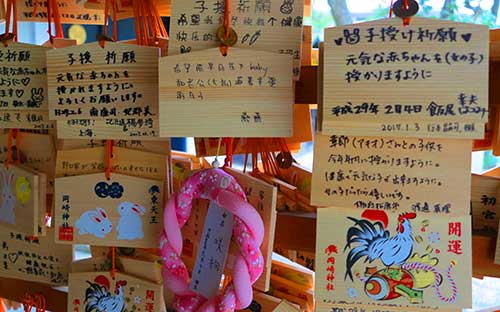 Ema votive plaques, Okazaki Shrine, Kyoto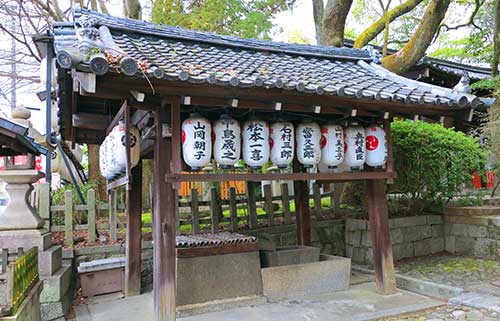 Okazaki Shrine lanterns, Okazaki, Kyoto
Okazaki Shrine Access
Okazaki Shrine
51 Okazaki-higashi-tenno-cho
Sakyo-ku
Kyoto 606-8332
Hours: 9 am-5 pm
Admission: Free
Okazaki Shrine is on Marutamachi street a longish walk from any of Jingu-Marutamachi, Higashiyama or Keage stations on the Tozai subway line.
More convenient is taking a Kyoto city bus to the Okazakijinja-mae stop. Take any of buses #32, #93, #100, #203 or #204.
Fairly nearby are the Kyoto Handicraft Center and Kumano Shrine to the west and Kurodani Temple to the north. Walking west of Okazaki Shrine along Marutamachi is the Sen-Oku Hakuko Kan, which exhibits the collection of the Sumitomo family including many ancient Chinese and Japanese bronzes.
Nanzenji Temple and Philosopher's Walk are also within easy walking or cycling distance.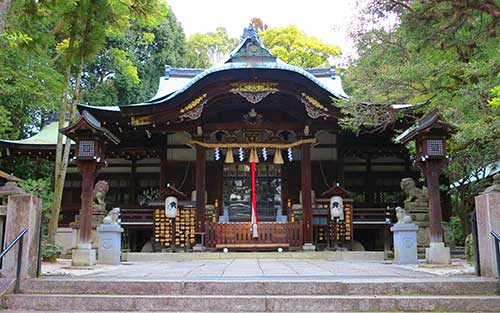 Honden (Main Hall), Okazaki Shrine, Kyoto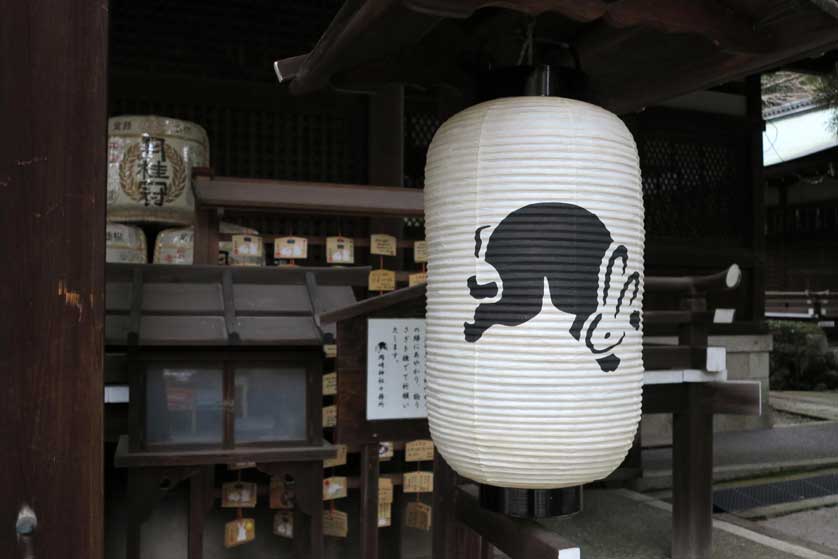 Rabbit motif lantern at Okazaki Shrine, Kyoto
Okazaki Shrine Map
Book Hotel Accommodation in Kyoto Near Okazaki Shrine
Okazaki Shrine in Kyoto is associated with the gods of fertility and easy child birth. Statues and motifs of rabbits dominant this pleasant shrine's grounds.
All the themes of the city