Namba Guide Osaka Minami
Osaka Area Guide: Namba 難波
Alan Wiren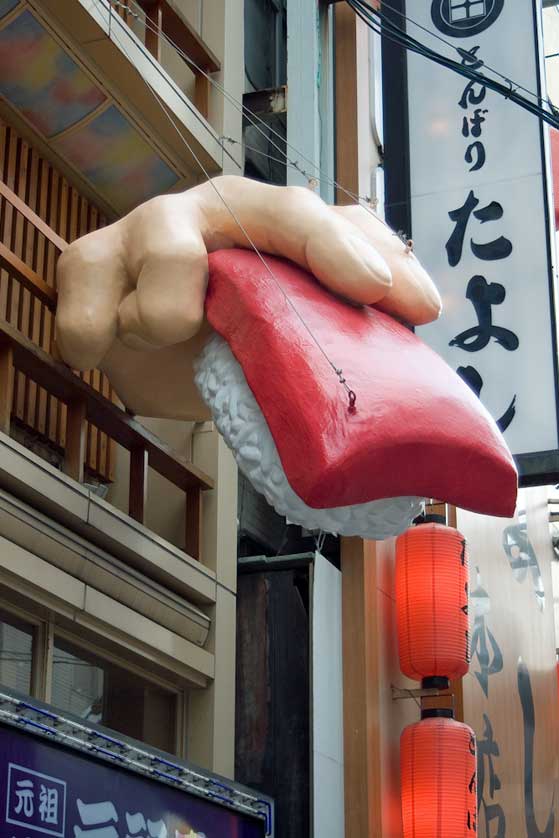 The words that the Japanese associate with the city of Osaka are kui daore. Roughly translated this means "eat until you drop!"
The city of Osaka is an attraction for foodies the world over, because it is known as the "stomach of Japan." If that stomach had a stomach it would be no place other than the Dotonbori district.
Rivers large and small run through Osaka and in days gone by, water traffic was a mainstay of transportation there.
It is not surprising that, in 1612, a businessman undertook the project of expanding a small tributary into a canal (hori in Japanese) that would connect two branches of a larger river in order to provide more business opportunities and convenience.
His name was Doton Yasui. His death in the Siege of Osaka prevented him from seeing the project through, but it was completed in 1615 and named in his honor.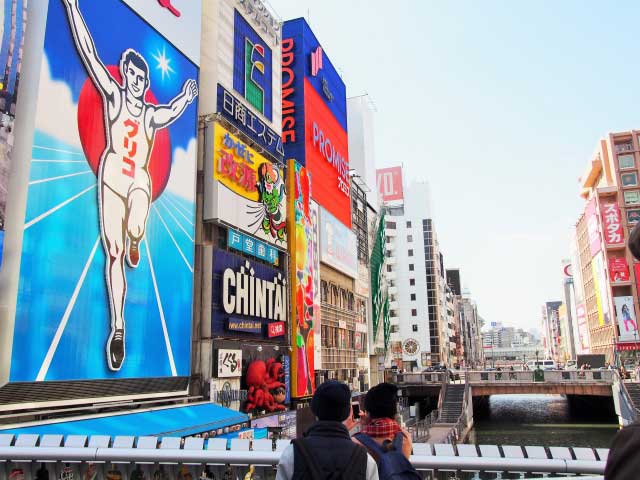 Namba (Nanba), Osaka
It was Tokugawa Ieyasu who had won the battle and six years later his government instituted urban planning and made the area around the canal an entertainment district. Dotonbori has retained the same character to this day, and it bears repeating that when it comes to entertainment in Osaka, food is a primary attraction. Dozens of restaurants line the banks of the canal, offering everything from sushi to hamburgers.
Among the most well know is Kani Doraku (Crab Gourme) at one end of the bridge, Ebisubashi, with its enormous replica of a crab that watches over the walkway that parallels the canal, while it arms and eye stalks wave slowly back and forth. Since its installment in 1960, the crab has inspired other mechanized, three-dimensional billboards that dot the walkway such as steam puffing dragons and octopi.
Ebisubashi is a tourist attraction itself. Rebuilt in 2007, it stands right beside the splash of neon signs that have become a familiar backdrop in movies and television episodes set in Japan. The bridge provides easy access to the wide promenades still under construction on either side of the canal. It also has a reputation as a "pick-up" spot. I have never tried my luck there, but the word on the street is that it isn't really any easier or more difficult there as anywhere else in Japan.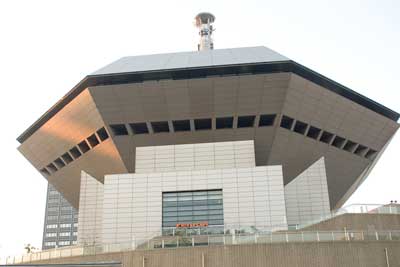 Namba district, Osaka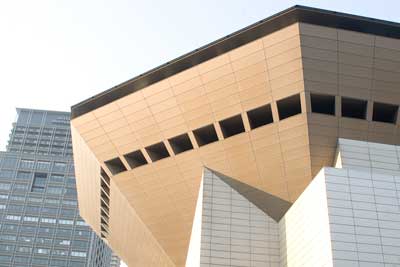 Namba district, Osaka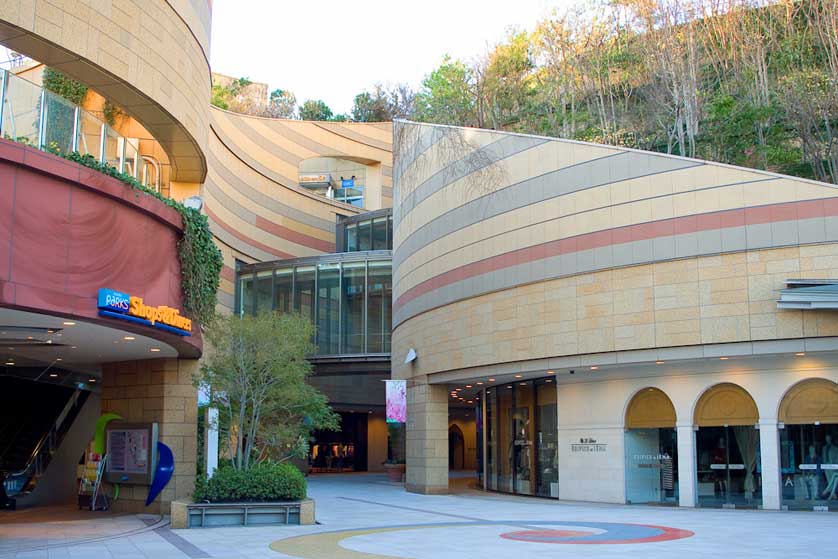 Namba Parks designed by American architect Jon Jerde, who also designed Canal City in Fukuoka, Kyushu
Down the walkway, to the east of Ebisubashi, you will find a replica that is, literally, more down to earth. Kuidaore Taro is a little bit larger than life-sized human figure that stands on the side of the walkway and carries two drums: one in front of him and one on his back. He was, from 1950, the mascot of a restaurant of the same name. The restaurant has now closed, but the doll was such a namesake and a favored venue for tourist photographs that a popular campaign was mounted to keep him on the street.
Going in the opposite direction, to the west of Ebisubashi, you will immediately come upon the edifice nicknamed L'Arc De Triomphe of Dotonbori. It is the facade of the Shochiku-za Kabuki Theater. Operated by the Shochiku theater company, which has theaters in Japan's major cities and gives performances around the world. Its renovation in 1997 made it one of the most up-to-date kabuki venues in Japan. That is not an oxymoron. Kabuki has roots in ancient tradition, but is still evolving. Shochiku-za is fitted with the fastest rotating stage in the country, ceiling suspension for props or actors, and an elevating stage.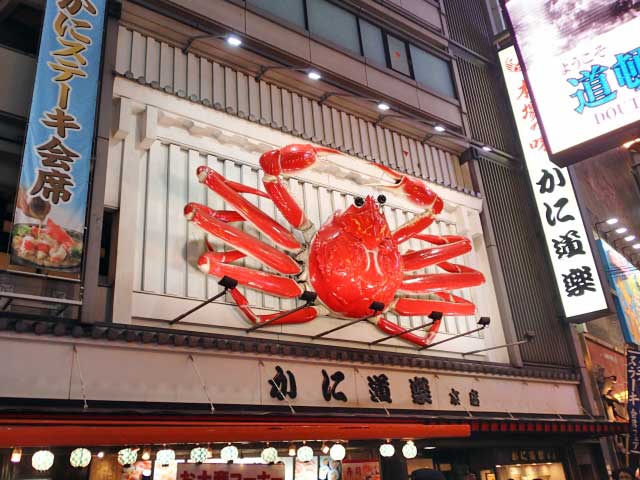 Kani Doraku Sign, Namba, Osaka
Continuing on to the west, across the major street, Mido-suji, the canal is lined with more restaurants until it reaches the bridge, Daikokubashi. Just beyond, across another thoroughfare called Yotsubashi-suji, the water is spanned by an artistically designed suspension bridge that overlooks the Minato-machi district comprising the staging areas for some different kinds of entertainment. This is the boarding point for Osaka sightseeing cruises that feature raku-go (traditional Japanese storytelling) performers as guides. The dock is at the foot of a large octagonal building called Namba Hatch which is a venue for contemporary music concerts.
The place also attracts a grass roots element. During the warmer seasons, in every nook and corner, you will find small groups of young, amateur performers. creating or rehearsing stand-up comedy. Follow the signs from here toward JR Namba Station and, just in front of the station entrance, you will come to the Wing Stage area. With a huge silver ball at the center and a wall of mirrors, it is nearly always filled with dancers rehearsing for the annual contest held there, or just practicing break dance moves.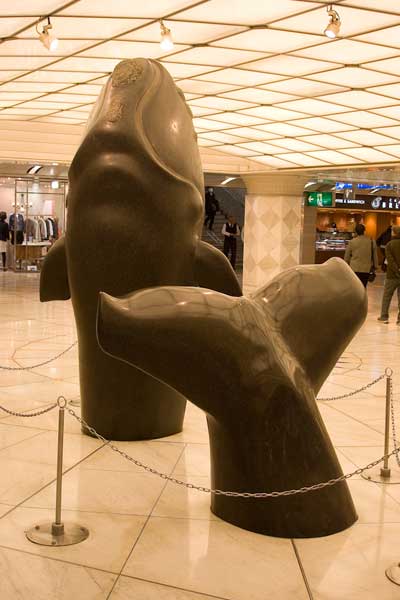 Namba is a magnet for Osaka's youth and foreign visitors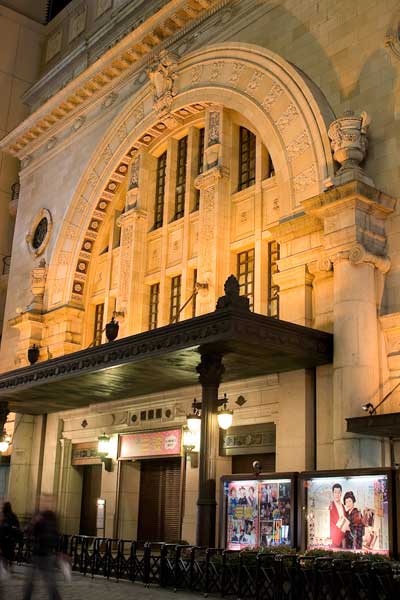 Namba is Osaka's premier nightlife and entertainment district
If your idea of real entertainment involves credit cards and wrapping paper, head south from Ebisubashi and you will enter a maze of shopping arcades where the restaurants are mixed with everything from discount food shops to elite fashion boutiques. A couple of blocks to the east, a tiny temple, called Hozen-ji, is nestled in amongst the business establishments. It is famous for a moss covered statue that visitors may pour water over as an expression of mercy. On the west side the Hips building faces onto the Mido-suji. It is striking work that houses sports bars and electronic game centers.
The arcades are paralleled, underground, by a mall named Namba Walk that, on its route from JR Namba to Nipponbashi stations, offers more shopping and dining opportunities along with Kujira Park with its well known statues of surfacing and diving whales.
The statues were placed in remembrance of the whale skeleton that was unearthed during the construction of the mall. You will also find the Water Park here. Although less renowned, it's constantly changing, lighted fountains can fascinate anyone from toddlers on up and they provide a welcome cooling effect during the Summer months.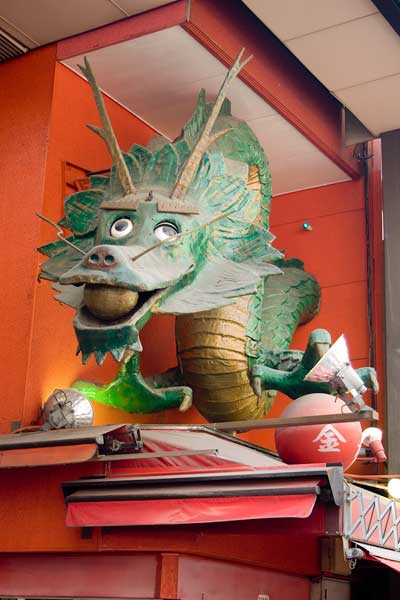 Kinryu Ramen, Namba, Osaka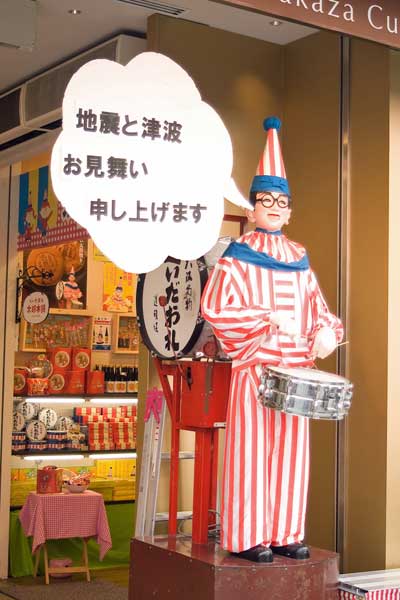 Kuidaore Taro: a Namba icon
The area to the south of Namba Walk, around Nankai Namba Station is dominated by large department stores, the Shin Kabuki-za theater, Namba Grand Kagetsu (a theater famous for comedy performances), and the Swiss Hotel Nankai Osaka where you might want to drop in for a breather.
The lobby's circumference is a swank collection of bars, cafes, and restaurants, or you can sit in the center and enjoy a drink or a snack.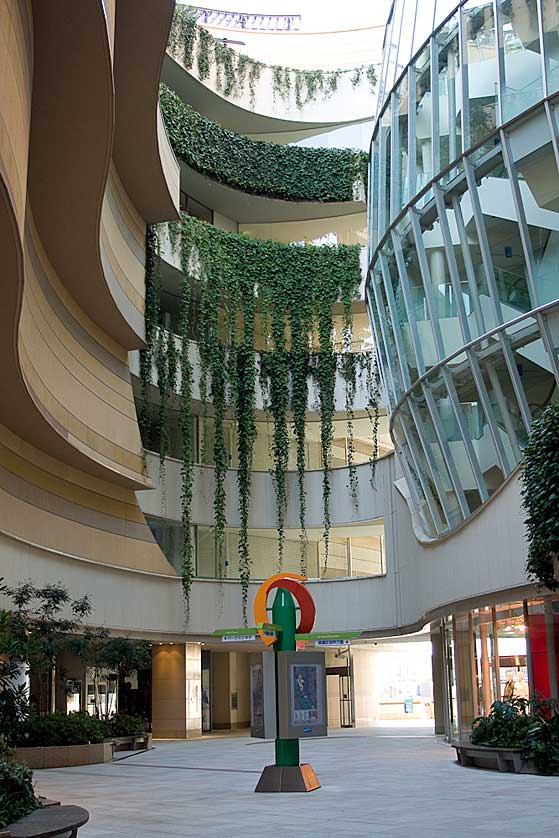 Namba Parks designed by American architect Jon Jerde
Just beyond is an architectural achievement named Namba Parks. Namba Parks is a terraced structure where you can walk up through a series of roof-top gardens.
Inside there are floors dedicated to restaurants offering a variety of cuisines, and yet more venues for shopping.
Namba Parks was developed by Jon Jerde, the American architect responsible for Canal City in Fukuoka. The shops at Namba Parks are open daily from 11am-9pm and the restaurants from 11am-11pm.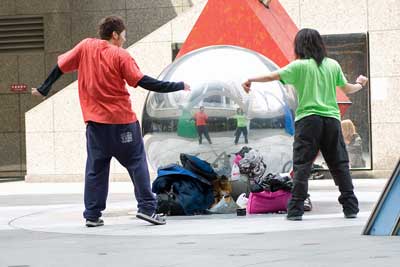 Entertainment and shopping combine in Namba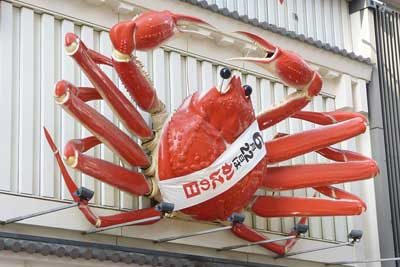 Namba is one of Osaka's most vibrant areas
Information
Namba Grand Kagetsu
Tel: 06 6641 0888
Fax: 06 6631 0740
Hozenji's address is Osaka-shi, Chuo-ku, Dotonbori 1 Chome 2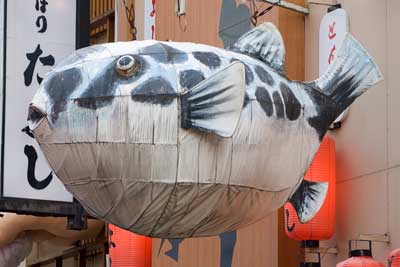 Namba, Osaka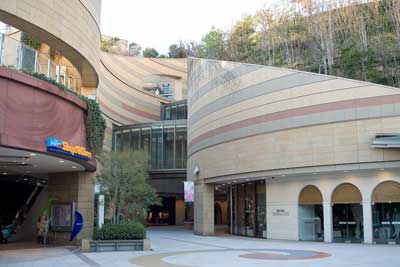 Namba, Osaka
Namba Hotels
Hotels convenient for Namba include the Hotel Vista Grande Osaka, the Fraser Residence Nankai Osaka and the Hotel Monterey Grasmere Osaka.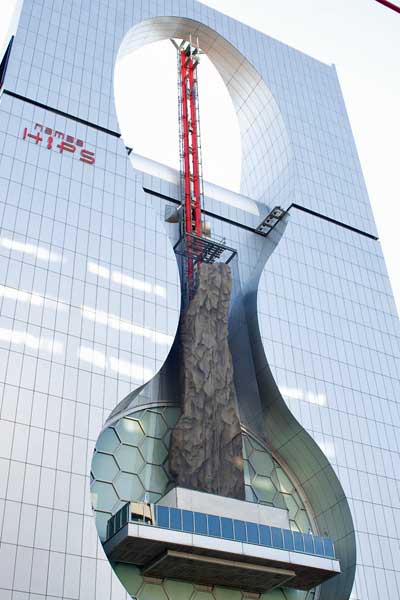 Hips Building, Namba, Osaka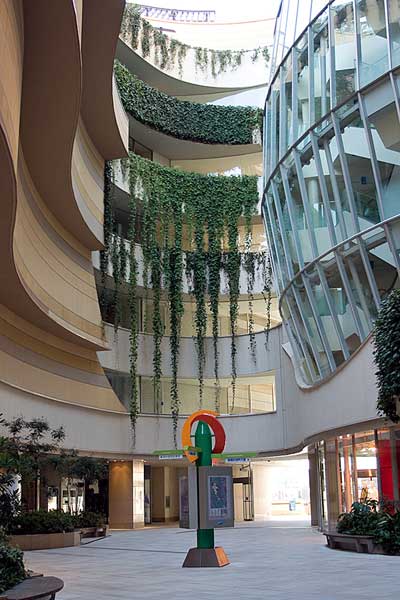 Namba Parks, Namba, Osaka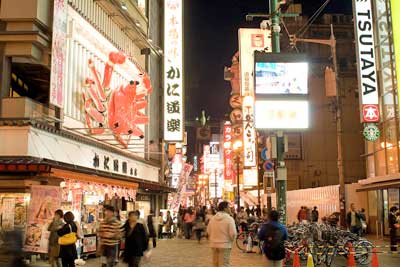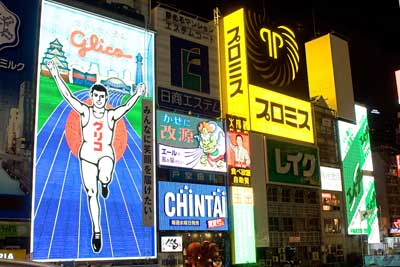 Access - how to get to Namba
Namba Nankai Station, JR Namba Station, Namba (Subway) Station and Osaka Namba Station are the four main stations at Namba and are interconnected.
JR Namba Station in the OCAT building is the terminal station of the Kansai Main Line (Yamatoji Line) with trains to Takada in Nara Prefecture via Tennoji, Oji, and JR Nara Station. There is also a large bus terminal here.
Osaka subway trains on the Midosuji (for Umeda, Sennichimae and Yotsubashi lines connect at Osaka Namba Municipal Subway Station.
Osaka Namba Station has trains on the Kintetsu Nara Line to Ikoma, Yamato-Saidaiji and Kintetsu Nara Station. Trains from Osaka Namba Station also run to Kintetsu Nagoya Station via Tsuruhashi (which connects to the JR Osaka Loop Line), and destinations in Mie Prefecture including Ise, Toba, Matsusaka, Tsu and Yokkaichi. The Hanshin Namba Line has trains west to Amagasaki, Koshien, and Sannomiya from this station.
Namba Nankai Station has trains on the Nankai Line to Sakai, Kishiwada, Wakayama and Kansai International Airport. The Koya Line has trains for Gokurakubashi which connects with the ropeway for Koyasan.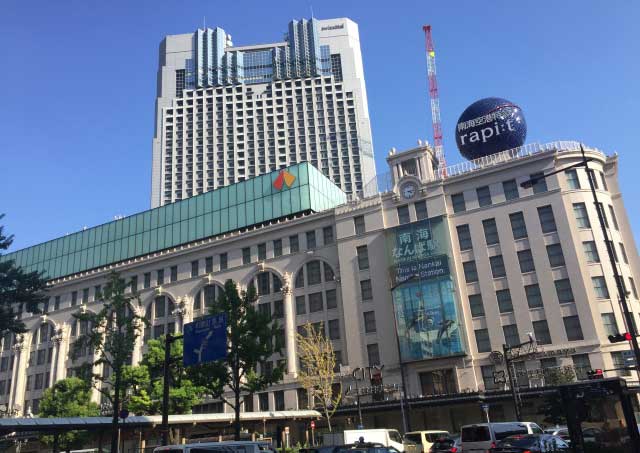 Namba Station, Namba, Osaka
Osaka Map
Book Hotel Accommodation in Namba Osaka
Namba guide: read a guide to the Osaka entertainment and shopping district of Namba including Dotonbori.
All the themes of the city