I love yu
I♥湯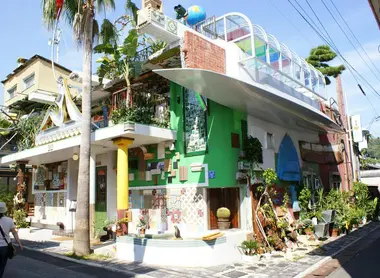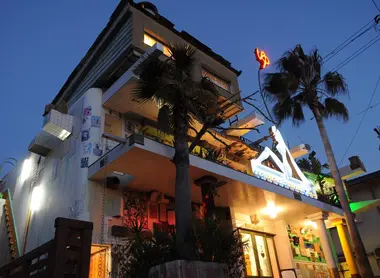 Back to the 80's!
Tired of traditional onsen that exude tranquility? "I ♥ 湯" (I love yu) is here to shake up the world of baths!
The name of the onsen sets the tone: it's a word play on the pronunciation of the character "bath" (yu 湯) and the English word "you". 
Artistic Baths
Built during the first Setouchi Triennial, this sento (public bath) was built to allow visitors and residents to enjoy island life, rather than simply visiting the museums. It is indeed very relaxing to sink into the hot baths of I ♥ 湯 after a day of walking around the island.
Especially since this bath has an artistic feel. The building and the interior, designed by Otake Shinro, are decorated with a mixture of odd objects and tile pieces from all around Japan (and the US), but more importantly, these are pieces from the 80's! This is not the only contribution of Otake Shinro on Naoshima since he also helped create the Art House Project .
I ♥ Originality
On Naoshima, where all or some of the museums were commissioned by Soichiro Fukutake and/or created by Tadao Ando, ​​it's nice to visit a place that is both utilitarian and artistic, thus changing the feeling of the island a little, which can seem bare, cold and sometimes a little snobbish to some. Even if I ♥ 湯 was commissioned by the patron of Benesse House, the baths adhere to the logic of Fukutake: integrating art into the environment, whether natural or urban.
Neons colors, dolls, old coins...everything is good to decorate the baths of I ♥ 湯. Of course, the baths are not mixed and although they may look different from the more traditional baths, general bath etiquette remains the same.
You can buy goodies, and towels and soap are available for those who have forgotten them.
---
Address, timetable & access
All the themes of the city