Aoyama Guide
Tokyo Area Guide: Aoyama 青山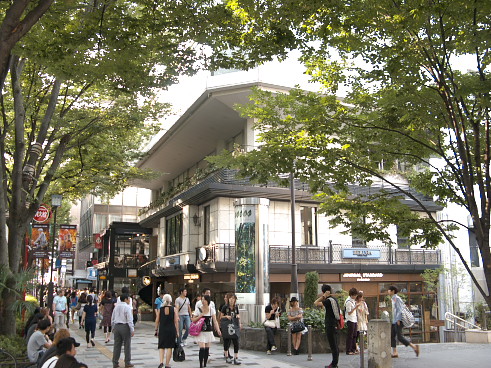 Omotesando Street, Tokyo
Aoyama Overview
Aoyama is an area of Tokyo where all things hip come together: hip in its many forms. The generally upmarket youth-orientated shopping and cultural area of Aoyama is between Akasaka and Shibuya, offering a more cutting edge feel than Akasaka, but a more exclusive atmosphere than Shibuya.
Aoyama-dori boulevard (AKA Route 246) runs between Kita Aoyama (North Aoyama) and Minami Aoyama (South Aoyama). Aoyama-dori and the area's next best known street, Omotesando (running off Aoyama-dori), have some of Tokyo's best jazz clubs (Blue Note and more), high-end shopping, bookshops, boutiques, and beautiful people.
Aoyama is high culture: novelist Haruki Murakami calls Aoyama home, and is where many of Japan's most popular writers pen their works.
Aoyama has something of a New Age vibe: Aoyama is the place to be if you feel like being pampered. Stroll along Aoyama-dori boulevard (Route 246) for a line up of health clubs, spas, massage, aroma therapy, as well as cafes, restaurants and specialty cuisine.
Aoyama History
Aoyama is named after the Aoyama clan, prominent in the governing of Japan since the 16th century of Japanese history. As chief vassal to the Tokugawa shogunate, the chief of the Aoyama clan was made magistrate of Edo (as Tokyo was then known), and given a vast estate extending from Akasaka to Shibuya. The Aoyama district is between these two areas, and was the site of a particularly massive Aoyama clan mansion.
Minami Aoyama
Minami Aoyama (South Aoyama) is somewhat more haute couture than neighboring Kita Aoyama (North Aoyama), and in general has a more relaxed and refined atmosphere.
Aoyama Cemetery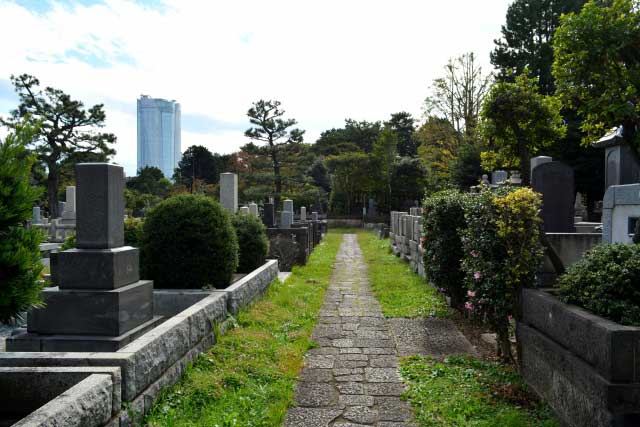 Aoyama Cemetery (Aoyama Reien) is in Minami Aoyama, just south of the Chichibunomiya Rugby Stadium and across Route 246.
Aoyama Cemetery, dating from 1872, is Japan's first public cemetery, and an Aoyama beauty spot. The landscaping is subtle, with a hint left of the wild, and there is a huge variety of styles of graves - most of them Japanese-style, but with a sprinkling of Westerners' graves, too. One unusual, but famous grave, is that of the dog Hachiko whose statue adorns an entrance of Shibuya station a little further east down Aoyama-dori.
A stroll through Aoyama Cemetery is worth it for the history, the beautiful flower arrangements on graves, the smell of incense, and the quietness and sense of calm.
Aoyama Cemetery is also a popular place to view cherry blossom in spring.
Killer-dori
Killer-dori ("Killer Street") is an oddly-named street famous for its street fashion stores since the 1970's, located at the other end of Minami Aoyama, on Gaien-nishi-dori, starting at Aoyama Cemetery, crossing Aoyama-dori, and continuing along into the adjacent Jingu-mae area up to Senjuin intersection.
Regarding the name "Killer Street," one story goes that it was named Killer-dori by that Japanese pioneer of street fashion, Junko Koshino, to reflect just how "bad" (read "cool") the district was. Another theory is that doing business on this street of ever-fickle fashion is more likely than not to end in that enterprise's untimely demise.
Google Map to Killer Dori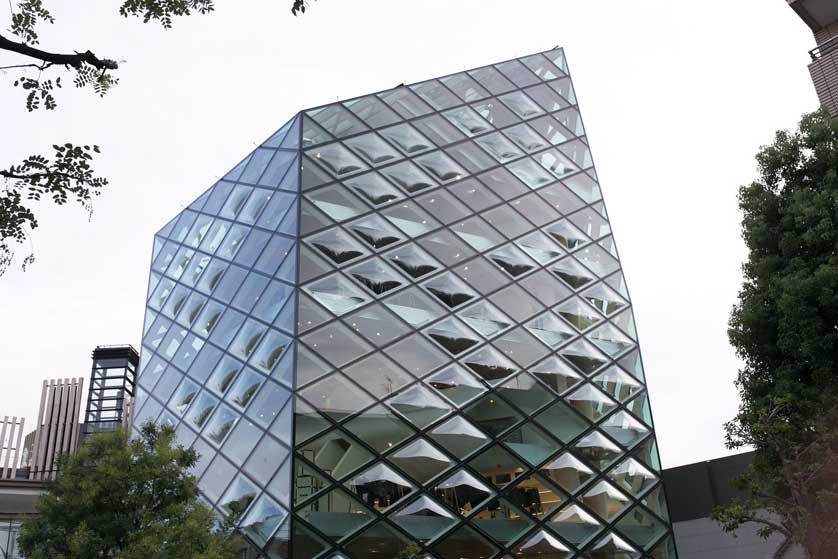 Prada Store, Aoyama, Tokyo
Nezu Museum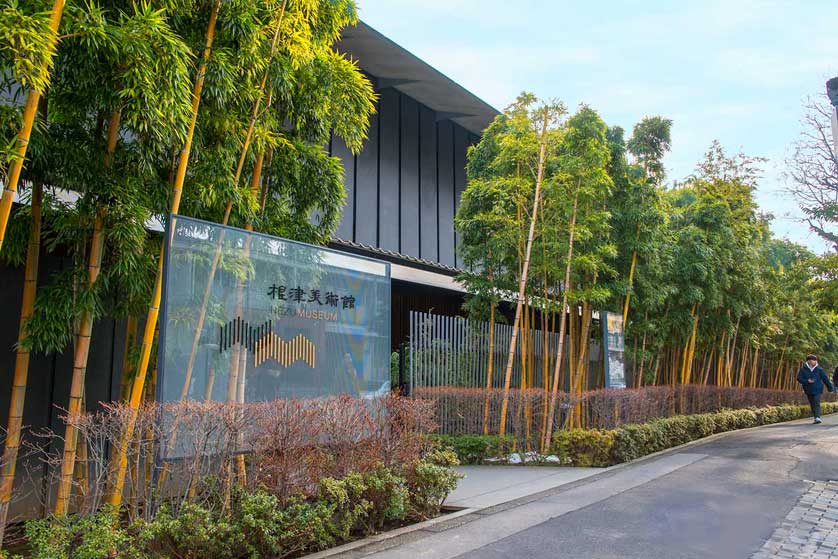 Front of the Nezu Museum, Minami Aoyama, Minato, Tokyo
The Nezu Museum in Minami Aoyama is based on the personal collection of pre-modern Japanese and other Asian art that belonged to the late president of the Tobu railway, Kaichiro Nezu, (d.1940), since augmented by donations of other private collections.
The Nezu Museum's collection numbers over 7,000 objects, including calligraphy, painting, sculpture, ceramics, lacquer, metalwork, bamboo crafts and textiles, but the Museum is especially renowned for Kaichiro Nezu's specialty, tea ceremony-related.
The Nezu Museum is a must-see if you are in the area, not least for its charming natural-style garden in a small valley, dotted with ancient stone statues and monuments and featuring a pond and tea ceremony house. The Museum is located at the lower end of Omotesando boulevard.
Chokokuji Temple
Chokokuji Temple, right next to the Nezu Museum, has a 10m-high statue of the Buddha in its Kannon-do Hall.
Prada
The Prada building, just south of the Omotesando intersection in Minami Aoyama is a spectacular, six stories of "insect-eye" glass designed by Swiss architects Jacques Herzog and Pierre de Meuron, built in 2003 at a cost of US$80 million.
Taro Okamoto Memorial Museum
The Taro Okamoto Memorial Museum, in Minami Aoyama, is the original home and studio of the famed artist of the same name, and the darling of Japan's New Ageists. Visitors can see Okamoto's studios and a garden of sculpture featuring his very distinctive creations. (See photo of sculpture below.)
Taro Okamoto Memorial Museum is accessible from the Aoyama 5 intersection of Route 246. Head down Kottoh-dori Avenue and at the third set of traffic lights turn left then first right.
Google Map to the Taro Okamoto Memorial Museum
N.B. (The Taro Okamoto Memorial Museum is not to be confused with the Taro Okamoto Museum of Art in the city of Kawasaki.)
Kita Aoyama
Kita Aoyama (North Aoyama) has more buzz than Minami Aoyama in terms of shopping, dining and crowds.
Aoyama Sport Facilities
Chichibunomiya Rugby Stadium is at the east end of Kita Aoyama, next to Akasaka and just north of the Aoyama Cemetery. Next to and just north of Chichibunomiya Rugby Stadium is the Meiji Jingu Gaien sport area with the Jingu Ballpark, Gaien Golf Practice Grounds, Japan Youth Hall, and the huge National Stadium (all actually in neighboring Kasumigaoka-machi, not Kita Aoyama itself).
Omotesando
Omotesando boulevard is a broad, beautiful, sloping tree-lined street full of mid- to high-range fashion, dining, cafes and boutiques. Any fashion house not represented on Omotesando is by definition minor.
Omotesando is one of Tokyo's most famous shopping streets, straddling the more refined Minami Aoyama and and more populist Kita Aoyama. Omotesando leads to the Jingu-mae and Harajuku districts.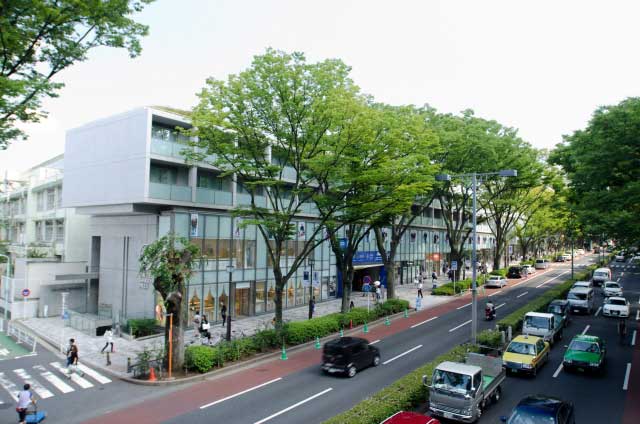 Omotesando Hills
Omotesando Hills is Omotesando's biggest shopping attraction, opened in 2006 by Minoru Mori, the same developer who created Roppongi Hills in the Roppongi district.
Omotesando Hills is nothing on the scale of Roppongi Hills, but is bigger than it looks with three floors underground and three above ground. Abuzz with the same kind of energy as Roppongi Hills, Omotesando Hills demands to be checked out.
Google Map to Omotesando Hills
Cat Street
Cat Street (the nickname for Kyū-Shibuya-gawa Yūhodōro, often shortened to "Yūhodō") is a famous fashion street that goes all the way from Harajuku, crosses Omotesando (where the Gyre shopping center is) and continues as a pedestrianized street to Miyashita-koen intersection in Shibuya. Cat Street was created over a now subterranean stream in 1964, at the time of the Tokyo Olympics. It is lined with exquisitely fashionable boutiques, and, especially from Omotesando westwards, where it becomes pedestrianized, Cat Street is a very pleasant alley to stroll along and take in what's hippest in Tokyo fashion. Read more about Cat Street.
Spiral Building
The Spiral Building on Aoyama-dori (Route 246) is a multi-purpose space with restaurants, art exhibitions, and cafes. Designed by the internationally acclaimed Japanese architect, Fumihiko Maki, the Spiral building sums up Aoyama's youthful, artistic spirit.
Ota Memorial Museum of Art
The Ota Memorial Museum of Art is dedicated to traditional Japanese ukiyo-e woodblock prints, with a collection of over 14,000 and regular exhibitions. See what's on now at the Ota Memorial Museum of Art.
Google Map to the Ota Memorial Museum of Art
Kodomo no Shiro
The Kodomo no Shiro (National Children's Castle) on Aoyama-dori, in the Shibuya direction. As well as being an educational and entertainment public space for children, it has the Aoyama Gekijo Theater on the 1st floor, and the Aoyama Round Theatre on the 3rd floor.
Look for the distinctive Taro Okamoto statue in the fore court.
Google Map to the National Children's Castle, Tokyo
The United Nations University is next to the National Children's Castle on Aoyama-dori.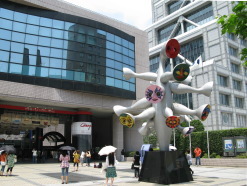 Taro Okamoto Sculpture in front of National Children's Castle, with United Nations University at right
Hotels in Aoyama
The Tokyu Stay Aoyama Premier is a 170-room hotel in Minami Aoyama, just off the main street of Aoyama-dori, on fashionable Gaien-nishi-dori.
Google Map to the Tokyu Stay Aoyama Premier Hotel
The Shimane Inn Aoyama, about 500 meters south of Omotesando, is an average quality hotel, inexpensive, and well located.
Google Map to the Shimane Inn Aoyama Hotel
Aoyama Access
The Aoyama area is best accessed from Omotesando Station (Chiyoda & Hanzomon subway lines).
Aoyama, Tokyo. Read about the Aoyama area of Tokyo, between Shibuya and Akasaka. Aoyama is an upmarket, youth-orientated area of Tokyo.
All the themes of the city