Toyosu Fish Market
Toyosu Fish Market is a huge. modern wholesale food market in Tokyo, with a morning tuna auction, that opened in 2018 on an artificial island in Tokyo Bay.
Toyosu Fish Market 豊洲市場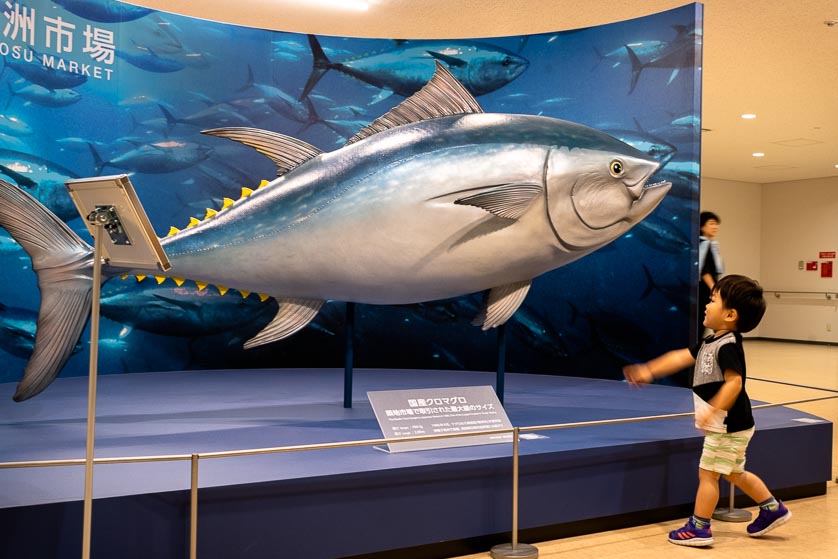 Model tuna on display at Toyosu Market, Tokyo
Toyosu Market (Toyosu Shijo, in Japanese) is the newest and most famous of the 11 produce markets throughout Tokyo that make up the Metropolitan Central Wholesale Market. Toyosu Market is the successor to the now closed Tsukiji Market. It opened at its new location, in Toyosu, Koto ward, Tokyo, in October 2018. Toyosu Market has fish and other produce markets within it, which visitors can observe, as well as stores and restaurants.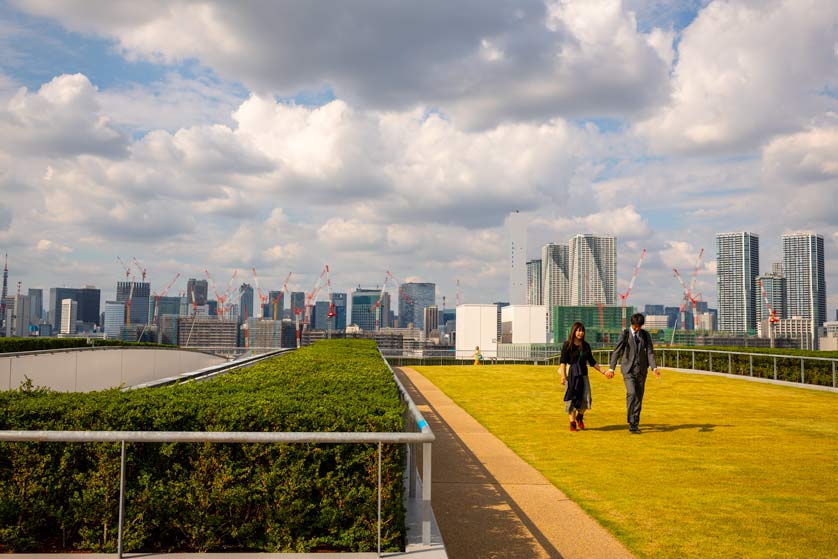 Section of the Rooftop Garden, Toyosu Market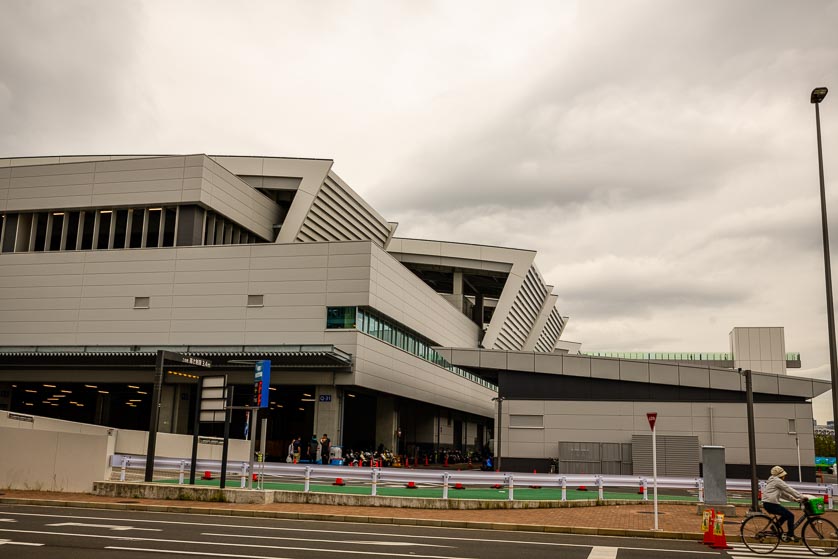 Buildings at Toyosu Market, Tokyo
On Toyosu Island
Located in Tokyo Bay on the artificial island of Toyosu (created in the 1930s), Toyosu Market is a mammoth, modern complex occupying over 40 hectares. There are three main buildings at Toyosu Market: two for seafood, one for fruit and vegetables. They are less buildings than sprawling complexes in their own right, and are best thought of as zones.
Fish Market
The two seafood-related complexes are Seafood Wholesale and, on the other side of Route 484, which runs between them, the Seafood Market.
Uogashi Yokocho Shopping Floor
The fourth floor of Seafood Wholesale is a shopping area for the general public called Uogashi Yokocho. About 70 small stores sell everything from fresh produce, to dried seaweed, to tea, to ceramics, to knives to clothing - a great place for authentic souvenirs. However, many are closed by the afternoon, so try and get there early.
The third floor visitor zones have a windowed section where visitors can look down at the action happening on the busy wholesale floors. The biggest such observation area is in the Fruit and Vegetable zone.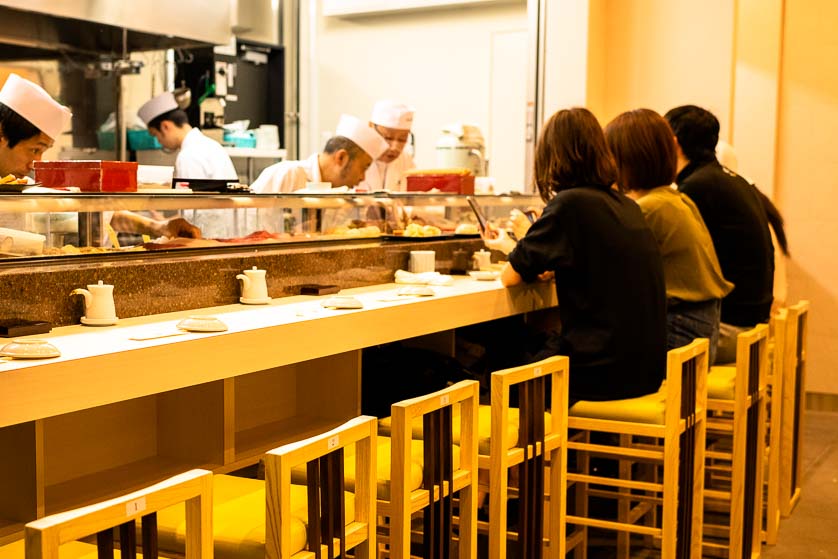 Sushi bar on the Seafood Wholesale third floor, Toyosu Market, Tokyo
Dining at Toyosu Market
The second floor of the Seafood Wholesale is a dining floor. The restaurants here are mainly seafood oriented, but there is a wide variety of other cuisines here too. The Seafood Market zone also has a few restaurants. Be warned, however, that the queues are generally very long, so many visitors may not consider the wait worth it. Also, the passageways are narrow and crowded.
Roof Garden
The "roof garden" on top of the Seafood Wholesale is a massive lawn, where visitors can relax and enjoy the views around and across Tokyo Bay. Once outside on the roof, look for more stairs that take you up to the lawn area. This is probably Toyosu Market's most pleasant feature.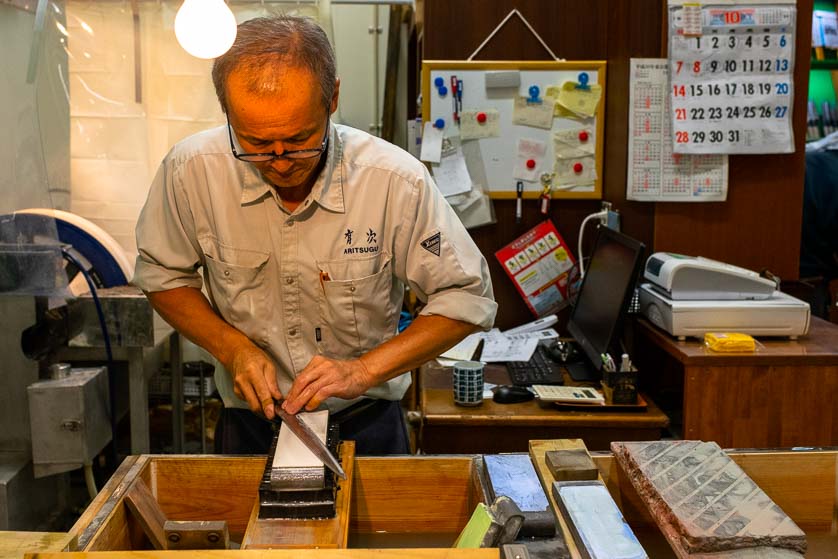 Knife maker on the Uogashi Yokocho Shopping Floor, Toyosu Market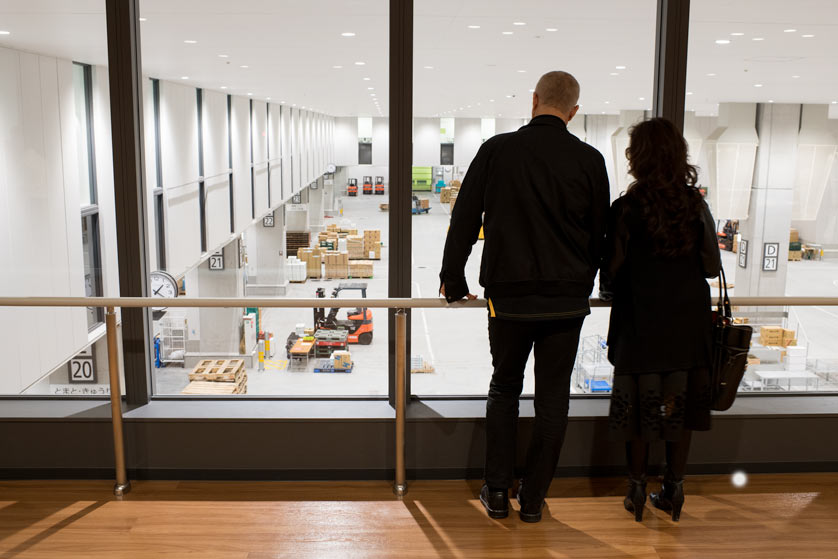 Observation deck, Fruit & Vegetable Market, Toyosu Market, Tokyo
Seafood Market and Tuna Auction
The tuna auction that the old Tsukiji Market was so famous for will be accessible to visitors to the Seafood Market from January 15, 2019. However, unlike at Tsukiji Market, the spectators will be somewhat removed from the action - a measure to prevent the occasional outbreak of friction caused at Tsukiji Market between busy sellers and curious onlookers.
Fruit and Vegetables
The Fruit and Vegetable area is the third of the three main zones at Toyosu Market. It is the nearest to Shijomae Station, by which the Toyosu Market is accessed. Fruit and Vegetable is connected by walkway to the two seafood zones. There are some restaurants here, too.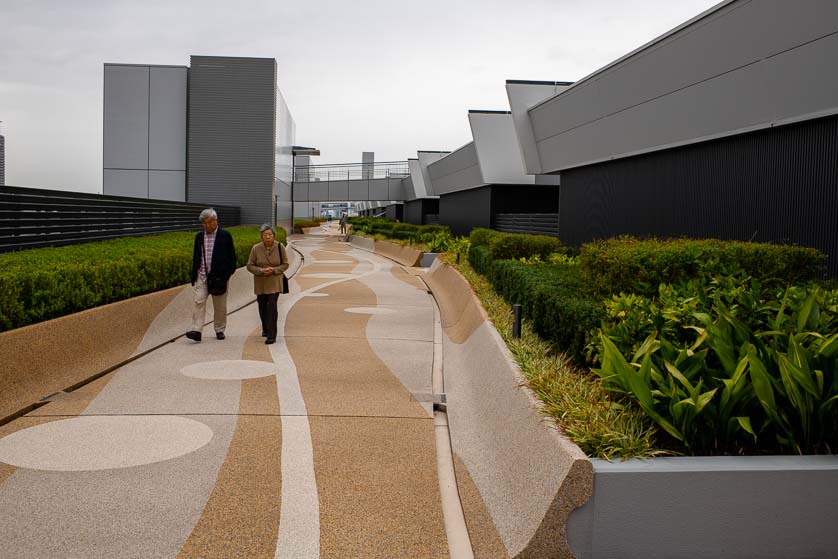 Rooftop walkway at Toyosu Market, just below the Rooftop Garden, Tokyo
Background
The development of Toyosu Market was not without controversy. Many objected to the much-loved and more conveniently located old Tsukiji Market being moved. Also, there were issues with subterranean pollution that necessitated extra clean-up work. This delayed the scheduled opening by four years. The final cost of moving from Tsukiji to Toyosu greatly exceeded intial estimates, coming to more than 600 billion yen (well over USD5 billion at the current exchange rate).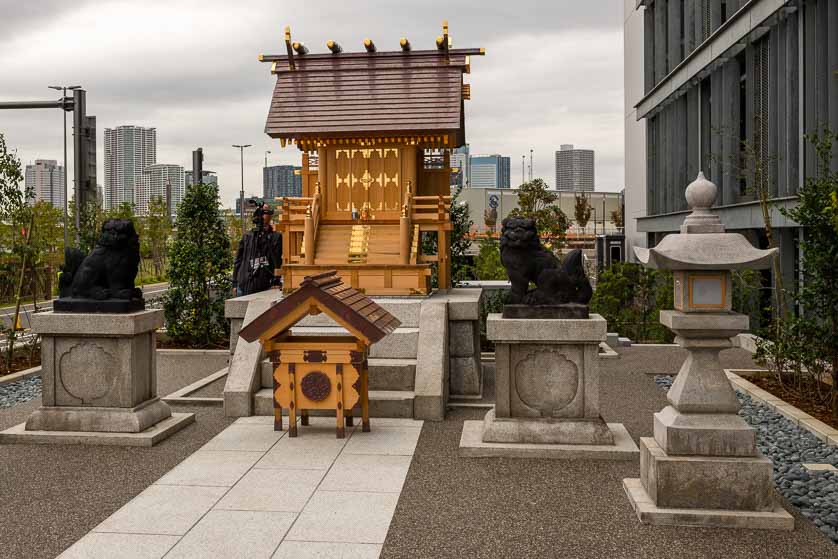 Uogashisui Shinto Shrine at Toyosu Market, relocated from Tsukiji Market
Toyosu Market Hours
Toyosu Market is open to visitors between 5 a.m. and 5 p.m. Toyosu Market as a tourist spectacle is over by mid-morning. The earlier you get there the better. The PR Corner in the Seafood Wholesale zone is open until 8:30 a.m. to 2:30 p.m. Monday to Friday, and from 8:30 a.m. to 11:30 a.m. on Saturdays, and is closed on Sundays and public holidays.
Toyosu Market Access
Take the Yurakucho Subway Line to Toyosu Station and change to the elevated, driverless Yurikamome Line. Go two stops to Shijomae Station. Shijomae Station is right in the middle of Toyosu Market.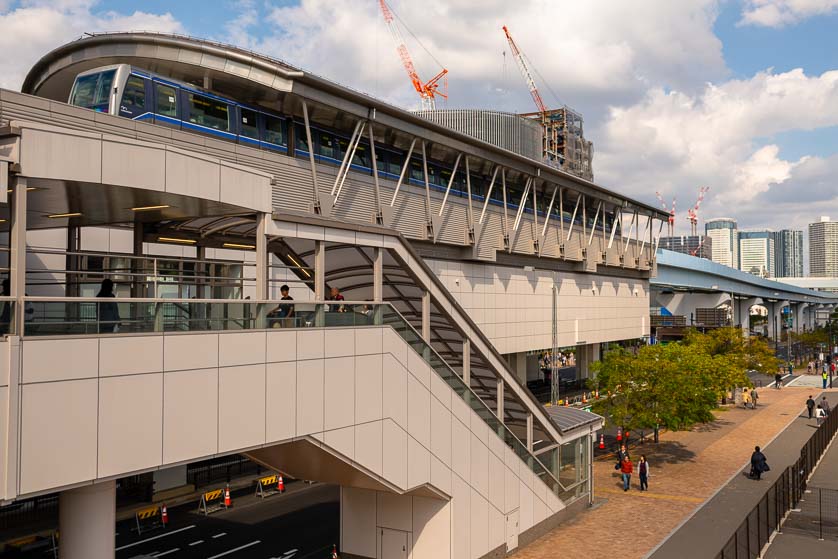 Shijomae Station, Yurikamome Line - stay on the overhead walkways for direct access to Toyosu Market
Toyosu Market Map
See where Toyosu Market is located with this Google Map of the Toyosu district.
There are several other attractions in Toyosu.
All the themes of the city