Ameyayokocho
アメ屋横丁

Voices calling out from behind their stalls, traders dealing with customers. The smell of fresh fish, spices and candy tempt passersby. Welcome to Ameyayokocho. 
Ameyayokocho Area Guide
Ameyayokocho, often abbreviated to "Ameyoko," is a brash, bustling, loud, busy, cheap and colorful market district in the Okachimachi district, which is part of the larger Ueno area of Taito ward, Tokyo. Ameyoko is the main focus of Ueno and Okachimachi shopping. Ameyoko is where hawking aspires to street entertainment.
The air rings to the cries of sellers of clothes, used golfing goods, fruit, sneakers, vegetables, fresh fish, tofu, confectionery and used brand watches. The conversations of passers by are not just in Japanese but almost every other Asian language.
Ameyayokocho means "candy sellers' alley" and runs south from Ueno Station, parallel to the elevated tracks of the JR Yamanote and Keihin-Tohoku Lines south to Okachimachi Station.
Ameyayokocho History
Ameyoko began life as a market mainly for sugary, sweet potatoes after World War II. Now it is a multi-cultural mix of cut-price open-air food stores, supermarkets, bars, restaurants and shops selling everything from rock-bottom anime DVDs, to cheap golf clubs and golf balls, trainers, suitcases, jewelry, and rock-bottom priced clothes. Ameyoko is one place in Tokyo where you can bargain.
Ameyayokocho Market
Ameyoko is especially lively at dusk as shoppers seek discount vegetables, fruit, fish and sushi before heading home for dinner. Prices for fish and farm produce can be up to half those of supermarkets. Most stores close at around 7 pm.
Visit Ameyoko to capture the lively atmosphere of old Tokyo, as vendors entice prospective buyers with their gabbled sales patter and loud cries.
Ameyoko Center Building
The Asian foodstuffs floor on the B1 floor of the Ameyoko Center Building is famous, catering to the culinary needs of nearly all Asian countries, including China and South-East Asia.
The shops here not only stock off-the-shelf foods, but there are fishmongers and butchers, too, selling distinctly non-Japanese-style fish, poultry and meat. Floors 1, 2 and 3 of the Ameyoko Center Building feature mainly small footwear and clothing shops.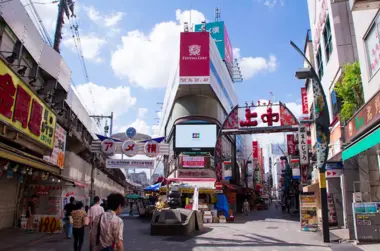 Ameyoko Plaza
Ameyoko Plaza is two floors tucked under the elevated railway of over 100 tiny stalls, similar in set-up to a typical market in Thailand. Casual street fashion, traditional Japanese clothing, silver and leather goods, jewelry, sunglasses, watches, cosmetics, perfumes, lifestyle accessories, and tasty food are all here for the browsing/exploring.
Marishiten Tokudaiji Temple 摩利支天徳大寺
Marishiten Tokudaiji Temple is a small Nichiren Buddhist temple located amid the hubbub of Ameyoko, squeezed between adjacent branches of the huge Niki no Kashi confectionery store. Tokudaiji was probably founded around the mid-17th century and is fittingly dedicated to Marici, a bodhisattva of light and sunshine that in the Edo period came to be worshiped by merchants as a bringer of wealth and prosperity. The temple is an oasis of comparative calm in this raucous district. Open daily 9 am-6 pm.
Ameyayokocho Dining
There are a lot of street stalls and restaurants in and around Ameyoko featuring various Japanese styles such as izakaya, sushi, ramen, gyudon, okonomiyaki and teishoku. There are also ready-to-eat snacks like takoyaki, yakitori (chicken skewers) and pineapple pieces on sticks. Food from all over the world can also be found here, including Indian, Thai and Korean. Remember: the busier the restaurant, the more likely it is to be good.
Around Ameyayokocho
Uechun (or, Ueno Nakadori Avenue), is a shopping alley that branches off from Ameyoko about halfway along it. Uechun is generally a little quieter than Ameyoko, but is worth a wander down for the somewhat more local vibe than hustling, bustling Ameyoko can give. Uechun has a lot of shoe stores.
South of Ameyoko, across the main Kasuga-dori Street, and a little west is the Ueno branch of the Matsuzakaya Department Store, and a little east—on the other side of Okachimachi Station—is a concentration of jewelry and gem retailers, large and small.
Ameyayokocho Access
Access to Ameyoko is from Okachimachi Station on both the JR Yamanote and Keihin-Tohoku lines. Naka-Okachimachi and Ueno-Hirokoji stations, on the Tokyo Metro Hibiya and Ginza lines respectively, are nearby.
Ueno-Okachimachi subway station on the Toei subway line is also nearby.
All the themes of the city