Sony Archives
Sony Archives ソニー歴史資料館
The Sony Archives in Shinagawa, Tokyo, not far on foot from Shinagawa Station, is dedicated to the history of Sony Corporation's products since its formation just after World War II.
For Baby Boomers and Generation X, a visit to the Sony Archives will rekindle memories of some of the iconic Sony products that were part of their lives growing up.
The Sony Archives is a free facility but a reservation in advance by telephone is necessary.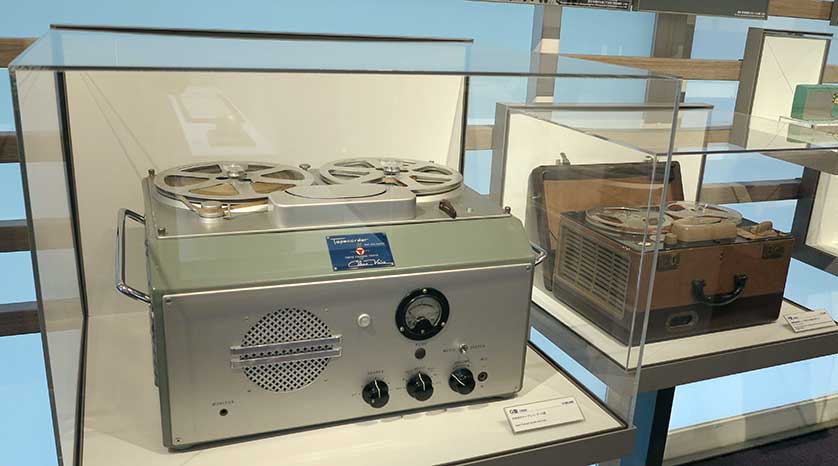 Display of early tape recorders (G-Type), Sony Archives, Shinagawa, Tokyo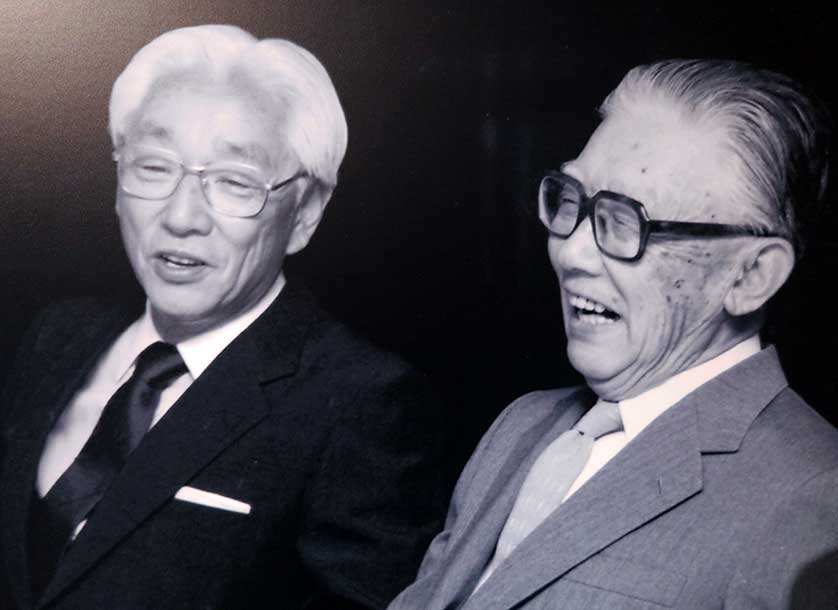 The founders Masaru Ibuka (right) and Akio Morita (left), Sony Archives, Shinagawa, Tokyo
Sony Archives Exhibits
The Sony company was founded in 1946 by Masaru Ibuka (1908-1997) and Akio Morita (1921-1999). They had met during World War II as members of the Imperial Navy Wartime Research Committee. Both Morita from Tokoname near Nagoya and Ibuka from Nikko had backgrounds in the sciences and graduated from prestigious Japanese universities.
The company began life as Tokyo Telecommunications Engineering Corporation (Totsuko) with a staff of just 20. It was based in a department store in Nihonbashi near Tokyo Station. The company moved to Shinagawa in 1947 and changed its name to Sony in 1958.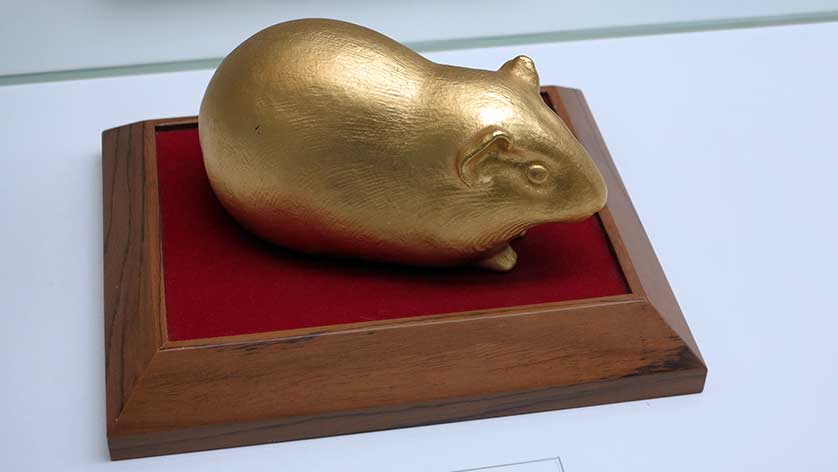 Golden Guinea Pig, Sony Archives, Shinagawa, Tokyo
The recommended route of the Sony Archives begins with a wall panel showing the Founding Prospectus of the company, regarded as the origin of the Sony Spirit. A golden guinea pig is also on display here.
This was presented to Masaru Ibuka by the company's employees. The gift references a newspaper article that said Sony was a guinea pig for transistors that were then made better by other companies. Ibuka replied on radio:
"If the guinea pig spirit means developing innovative ideas and embodying them in new products, then I think this is an admirable spirit."
Next is a video on a large screen Sony TV, of course, on the history of the company and a message from the founders that can be watched in a variety of languages.
Sony's iconic products are now displayed in chronological order in glass cases. There is explanation in both Japanese and English. These begin with the company's early products: tape recorders, transistors and televisions. Though they actually began with a humble rice cooker. If this had been a hit we may never of heard of the Walkman, PlayStation or Triniton.
Among the displays are some of the company's most successful electronic gadgets. Sony produced both Japan's first transistor radio and its first color TV.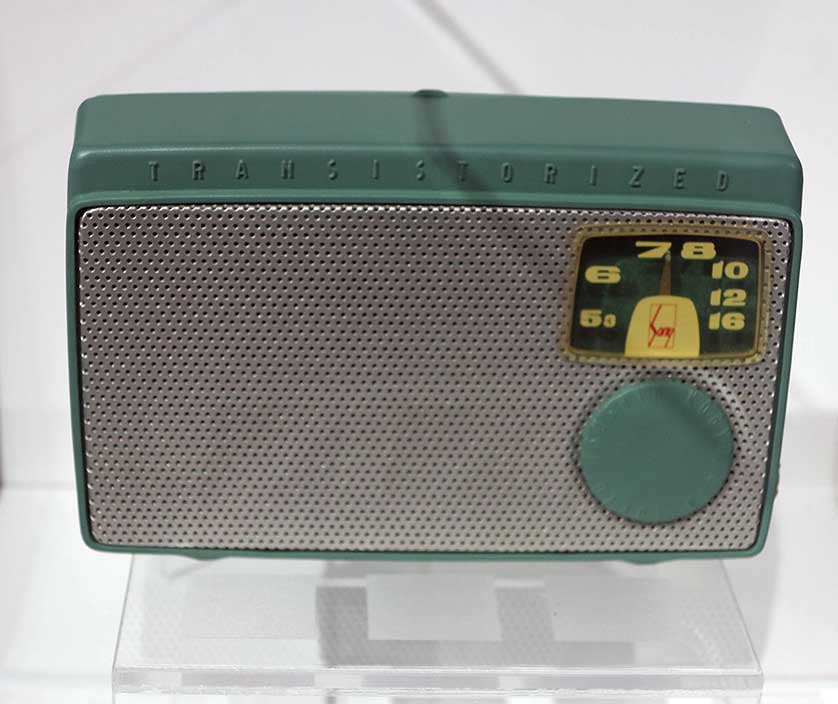 Transistor radio, Sony Archives, Shinagawa, Tokyo
KV 1310 Triniton Sony's First Color TV, Sony Archives, Shinagawa, Tokyo
Visitors can also see a range of Sony Walkmans and Home Audio including Sony CD players. The latter includes the CDP 101 - the world's first CD player complete with a Billy Joel CD that came on the market in 1982. Original pricing is included in the explanations.
Later follow video cassette recorders, Camcorders, digital still cameras, radios, entertainment robots, such as Aibo as well as Sony's Viao range of personal computers and mobile phones in a tie-up with Ericsson (Sony Ericsson).
Sony's PlayStation in its various versions is also well-represented.
The short-lived MD player can also be found and will be remembered fondly by many of its fans. Sony unveiled their MD technology in 1991, and commercialized it in 1992. Consumers in Japan greeted it with almost immediate enthusiasm.
Also on display are products made for broadcasting industry that were not aimed at the general home electronics market.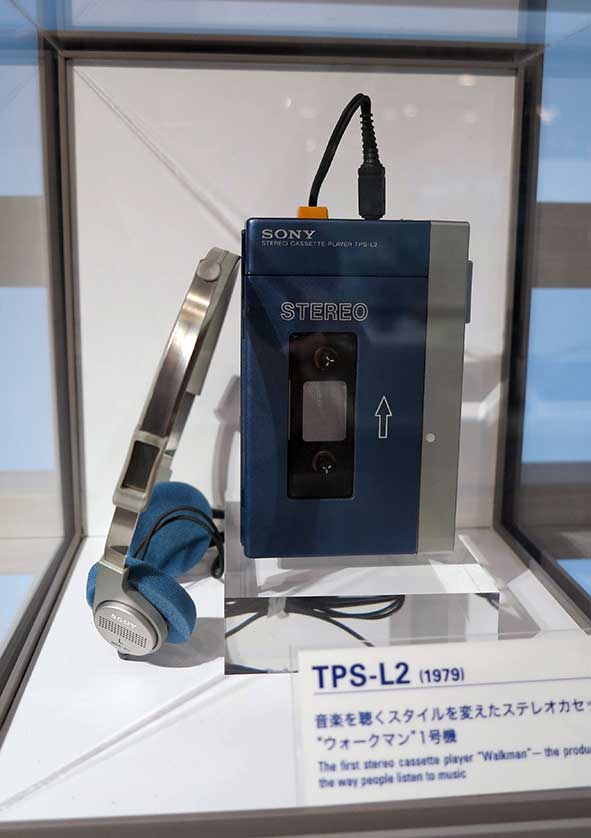 Sony Walkman TPS-L2 (1979), Sony Archives, Shinagawa, Tokyo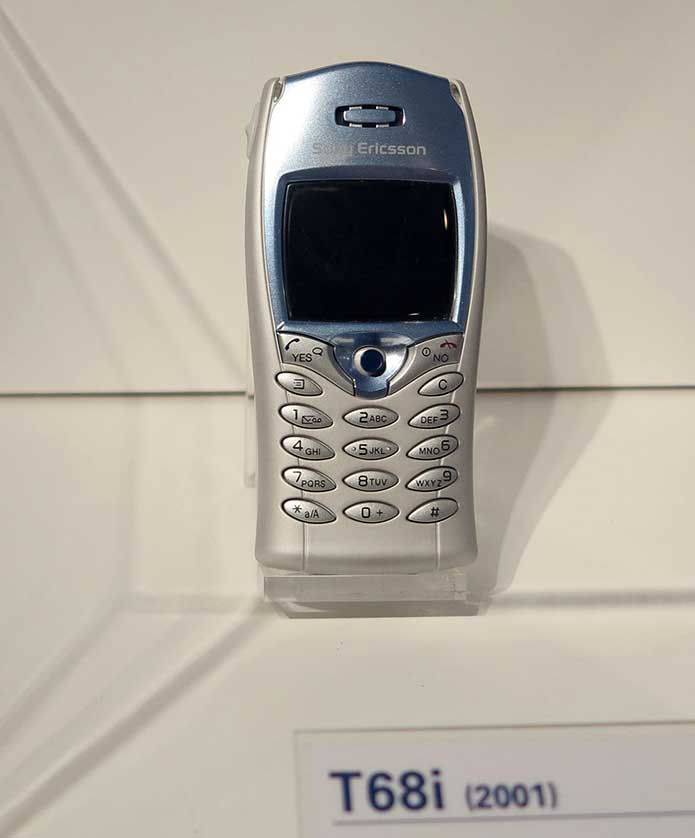 T681 Sony Ericsson cell phone (2001), Sony Archives, Shinagawa, Tokyo
There are also PCs available for visitors to see Sony TV commercials, products from Sony's past and the company's chronology. Wall panels detail quotes from the company's co-founders: Ibuka and Morita.
As well as all the best-selling products produced by the company, there are also some that did not fare so well. Among these are the Qualia miniature digital camera and the Chorocco, a bizarre mini plastic VW camper-van that "rode" on records and played the track through its speakers.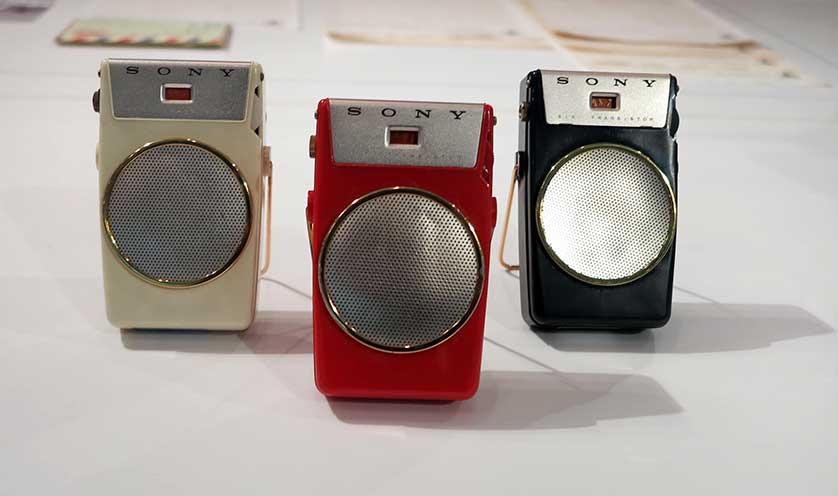 TR 610 Transistor radios (1958), Sony Archives, Shinagawa, Tokyo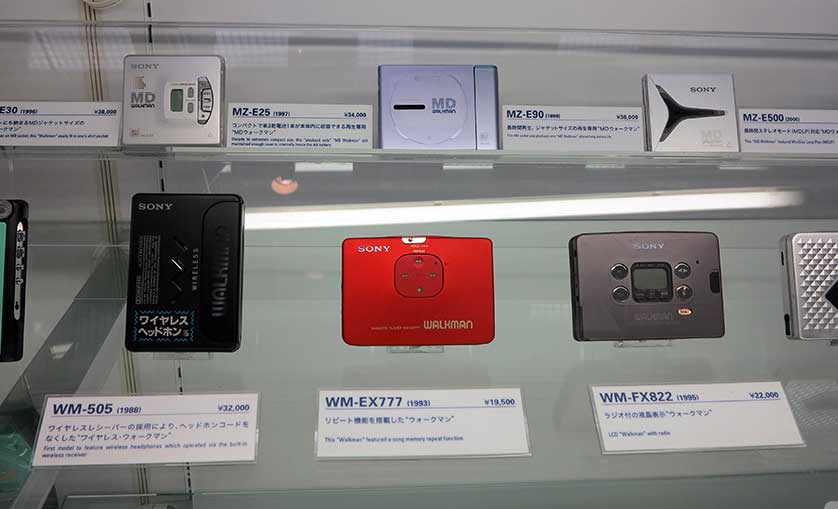 The MD and Walkman range, Sony Archives, Shinagawa, Tokyo
Sony Archives Access
Sony Archives
6-6-39 Kitashinagawa
Shinagawa-ku
Tokyo 140-0001
Tel: 03 5448 4455
Fax: 03 5448 2560
Hours: 10am-5pm; closed weekends, Japanese national holidays, company holidays and other holidays determined by the museum.
Admission: Free (note: reservations are required in order to visit Sony Archives and should be made by contacting Sony Archives directly by phone or fax)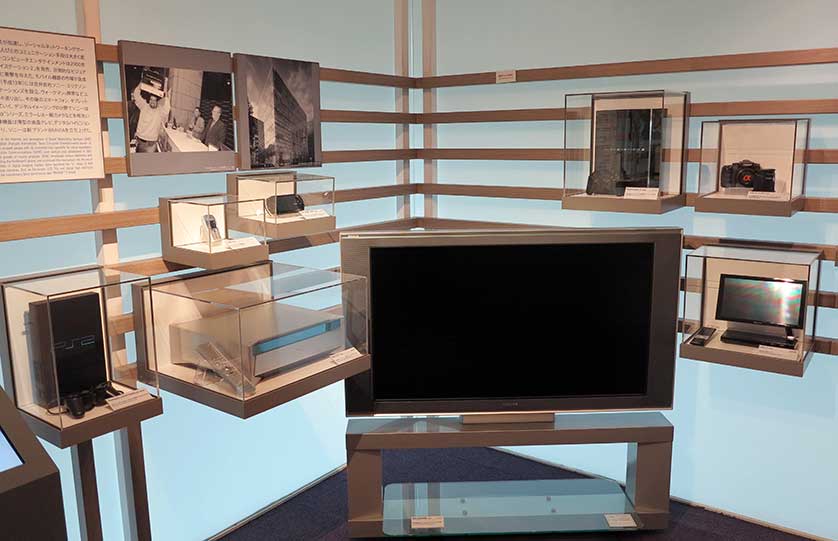 Sony Archives, Shinagawa, Tokyo
The Sony Archives is a 10-15 minute walk from the Takanawa Exit of JR Shinagawa Station.
Shinagawa Station is on the JR Yamanote Line, the Tokaido Line, Keikyu Main Line to Kawasaki, Yokohama (17 minutes) and Uraga, the Keikyu Airport Line to Haneda Airport (14 minutes), the Keihin Tohoku Line to Ueno Station and Omiya (47 minutes). Shinagawa is also on the Yokosuka Line with trains to Chiba and Narita Airport, Kamakura, Yokosuka as well as the Narita Express rapid service to Tokyo's main international airport (67 minutes) in Narita, Chiba Prefecture.
Alternatively, the museum is a 16 minute walk from JR Gotanda Station.
Sony Archives is also within walking distance of the Museum of Logistics, Takanawa Catholic Church and the embassies of Brunei Darussalam and Iceland.
The Nikon Museum is a short walk from the opposite Konan Exit of Shinagawa Station.
ERS-7M3 aka Aibo (2005), Sony Archives, Shinagawa, Tokyo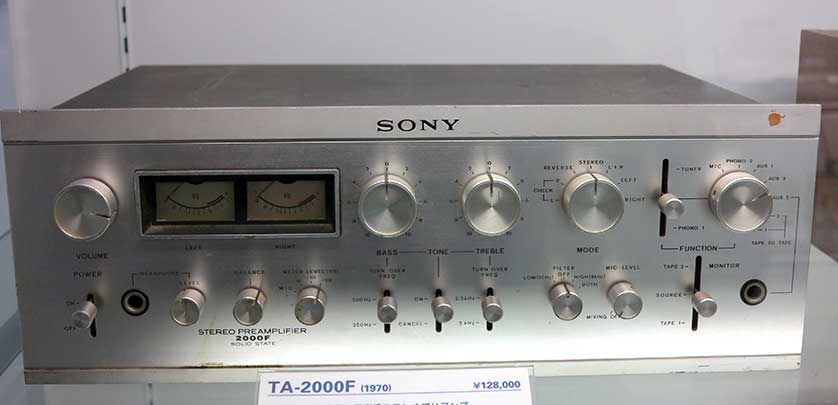 Sony TA-2000F, Sony Archives, Shinagawa, Tokyo
Hotels in Shinagawa, Tokyo
Hotels in Shinagawa include the huge Prince Hotel, and the 900+ room Hotel Pacific Tokyo both accessible from the Takanawa exit of the station. Other notable hotels in Shinagawa are the Takanawa Tobu Hotel, The Prince Sakura Tower Tokyo, the 4-star Grand Prince Hotel Takanawa and the budget Toyoko Inn Shinagawa Eki Takanawa-guchi Hotel.
On the Konan side of Shinagawa Station the lavish 5-star Strings By Intercontinental is recommended. Near Meiji Gakuin University and Tokai University the 4-star Sheraton Miyako Hotel Tokyo has impressive facilities and is popular with visiting academics.
Altogether there are over 6,000 hotel rooms in the Shinagawa area.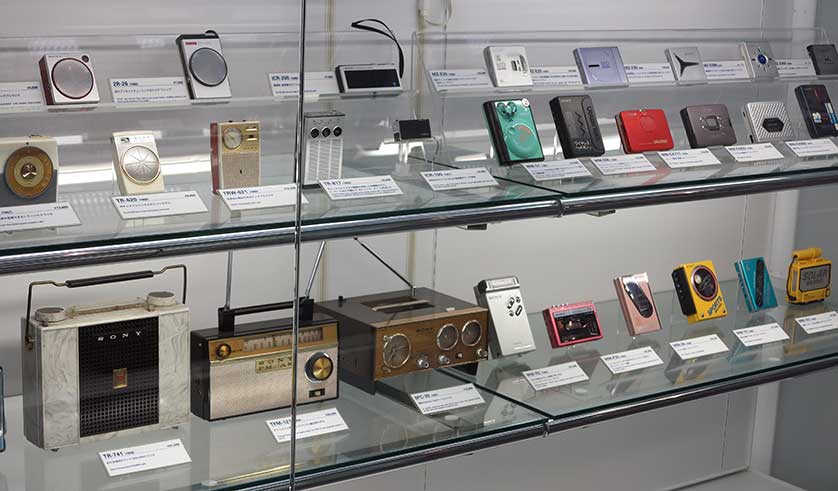 Sony Archives, Shinagawa, Tokyo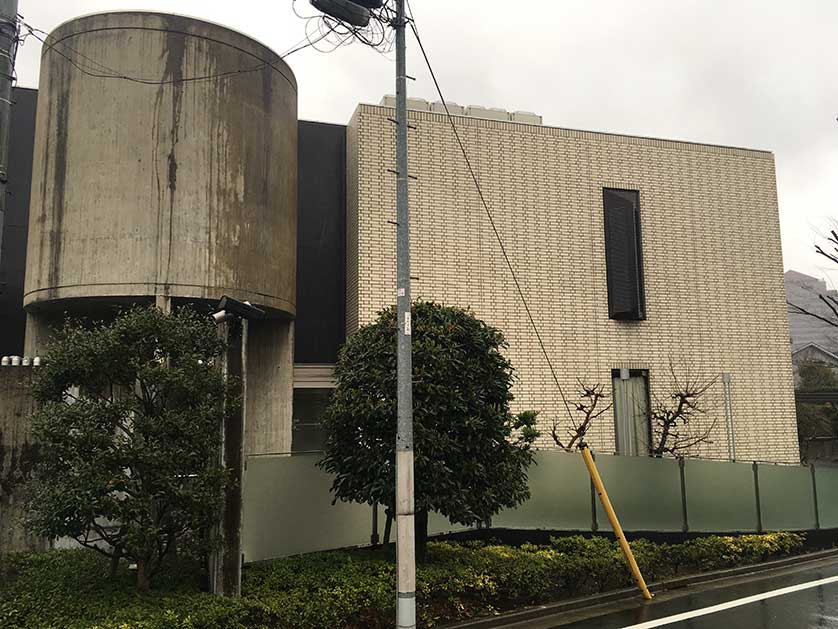 Sony Archives Building, Shinagawa, Tokyo
Book Hotel Accommodation in Japan Near Shinagawa Tokyo
Sony Archives: the Sony Archives in Shinagawa, Tokyo s dedicated to the history of Sony Corporation's products since its formation in 1946. On display in a modern hands-on museum are the iconic Sony products produced over the years by the company.
All the themes of the city