Hokkaido Guide
Hokkaido guide: read a guide to Hokkaido, Japan's most northerly prefecture famous for its open spaces, cool summers & skiing & snowboarding in winter.
Japan's Regions: Hokkaido 北海道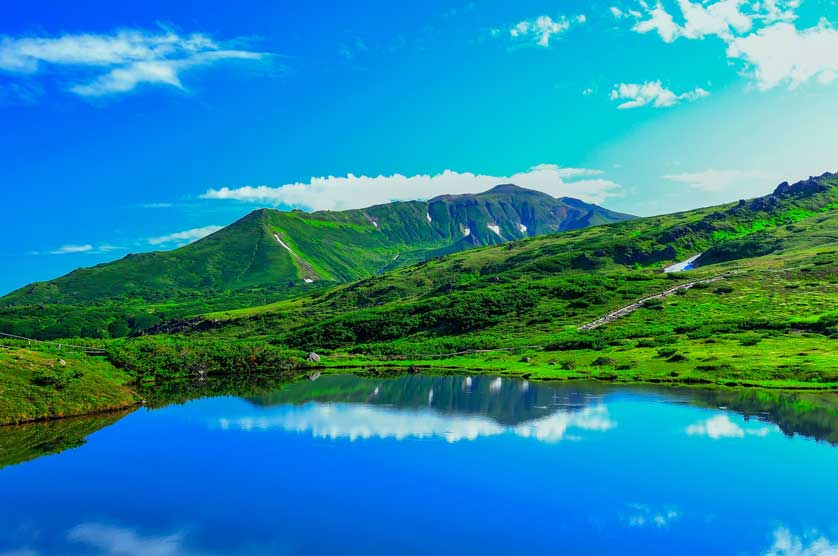 Hokkaido - Ashidake Lake
population - 5.68 million.
Japan's second largest island after Honshu.
no rainy season, unlike the rest of Japan.
famous for open spaces, the annual winter Snow Festival in Sapporo and skiing.
the most northerly of Japan's prefectures.
large areas of National Parks, hot springs (onsen) and unspoiled forest
ideal in summer for camping, hiking and hitch-hiking.
Hokkaido is Japan's most northerly region and prefecture and the second largest of Japan's four main islands, making up approximately 20% of Japan's land mass but with only around 5% of its population.
Hokkaido Map
Hokkaido Prefecture Map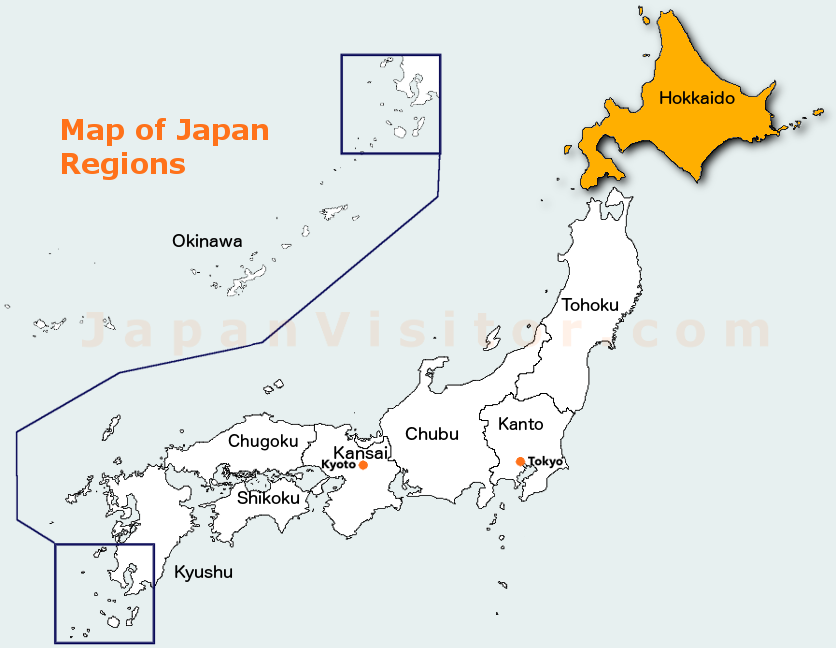 Hokkaido Map

Weather in Hokkaido
Hokkaido has a different feel from the rest of Japan. The weather is cooler with less humidity in the summer and the region escapes the earlier monsoon. Winters are cold and long, stretching from November to March, but are ideal for winter sports such as skiing and snowboarding, the celebrated snow festival (Yuki Matsuri) in Sapporo and the frozen northern seas off the coast of Wakkanai and the islands of Rebun and Rishiri.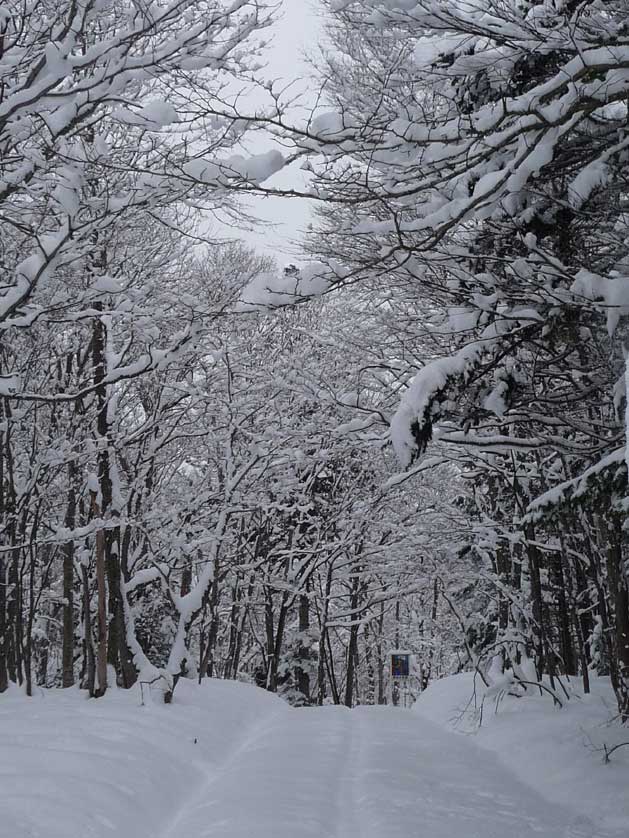 The contrast between lush summer and frigid winter in Hokkaido is extreme. For several months powder snow falls. Cross-country skiing is the best way of getting around this kind of landscape.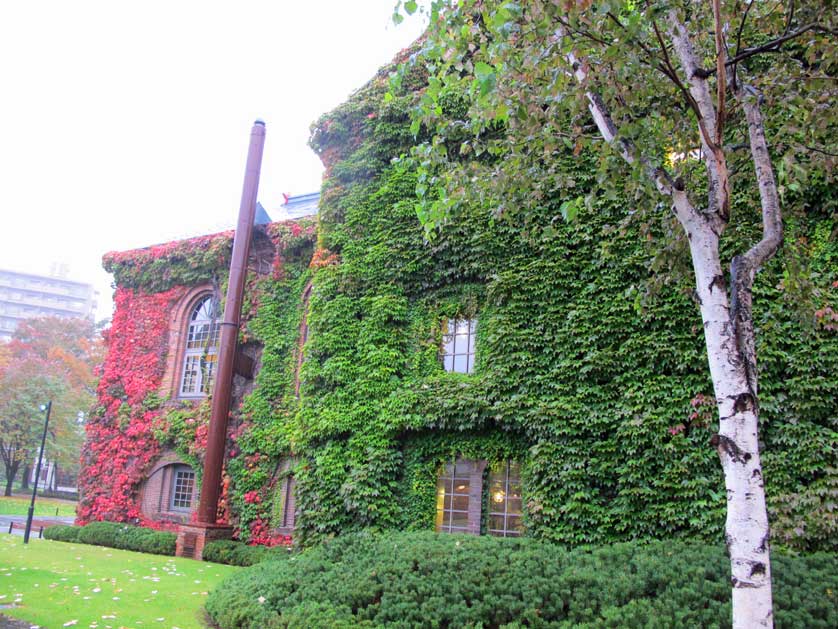 Sapporo Beer Garden & Sapporo Beer Museum, Sapporo, Hokkaido
Hokkaido's History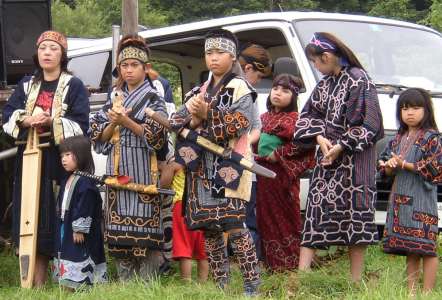 Hokkaido's history is shaped by its indigenous people the Ainu. Hokkaido, known as Ezo during the Edo Period (1603-1868) largely lay outside the control of the shogunate regime in Edo (Tokyo), however with the coming of the modernizing Meiji government in the 1870's, Ainu culture was largely subsumed during the 20th century, but there has been a recent welcome resurgence and interest in traditional Ainu culture and Ainu handicrafts of late.
There are Ainu villages and museums of Ainu culture at Poroto Kotan and Nibutani north of Noboribetsu.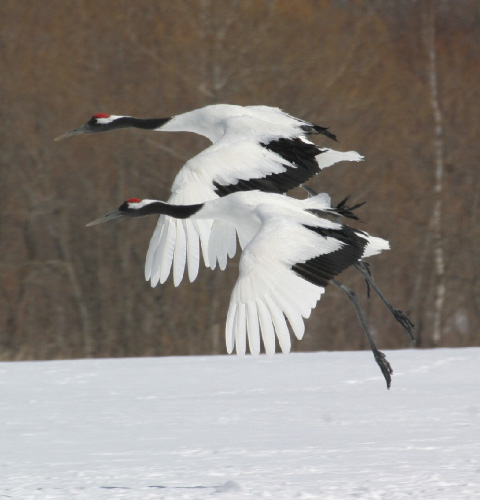 Graceful Red-crowned Cranes are a wonderful presence in the wilder parts of Hokkaido.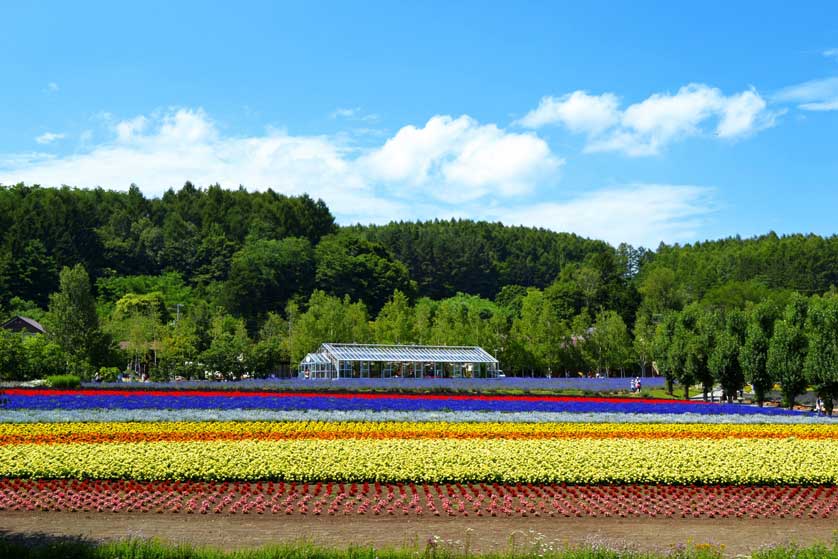 Lavender and other floral fields at Tomita Farm in Furano.
Hokkaido's Cities & Places of Interest
Hokkaido's main towns and places of interest are:
Sapporo, the prefectural capital and arrival point for most flights to the region.
Abashiri - the northern town of Abarashiri is known for its drift ice and Abashiri Prison Museum.
Asahikawa, centrally-located and Hokkaido's second largest city after Sapporo.
Cape Soya, near Wakkanai, is the northern most point in Hokkaido and Japan.
Hakodate, an historic treaty port and the access point for trains arriving from Honshu via the Seikan Tunnel (the world's longest underwater tunnel).
Niseko, one of the best ski resorts in Japan, 100 km west of Sapporo and increasingly popular with visitors from Australia and Asia.
Noboribetsu, Hokkaido's main hot spring (onsen) resort.
Otaru, the relaxed ferry port 40km from Sapporo with a number of historic buildings.
Rebun Island (Rebun-to), located off the north west coast of Hokkaido is known for its alpine flowers in summer.
Rishiri Island is dominated by the 1700 meter-high Mt Rishiri and is ideal for hiking and cycling in summer.
Shiretoko National Park, Shiretoko Peninsula is a protected and isolated peninsula and UNESCO World Heritage Site ideal for bird-watching.
Sounkyo Onsen, within Daisetsuzan National Park, is a peaceful onsen resort in the mountains east of Asahikawa in Hokkaido.
Tokachi Onsen in Daisetsuzan National Park in Hokkaido on the slopes of Mt. Tokachidake (2,077m) claims to be the highest hot spring in Japan, complete with extreme winter sports and unmatchable views from everywhere above tree line on the avalanche-prone slopes of an active volcano.
Wakkanai, a laid-back northern port ideal for reaching the islands of Rebun and Reshiri and nearby Cape Soya and its many monuments.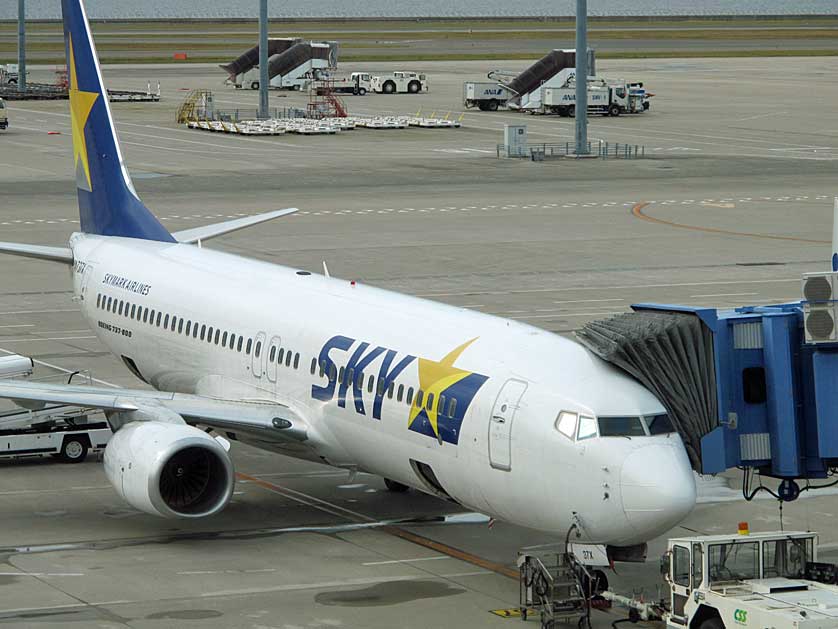 Skymark has flights to Chitose Airport from Nagoya, KIX, Kobe, Ibaraki, Narita and Haneda
Access - Getting to Hokkaido
Air
There are airports at Chitose near Sapporo, Asahikawa, Hakodate, Kushiro, Memanbetsu and Wakkanai with flights to other cities in Japan including Osaka, Nagoya, Fukuoka and Tokyo. Chitose has international connections to Beijing, Hong Kong, Taipei, Seoul, Sakhalinsk (Russia) and Cairns and Melbourne in Australia.
Ferry
There are a number of ferry services operating to and from various ports in Hokkaido.Otaru to Maizuru, Niigata and Tsuruga.Hakodate to Aomori and Oma.Muroran to Aomori, Hachinohe and Naoetsu (Discontinued).Tomakomai to Oarai, Sendai and Nagoya.Wakkanai to Rebun and Rishiri.
Train
There are trains from Sapporo Station and Hakodate Station to cities in Honshu including routes to Kyoto and Osaka - Aomori, Sendai and Tokyo.
The overnight Twilight Express has been discontinued.
Sapporo has rail services to Abashiri, Asahikawa, Hakodate, Kushiro, Otaru, Tomakomai and Noboribetsu.
Bus
Sapporo is the main hub for highway buses on the island with services to most towns including Wakkanai (6 hours), Asahikawa (2 hours; 30 mins), Niseko (2 hours; 30 mins) and Noboribetsu (1 hour; 40 mins).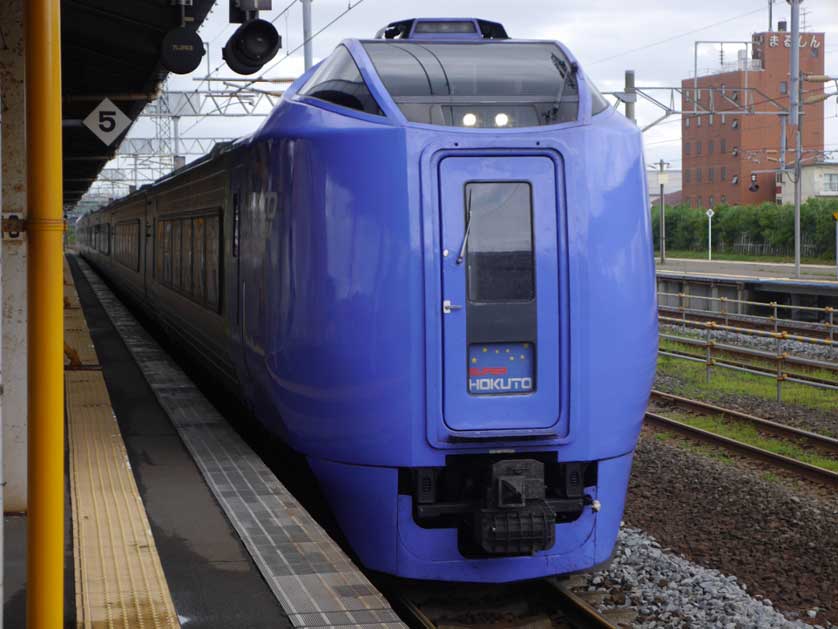 Limited Express Hokuto to Noboribetsu Station, Hokkaido Prefecture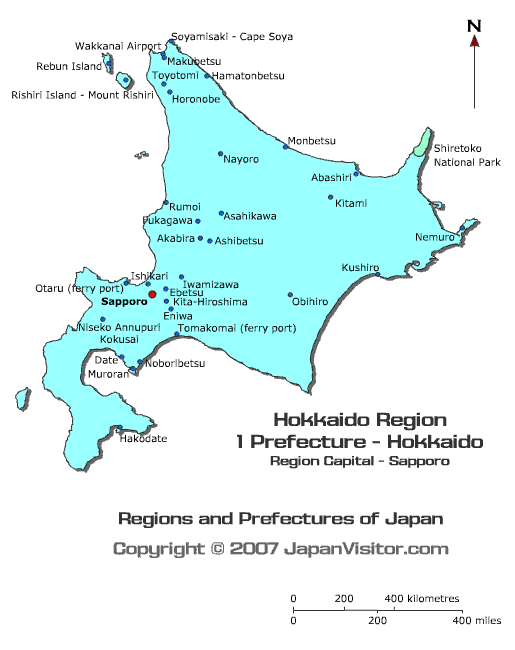 Hokkaido Prefecture Map
Book Hotel Accommodation in Hokkaido Japan
All the themes of the city