Arashiyama Bamboo Forest Kyoto
The Arashiyama Bamboo Forest Kyoto is one of the most visited sites in the area and one of the most iconic views in Kyoto.
Arashiyama Bamboo Forest in Kyoto 嵐山竹林の道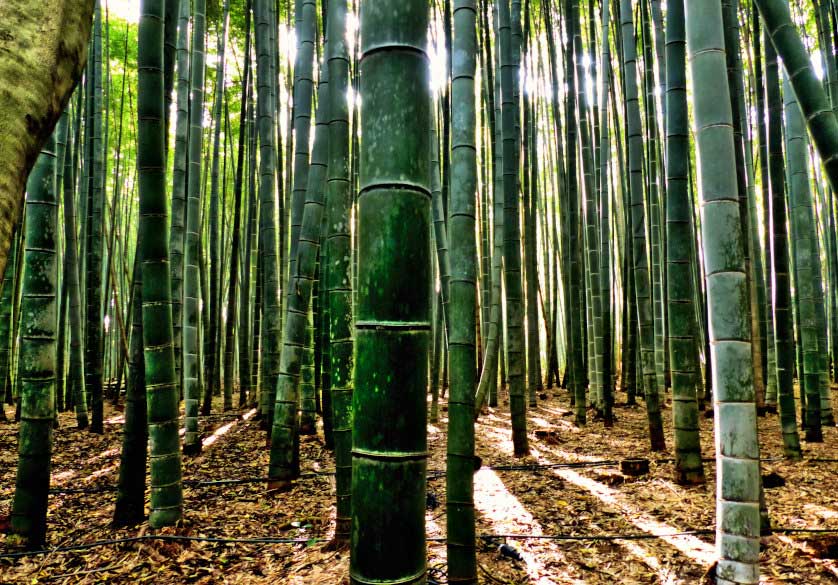 Groves of Giant Bamboo are ubiquitous in Japan, with this one in Arashiyama, Kyoto being one of the most popular tourist sites in the area
The bamboo forest in Arashiyama is one of the most visited sites in the area and one of the most iconic views in Kyoto.
Along with maiko or geisha in Gion, the tunnels of red torii gates at Fushimi Inari Shrine, or the Golden Pavilion of Kinkakuji reflected in the water, a photo of the  bamboo forest is almost certain to be found on any website or tourist pamphlet for Kyoto.
More than a kilometer of paths cut through this natural forest of Giant Bamboo (Phyllostachys edulis) with most of it behind fences themselves made of bamboo.
Reaching up to 25 meters, and with a diameter up to 25 cm, the slender trunks have foliage at the very top which causes the bamboo to clack into each other with the slightest breeze.
This sound here in the Arashiyama Bamboo Forest has been classified as one of the 100 Japanese Soundscapes.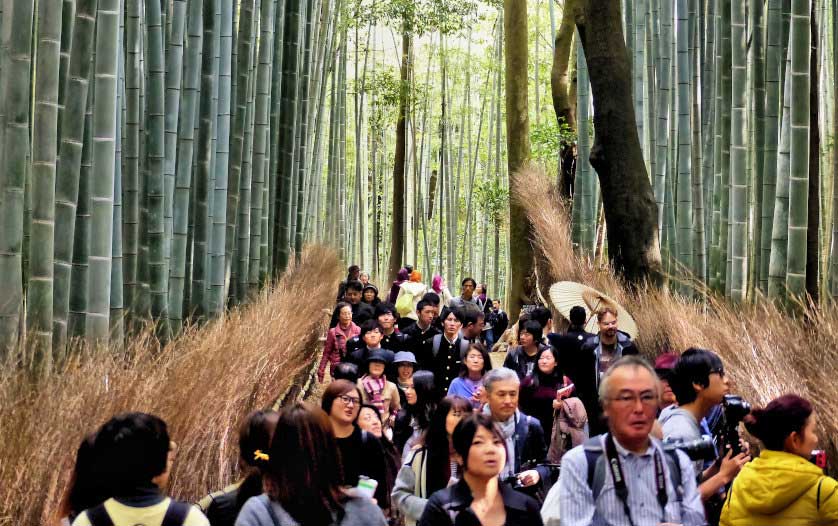 Arashiyama Bamboo Forest is usually quiet crowded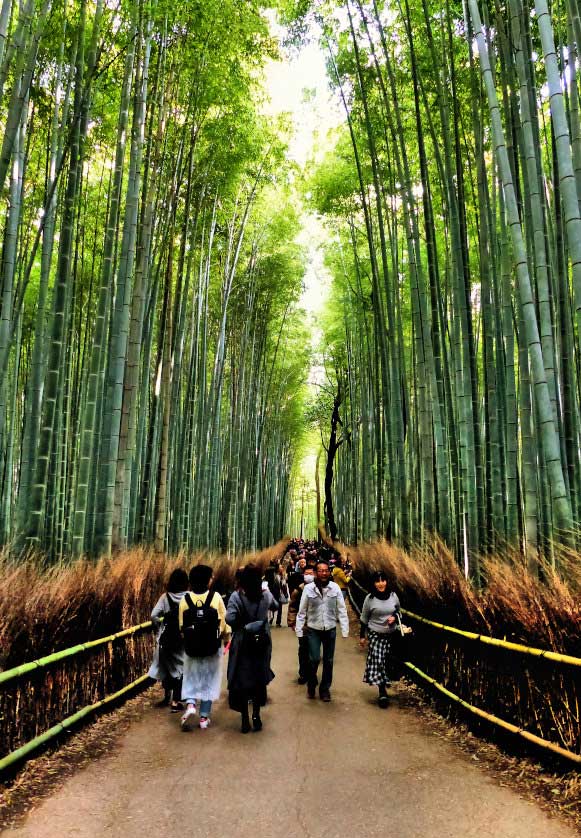 Parts of the Arashiyama Bamboo Forest are less crowded

Nonomiya Shrine
In the middle of the forest is Nonomiya Shrine, a small, picturesque Shinto shrine where Imperial Princesses would spend time in preparation for serving at the great shrine at Ise.
Much of the time the forest is very crowded, so deciding when to visit is important. Weekdays are better than weekends, and early in the morning before the tour buses arrive is also much better than the middle of the day.
Many of the photos you may have seen of a deserted bamboo forest are actually taken very, very early on a summer morning.
The bamboo forest lies north of Tenryuji Temple. There are many different entrances into the bamboo forest including the northernmost exit from Tenryuji Temple itself.
Signs pointing to the forest can be seen along the main north-south road of the tourist area of Arashiyama. The forest is open 24 hours a day and there is no entry fee.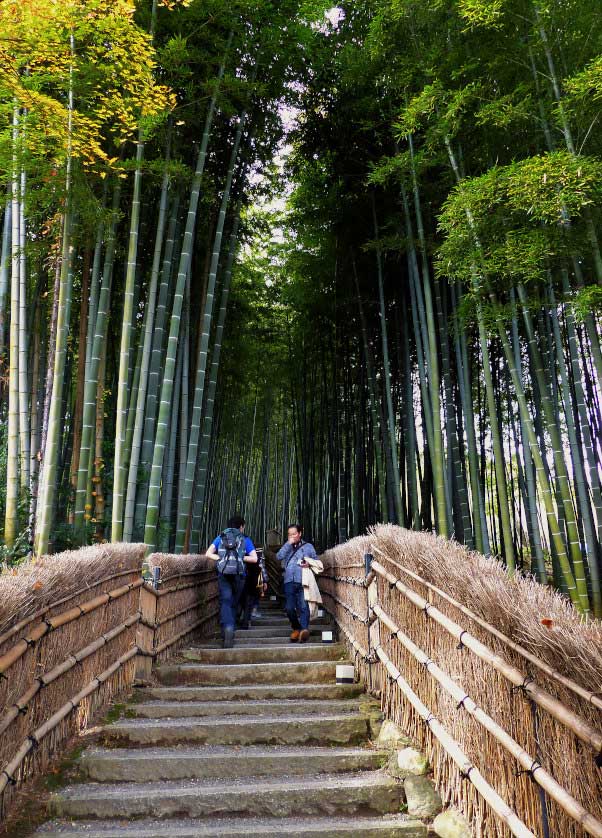 Grove of bamboo at Adashino Nenbutsuji Temple in Arashiyama

Bamboo Forests in Japan
Bamboo groves and forests can be found all over Japan, so there are many opportunities to explore and enjoy them.
Many temples have bamboo groves, Adashino Nenbutsuji Temple in the northwestern part of Arashiyama has one that though not as big as the famous one also has paths running through it and usually with far fewer visitors.
Many of the major temples in Kyoto have bamboo groves, and some like Kodaiji have them illuminated at various times of the year.
Nagaoka, the former capital south of Kyoto, has large areas of bamboo forest where it is grown to be harvested for food, Nagaoka being one of the major suppliers of bamboo shoots to market.
Also, Yahata and Iwashimizu Hachimangu Shrine, a little further south has bamboo that was made famous by Thomas Edison who used it to make the world's first commercially viable electric light bulbs.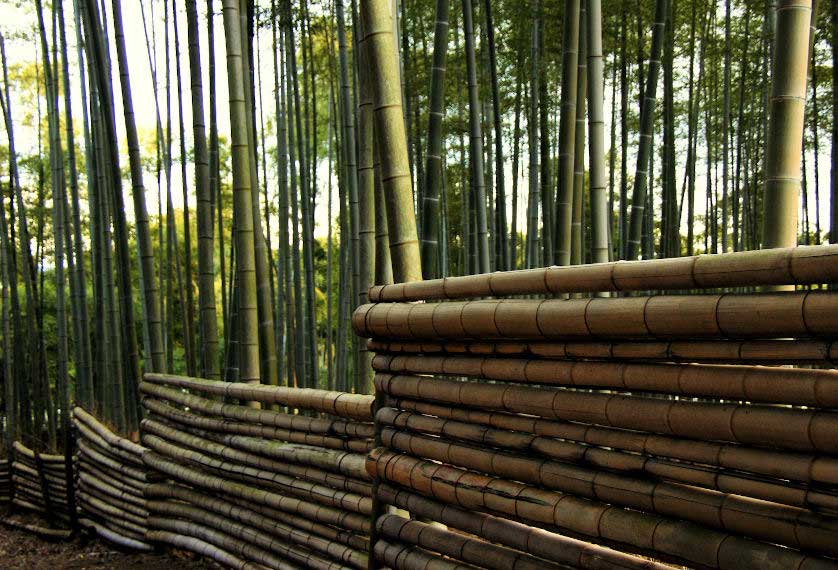 A large forest of bamboo can be found in Nagaoka where harvesting bamboo shoots for food is a major activity
Bamboo Forest & Arashiyama Access
Sagatenryuji Tateishicho, Ukyo-ku, Kyoto, 616-8375
To get to Arashiyama take the JR San-in Line from Kyoto Station or Nijo Station to JR Saga-Arashiyama Station, the journey takes 12 minutes.
Alternatively take the Keifuku Arashiyama (Randen) Line from Shijo Omiya Station to Keifuku-Arashiyama Station (which is closer) and walk.
Hankyu Arashiyama Station (convenient if coming from Osaka) is south of the river. Cross Togetsukyo Bridge and turn left.
There are also city buses from Kyoto Station to Arashiyama - take bus #28. Alternatively bus #11 runs from Sanjo Keihan Station to Arashiyama and bus #71 from Daikakuji Temple in north west Kyoto to Arashiyama.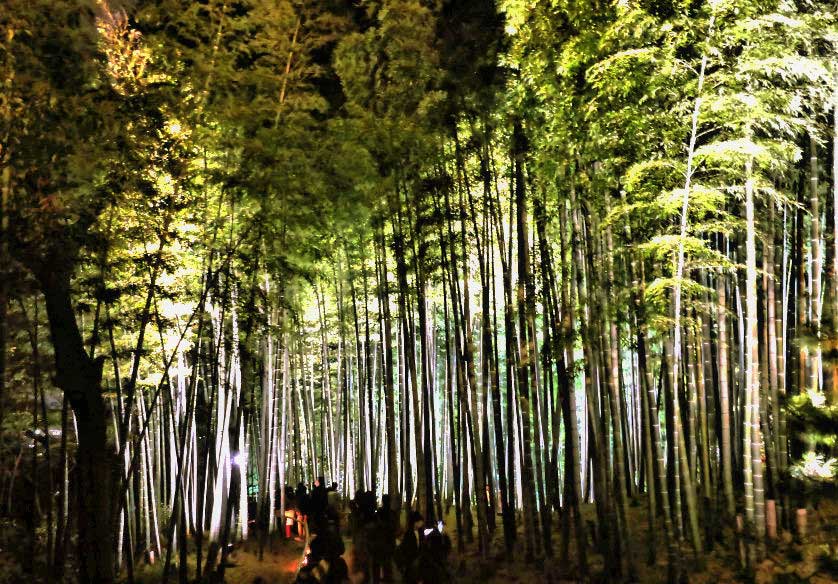 Kodaiji Temple in Kyoto has large gardens with bamboo groves that are illuminated at night

Related Arashiyama Articles
Sagano Train & Hozu River Boat Trip
Saga Arashiyama Museum of Arts & Culture
Arashiyama River Cruise Tours
Book Hotel Accommodation in Kyoto Japan
All the themes of the city