Tajimi Guide
Tajimi 多治見
Tajimi is a small town of around 100,000 people in Gifu Prefecture within easy reach of Nagoya to the south for a half-day or full-day trip.
Tajimi is located in the Mino district, an area famous for its production of ceramics.
To the north east, Tajimi is close to a number of picturesque towns on the Edo Period Nakasendo highway between Kyoto and Edo (Tokyo): Ena, Nakatsugawa, Magome and Tsumago, Kiso-Fukushima and Narai.
To the north and west, Tajimi is on the way to the towns of Mino, Seki and the castle town of Gujo Hachiman on National Highway 156. National Highway 41 leads north from Tajimi to the onsen resort of Gero.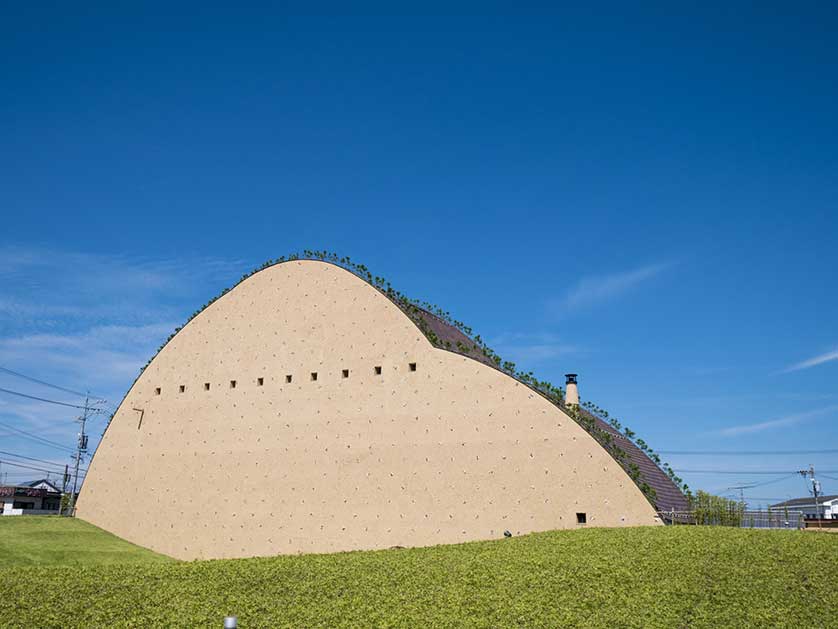 Tajimi Mosaic Tile Museum, Tajimi, Gifu Prefecture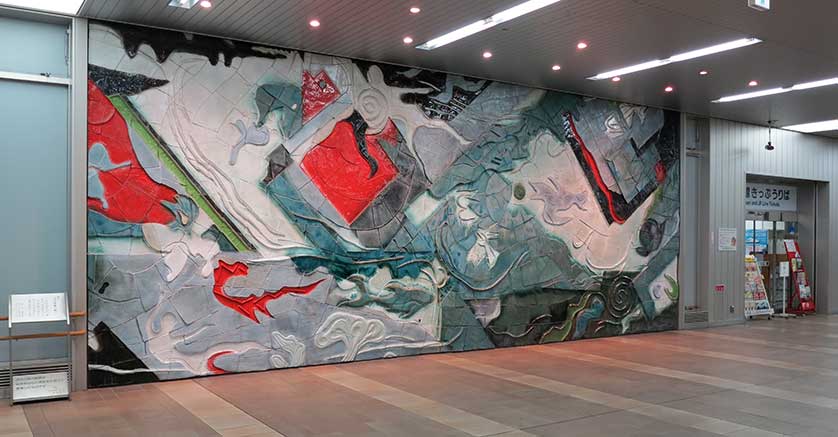 Ceramic art work at Tajimi Station, Tajimi, Gifu Prefecture
Tajimi Attractions
Tajimi has been producing pottery for over 1,300 years and has an abundance of suitable clay in the surrounding hills for the job.
Tajimi's association with pottery is in evidence at the station where visitors are greeted by a huge ceramic tile on the wall behind the ticket wickets. To the right is the Tourist Information Office where an English map of the area is available (100 yen).
Leaving the station by the South exit to your right nearest the Tourist Information Office, it is a short walk across the Tokigawa River to Honmachi Oribe Street, the commercial center of Tajimi's ceramics business since the Meiji Period. This redeveloped area has traditional black and white wooden warehouses, antique shops, ceramic galleries and restaurants.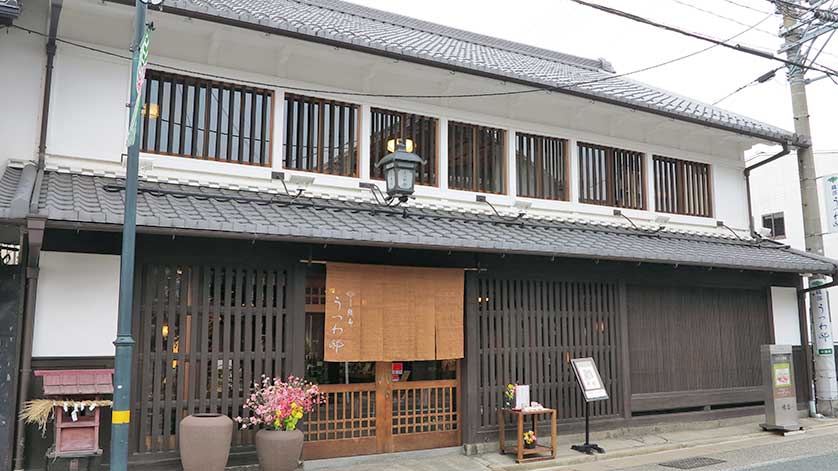 Traditional wooden building, Honmachi Oribe Street, Tajimi, Gifu Prefecture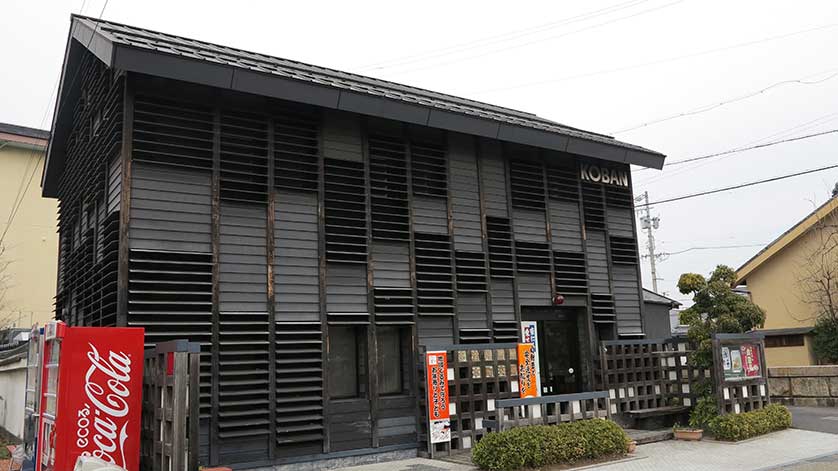 Modern Koban (police box) designed to fit in with the local architecture, Tajimi, Gifu Prefecture
There are two other Oribe streets in the Tajimi area: Ichinokura Oribe Street in the village of Ichinokura, south of Tajimi, and Takata-Onada Oribe Street to the north east.
Ichinokura is the largest production center of sake cups in Japan. The road running through the village contains a number of pottery studios and historic kilns. The Sakazuki Art Museum in Ichinokura introduces the work of local living National Treasures and a collection of sake cups (sakazuki).
Takata-Onada Oribe Street has over 40 pottery studios and is famous for the production of sake flasks (tokkuri). Pottery production dates back to the 12th century here, with sake flasks having their heyday between the 16th-20th centuries. Sake flasks also make excellent flower vases, a new use for them as demand has slackened recently.
Furuta Oribe aka Furuta Shigenari (1544-1615) was a samurai and a disciple of the famous tea-master Sen no Rikyu. Oribe took over the mantle as Japan's most famous tea ceremony master after Rikyu's death, designing his own tea bowls and stone lanterns for his tea ceremonies. Oribe-yaki, a style of Mino pottery is named after him. Oribe, like Rikyu before him, was forced to commit suicide by the ruling regime of his day. Rikyu displeased Toyotomi Hideyoshi, whereas Oribe fell foul of the Tokugawa family.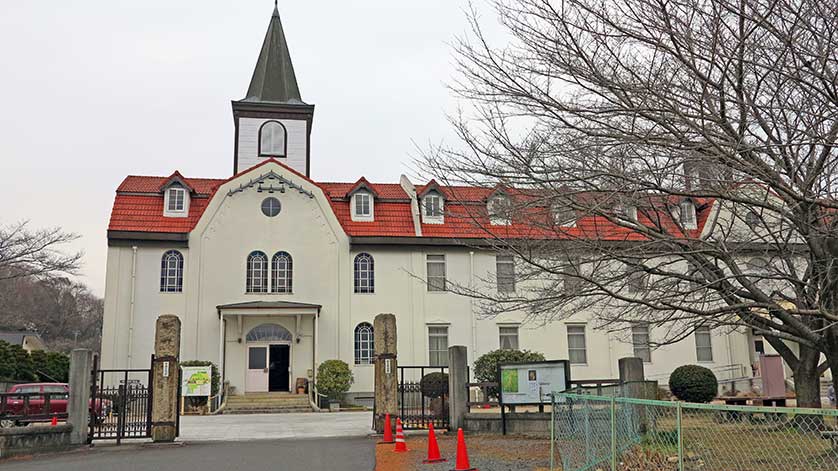 Tajimi Monastery, Tajimi, Gifu Prefecture
Back in Tajimi town, Tajimi Monastery was founded by the German missionary Father Mohr in 1930. An English Mass is said here every 2nd and 4th Sunday of the month. The impressive building has extensive grounds including a vineyard and log-cabins made for Christian study and meditation. The locally-produced wine can be purchased from the monastery shop.
Walking up the hill from Tajimi Monastery is Kokeizan Eihoji Temple, an historic Zen temple with a beautiful garden. Eihoji Temple was founded in 1313 and is still a practicing monastery for young Zen priests.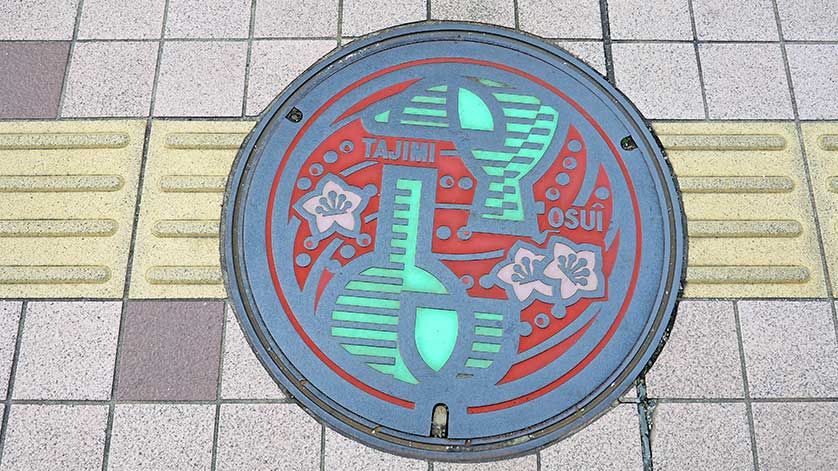 Manhole cover showing Tajimi's signature sake flasks and cups, Gifu Prefecture
Ten minutes by bus from Tajimi Station is Ceramic Park Mino (Tel: 0572 28 3200), which contains the Museum of Modern Ceramic Art (MOMCA) with a large collection of contemporary Japanese and foreign pottery. The International Ceramic Festival Mino is held here every three years.
Further north are the Ceramic Workshop Yutori (Tel: 0572 25 2233) where visitors can try their hands at clay modeling before visiting the Mino Ceramic Art Museum (Tel: 0572 23 1191) - formerly the Gifu Prefectural Ceramic Museum - which has over 50,000 ceramic exhibits on show.
The impressive Tajimi Mosaic Tile Museum (admission 300 yen) opened in 2016. The design by architect Fujimori Terunobu is inspired by a clay quarry from which clay and silica sand are extracted to be used in the production of mosaic tiles. The facade of the building is embedded with tiles and pine trees are planted along its sloping contours.
The museum has over 10,000 exhibits ranging from historic tile products used to line wash basins and bath tubs and the tools used to make them. To reach the Tajimi Mosaic Tile Museum, take a bus from bus stop number #2 from the south exit of Tajimi Station (20 minutes).
Around Tajimi
To the west of Tajimi is Inuyama with the historic and original Inuyama Castle and its Meiji Mura and Little World theme parks. To the east is the Nakasendo and the pleasant towns of Ena and Nakatsugawa. The small village of Mitake, also on the Nakasendo, is of interest.
Accommodation in Tajimi
There are a few ryokan in Tajimi or try the 3-star Hotel Route Inn Tajimi Inter. The hotel's Hanachaya restaurant serves a daily breakfast buffet with Japanese and Western-style food.
Also in Tajimi is the 2-star Tajimi Hills My Room Hotel and right at Tajimi Station, the Hotel Tono, also 2-star. The Hotel Tajimi Hills Riverside is another 2-star option.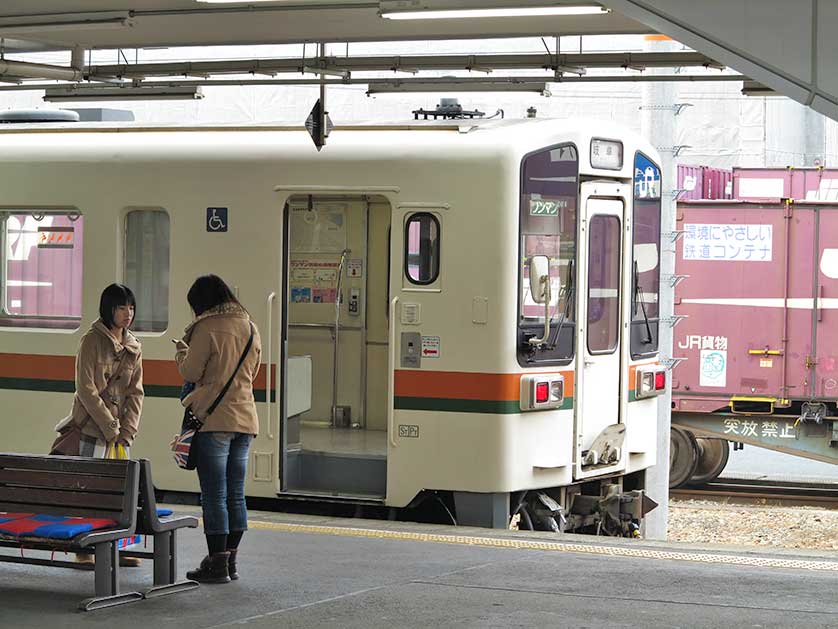 Tajimi Station, Tajimi, Gifu Prefecture
Tajimi Access
Tajimi is only 34 minutes on an JR express train on the Chuo Line from Nagoya Station. Alternatively, if coming by car, exit at Tajimi IC on the Chuo Expressway.
The Taita Line is a small railway line linking Tajimi Station with Mino-Ota via Koizumi, Nemoto, Hime, Shimogiri, Kani (intersect with Meitetsu Line) and Mino Kawai.
There are also express buses to Tajimi from the 4th floor of Meitetsu Bus Center near Nagoya Station.
Getting Around Tajimi
The sites in and around Tajimi are spread out so using the local buses or a car hire are necessary.
Tajimi Map
Book Hotel Accommodation in Gifu Prefecture Japan
Tajimi in Gifu Prefecture, north of Nagoya, is a small town with a long association with ceramics dating back over 1,000 years. There are a number of interesting ceramics museums in and around Tajimi
All the themes of the city