Umeda Sky Building
梅田スカイビル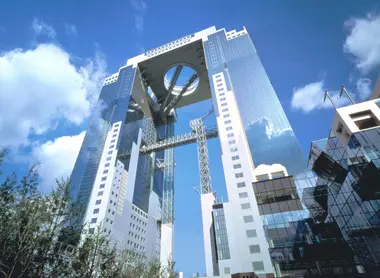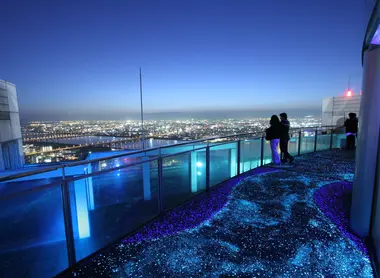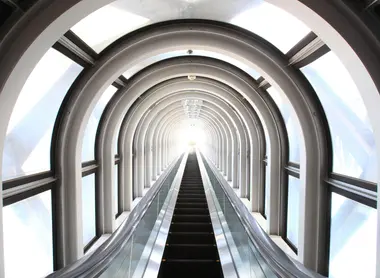 The sky's the limit
A worthy little sister to the mighty Tokyo, Osaka is primarily an economic center at the forefront of technological development. The architecture here is embodied in the Umeda Sky Building, one of the largest skyscrapers in the city.
Two towers connected at the top by a platform, over 150 meters above the heart of Osaka. The imposing silhouette of the Umeda Sky Building offers a breath of fresh air, offering the chance to rest from the bustle of the city. The light that is reflected on the glass walls of the towers renders the design of this building all the more striking and dynamic. Mainly taken up by by offices, the points of interest of these two towers are at the bottom, and at the very top. In the basement, early twentieth-century decor reproduces the atmosphere of Osaka at the beginning of the Showa era (1926-1989), with its many shops and small restaurants, with a cozy feel. Enough to whet your appetite with authentic Osaka cuisine and please the eye with the picturesque setting.
Reach for the sky
Then, head for the elevators and head some thirty-five floors up. The ascent ends with an aerial escalator suspended in mid-air between the two towers. Beware of vertigo... For 700 yen you can access the famous "floating garden". A 360-degree view of the urban landscape and a walk in the open-air. At dusk, the ground of the garden light up with phosphorescent stones that give the impression of walking in the sky. A restaurant and bar also offer refreshments and vertiginous dinners.
The ideal time to visit is of course at dusk, to enjoy the sunset and the appearance of the night lights that radiate from Osaka's vibrant nightlife.
---
Address, timetable & access
All the themes of the city