Minoo Park
Minoo Park 箕面公園
980 different types of plants along a stunning hiking trail
15 km from central Osaka
1 hour on the train, so a great day trip
Minoo is the hometown of famous donut shop chain Mister Donut
Also romanised as "Minō" or "Minoh"
Matthew Baxter
Minoo Park is one of Japan's oldest parks, and a great side trip from central Osaka. Often compared to Mount Takao or Mount Mitake in the Chichibu-Tama-Kai National Park near Tokyo, Minoo Park is a relaxing place to get away from all the concrete and skyscrapers of the downtown.
Osaka itself is not well known for it's nature, so some tourists miss out on this hotspot and head to Kyoto or the Japan Alps. Minoo Park is therefore usually very quiet, but a surprisingly pretty place to visit.
Minoo Park is worth visiting any time of the year. The well maintained paths make it possible to walk up in the winter, and in the summer beautiful green trees surround walkers. The best time to come is in the autumn (late November), when visitors can see a huge display of red and golden maple leaves.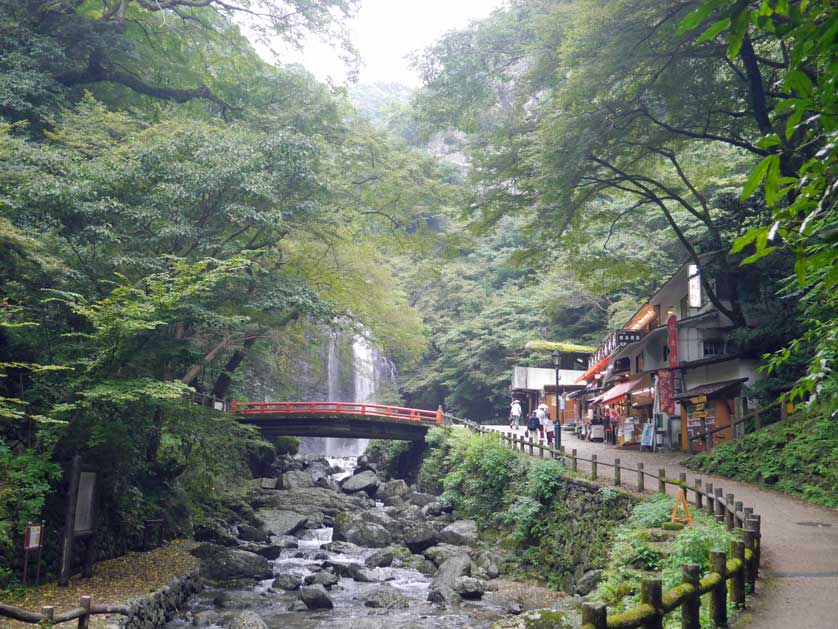 Making your way up to the top, Minoo Park, Osaka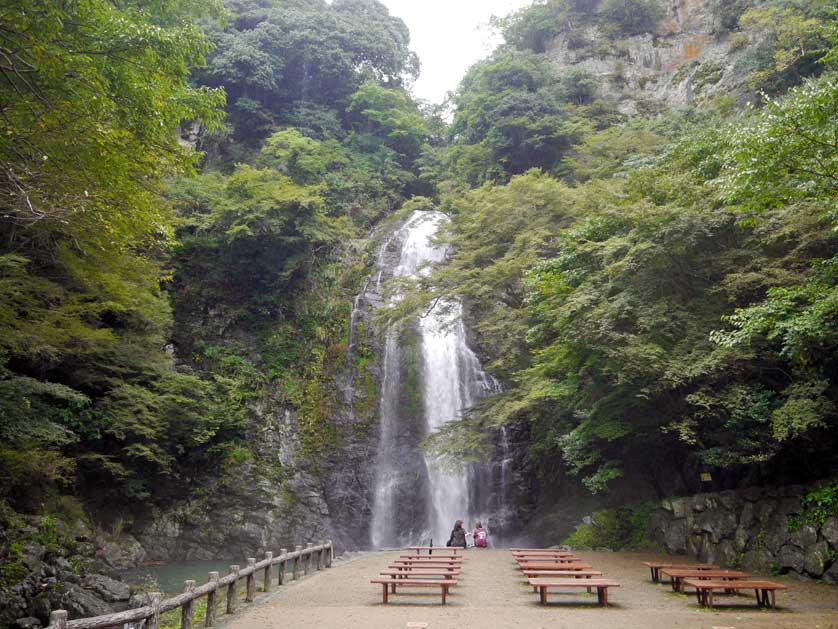 Minoo Waterfall, Minoo Park, Osaka
Minoo Park Attractions
The main attraction of Minoo Park is undoubtedly Minoo Waterfall. At 33 metres high and 5 metres wide, with lush surroundings and cool waters, you can see why it has been used as a meditation site as far back as the Asuka Era (592-710).
From the station to the waterfall takes between 45 minutes and 1 hour, at approximately 3km. The path is mostly layered with stone or along narrow roads and only goes uphill half the time, so it's a reasonably easy hike. Lucky hikers will even get to see monkeys or deer on the way!
As you walk up you will come across the stunning Ryuanji Temple, established in 658. It is known as a spiritual birthplace of what we now call the lottery, so supplicants can come and pray for luck on their next play. Visitors can enter some of the buildings for free.
There are lots of trails that head off from the main one going to the waterfall. English maps at the entrance clearly show these routes, so they are quite possible if you have the time. The other trails lead into the hills around and beyond the waterfall, as well as to more secluded views of the forest and therefore a better chance to see some wildlife.
One highlight is Katsuoji Temple, a 1,200 year old Buddhist complex, known for its showing off its Daruma dolls. It is to the north-east of the entrance to Minoo Park.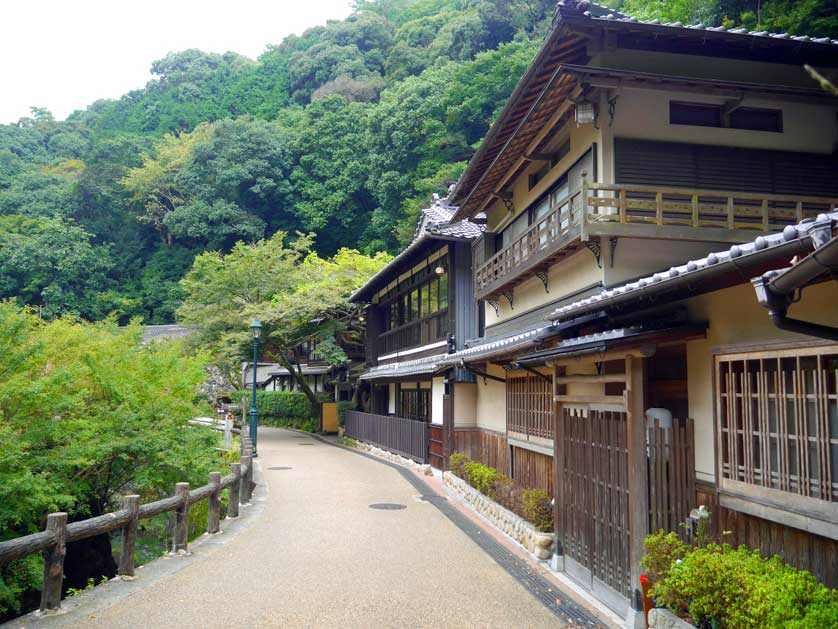 Traditional mountain houses, Minoo Park, Osaka, Japan
Slowly deep frying maple leaves, Minoo Park, Osaka
Apart from the waterfall, take some time to get photos of the numerous traditional Japanese homes that line the roads at the beginning of the walk. While it is not possible to enter most of them, a few have been converted to restaurants serving classic Japanese food like soba, udon and fried rice. These kinds of buildings are hard to find in central Osaka, and feature on many a postcard here.
Minoo Park Insect Pavilion, 15 minutes up from the start, is worth a visit if you have some time left after hiking up. The small, but lovingly displayed museum shows off over 6,000 types of creepy crawlies from the Osaka forests and elsewhere in Japan. Recommended for keeping the kids happy. Open from 10am to 5pm, and only 270 yen per person.
After a hike, heading to the foot bath is a must. Located along the route, 5 minutes from the entrance, this free facility will definitely soothe your feet after all that exercise. There is also a fully fledged hot spring next door. Minoo Kanko Hotel has a large outdoor bath with views over the city, a sauna, plus a good selection of inside baths at different temperatures. Entrance free is 1000 yen.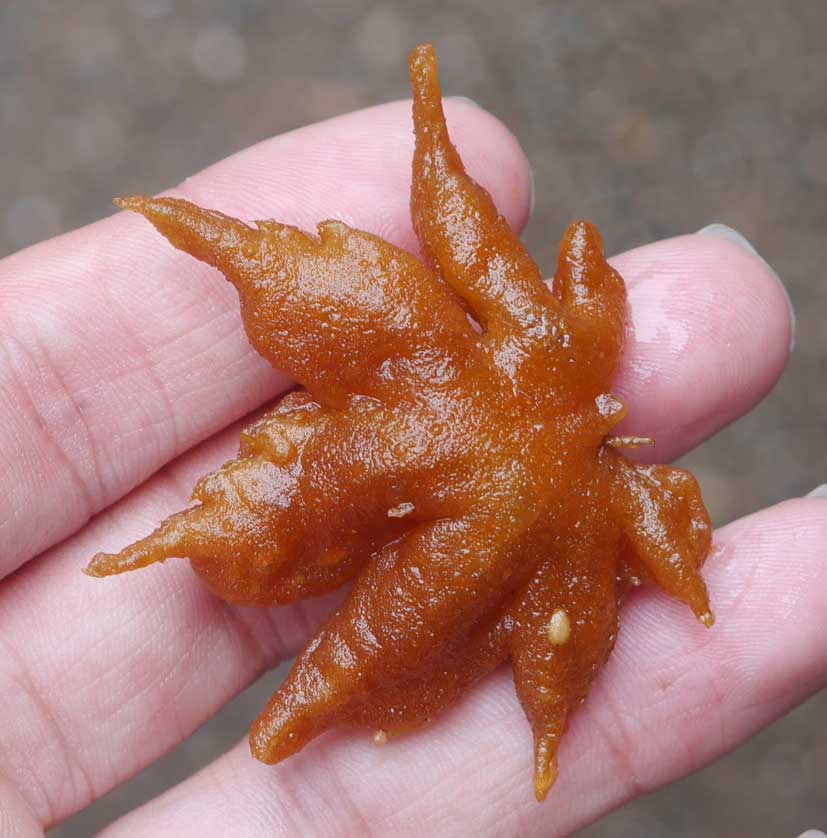 Deep-fried maple leaf, Minoo Park, Osaka
Minoo Park Souvenirs
The local speciality at Minoo Park is deep fried maple leaves. These super sweet and very crunchy snacks can be bought freshly made from the old ladies in their little shops, or in large packs as souvenirs. There are also plenty of novel souvenir shops as you walk up, some of which have plastic bugs and other fun toys, inspired by the nearby Minoo Park Insect Pavilion.
Hankyu Tourist Center
Inside Hankyu Umeda Station.
1-2-1 Shibata, Kita-ku, Osaka City, Osaka
Hours: 8am-5pm (closed for New Year's holidays)
Minoo Park Accommodation
The quintessential Minoo stay can be found at Minoo Kanko Hotel, part of the same chain as Oedo Onsen in Odaiba, Tokyo. This large hotel has its own hot spring, with views over Osaka.
For other accommodation options nearby, consider hotels near Osaka Airport. Senri Hankyu Hotel is a modern hotel, with luxuries like a swimming pool and traditional Japanese restaurant. More reasonably priced rooms can be found at Hotel A.P.
Access - how to get to Minoo Park
The easiest way to access Minoo Park is to use Hankyu Railway from downtown Osaka. Take the Hankyu Takarazuka Line from Umeda Station to Ishibashi station. From here take the Hankyu Minoh Line to the end of the line at Minoh Station (25 minutes, 270 yen). From outside the station, the 10 minute walk to the start of the trails is clearly signposted.
Another option if you are on the Osaka subway is to go to Senri-Chuo station on the Midosuji Line. From here catch bus number 19 or 20 to Minoo Station (about 20 minutes, 210 yen).
Minoo Park is one of Japan's oldest parks, and a great side trip from central Osaka. Minoo Park is a relaxing place to get away from all the concrete and skyscrapers of the downtown.
All the themes of the city