Osaka Shopping Guide
Osaka Shopping
Alan Wiren
Commercial trade has been fundamental to the city of Osaka from her inception. Her first castle was surrounded with centers of Buddhism and quarters for the warrior class. That alone made her a magnet for commercial traders, but unlike in other Japanese cities of the seventeenth century, trade guilds were banished, making possible free commerce, and improvements to the river, Yodogawa, enhanced Osaka as a port city.
From then to the present day it has never been a mistake to approach Osaka as one enormous marketplace. Her shopping venues are so extensive and numerous I can only give here some of the highlights of what you will find on the streets, underground, and in the air.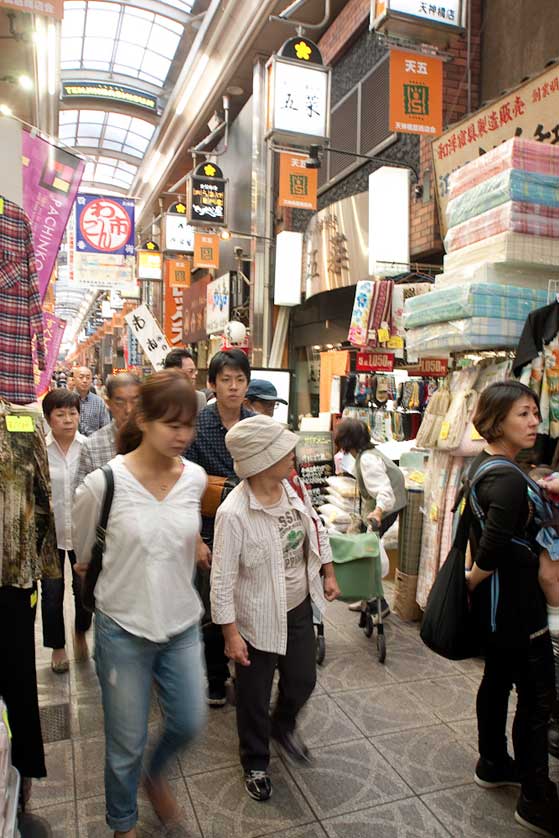 Shopping in a shotengai arcade, Osaka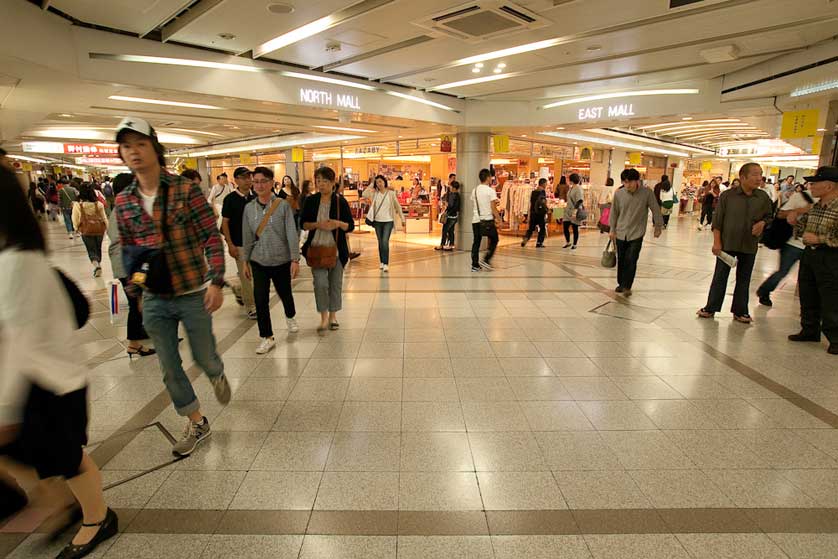 Underground shopping mall in Umeda, Osaka
Underground Shopping Malls
Osaka is famous for labyrinthine, underground malls packed with fashion and accessories to suit anyone's taste, along with foreign foods, sporting goods, and even such mundane vendors as drug stores and cobblers.
The anchors of these networks are often train stations or department stores. The basements of department stores are typically given over to gourmet foods and you can find in them some of the finest treats the world has to offer: chocolates, black and green teas, confections, liquor, and liqueurs. There are also raw and cooked meats, vegetables and fruits of the highest freshness and quality.
Below Hankyu railway's Umeda Station the mall is called San Ban Gai. Whity connects JR Osaka Station with the Umeda subway station, Hankyu and Hanshin department stores, and the Hanshin Railway.
Namba Walk connects Nankai Namba Station with Nipponbashi, Daikokucho, and Namba subway stations, Takashimaya and Marui Department Store, and Kintetsu Namba and JR Namba railway stations.
One other notable underground location for longer term visitors is in the Purara Building, one block east of JR Temma Station. The basement hosts a branch of Promart where you will find a wide selection of bargain priced foreign foods, frozen goods, household items, meats, and cheeses. Surrounding it, and on the floor above, are a plethora of farmers' market stalls. You must keep an eye on the quality there, but the prices are generally rock bottom.
Osaka's shopping venues that are literally underground result from modern architecture, while some on the surface trace their roots back to the black markets that emerged after World War Two - now, of course, legal and safe - others to the days when temples were centers of daily activity.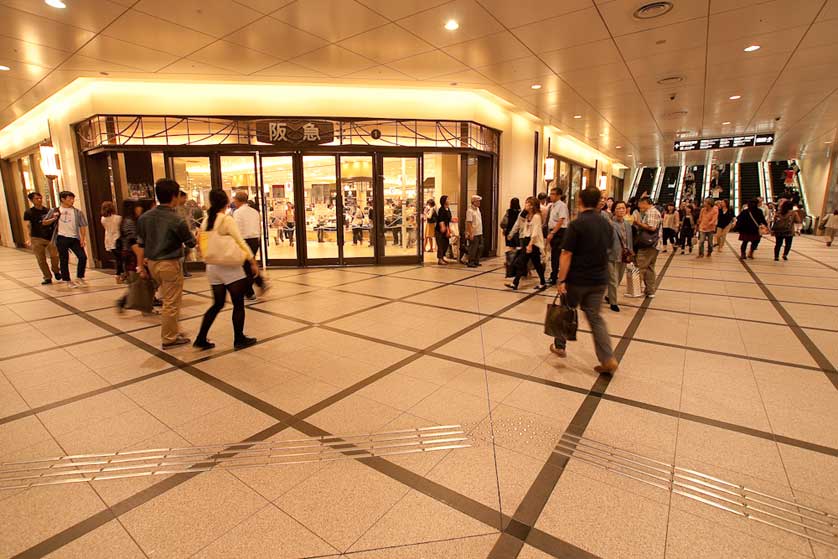 Hankyu underground shopping mall in Osaka
Nipponbashi Shopping
The Nipponbashi district is well known for Den-Den town, dominated by electronic goods stores, although in recent years an element of cosplay supplies and maid cafes has made substantial inroads. Just parallel to Nipponbashi's main drag, Sakai Suji, is Kuromon Ichiba, the Black Gate Market, so named because it sprang up in front of a traditional, black gate to the temple, Emmeiji.
Neither the temple nor the gate remain today, but the market has become a shotengai, a street prohibiting vehicles so that shoppers on foot may browse the markets, and it is one of the best places in Osaka to find bargains on food. Once predominantly a fish market it now hosts meat and vegetable shops and even a couple of supermarkets.
Just a few blocks to the west is a shopping street that no chef will want to miss. Doguyasuji, is a short stretch devoted entirely to the kitchen and dining room. The shops cater to restaurant professionals, but are open to the home cook as well. You will find anything food related you might imagine from takoyaki grills to bamboo steamers to hand forged knives to lacquered tableware and all at discount prices.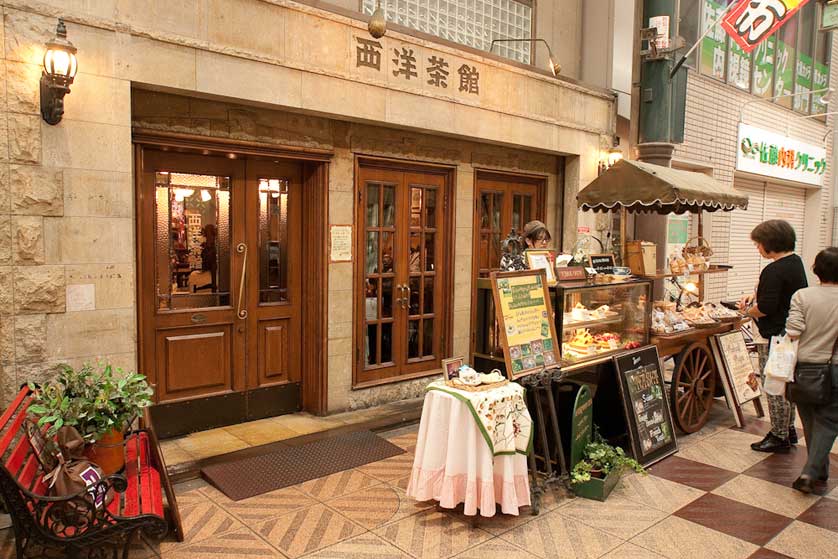 Seiyosakan near Tenma Station, Osaka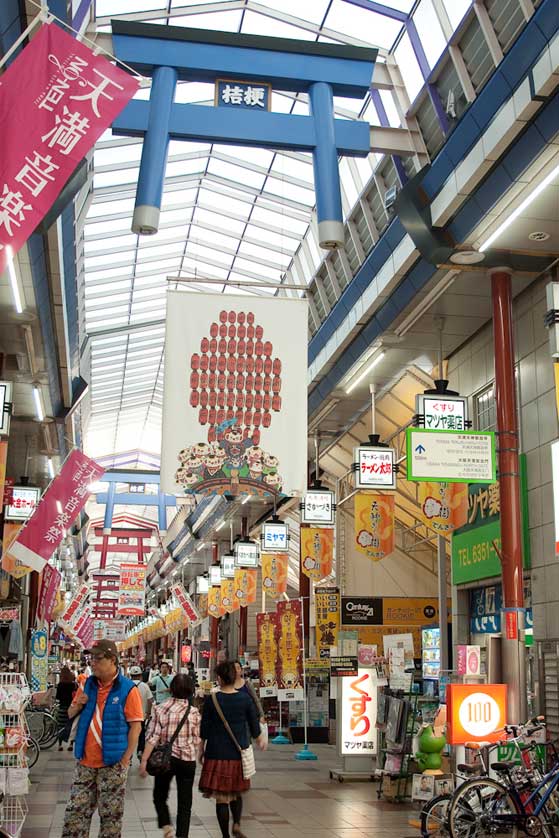 Shopping arcade in Tenma (Temma), Osaka
Shinsaibashi Shopping
To the northwest of Nipponbashi is the Shinsaibashi district which also hosts some historical shopping venues. The eponymous shopping street, Shinsaibashi Suji, stretches out to the north and south of the multi-lane thoroughfare, Nagahoridori, which runs along what used to be a canal arched over by several bridges (hashi in Japanese) among the most famous being the one built by a merchant of the name Shinsai.
Daimaru department store has a dominant presence here and the street is packed with just as wide a variety of shops and restaurants in the sunlight as in the glitter of artificial lights of the basements and tunnels. Here you can buy anything from Mikimoto pearls to Uniqlo's discount fashions, as well as many traditional Japanese hand crafted goods.
Just above Crysta Nagahori, another underground mall running under Nagahoridori, is a main branch of Tokyu Hands, a multi-floored store with a do-it-yourself theme, a good place to find tools and raw materials for your own crafts or other projects. Just to the east is a main branch of Cava de Yamaya, a discount foreign food outlet with an extensive collection of alcoholic beverages and hard to find kitchen supplies.
A few streets to the west of Shinsaibashi the Amerikamura (American Village) district is watched over by a replica of the Statue of Liberty and a few more fanciful American images. Here the shops supply the Japanese idea of American culture. They include army surplus stores, rather dated interior design accessories, and fashion stores that sell faded and patched blue jeans.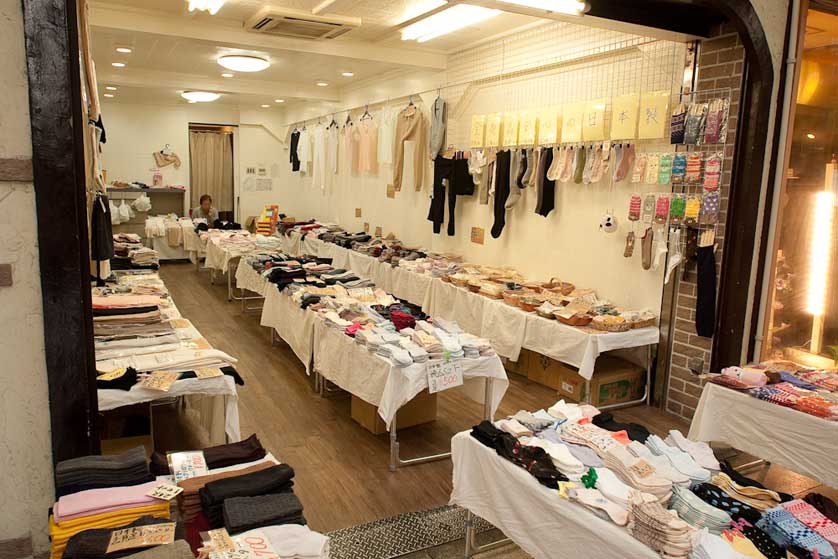 Shopping in Osaka
Osaka Station Shopping
For decades it has been possible to take the elevators up from the basement or ground floors of Osaka's department stores to where the designer's reputations and the prices, as well as yourself, will be sky high.
Osaka Station, itself, in Umeda, has been expanded into a complex called Osaka Station City, which has much the same atmosphere as the department stores. Just to the North, in the Chayamachi area, two giant booksellers, Kinokuniya and Junkudo are combined in a building that reaches for the clouds and includes an offering of foreign language books ranging from bestselling fiction to classics to the sciences.
It is surrounded by a variety of small shops and malls that beg to be explored. A little further along the JR line tracks that run out to the north you can find the longest shotengai in Japan. While it remains down to earth, literally and in terms of prices, goods, and its entrepreneurs, it remains a popular destination for locals and tourists.
Umeda Shopping
As well as the more recent Osaka Station City, Umeda has a number of established department stores. These include Daimaru, Hankyu, Hanshin and Mitsukoshi-Isetan stores along with Herbis Osaka, Herbis ENT, Hilton Plaza East and Hilton Plaza West.
The towering Hankyu Department store is Japan's largest department store by floor space and a local landmark. The two basement floors are dedicated to food and drink including a large supermarket and deli. Floors 1-11 sell men's and women's fashion, cosmetics, sports goods, gifts and handicrafts. The 9th floor is an event hall, art space and gallery. Floors 12 and 13 are the restaurant floors with Japanese, Chinese, Korean options on offer along with specialist eel, okonomiyaki, sushi, tempura, and tonkatsu eateries to choose from. There are terrific views from the Sky Lobby on the 15th floor.
To the north of Osaka Station City and connected to it are the four towers of Grand Front Osaka (グランフラント大阪). Opened in 2013, Grand Front Osaka is part of the larger Umekita development of the railyards north of the station expected to be completed around 2025. The buildings comprise office and residential space, shops, restaurants and the 5-star Intercontinental Hotel. Grand Front Osaka consists of the South Building with its Panasonic Center and North Building including the Knowledge Capital, a design and innovation facility. The other two buildings are a 48 story residential tower and an event hall.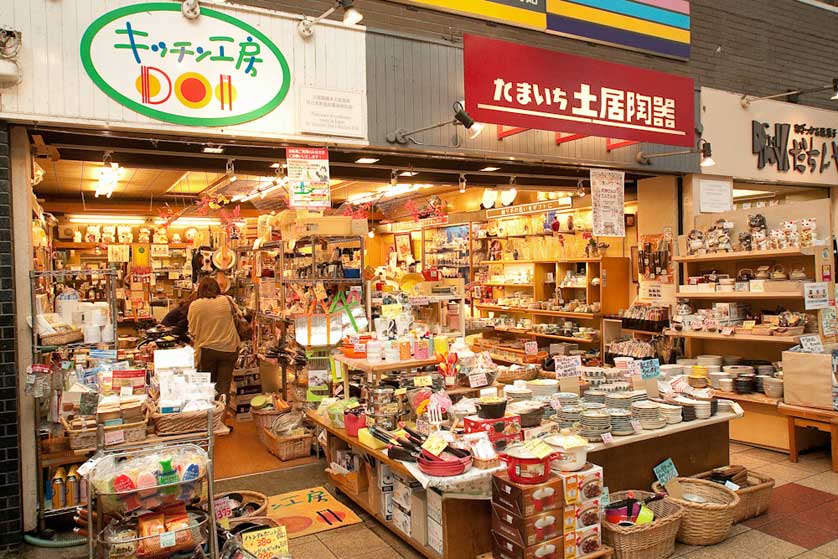 Typical store in a shotengai shopping arcade in Osaka
Namba Parks
Next to Nankai Namba Station, Namba Parks reaches for the sun. The exterior is an eight leveled series of gardens. The interior is packed with shopping opportunities: funky novelty shops, natural food outlets, interior design, and on, and on.
The area around Tennoji Station has seen redevelopment in the creation of Que's Town a sprawling area centered on Que's Mall with everything from bargain clothing to hardware and electronics to supermarkets to foreign foods stores and more.
The jewel in Tennoji's crown, however, is the Harukas Building, All 300 meters of it: Japan's tallest building. Kintetsu Department Store ascends from the gourmet supplies in the basements, through the fashion, sport, and interior goods, up to the dining locations on the 14th floor. You hardly need to go anywhere else as long as you can afford the price of elegance and convenience in Japan.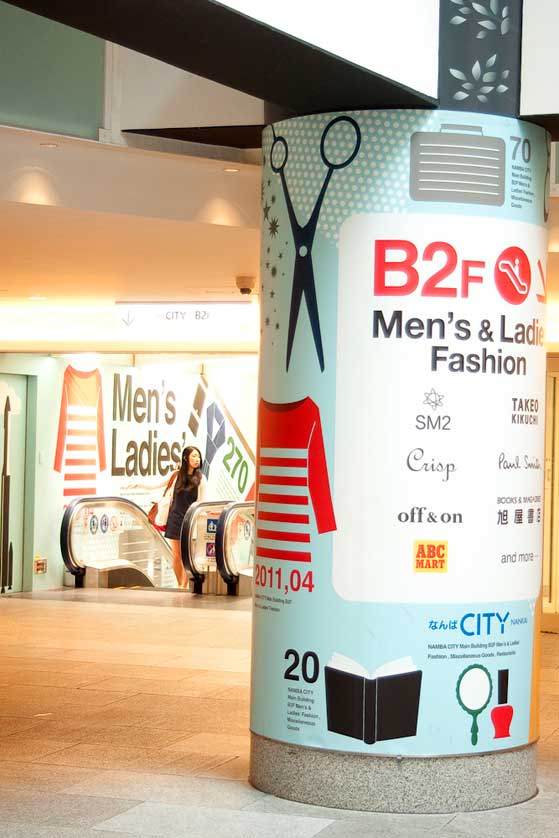 Namba City shopping
Access - how to get to Osaka
The journey from Tokyo to Shin-Osaka Station, which is north of the city center, by Tokaido Shinkansen Nozomi super-express takes 2 hours thirty minutes or by Hikari Shinkansen 2 hours fifty-five minutes stopping at Kyoto, Nagoya and Hamamatsu.
Heading south and west from Shin-Osaka Station there are Shinkansen bullet train connections to Kobe, Hiroshima, Fukuoka and Okayama and on to Yamaguchi and Fukuoka (Hakata Station) for onward rail connections south in Kyushu on the Kyushu Shinkansen.
Osaka has other rail connections to Kyoto (JR and Hanyku Lines from Umeda and Keihan Line from Yodoyabashi), Kobe (JR and Hankyu Lines from Umeda), Nagoya (Kintetsu from Namba & Tsuruhashi) and Nara (Kintetsu from Namba & Tsuruhashi).
The JR Osaka Loop Line (kanjo-sen) is one of Osaka's main rail arteries and connects with many subway and suburban lines, as well as being close to many of Osaka's main tourist sights.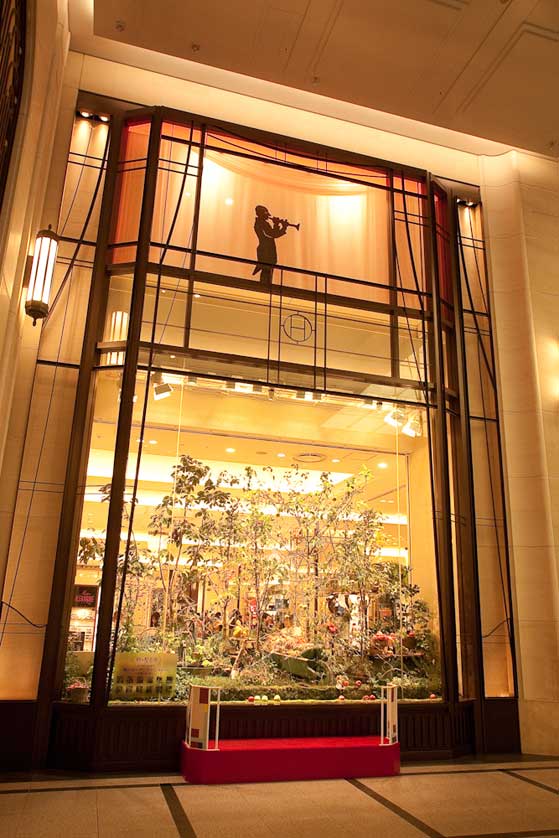 Hankyu Department Store display window, Umeda, Osaka
Book Hotel Accommodation in Osaka
Osaka Shopping: read a guide to shopping in Osaka including department stores, underground malls, Amemura, Namba Parks, Harukas and stores for foreign goods.
All the themes of the city