Hida-Furukawa Travel Guide
Hida-Furukawa, Gifu Prefecture 飛騨古川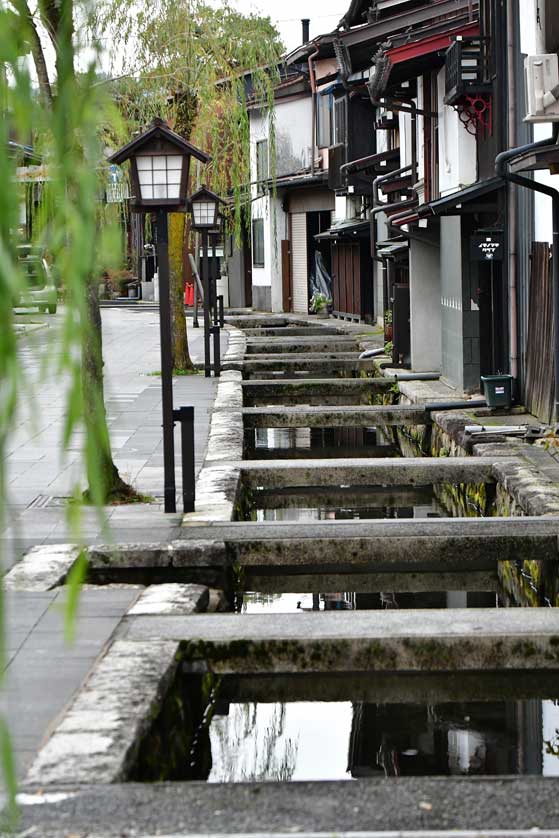 Hida-Furukawa is a pleasant riverside town full of historic, wooden buildings, like the larger Takayama just 15 minutes south by train. Set in the mountains of northern Gifu prefecture Hida-Furukawa, too, became prosperous in the Edo Period due to the rich timber resources of the surrounding mountains which include cedar, cypress bamboo and pine.
The historic, canal-lined streets, temples and museums of Hida-Furukawa are less crowded than Takayama and the town has a wonderfully calm atmosphere, thanks partly to the small canals full of carp that flow through the streets.
Hida-Furukawa is well known for its Naked Festival (Hadaka Matsuri) that takes place every April. But at any time of the year, this small town of about 18,000 people is worth the short ride from Takayama to stroll, or cycle, its picturesque streets full of traditional architecture.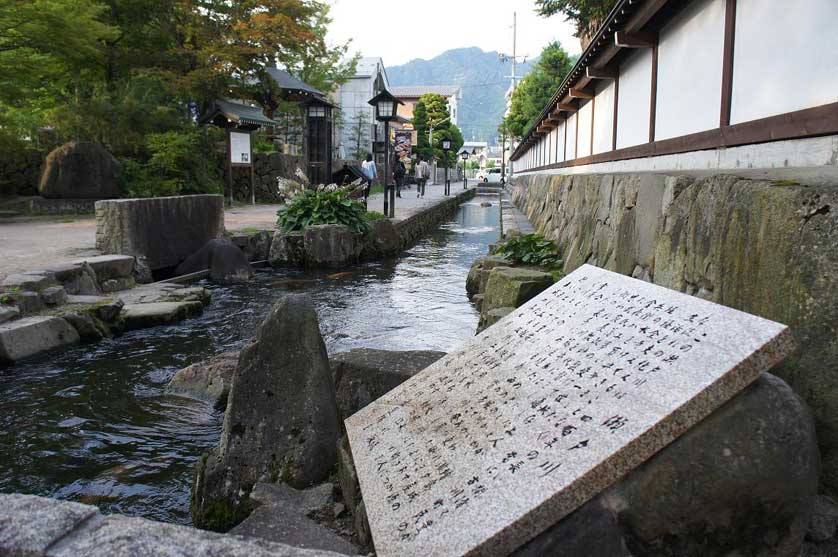 Hida-Furukawa's historic waterways, Gifu Prefecture
Hotels in and near Hida-Furukawa
Iori Stay Hida is a recently, and exquisitely, renovated old townhouse that exudes Japaneseness in its dark wood interior and tatami flooring, and featuring a now rare, genuine irori indoor hearth with a kettle hanging over it for about as Japanese a feel as you'll get. Reasonably priced for two or more, especially considering its spaciousness, and very close to Hida-Fukukawa station.
Busuitei is an elegant, atmospheric guesthouse that sums up the traditional Hida-Fukukawa experience. Spacious, comfortable, and very Japanese in in looks, feel and the hospitality offered. Busuitei is not budget, but is worth every yen for the comfort, delicious food served, and wonderful memories.
Guest House & Cafe Soy is a beautifully updated old Japanese farmhouse-cum-guesthouse that incorporates the old architecture into a spacious, relaxed accommodation space. Located near Hozue Station, just two stops south of Hida-Fukukawa on the Takayama Main Line. Won't break the bank.
The Takayama Green Hotel is a good, solid mid-range hotel that is actually in Takayama, three stations south of Hida-Furukawa on the Takayama Main Line. Takayama Green Hotel comprises two wings, has both indoor and outdoor natural spas for guests' relaxation, Western-style and Japanese-style rooms, and on-site restaurants serving Japanese as well as Chinese and French cuisine. Beautiful Japanese garden on the grounds.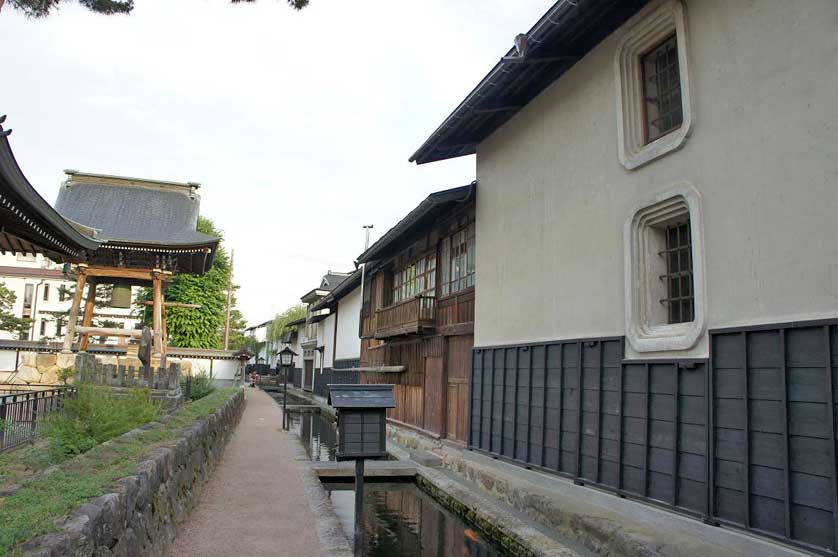 Carp channel behind a sake brewery, Hida-Furukawa, Gifu Prefecture
Hida Festivals
Furukawa Matsuri takes place over two days in April on the 19th and 20th of the month and is a popular festival in the area occurring just after the Sanno Matsuri in Takayama. In a midnight rite known as Okoshi Daiko, young men in loincloths parade a giant drum through the streets and then compete to place small drums on a stage. Floats similar to those used in Takayama's festivals are paraded through the streets. On October 16, Kitsune-bi Matsuri (Fox Fire Festival) local inhabitants dress as foxes and stage a wedding and a bonfire at Okura Inari Shrine to pray for good harvests, prosperity and general good fortune.
Listen to the sounds of Furukawa Festival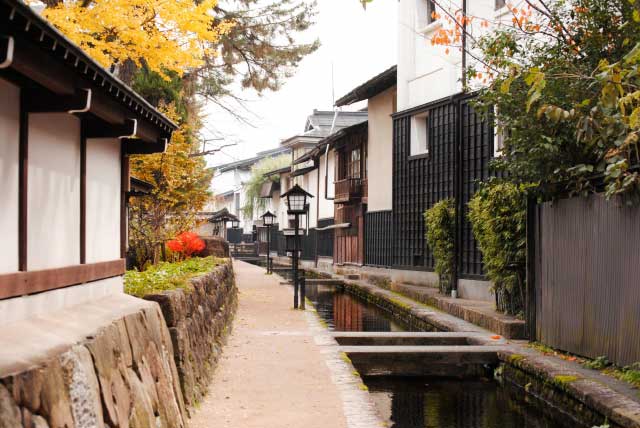 Hida-Furukawa, Gifu Prefecture
The Furukawa Matsuri Kaikan (Okoshidaiko no Sato) (Tel: 0577 73 3511) a short walk from the station, has two of the nine festival floats (yatai) used in the festival on display. The museum also features a 3-D video installation of the procession, a performance of the karakuri puppets used on the floats and has demonstrations of the local crafts that go in to preparing the festival events.
Across the square in the Hidanotakumibunkakan (Hida Craftsman Culture Hall) (Tel: 0577 73 3321) there are displays of local carpentry skills and various hands-on exhibits.
The taiko drums used in the festival are on display in a wooden hall in the square.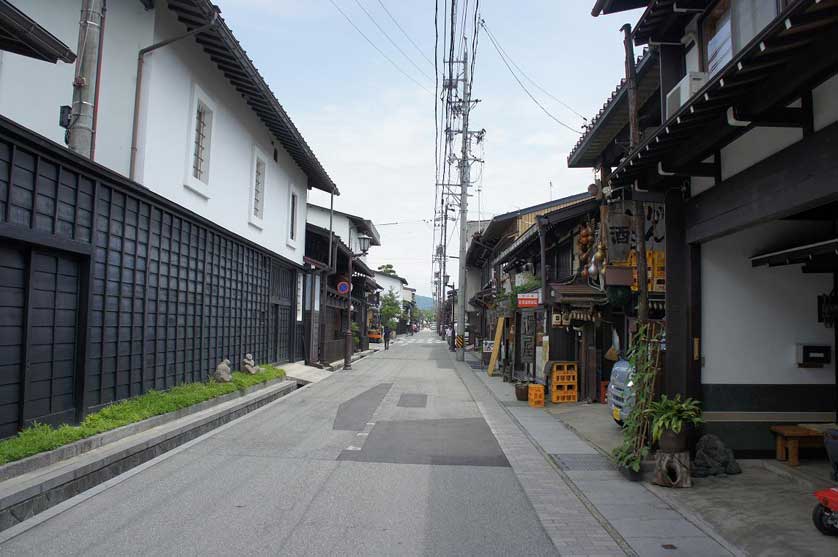 Street scene, Hida-Furukawa, Gifu Prefecture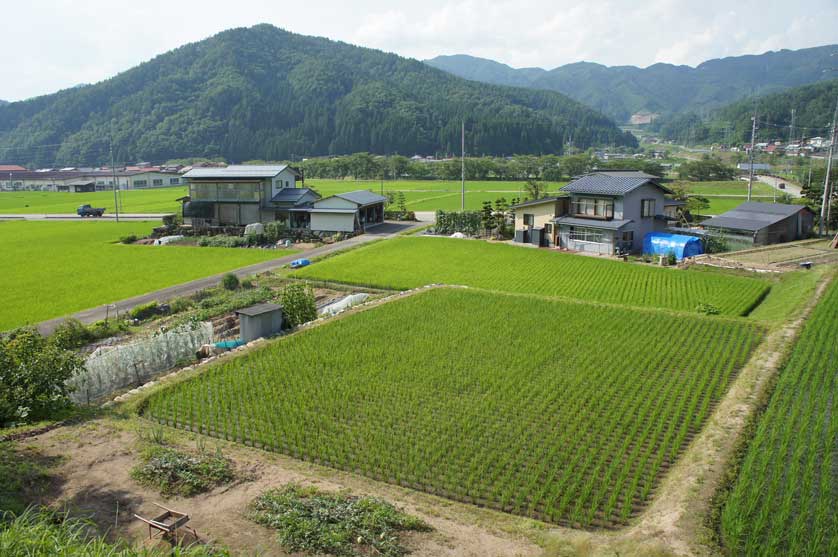 Beautiful "Satoyama" countryside in Hida
Hida Attractions
A short walk from the two museums is the Setakawa to Shirakabe-dozo district of white-painted storehouses and traditional wooden houses all set alongside a carp-filled canal.
The intricately carved Honkoji Temple is on your right as you walk westwards along the street and well worth a look to admire the local woodwork.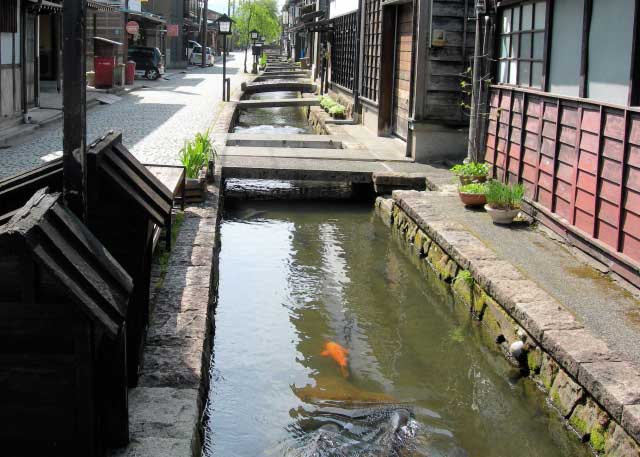 Hida-Furukawa, Gifu Prefecture
Turn back the way you have come on the next parallel street to see a series of sake breweries (recognizable by their cedar balls - sugidama - hanging from the eaves) and a 200-year-old candle shop Mishima-ya (Tel: 0577 73 4109) on your left and a paper lantern store as you arrive back at Matsuri Square.
The Glass Museum (Tel: 0577 73 6550) has exhibits of Meiji and Taisho-era glasswork.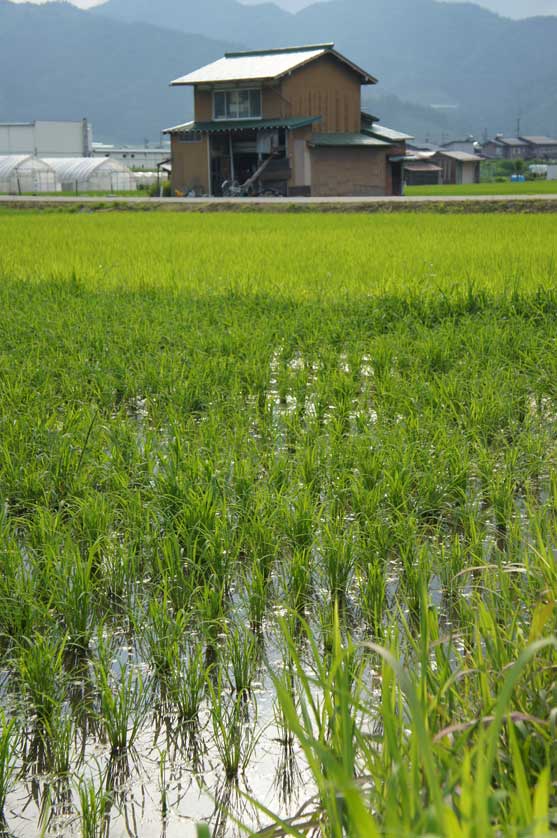 Glinting paddy field seen on a Hida Satoyama Cycling Tour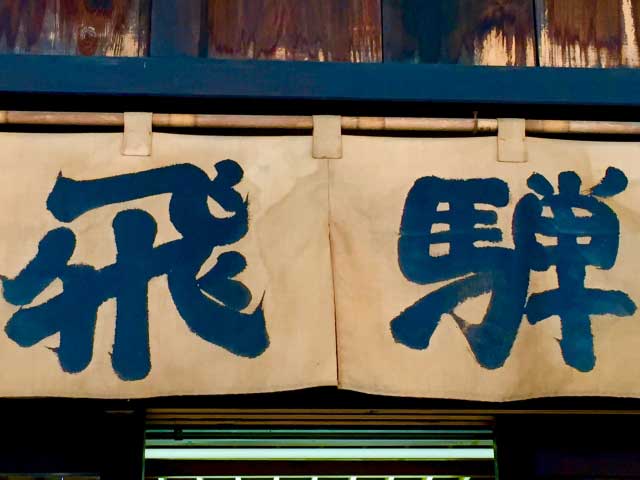 The characters on the noren read "Hida", Hida-Furukawa, Gifu Prefecture
Furukawa Tourist Information
Furukawa Tourist Information Office (Tel: 0577 73 3180) is just outside the bus station on your right as you exit JR Furukawa Station and has good information available in Japanese and English.
Access - getting to Hida-Furukawa
Air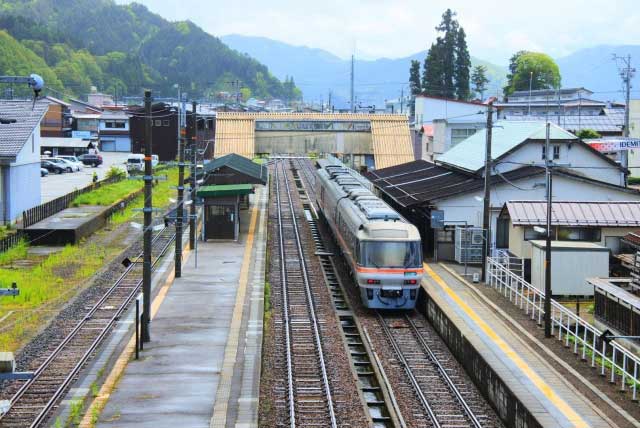 Chubu International Airport is the nearest large international airport to Furukawa. There are direct connecting trains on the Meitetsu Centrair service to Nagoya and Gifu.
Rail
Hida-Furukawa is 125 km north from Nagoya. By Tokaido Shinkansen, Nagoya is 52 minutes from Osaka and 1 hour 40 minutes from Tokyo.
From Nagoya Station, Hida-Furukawa is 2 hours, 24 minutes by JR Takayama Line on the Hida Express. From Toyama there are also trains taking about 75 minutes. There are also direct trains to Osaka from Takayama (4 hours, 11 minutes), though it is quicker, though more expensive, to take the Shinkansen to Nagoya and change. Hida-Furukawa train station is also the main bus station.
Bus
There are long distance bus services from outside Takayama Station to Tokyo (Shinjuku; 5 hours, 30 minutes), Kyoto, Osaka (5 hours), Nagoya (2 hours, 45 minutes), Kanazawa (3 hours), Hida Furukawa (30 minutes), Gero Onsen, (90 minutes), Matsumoto (2 hours), Kamikochi, and Gujo Hachiman (1 hour, 15 minutes). In Nagoya get on the bus to Takayama at Meitetsu Bus Center Boarding Point 7.
Getting Around Furukawa
Furukawa is easily explored on foot or rental bicycle. There are also excellent cycle tours of the local countryside organized by Hida Satoyama Cycling.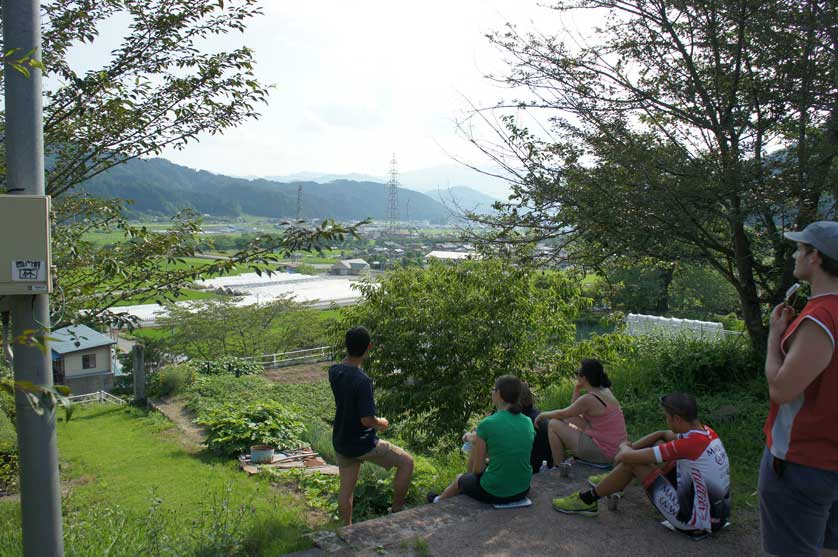 View from the top of a hill overlooking Hida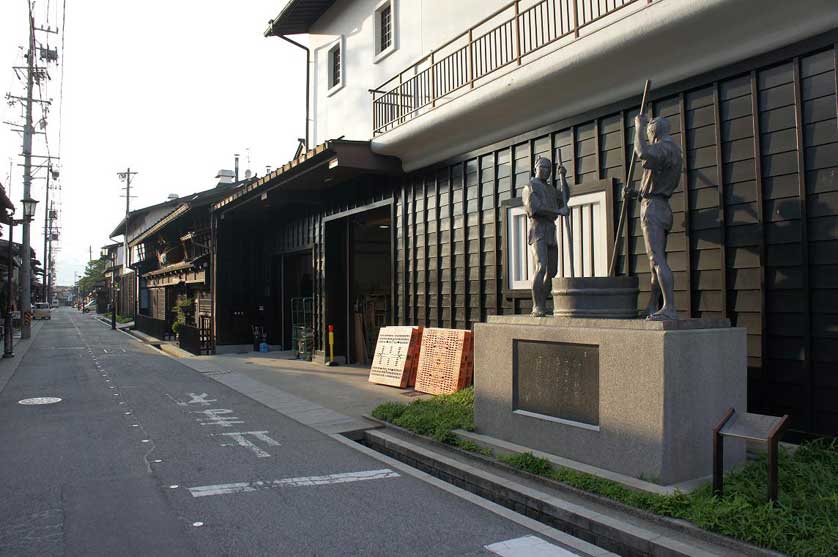 Monument to early sake brewers, Hida-Furukawa, Gifu
Book Hotel Accommodation in Gifu Japan
Hida-Furukawa guide: read a Hida-Furukawa travel guide with information on Hida-Furukawa sights, temples and things to do.
All the themes of the city