Golden Gai Guide Shinjuku Tokyo
Golden Gai: read a guide to the bohemian bar district of Golden Gai, a warren of alleys lined with bars, in Kabukicho, Shinjuku, Tokyo.
Tokyo Area Guide: Golden Gai 新宿ゴールデン街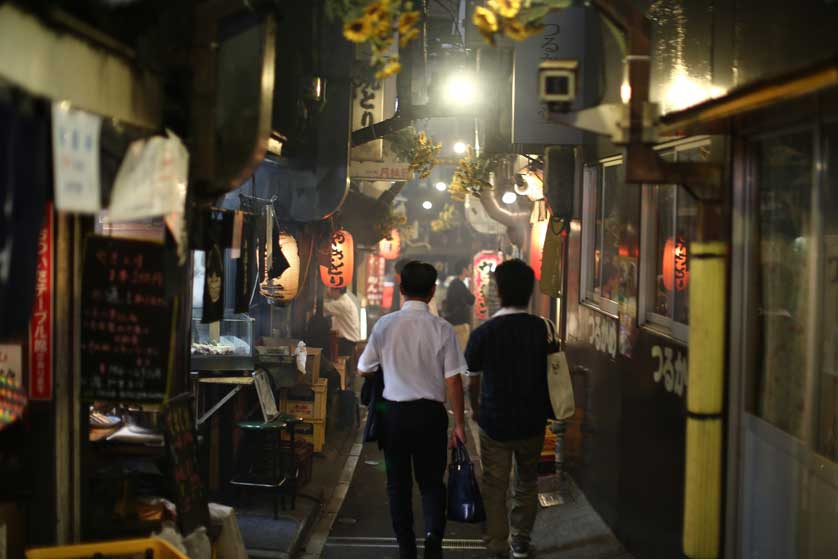 Golden Gai, Kabukicho, Shinjuku, Tokyo
Images by Guillaume Marcotte
Golden Gai is warren of small bars just east of Kabukicho that preserves the atmosphere and architecture of 1960's Tokyo.
Situated a short walk from the East Exit of Shinjuku Station and the Tokyo Metropolitan Government Buildings, the six narrow alleys of Golden Gai are home to around 200 tiny bars frequented by a mixed crowd of academics, artists, celebrities, musicians as well as foreigners and "salaryman" office workers.
Golden Gai escaped the fate of most such areas in Tokyo during the 1980's, which was arson by the yakuza for the purpose of sale to developers, thanks to the vigilance of its supporters, who gathered at night to patrol the area and deter the gangsters.
Of the 200 bars here, with such names as Decoy, Papa's Dream and Kangaroo Court Decision, there are many that welcome foreigners. Look for signboards with English.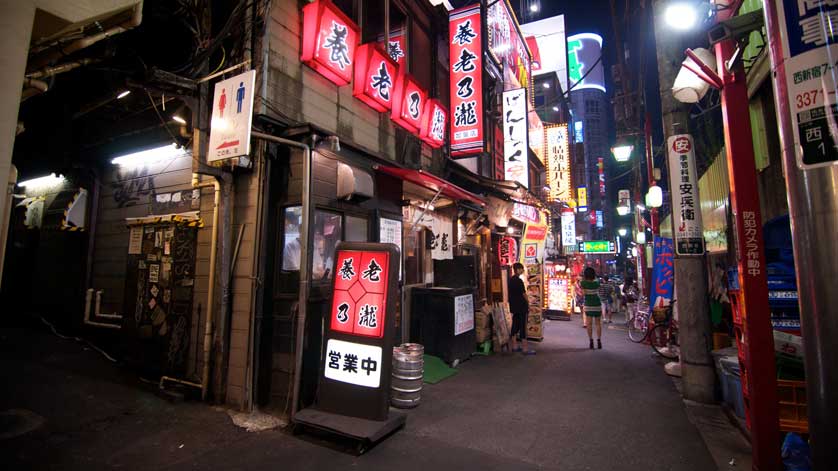 Golden Gai is a warren of small, rather expensive bars in Kabukicho, Shinjuku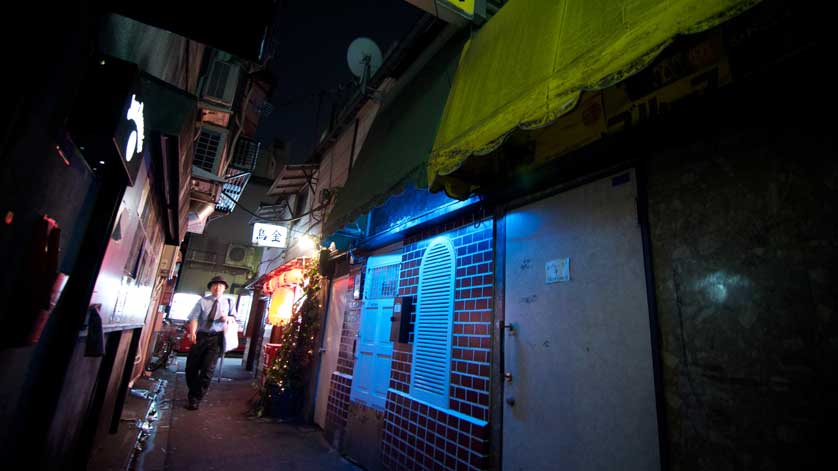 Golden Gai "Golden District" Tokyo
In post-war Tokyo, Golden Gai was a black market and prostitution area but that all changed when prostitution was made illegal in 1958 and the area concentrated on just the drinks.
Golden Gai's bars usually have some sort of theme which attracts a clientele of like-minded people. Some of the genres include blues, flamenco, horse-racing, jazz, movies, go and R&B.
Small and intimate, many of Golden Gai's bars have a tiny second and even a third floor, sitting around a dozen people or less and many of them are run by women (the mama-san) or, increasingly, younger people, drawn by the lower rents of recent times and the Bohemian atmosphere.
Opening and closing times vary with some establishments opening as early as 5pm and closing at midnight, while others open as late as 10pm and close at 5am. During the day Golden Gai is virtually deserted.
Prices in Golden Gai are not particularly cheap and reflect the relative well-off nature of its clientele. Expect to pay a cover charge of 500 yen and around 500 yen upwards per drink.
Some bars have cover charges of around 2,000 yen which can add to your bar bill, if you decide on bar-hopping, while others have no charge.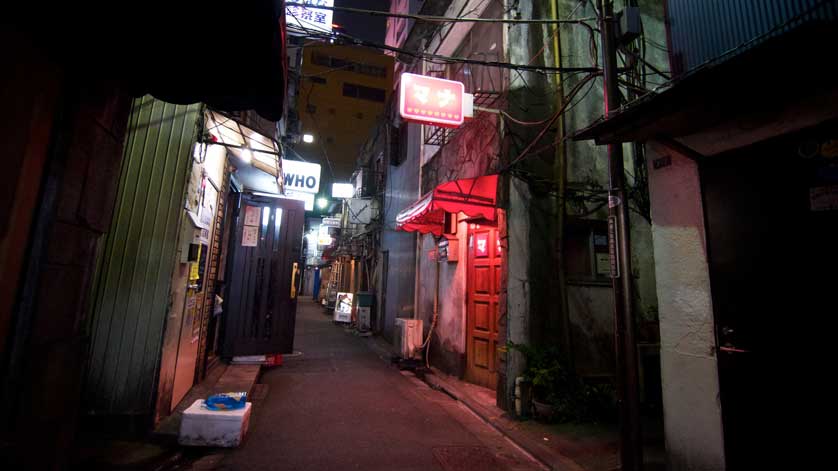 Golden Gai, Kabukicho, Tokyo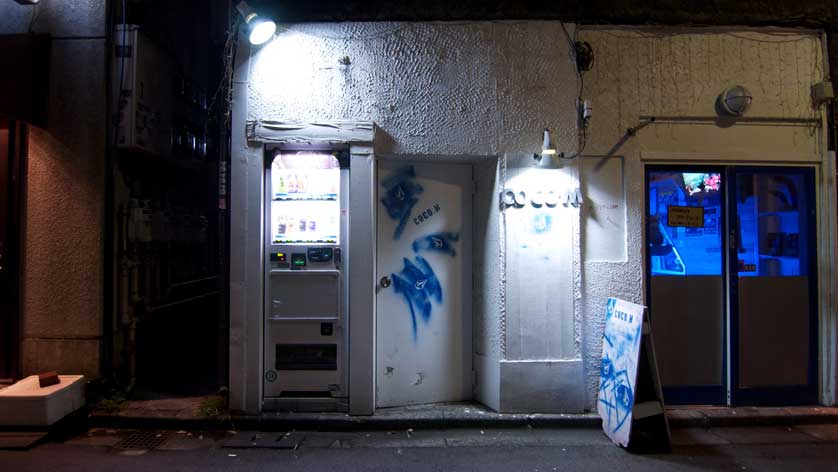 Golden Gai evokes an atmosphere of Tokyo in times past
The Goldengai.net website (in Japanese) has a map of many of the bars.
Images Guillaume Marcotte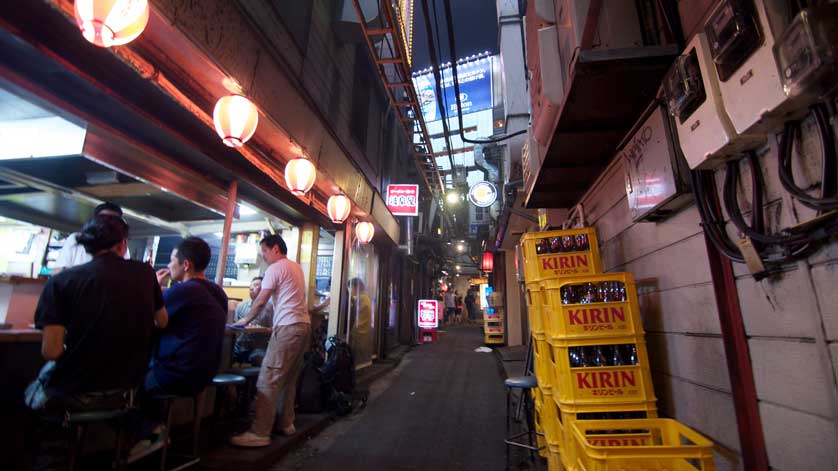 Golden Gai drinking den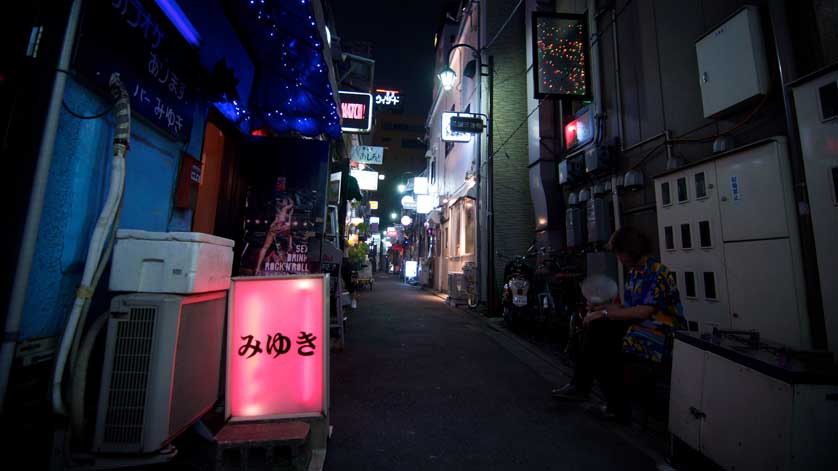 Golden Gai, Shinjuku, Tokyo

Golden Gai Map
Book Hotel Accommodation in Shinjuku Tokyo Japan
All the themes of the city