Moomin Valley Park
Moomin Valley Park in Hann Saitama Prefecture is a theme park dedicated to the Moomin characters created by Tove Jansson (1914-2001) and popular in Japan.
Moomin Valley Park, Hanno, Saitama Prefecture ムーミンバレーパーク 飯能市 埼玉県
by Johannes Schonherr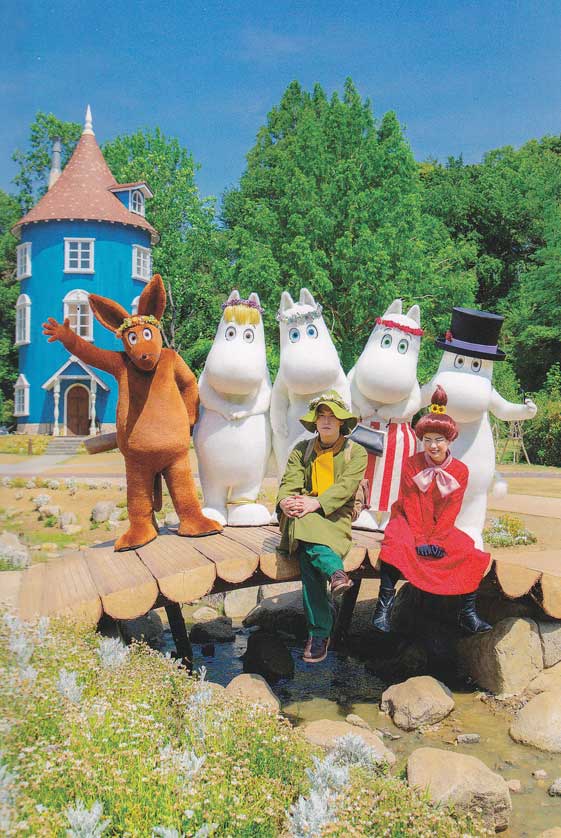 Official Moomin Valley Park postcard, Hanno, Saitama
Moomin Valley Park, a Moomin character theme park on the outskirts of Hanno city, Saitama Prefecture opened in March 2019.
It is thus the newest addition to the various manga / anime inspired theme parks dotting the Tokyo Metropolitan Area.
The original Moomin characters were created in a series of books and newspaper comic strips by Swedish-speaking Finnish writer, painter and illustrator Tove Jansson (1914-2001).
The first book in the series, The Moomins and the Great Flood, published in Finland in 1945, introduced the central characters: Moomintroll, Moominpappa and Moominmama, all white and vaguely hippopotamus-like creatures, living in a fictional place named Moomin Valley.
More characters followed in the succeeding books, some living as neighbors and friends in Moomin Valley, others, like the philosophizing vagabond Snufkin, roaming around the world but making regulars calls at Moomin Valley.
They are all friends and in live in harmony though that harmony tends to get interrupted either by outside forces or by the frequent pranks some of the characters play on the others.
Though translated into many languages and turned into numerous international animation film series, the Moomins became particularly popular in Japan in the 1990's through a highly successful anime film series.
Today, Moomin characters are visible as mascots and sales promoting figures all over Japan. Just the other day, I saw bottles of shampoo decorated with Moomin characters at my local drugstore.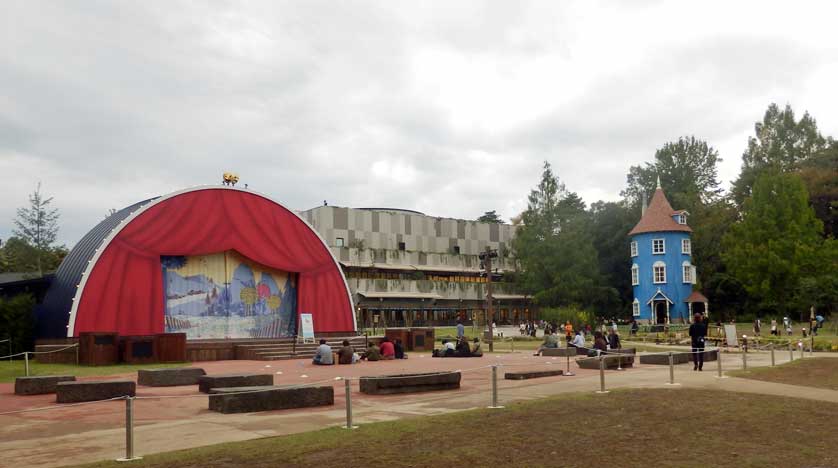 Central Moomin Valley Park with Emma teatteri (open air stage), Kokemus House and Muumitalo (Moomin House)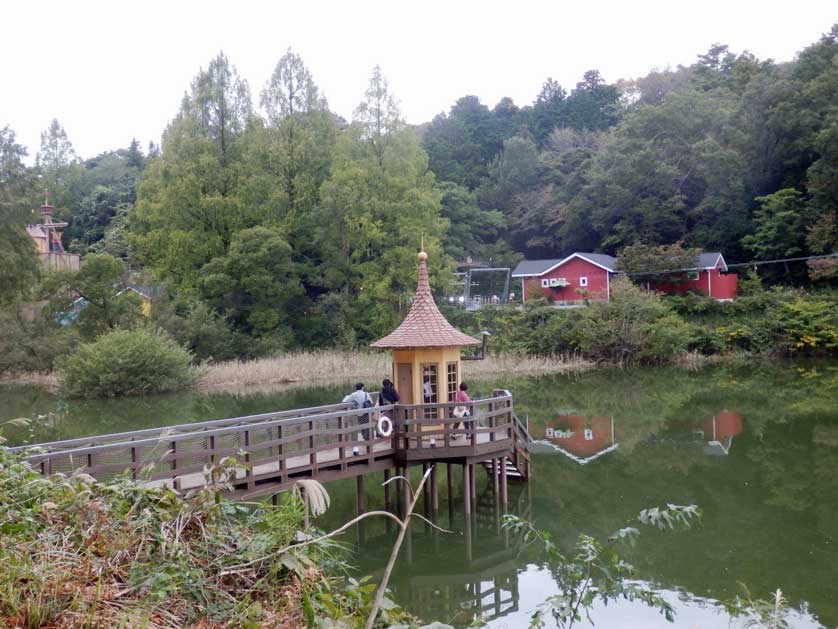 View over Lake Miyazawa to parts of Moomin Valley Park with the Uimahuone (bath house) in the foreground
Moomins and Hanno City
In the 1970's Tove Jansson gave her personal permission for a Moomin-themed children's park in the city of Hanno, Saitama Prefecture.
This park was opened in 1997 under the name Akebono Children's Forest Park (あけぼの子どもの森公園). It is situated below a wooded ridge, free of charge and features a small Moomin-inspired fantasy house as well as several playgrounds.
The house is open for children's activities. There is no souvenir shop. It is a very humble and absolutely non-commercial setting, not a tourist attraction at all. Though Japanese Moomin fans do seek it out, of course.
The new and very commercial Moomin Valley Park is a totally different affair.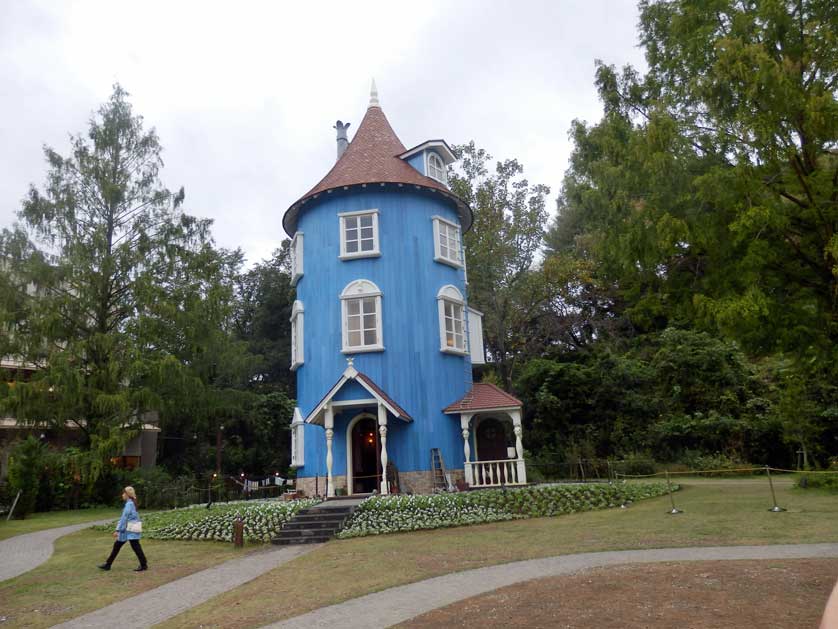 Muumintalo (Moomin House), Moomin Valley Park, Hanno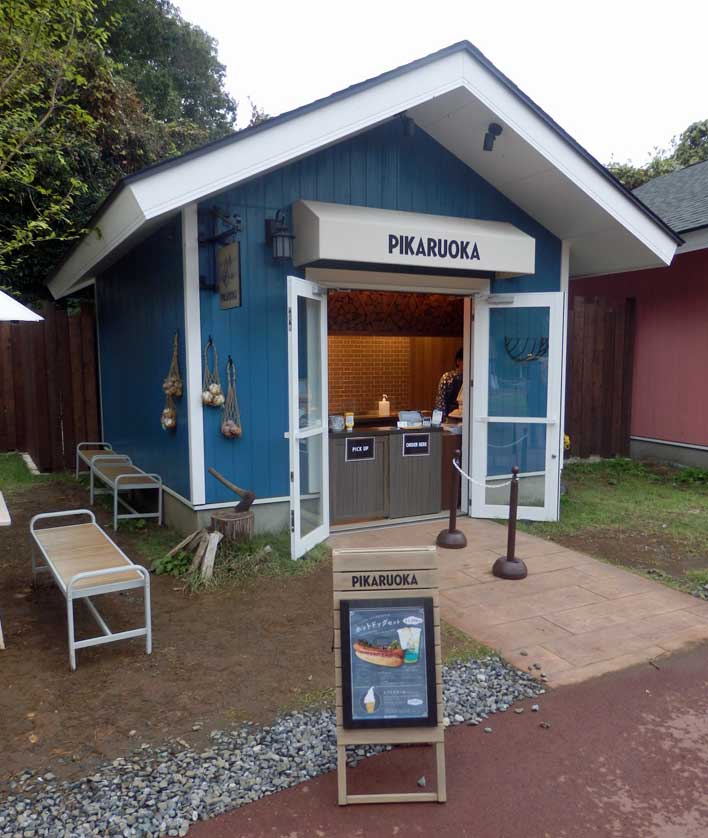 Typical Moomin Valley Park store, this one selling hot dogs
Metsä Village
The new Moomin Valley Park in Hanno is part of Metsä Village, located on Lake Miyazawa.
Metsä Village is a Scandinavia-inspired day trip destination consisting largely of market halls and restaurants. It also offers various leisure activities such as canoe boat trips on Lake Miyazawa. The boats are built by hand in the local Sågverk (sawmill) which can also be visited and which also produces various hand-made souvenirs.
There are also barbecue facilities, daytime camp grounds and children's playgrounds.
Though architecturally designed in Scandinavian style, don't expect to find a large variety of original Scandinavian foods at the Metsä markets and restaurants. The focus is more on local Saitama products with the occasional jars of Swedish lingonberry jam on the shelves.
If you really want to make it a Scandinavian day with Scandinavian food available in Japan (Swedish meat balls, pickled sour herring, crisp bread and the like), it is better to do some shopping in the food section of an IKEA market first.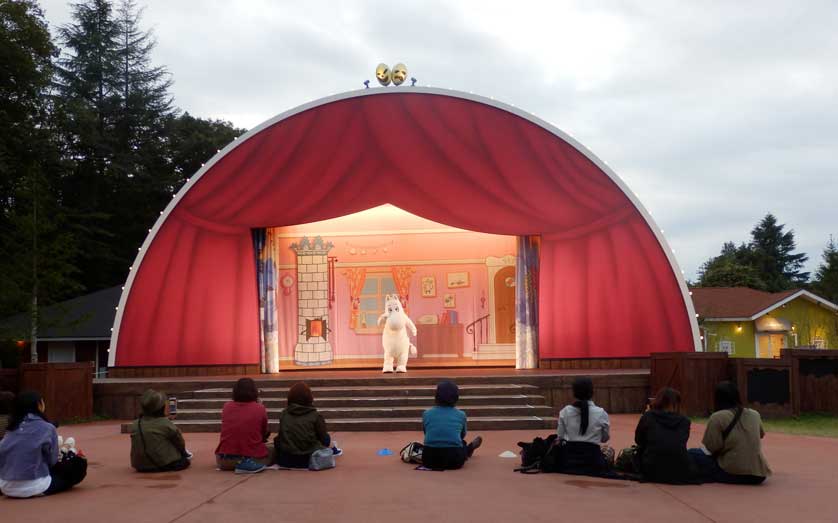 Emma teatteri with Moomintroll on stage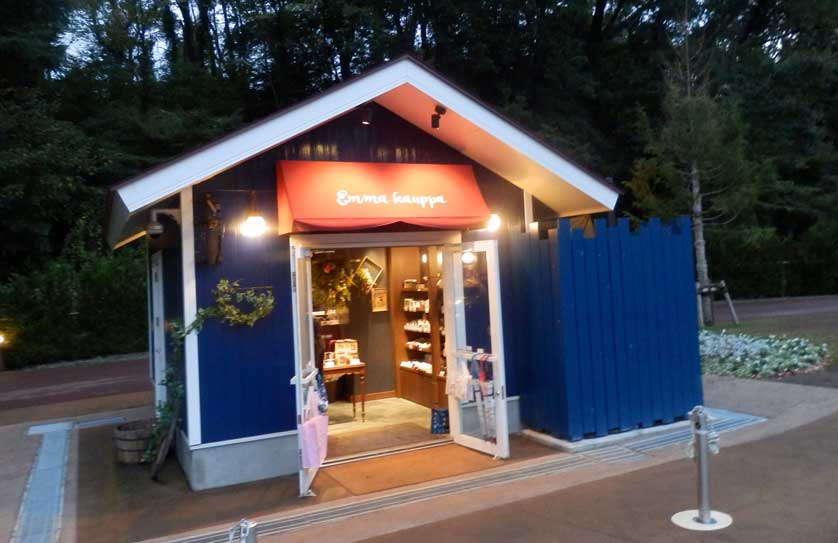 Souvenir shop at Moomin Valley Park, Hanno, Saitama Prefecture
Moomin Valley Park
While a visit to Metsä Village is free of charge, you need to buy a ticket to get into the Moomin Valley section of Metsä, the actual Moomin theme park.
Located right on the lake shore and surrounded by wooded hills, the Moomin Valley Park designers did their best to create a Saitama version of Tove Jansson's fictional Moomin Valley, originally situated between the mountains and the sea.
Moomin Valley Park offers many buildings directly inspired by the illustrations in Tove Jansson's books, such as the iconic round blue Moomin House.
At an open air stage, a theatrical play involving the original Moomin family as well as some other central characters of the Moomin book series is offered for free to visitors throughout the day.
A visit to most other attractions such as the inside of the Moomin House, however, requires an additional fee. You need to buy the relevant tickets via vending machines. Typically it's about 1000 yen per adult, with lower rates for children.
Though the names of buildings and stores in Moomin Valley Park are generally labeled in Japanese and Finnish only, the ticket machines can be easily operated using English.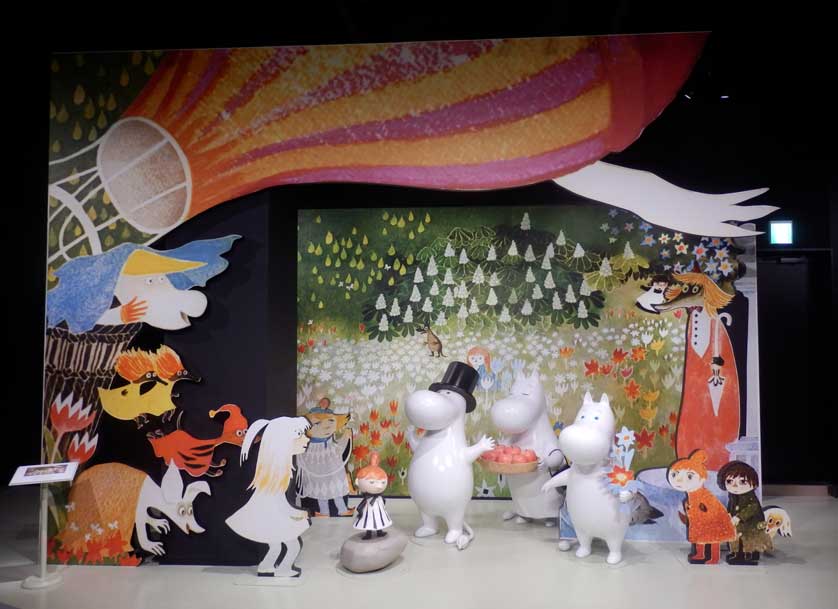 Moomin characters at the museum inside the Kokemus House
Character Stores
There are numerous attractions, which also include a very impressive Hobglobin's Zip Line ride over Lake Miyazawa right in front of Moomin Valley Park. Moomin Valley Park is also dotted with many tiny shops, displaying the Finnish word kauppa in their names.
Those kauppa are often but not always just focused on one Moomin character, selling a multitude of souvenirs centered on the character.
Other kauppa offer food, well sort of. The popcorn served in a cardboard version of the round Moomin House seems to be most popular (1000 yen) but there are also large hotdogs on sale at one kauppa (about 750 yen per piece).
Real Finnish sandwiches as sold, say, at Helsinki main train station, are nowhere in sight, though. The ones made of black bread with smoked salmon on top. Reindeer meat steaks. Don't search for any of here. You won't find them.
This is a Moomin theme park for Japanese visitors, after all, not a recreation of anything resembling real Finland.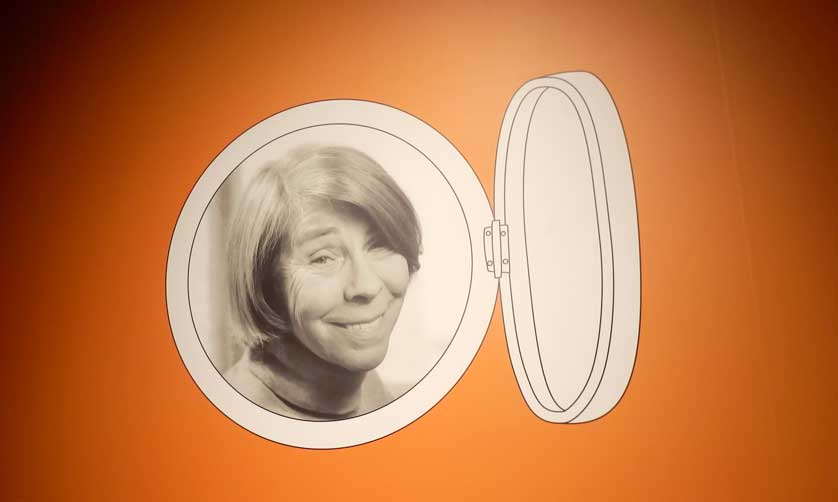 Tove Jansson photograph at the museum inside the Kokemus House
Tove Jansson Museum
Moomin Valley Park does however offer a deeper insight into the actual work of Moomin creator Tove Jansson.
Enter the Kokemus House, a modern steel and glass building in the center of Moomin Valley Park, and take the elevator to the third floor.
Free of any additional charge, you are treated here to both modern interpretations of Jansson's work as well as plenty of her originals (mostly in reproduction but still quite impressive).
On the third floor you can see many Moomin characters in very interesting settings, many of them interactive. It's a stunning exhibition making full use of both the original characters and the most up-to-date in design and digital technology.
The second floor of the museum focusses on Tove Jansson's life and work through displays of her books, paintings, comic strips and her original Moomin artwork.
Video screens display early animated movie adaptations of the Moomins, the earliest having been made by West German television in the late 1950's under the name Die Mumin Familie (The Moomin Family) and broadcast as part of a very popular animated children's program titled Augsburger Puppenkiste (Augsburg Doll Box).
You see self-portraits of Tove Jansson as a cigarette smoking girl, you see her on video living in a sort of happy pastoral / seaside setting with her long-term lesbian lover Tuulikki Pietilä. The two of them did their best trying to live their own Moomin Valley-style life, partly but not completely lifting Jansson out of her self-doubts and depression.
Tove Jansson was an artist with all the inner conflicts that seem to go with that profession.
The ground floor of the Kokemus House features a western-style restaurant and a large gift shop.
After seeing the exhibition on her personal artwork and learning about Tove Jansson's outlook on life, you might just want to dismiss the gift shop as just another place exploiting her heritage.
But then, there are so many cute little things on offer - a little pricey perhaps but they would certainly make good gifts for family and friends at home.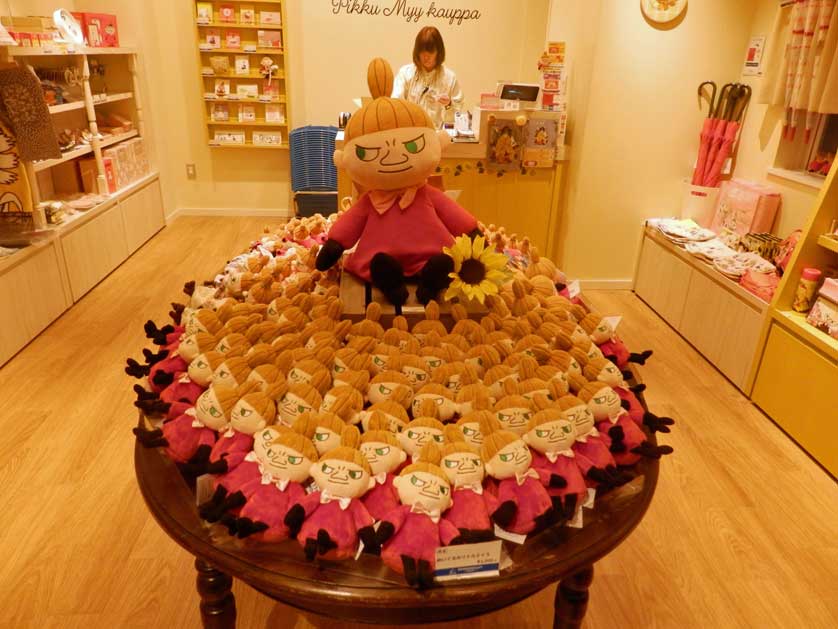 Pikku Myy (Little My) character goods on sale, Moomin Valley Park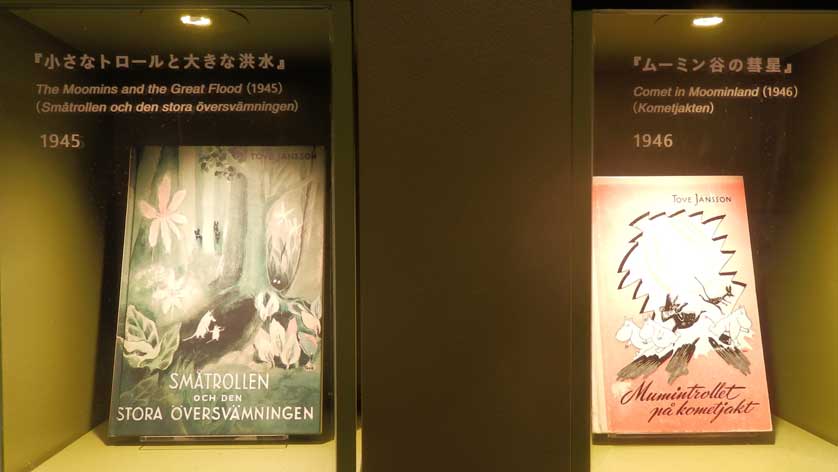 Original covers of the first two Moomin books, Kokemus House, Moomin Valley Park
Access & Hours
Opening Times
Metsä Village: daily from 10 am to 9 pm, admission is free.
Moomin Valley Park: daily from 10 am to 8 pm, last admission at 7 pm.
Admission for Moomin Valley Park: Adults (13 years and older) 1,500 yen, children below age 13 1,000 yen, small children (age 0 to 3) free.
Address: Metsä, 327-6 Miyazawa, Hanno, Saitama Prefecture
English-language website of both Metsä Village and Moomin Valley Park: metsa-hanno.com/eng
The website contains detailed information on access by car / motorbike / bicycle as well as parking fees.
From November 1st to March 31st, parking is free on weekdays, it's 1500 yen on weekends and holidays. (For the rest of the year it's still 1800 yen on weekdays and 3000 yen on weekends / holidays). Now, they also sell a "Night Ticket" for Moomin Valley Park from 5 pm on for 1000 yen per adult, 500 yen for children. The regular ticket price is still 1500 yen per adult, 1000 yen for children.
Access by Train and Bus
Seibu Line (from Ikebukuro)
Take the Seibu Ikebukuro Line from Ikebukuro Station straight to Hanno. The Seibu Red Arrow Limited Express to Chichibu also stops in Hanno.
From bus stop 1 outside Hanno Station's North Exit take the non-stop bus for Metsä (Kokusai Kogyo bus / Seibu bus / Eagle bus) or the regular bus for Musashi-Takahagi Station via Metsä (Eagle bus) and get off at the stop called Metsä.
Travel time is about 13 minutes.
JR Hachiko Line
The JR Hachiko Line stops at Higashi Hanno Station en route from Hachioji, western Tokyo to Takasaki, Gunma Prefecture.
From bus stop 2 at JR Hachiko line Higashi-Hanno Station's East Exit take the non-stop bus for Metsä (Kokusai Kogyo bus / Seibu bus / Eagle bus) and get off at the stop called Metsä. Travel time is about 12 minutes.
Bus fare
Bus fare for both buses: Adults (over 13) / 200 yen. Children (under 13) / 100 yen.
The bus fare is payable to the driver when getting off. Please have cash ready as not all buses are equipped to receive payments by Pasmo, Suica and other travel cards.
Akebono Children's Forest Park
English-language website of Hanno city's original Moomin Park, opened in 1997.
www.city.hanno.lg.jp
The park is still in operation. Admission is free.
Hanno Accommodation
Most of the places to stay in Hanno are near Hanno Station including the 3-star Hotel Heritage Hanno and the Marroad Inn Hanno, also a 3-star business hotel. Hotel Oxy is a love hotel to the north east of town in the suburbs.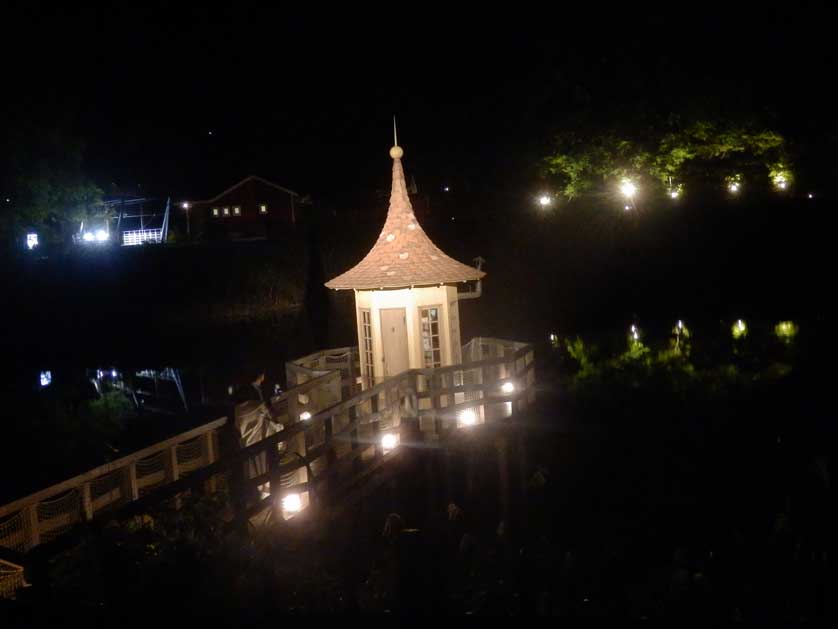 Uimahuone bath house at night, Moomin Valley Park, Hanno
Saitama Map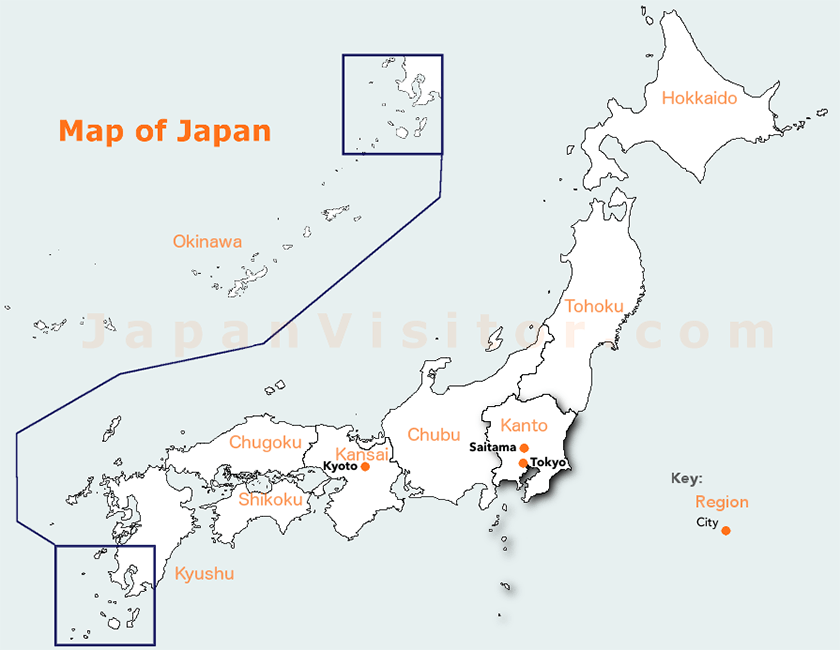 Saitama Map
Book Hotel Accommodation in Saitama Japan
All the themes of the city