Oedo Onsen Monogatari
大江戸温泉物語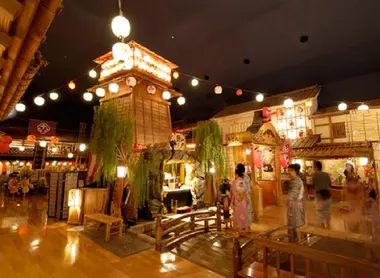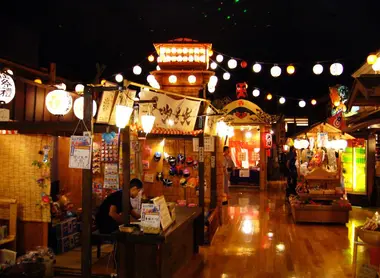 Back to basics
An onsen recreating the atmosphere of Edo Japan. Plunge into the past with yukata.
Water taken from 1400 meters below in the Bay of Tokyo, traditional outdoor rooms, a health center ... Welcome to Odaiba Oedo-Onsen Monogatari. It's a theme park dedicated to the onsen. Here, parents dip their newborn children in warm water and leave the heckling behind in these large indoor pools fed by mineral sources. Outside, a grandmother relaxes in a very traditional onsen atmosphere, while others wander the main avenue that looks like the ancient streets of Edo.
Book your tickets at an attractive price with Voyagin.
Inside, souvenir shops, bars and restaurants make this a very pleasant place for families, and is good alternative between attraction and relaxation. You can easily spend several hours being busy and relaxing at the same time.
Warning: wearing yukata, a light cotton kimono, is compulsory and baths are not mixed. Access is forbidden to individuals with tattoos.
Achetez votre ticket pour emprunter le Sky Hop Bus Tokyo !
---
Address, timetable & access
All the themes of the city