Intermediatheque
Intermediatheque (IMT) is one of Japan's most cutting-edge musueums, located in the Kitte Marunouchi building right beside Tokyo Station.
Intermediatheque
Intermediatheque (IMT) is one of Japan's most cutting-edge musueums, located in the Kitte Marunouchi building right beside Tokyo Station.
This multifarious facility brings together objects from a multitude of disciplines with an expertly devised focus on "form and function."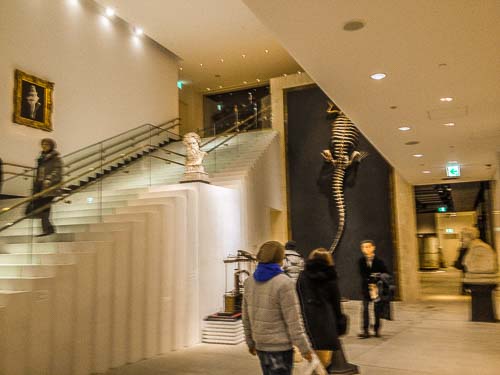 Intermediatheque, foyer, Tokyo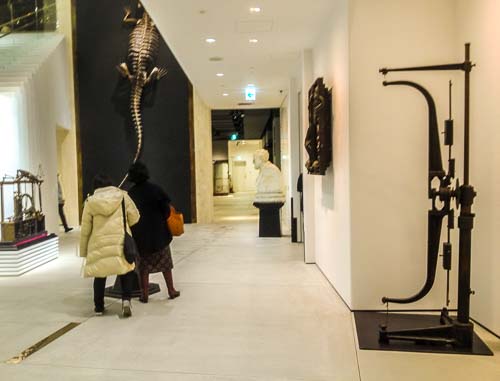 Entering Intermediatheque galleries, Tokyo
Intermediatheque is located inside the Kitte shopping and dining complex, which is owned by Japan Post. It is a collaboration between Japan Post--which owns JP Tower and the Kitte attraction that it houses--and the museum of the University of Tokyo--Japan's most venerable and prestigious center of learning.
IMT therefore fuses the clean, imaginative design of one of Tokyo's newest commercial complexes with a breathtaking range of museum treasures, from Egyptian mummies to early steam engines, from a veritable wonderland of preserved wildlife specimens to artifacts of tribal art, from geological samples of rarely seen rocks to painstakingly drawn and colored illustrations from pioneering 19th century chroniclers of flora and fauna, to name a few.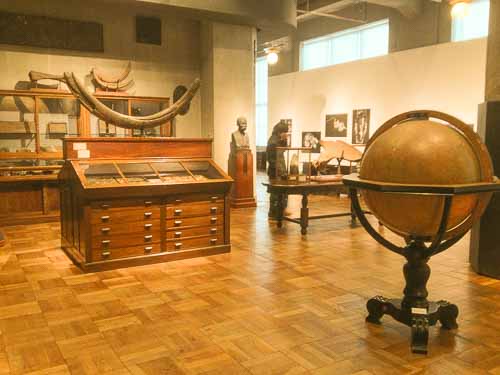 Inside Intermediatheque, Tokyo
This very spacious galley is organized into various sections, each based on a theme more or less related to form and function. Unlike the traditional compartmentalization of exhibits according to age or locale, IMT keeps the viewer fascinated and entertained with a medley of exhibits spanning the globe, the centuries, and disciplines. Geography, modern art, archeology, mathematics, anatomy, geology, paleontology, biology, engineering and more are brought together for a kaleidoscopic effect that stimulates on many different levels, and is as entertaining and interesting for children as it is for adults.
Intermediatheque is free to enter. Photography is prohibited. Allow at least 45 minutes, but also be prepared to spend a whole morning or afternoon here. There is a museum shop on the third floor. The museum is wheelchair accessible.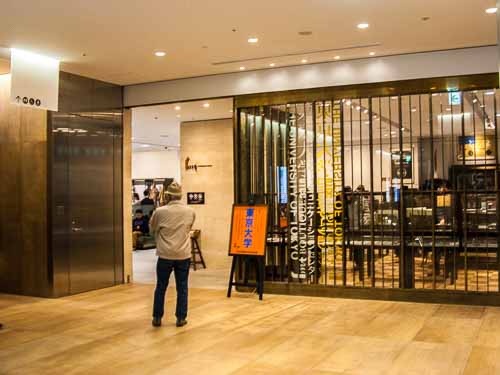 Intermediatheque, entrance, Tokyo
Hours
11 a.m. - 6 p.m. (Open until 8 p.m. Thursday and Friday)
Closed Monday, except when Monday is a national holiday, when it stays open; however, in this case it is closed the next day, Tuesday.
Admission
Free
Access
The JP Tower/Kitte building with Intermediatheque inside it is immediately south of Tokyo Station on the Marunouchi side. Look left when walking out of the Marunouchi Exit. Or, if you are coming by JR train, make your way to the Marunouchi Underground South Exit, and go left out of it. You will see the entrance to Kitte after less than a minute's walk. The entrance to Intermediatheque is on the second floor of Kitte. Wheelchair-friendly.
JP Tower Museum IntermediathequeJP Tower/Kitte Floors 2 & 32-7-2 Marunouchi, Chiyoda-kuTokyo
Book Hotel Accommodation in Tokyo Near Intermediatheque
All the themes of the city