Nippon Budokan
日本武道館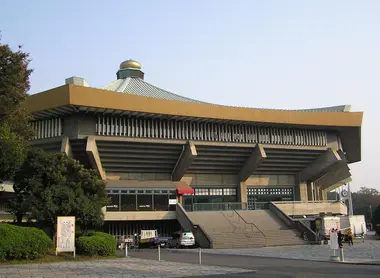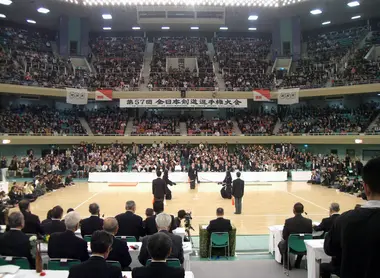 National Dojo
An arena revered both by martial arts enthusiasts as well as by rock enthusiasts, is that possible? Yes, and this area can be found in Tokyo!
A brief history
In the heart of Tokyo, in the Kitanomaru park, located between the Imperial Palace and the controversial Yasukuni shrine, lies the Nippon Budokan.
Designed by architect Mamoru Yamada, the building is quite imposing, at a height of 42 meters. The cost of construction has been estimated at $ 5.6 million. It was originally built to host judo competitions during the 1964 Olympic Games and can accommodate nearly 15,000 people.
Mr. Yamada modeled it on the Yumedono building (literally the "Hall of Dreams") of Hôryû-ji, a Buddhist temple located in the ancient capital of Nara, near Kyoto. The "Hall of Dreams", the octagonal structure, houses a Buddhist statue of great historical and spiritual value (Yumedono Kannon), which is unveiled to the public only during special events. The Nippon Budokan, meanwhile, has two treasures it shows off throughout the year!
First treasure: Martial Arts 
The Nippon Budokan has primarily been built for martial arts competitions. Moreover, Budo (武 道) literally means "martial art" while kan (館) can be translated as "establishment".
Thus, judo, karate, kendo, aikido, kyudo (archery) and naginata (a martial art utilising long flexible bamboo "blades" ) are mostly represented. Amidst the Shorinji Kenpo tournaments, it is even possible to enjoy a martial art steeped in spirituality that was exported by the Indian master Bodhidharma himself (Daruma in Japanese)!
Besides the traditional martial arts, we also find wrestling competitions organized by the Japanese wrestling federation, Pro Wrestling Noah. The latest sports to have made its way through the doors of Budokan: kick boxing and K-1; we move away from traditions. The Nippon Budokan was designated to host the judo at the 2020 Olympic Games, 56 years after those of 1964! 
Second treasure : a legendary concert hall
From June 30 to July 2, 1966, The Beatles played at Nippon Budokan and thus inaugurated a tradition of musical performances, uninterrupted until today. Clapton in the 70's, Sinatra in the 80's, Diana Ross in the 90's ... Over time the arena gained a certain popularity, and becomes a must in celebrities' world tours.
Another budokan?
Did you know ? There is also the Tokyo Budokan (東京 武 道 館) north of the capital, in the district of Adachi-ku. Although less imposing, the architecture is very interesting. Only martial arts events are here, no concerts. School and university tournaments are often held in this place.
All the themes of the city