Kanda Myojin Shrine
Kanda Myojin is an historic shrine close to Akihabara which is the home shrine of the Kanda matsuri, one of Tokyo's top festivals.
Kanda Myojin Shrine 明治神宮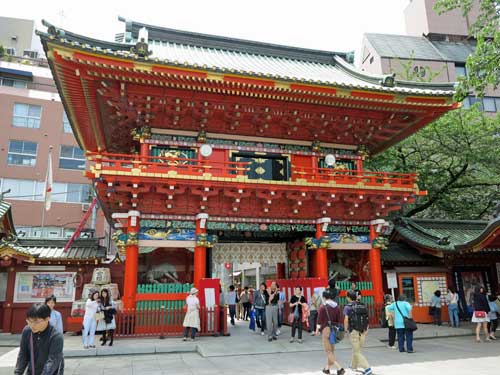 Kanda Myojin Shrine in Tokyo is the home of the Kanda matsuri
Kanda Myojin is an historic Shinto shrine in the Kanda area of Tokyo, close to Ochanomizu Station and Akihabara.
Formally known as Kanda Jinja, the complex enshrines the deities for 108 Tokyo neighborhoods including Akihabara, Kanda, Nihonbashi and Tsukiji Fish Market.
Tokyoites come here to pray for success in business, good health and happy marriage. There are large statues of the Shinto favorites Daikoku and Ebisu, as well as Taira-no-Masakado.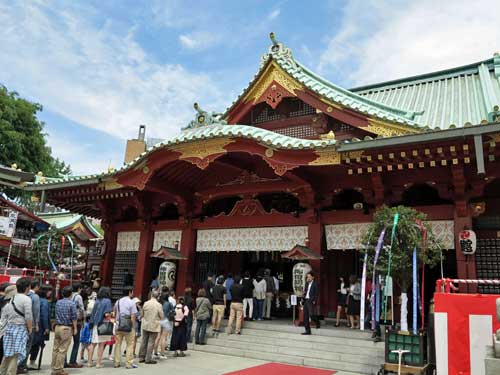 People queuing to pray at Kanda Myojin Shrine in Tokyo on the eve of the Kanda matsuri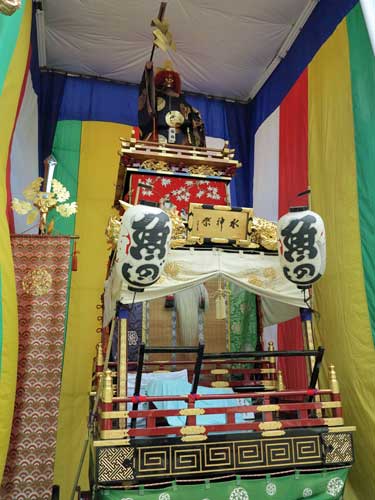 Portable shrine used in the Kanda matsuri at Kanda Myojin
Kanda Myojin Shrine History
Kanda Myojin's origins go back to 730, though Kanda Myojin on its present site dates from 1603, when Tokugawa Ieyasu expanded Edo Castle and moved the shrine to Kanda.
Kanda Myojin Shrine Features
The 17th century wooden buildings were destroyed in the Great Kanto Earthquake of 1923 and were then rebuilt in concrete - the shrine survived the fire-bombing of Tokyo in World War II, as a result. The wooden Zuishin Gate was rebuilt after the war using cypress (hinoki) and restorations have continued until recently on other buildings in the shrine complex.
In the shrine grounds are various statues and stone monuments including a large statue of Daikoku and a stone plaque dedicated to Zenigata Heiji, a fictional Edo era policeman, created by author Kodo Nomura (1882-1963), who catches criminals by throwing coins (zeni). There is also a monument to Zenigata Heiji's sidekick Hachigoro.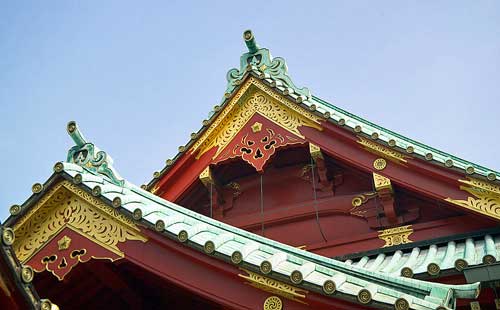 Shrine eaves, Kanda Myojin, Tokyo
Kanda Myojin Shrine Festivals
Kanda Myojin is the home shrine of the Kanda Matsuri, which is held every two years in May with horen (imperial palanquins) and mikoshi (portable shrines) paraded through the neighborhood. A smaller parade takes place in the intervening years. Kanda Matsuri is one of the three major Shinto festivals held in Tokyo.
Kanda Matsuri dates back to 1600 and was supposedly begun by Ieyasu Tokugawa to celebrate his victory at the Battle of Sekigahara, which secured his rule of the whole country and began what is known as the Edo Period which was to last until 1868.
Kanda Myojin is also a popular shrine for people to come during the Shichi-go-san festival period in November.
Kanda Myojin Shrine Hours and Admission
Free admission to shrine grounds.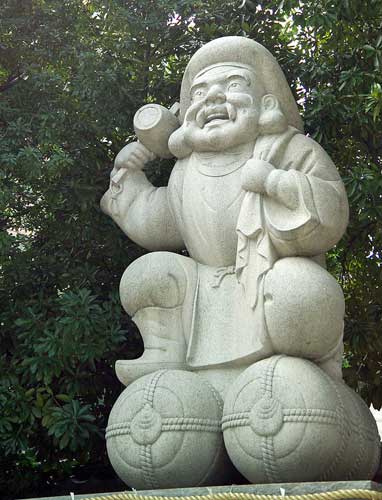 Statue of Daikoku, Kanda Myojin, Tokyo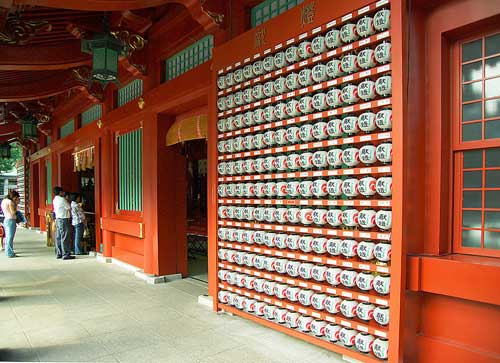 Lanterns, Kanda Myojin, Tokyo
Kanda Myojin Shrine Access
Kanda Myojin can be easily reached from Ochanomizu Station on the JR Chuo Sobu Line or Akihabara Station on the Yamanote Line.
Kanda Myojin Shrine (kandamyoujin.or.jp)
2-16-2 SotokandaChiyoda-kuTokyo 101-0021
Tel: 03 3254 0753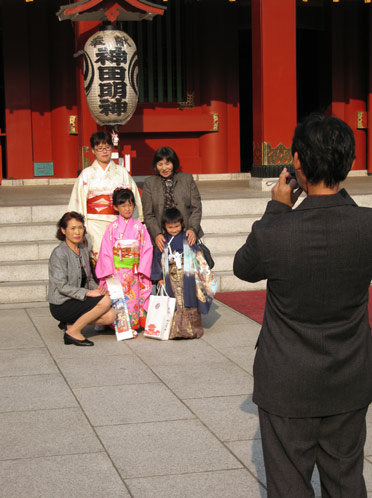 Kanda Myojin is a popular venue for Shichi-go-san

Book Hotel Accommodation in Tokyo Japan
All the themes of the city