Reigando Cave Miyamoto Musashi
Reigando Cave, Origin of the Book of Five Rings 霊巌洞
Jake Davies
Without a doubt, Miyamoto Musashi is the most famous of all samurai swordsmen. The exact date of his birth is disputed, but 1584 is the most quoted.
Statue of Miyamoto Musashi at the entrance to Reigando Cave and Unganzenji Temple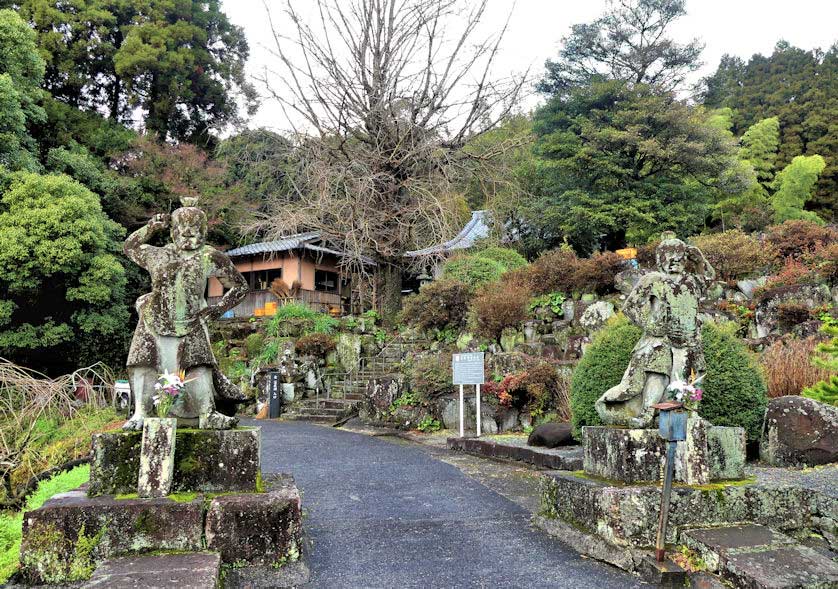 The entrance to Unganzenji Temple, site of Reigando Cave
Miyamoto Musashi
He was born into a family of samurai farmers in what is now Okayama Prefecture. Miyamoto is said to have fought his first duel at the age of 13.
Undefeated after more than 60 duels, including the famous ones against Yoshioka Matashichiro at Ichijoji in Kyoto in 1604 and against Sasaki Kojiro in 1612 on Ganryu Island near Shimonoseki, he is credited with creating the famous "two swords" style of fighting.
Consequently much in demand as a teacher he spent most of his life as a ronin, or master-less samurai.
As well as a swordsman, he was highly skilled in a variety of arts including painting, calligraphy, sculpture, and even garden design. He was also somewhat knowledgeable about castle design having been enlisted to help with Akashi Castle.
While still alive, many legends and myths grew up around him and his exploits, and after death these only increased.
In modern times he has been the subject of an enormous number of fictional accounts of his life and deeds including novels, play, movies, TV dramas, comics, etc perhaps the most influential recently being the 2003 Taiga Drama based on a novel by Eiji Yoshikawa. There has also been a lot of scholarship trying to separate fact from fiction.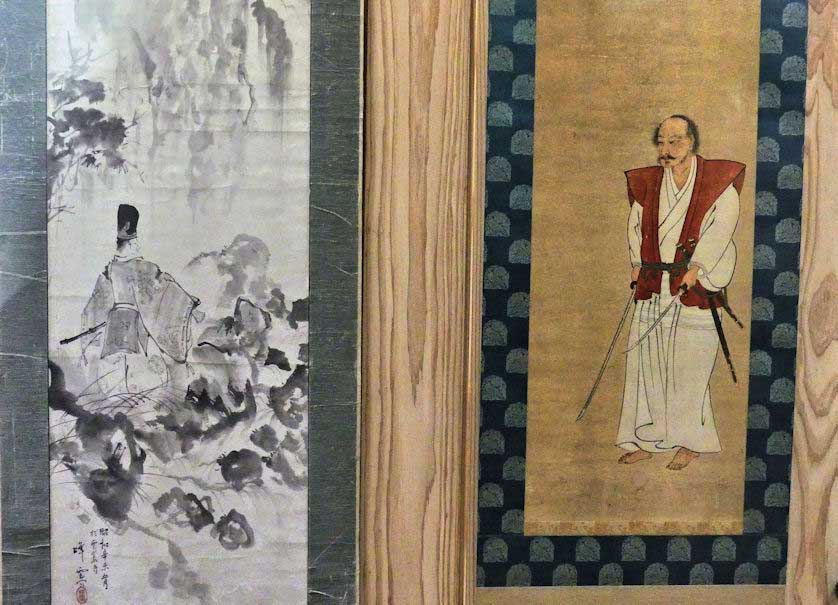 On the right is a self portrait by Miyamoto Musashi, painted not long before retiring to the Reigando cave to write his masterpiece The Book of Five Rings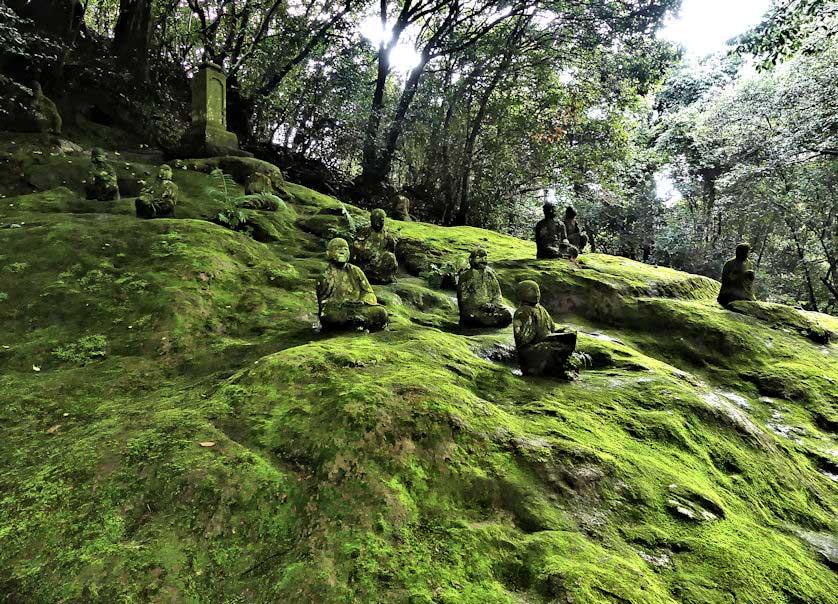 Some of the Rakan statues along the path leading to the Reigando Cave
Book of Five Rings
His greatest legacy however, is probably Go Rin No Sho, known in English as Book of Five Rings, wherein he laid out his teachings on swordsmanship and strategy that is still avidly read today not just by martial artists but by anyone seeking a winning strategy in different areas of life.
In 1640 Musashi moved to Kumamoto at the invitation of the daimyo Hosokawa Tadatoshi. Sensing his approaching death Musashi began to put down on paper his teachings.
In 1643 he retired to a cave in the mountains north of Kumamoto called Reigando, and as a recluse in spartan surroundings he finished his work and died in 1645. Some say he died in the cave, others say he was taken out of the cave, but for Miyamoto Musashi aficionados the cave where Book of Five Rings was written is a must visit site.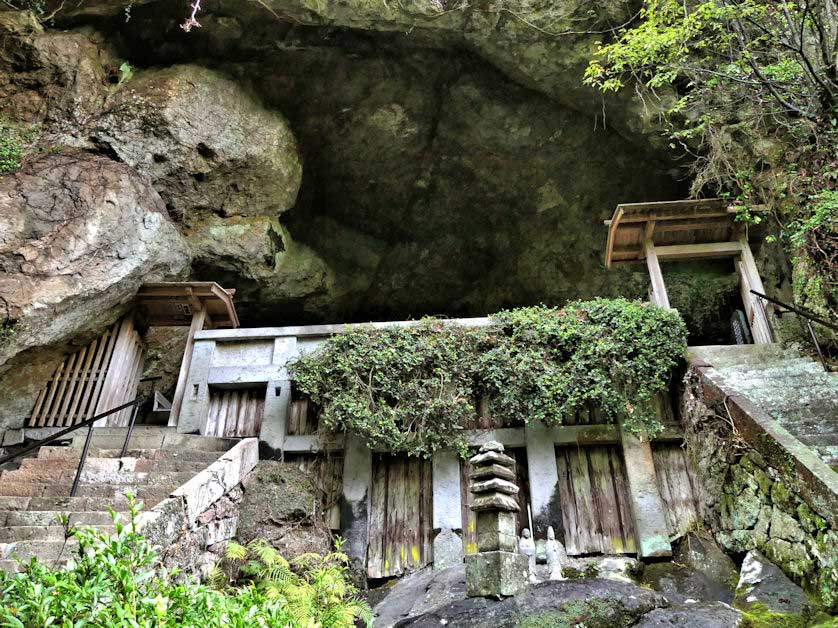 Reigando Cave where the famed samurai swordsman Miyamoto Musashi spent his last days writing his most famous legacy, the Book Of Five Rings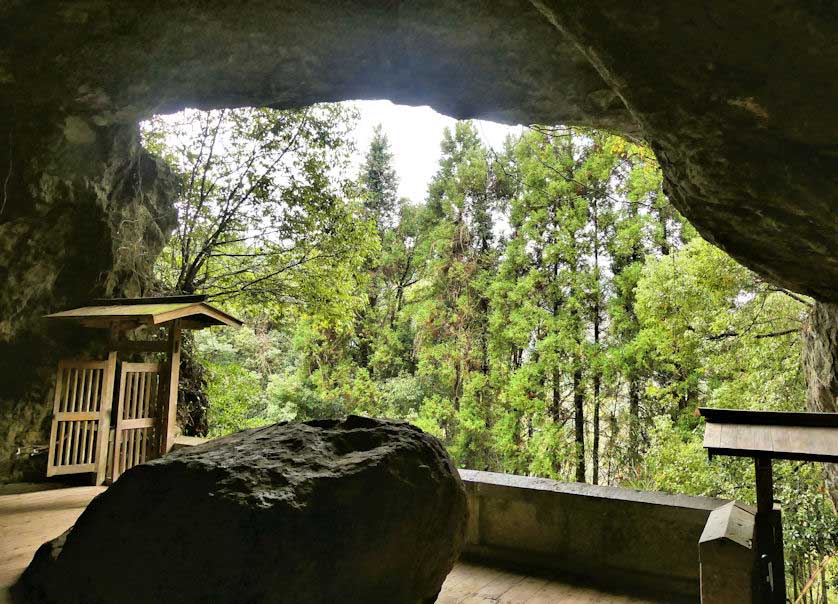 The view looking out from inside Reigando Cave
Unganzenji Temple
Reigando Cave is within the grounds of a small Soto Zen Temple called Unganzenji which had been there for centuries before Miyamoto Musashi's residence there.
At the parking lot for Reigando Cave and Unganzenji Temple is a large, white statue of a seated Miyamoto Musashi.
From here the path goes downhill and then approaches the temple entrance. A huge gingko tree stands in front of the temple, so in late autumn its golden leaves can not be missed.
The temple is small, but pretty, and there is a small entrance fee, though that is really for Reigando.
The temple was founded by a Chinese Zen monk in the early 14th century. The main deity worshiped here is Kannon, commonly known as the Goddess of Mercy.
It is said that the statue was here long before the temple itself was founded. It is believed that the famed monk Gyoki carved the statue in the 8th century.
Other stories say the statue "washed up" here after a boat carrying it sank. Called Iwadokannon, the statue had some notoriety as it was mentioned in a Noh play from the 15th century about a Heian Period woman named Higaki.
After paying your entrance fee you pass through a small structure displaying artifacts relating to Miyamoto Musashi including copies of some of his paintings.
The path now leads up and away from the temple buildings towards the cave. Along the way you will pass many statues along the hillside. These are the 500 Rakan, or disciples of the Buddha, and were carved in the Edo Period, paid for by a wealthy merchant.
Steps lead up either side of the entrance to the cave, and the cave is surprisingly small. More than just an overhang, it is not so deep nor dark.
At the rear, hidden behind a wooden, lattice screen is the statue of Kannon, hidden from public view. Other than that the cave is empty save for a large rock in the middle of the floor. The cave obviously gave some shelter from the weather, but could hardly be called a comfortable place to live.
The smooth, level floor to the cave as well as the steps leading up to it, are also more recent additions, so when one is visiting and imagining what it must have been like back then, one can only really get a vague idea.
There are a steady stream of visitors to Reigando, but not so many that it gets crowded, so visitors can usually spend time in the cave alone.
Access
Reigando
589 Matsuomachi Hirayama, Nishi-ku
Kumamoto-shi
Kumamoto 861-5283
Tel: 0963 29 8854
Open 8 am to 5 pm every day.
Entry 200 yen for adults
Reigando is located about 12 km by road in the mountains to the north west of downtown Kumamoto. About 30 minutes by either car or taxi. The #6 bus from Kumamoto Station is the closest public transport. Get off at Iwadokannon bus stop and it is about a 20 minute walk.
Books on Miyamoto Musashi
The Book of Five Rings has been translated many times. I recommend this version by William Scott Wilson.
If you would prefer a graphic novel version, this recent book by Sean Michael Wilson is getting good reviews.
The Lone Samurai is an excellent, well researched biography of Miyamoto Musashi, also by William Scott Wilson.
Reigando Cave in Kumamoto, Kyushu is where the famous Edo Period swordsman Miyamoto Musashi retired to write his classic Book of Five Rings.
All the themes of the city