Baikasai in Kitano Tenmangu
梅花祭 北野天満宮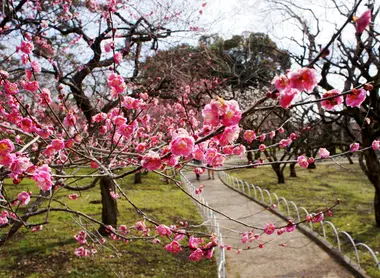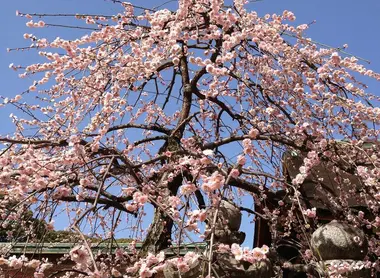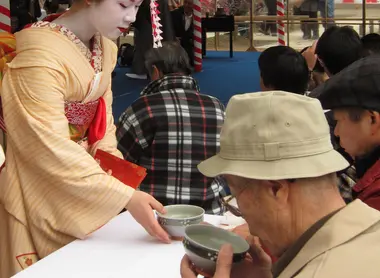 You will take a plum!
Kitano Tenmangu plums are sought after throughout Kansai, and the blooming of the 1,500 plum blossoms is a very popular sight!
Kitano Tenmangû is a Shinto shrine in Kyoto founded in 947. He was from the beginning devoted to the worship of the god Tenjin and assimilated to Sugawara no Michizane, a great scholar of the Heian period. The sanctuary is also known for its flea market.
Sugawara no Michizane liked to admire the flowering of plum trees at the end of winter. This is why every February 25 for 900 years, the day Michizane died, the Baikasai ceremony takes place in the Kitano Tenmangû shrine.
Infinite plum trees
In the Kitano Tenmangu sanctuary, in addition to the fact that the blossoming of the plum trees marks the end of winter in beauty, it is above all their great number that marks the spirits. Indeed, 50 different varieties dot the park with more than 1,500 trees. Their flowering begins in February and is until the end of March.
During its peak bloom in February, the Plum Garden opens to the public from 9 am to 4 pm. Admission is 800 yen per adult and 400 yen per child.
On February 25 at 10 am, a religious ceremony takes place. The outdoor tea ceremony (no date) organized on this occasion is inspired by a ceremony that was organized by the great Shogun Toyotomi Hideyoshi in 1587, "Kitanodaisanoe ".
Here is a video:
Nowadays, to make the festivities more beautiful and pleasant, it is maiko and geiko from the neighboring district of Kamishichiken who come to serve you tea under the plum blossoms.
With such a quantity of plum trees, the Kitano Tenmangû temple harvests about 3 tons of fruit each year, which is enormous.
And there, it is the miko, the young female guardians of the shrine, who are in charge of preparing the Ofuku ume, salted, and dried plums. The tradition of the Kyoto region wants these plums to accompany the New Year's meal when you slip one of them into a cup of hot tea.
Eating fruit from the sacred plum trees of the Kitano Tenmangû shrine on the morning of January 1 is supposed to bring good luck and ensure the health of the whole family. The sanctuary organizes the distribution of plums every year on December 13. Make a note in your diary!
---
Address, timetable & access
Address

Timetable

From JR Kyoto Station, bus line 50 or 101, get off at Kitano Tenmangu mae stop

Access

From 5 am to 6 pm from April to September From 5:30 am to 5:30 pm from October to March.
All the themes of the city