Toji Market Kyoto
Toji Market: sightseeing in Kyoto, Japan: read a guide to antique shopping at Toji Temple market held on the 21st of each month at Toji Temple south of Kyoto Station.
Toji Market Kyoto 東寺弘法市
Peter D. Evan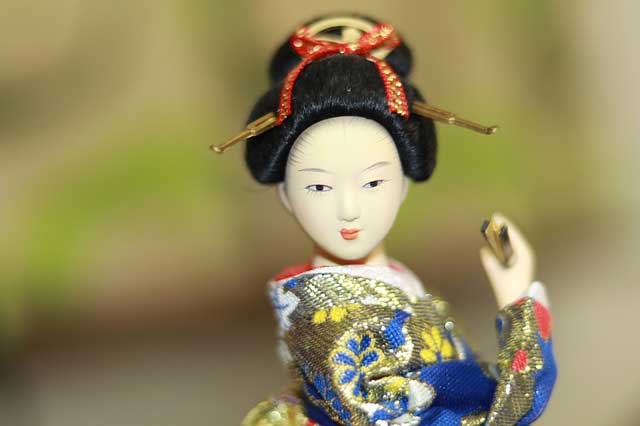 On the 21st day of each month, the normally tranquil grounds of Kyoto's Toji Temple erupt in a burst of color unlike anything else in Japan.
Although cherry blossoms along the Path of Philosophy and autumn leaves at Kiyomizu-dera are among Kyoto's most famous sights, Toji market is an equally rewarding cultural event with at least as many photo and shopping opportunities.
From modern-day medicine men hawking dubious cure-alls, to row upon row of priceless antiques, Toji market is probably the most intense and uniquely Japanese shopping experience outside of Tokyo's consumer electronics paradise - Akihabara.
One of the most attractive things about Toji is its location - just a fifteen-minute walk from JR Kyoto Station. Just leave the station from the south-central exit, turn right, and walk for about 700 meters.
You should cross one major street and pass a furniture store on your right, soon after that you should be able to see the antique stalls spilling out from the temple's north entrance across the street on your left.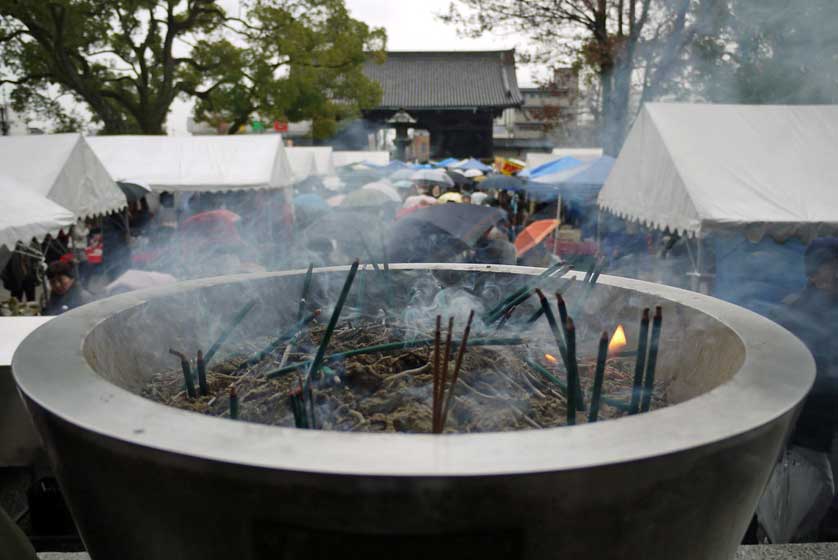 Toji market takes place in the grounds of Toji Temple, Kyoto, on the 21st of each month
Toji Market Antiques
If you've entered through the north gate, you may have realized that this isn't the main entrance to the temple, but it puts you right in the middle of one of the market's two antique districts.
The stall owners in this part of the market tend to have the lowest prices, but if you're looking for fine objets d'art you might want to save your money for the more up-market antique dealers on the other side of the temple.
As you proceed south, you eventually reach the picturesque bridge and the entrance to the temple proper. The path forks at this point as the market splits into two very different entities. The path to the left takes you into the very heart of the market, where you can find an amazing variety of goods mostly geared for local shoppers.
There's anything from hand-crafted wooden toys to discount shampoo. The path to the right offers a more esoteric selection as it takes you past vendors dedicated to religious paraphernalia, eventually leading you to used kimonos and yet more antiques.
These antique stalls continue for more than 100 meters until you reach the main entrance to the temple to the south. This is the place to go wild since it offers the largest variety of quality and prices that you're
likely to see in one place.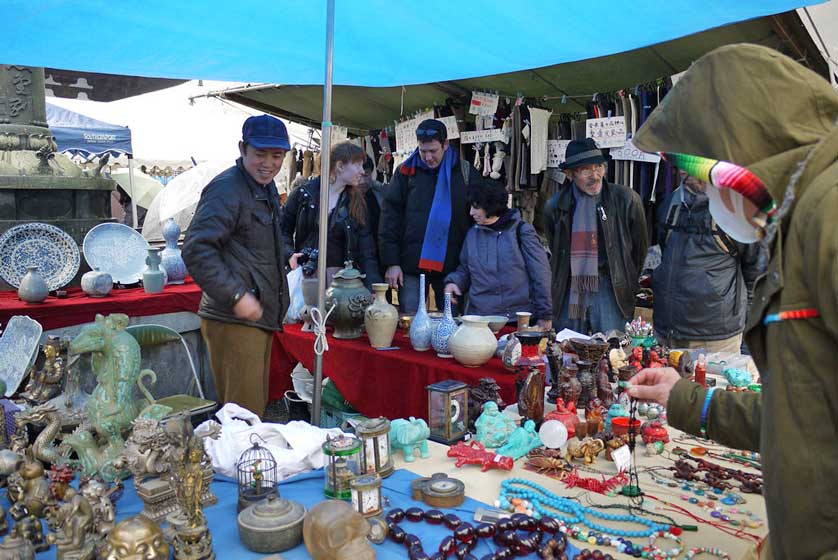 Toji market, Toji Temple, Kyoto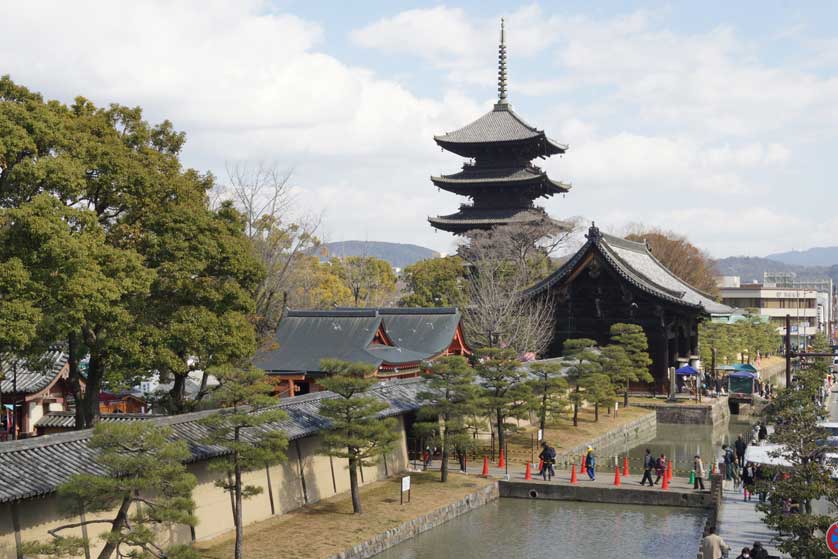 Toji market, Toji Temple, Kyoto

December & January Kobo-san
Although the selection is more a matter of luck than anything else, the December and January markets are particularly good. On most days though, the variety is amazing: tetsubin (iron teakettles), sensu (paper fans), tabakobon (tobacco boxes), tsuba (samurai sword guards), goban (go boards), materials for calligraphy and tea ceremony, and much more can be found within the market's many stalls.
One of the best buys in Toji is used clothing. Good kimono, haori (jackets), and obi (belts) can be had for as little as a few thousand yen, and you can complete your outfit with a new pair of sandals or geta (clogs). Some stalls have boxes of 500-yen kimono, but most of those are useful only as a source of recycled material. At the other end of the scale, used wedding kimono can cost up to 100,000 yen.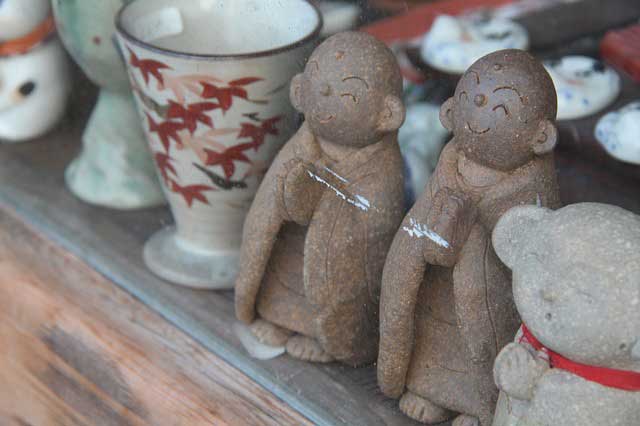 Ceramics are a popular item
Painted hanging scrolls and ukiyo-e (woodblock prints) can also be a good buy. Many antique dealers have a box or two of 1,000-3,000-yen scrolls of calligraphy and landscape paintings.
These vary widely in quality, and while some are ready to grace your walls back home, others are little more than moth-eaten rags. You can usually tell if a scroll is worth unrolling by the condition of the outside - if it looks worn don't bother.
A few stalls specialize in scrolls and prints, and though museum quality pieces are rare, there are some truly beautiful works of art in the 10,000-30,000 yen price range. Ukiyo-e tend to be more expensive, and it pays
to have a good idea of what you're looking for.
Pottery can be a good buy if you just want a simple teapot or some sake cups. It is even possible to find beautiful new chawan (tea bowls) at reasonable prices. However, truly antique pottery can be absurdly expensive and, as with ukiyo-e, you really must know what you're getting before you buy.
Musical instruments are another risky investment. You shouldn't have any trouble finding a shakuhachi (flute) or shamisen (lute) suitable for decorative purposes, but few are in playable condition, so you shouldn't spend more than a few thousand yen.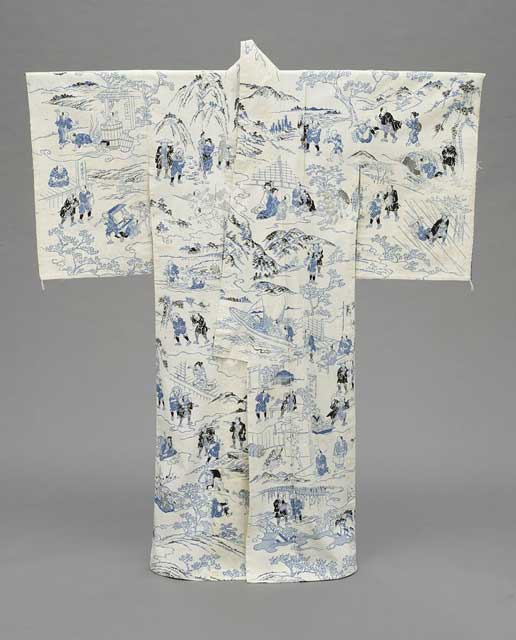 Kimono for sale
If you've fallen in love with an ancient chawan that is far beyond your means, all is not lost. Toji is one of the few places in Japan where
prices are negotiable. Although the vendors here don't have the zeal for haggling that you find in many parts of South East Asia, a polite "chotto makete kudasai" is usually enough to bring the price down about ten percent.
The market gets going by about nine in the morning but it often pays
to come earlier than that and vendors start to pack up at around four. If you want to avoid the crowds, it's best to get there at nine or ten and leave before noon. Conversely, people seem more willing to bargain later in the day, so three or four in the afternoon is the best time to look for good deals.
Although the crowds can become intense, the temple buildings provide
a quite haven in the midst of the chaos. If you can't make it to Kyoto on the 21st a similar large scale market is held at Kitano Tenmangu Shrine in the north west of Kyoto on the 25th of each month, or you don't relish the idea of jostling with the crowds, there is an additional market on the first Sunday of each month at Toji. This much smaller market is devoted to antiques, so it's ideal for more focused shopping.
Even if you don't buy anything, the main market on the 21st is an amazing experience. For this one day each month, the grounds of Toji encompass all of Japan in miniature - the peace of the temple and the richness of the country's artistic traditions combined with bustling consumerism.
The market at Toji on a wet January day
Access - Getting to Toji Flea Market
Toji Temple is located near to Kujo Station, one stop south of Kyoto Station, on the north-south line of the Kyoto subway in the south of Kyoto. From Kujo Station it is a 5 minute walk. Toji Station is a stop on the Kintetsu Line and slightly nearer to Toji Market than Kujo Station. Buses #205, #202 and #207 run past the temple.
From Kyoto Station allow for a 10-15 minute walk to the south west. Exit Kyoto Station at the Hachijo Exit turn right and walk until you reach Omiya Street, then turn left. You will see the pagoda of Toji Temple ahead of you.
Toji Temple Market Video
Book Hotel Accommodation in Kyoto
All the themes of the city