Tezuka Osamu Manga Museum
宝塚市立手塚治虫記念館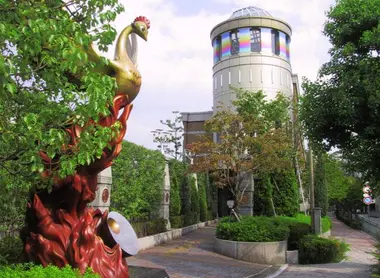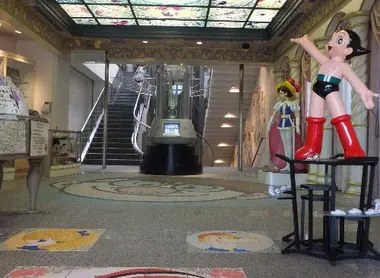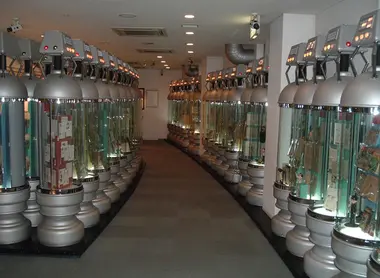 Draw me a manga
TEZUKA Osamu (1926-1989), the father of  modern manga and pioneer of anime, has left some one hundred and fifty thousand comic strips, long and short films and hundreds of episodes of TV series that have rocked generations of Japanese. Considered the cradle of Japanese pop culture. In Takarazuka, a museum pays tribute to him. Visit the empire of bubbles.
Under the sign of "love of nature and respect for life", on three levels, the museum unveils the universe of a draftsman and outstanding narrator. But why in Takarazuka?
Close to Osaka, the town, originally known for its hot springs (onsen), has been transformed under the leadership of the owner of a railway company, called KOBAYASHI Ichizo (1873-1957). In order to increase the number of passengers, in 1914 he decided to put together a new kind of entertainment: a show performed exclusively by women flirting with Parisian reviews and  musicals. It was called Takarazuka, which is still very popular with the fairer sex.
Inspiration everywhere
TEZUKA, a famous mangaka (manga author), grew up in Takarazuka. Great escapes, future sources of inspiration and his vision of life. There, in the summer, he collected insects. Nature, the world of actresses and dancers of the neighboring theater, then war, marked the work of the prolific author.
The visit of the museum with totally manga architecture and a fun visit reveal the talent of Dororo, the creator of The Story of the Three Adolfs, of the life Buddha and Astro Boy. The artist strives throughout his stories to multiply the points of view to be transcribed in a succession of boxes of film grammar with close-ups and tracking shots. Spaces presenting original drawings and full publications, bear witness. A workshop for the youngest, a library, temporary exhibitions make it possible to further embrace the world called of manga no kamisama, literally "the god of manga".
---
Address, timetable & access
All the themes of the city