Karaoke Kan
カラオケ館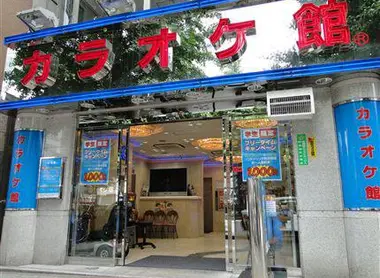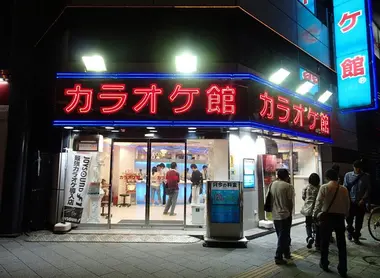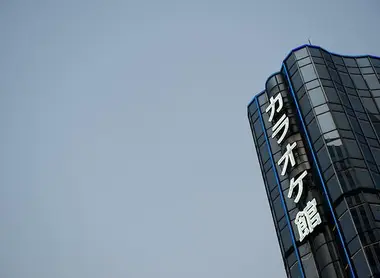 Karaoke - Lost in Translation
A national institution, karaoke is everywhere in Japan, a cozy room good to go to for a few hours or all night, to escape a reality that can sometimes be difficult to bear.
Interested by the karaoke scene in the film Lost In Translation by Sofia Coppola? Live the same experience by visiting Karaoke Kan in Shibuya. To enjoy a view of the street, just ask for rooms 601 or 602, the same ones used in the famous scene where Bill Murray and Scarlett Johansson sing along.
The garishly colored faux-leather seats, the huge song directory with dog-eared pages that lists all the songs, and the TV mounted on the wall, where you follow the words as you sing your lungs out, alone or in unison, karaoke, regardless of the generation, is one of the most popular pastimes in Japan.
There is no one type of karaoke establishment. Each one is unique and has its own charm, its own service, its own songs. Located in almost all buildings where there are izakaya (traditional Japanese inns), bars and game centers, karaoke rooms are an ideal place to relax after a hard day's work, to continue to drink with colleagues or to spend time with friends. They are also the perfect place for a Japanese-style de-to (romantic date) or simply somewhere to keep warm and rest when you've missed the last train, rather than waiting alone and abandoned on the platform. Hot drinks and sodas, snacks and various alcohols, everything is provided for you, so forget the time and let yourself go.
Different options exist, from two hours, to nomihodai (all-you-can-drink for the number of hours specified by the establishment) for the whole night, and those that allow you to pay when you've had enough. All options are possible, and all price ranges as well. Karaoke rooms are often cheaper during the day, the rate increasing with the time spent there and the luxury of the place.
The music catalogs include pretty much the same world famous artists and all musical genres. Eminem, Lana Del Rey, Shakira, Nirvana, Daft Punk, they're all there. Some karaoke rooms may provide maracas, tambourines and microphone stands too!
Are you confused? Can't you understand how the tablet works to select the songs? Is the microphone not working properly? Do you have a sudden pizza craving? You'll soon realize that singing makes you hungry and thirsty - don't panic, each individual room is equipped with a telephone handset allowing you to call the reception for help.
Many are skeptical at first... But try it once to understand Japanese culture, and you'll find yourself coming back a second time... it really is great fun!
---
Address, timetable & access
All the themes of the city